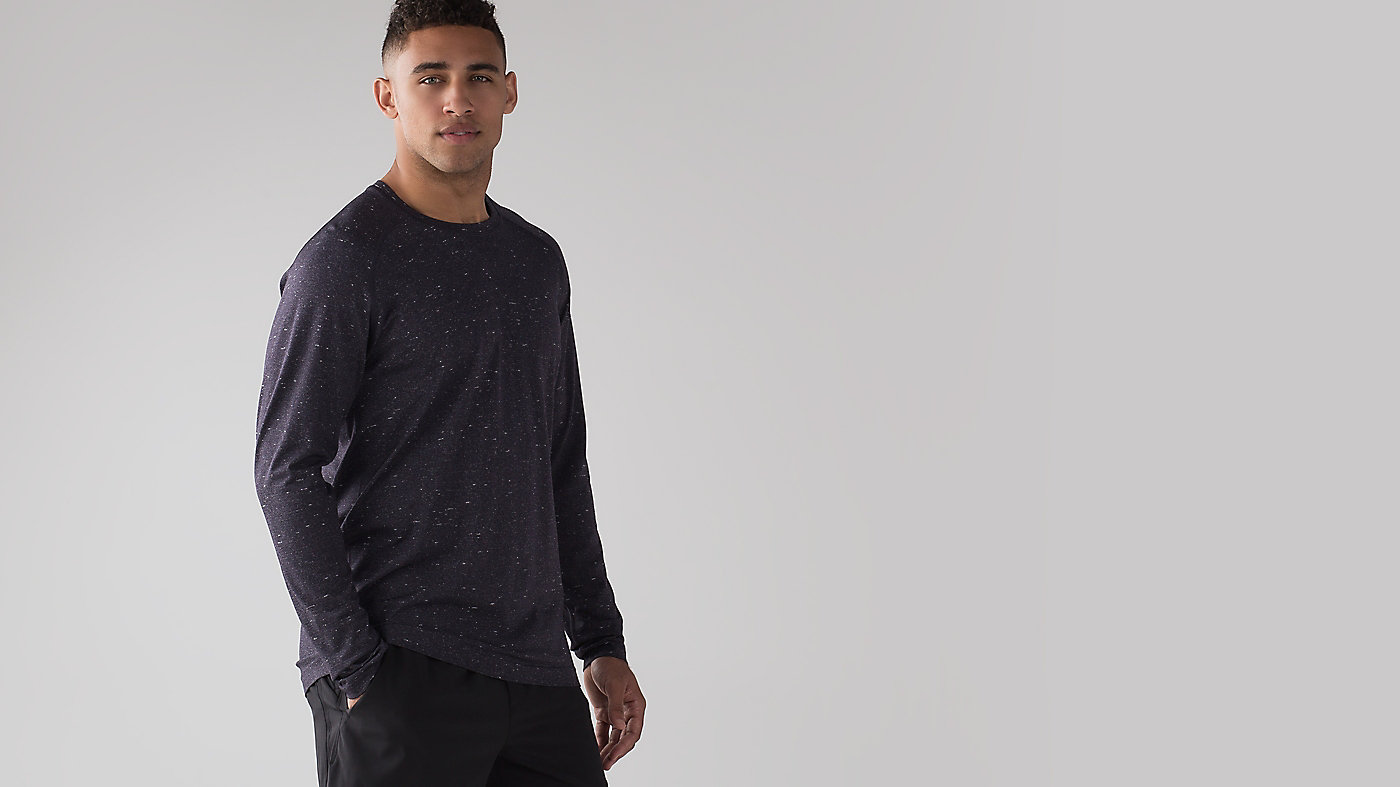 ---
Silverescent® technology
Powered by X-STATIC®, it inhibits the growth of odour-causing bacteria on the top
---
mesh construction
Encourages airflow in high-sweat zones

Metal Vent Tech Long Sleeve
is rated out of
5
by
29
.
Rated

5

out of

5
by
aRhodes27
from
Sleeves too long
First off, I just want to say how much I love this shirt. I have 2 and one fits perfect but the other one, the sleeves are about 4 inches too long. The other day, I went to the nearest Lulu store and asked if they could hem the sleeves because I have had pants hemmed there before. The manager told me they can only do pants and the bottom of the shirt and that I need to take the shirt to a seamstress ,myself, which I am perfectly capable of, but I wasn't planning on paying for it. So I'm stuck with a shirt that bunches up a lot by my wrists. I will definitely continue to shop at Lulu though because I love the quality and comfort of your clothing.
Date published: 2017-07-02
Rated

3

out of

5
by
julycon
from
Great at first
I bought this shirt a few weeks ago. I was very pleased with how well it fit and how comfortable it was. I wore it to the gym maybe 5 or 6 times and washed it after every session. When going to the gym, I noticed a small hole on the back side. Very disappointed as I have quite a few work out shirts from Lulu that work great. I don't have a receipt and my local store is hours away and won't take it back. Otherwise, comfortable shirt, but upset I pretty much lost $80. Maybe got one of a bad batch.
Date published: 2017-07-02
Rated

2

out of

5
by
jd112
from
Great shirt, but poor quality
I bought this shirt for my husband, and he loved it at first. However, after the first or second wash, he noticed a small hole in the front. The quality of this $78 shirt is very poor. When you can buy a shirt for half the price somewhere else, and it will hold up for years, it's difficult to justify spending that kind of money on a shirt that starts to fall apart so quickly. He is quite disappointed. as am I. If the shirt hadn't gotten a hole-it would've definitely been a five star rating.
Date published: 2017-06-15
Rated

1

out of

5
by
BONJO7
from
Hole in back
I just got this shirt in grey and the fit is totally different than my other metal vents. The neck and sleeves are loose and baggy. And there is a hole in the upper part of the back, which I assume is from the barbell, I thought this shirt was made for working out? I took it into my local store and they said they would stitch up the hole, so now I am left with a poor-fitting $78 shirt with visible stitching under the logo. I do not think that is the definition of "standing behind the quality of our gear"
Date published: 2017-05-26
Rated

4

out of

5
by
Kieran
from
Great Shirt
I loved the style and held up just as well in Performance. Great ventilation. Feel like I definitely got my moneys worth.
Date published: 2017-03-25
Rated

2

out of

5
by
NG14
from
Hole after one wash
I've used the Metal Vent Tech shirts (both long sleeve and short sleeve) before and I have loved them. I just got this one in blue and after one workout and one wash, I found a small hole on the front side. I was extremely disappointed because I've never had any problems with these shirts before. Plus, I don't have the receipt anymore, so I cannot return it and get a new one. These shirts are amazing for running and training, but I am extremely disappointed with my new one getting a hole after one wash.
Date published: 2017-03-24
Rated

3

out of

5
by
AZCats
from
Great looking, poor quality
I bought 2 of these shirts for my son for his birthday, because he specifically asked for them. I was a little hesitant because they are $80 a shirt, and the reviews here were spotty. Well, sure enough I bought them and after 1 washing the shirt began to run & come apart at the seams. Our cleaning lady was sure to follow the "special instructions" for laundering these type of clothes but still saw this happen. Luckily the good folks at the store handled the return & exchange politely and quickly without a problem. It was still disappointing to have that happen to such a relatively expensive item, and a hassle to have to drive back down to the mall.
Date published: 2017-03-13
Rated

3

out of

5
by
dka5053
from
Poor Quality
When I first bought this product I was impressed by the way it fit and thought these long sleeve shirts would soon become a staple in my wardrobe. After 2-3 wears, I started noticing holes appearing and seams unraveling. Unlike the rest of my products from Lululemon, this is a poor quality item.
Date published: 2017-03-11
Rated

2

out of

5
by
zrew15
from
Shirt material is subpar from other lululemon products
The Metal Vent Tech Long Sleeve Tee feels quite course and is not the usual soft stretchy material like the metal vent tech line from the past. It causes my skin to feel itchy and break out. I am no happy with my choice in purchasing the metal vent tech long sleeve shirt and will only consider the 5 year line from now on.
Date published: 2017-02-14
Rated

5

out of

5
by
RealDeal
from
Best workout shirt!
the fit on these is amazing. if you have long arms then these shirts are for you. It is so hard finding clothes for my 6'4" muscular build and i am so thankful that lululemon has created something to fit me! i do not understand the bad review on these. yes, they are expensive but i wear them for several workouts and they do not stink!
Date published: 2017-01-22