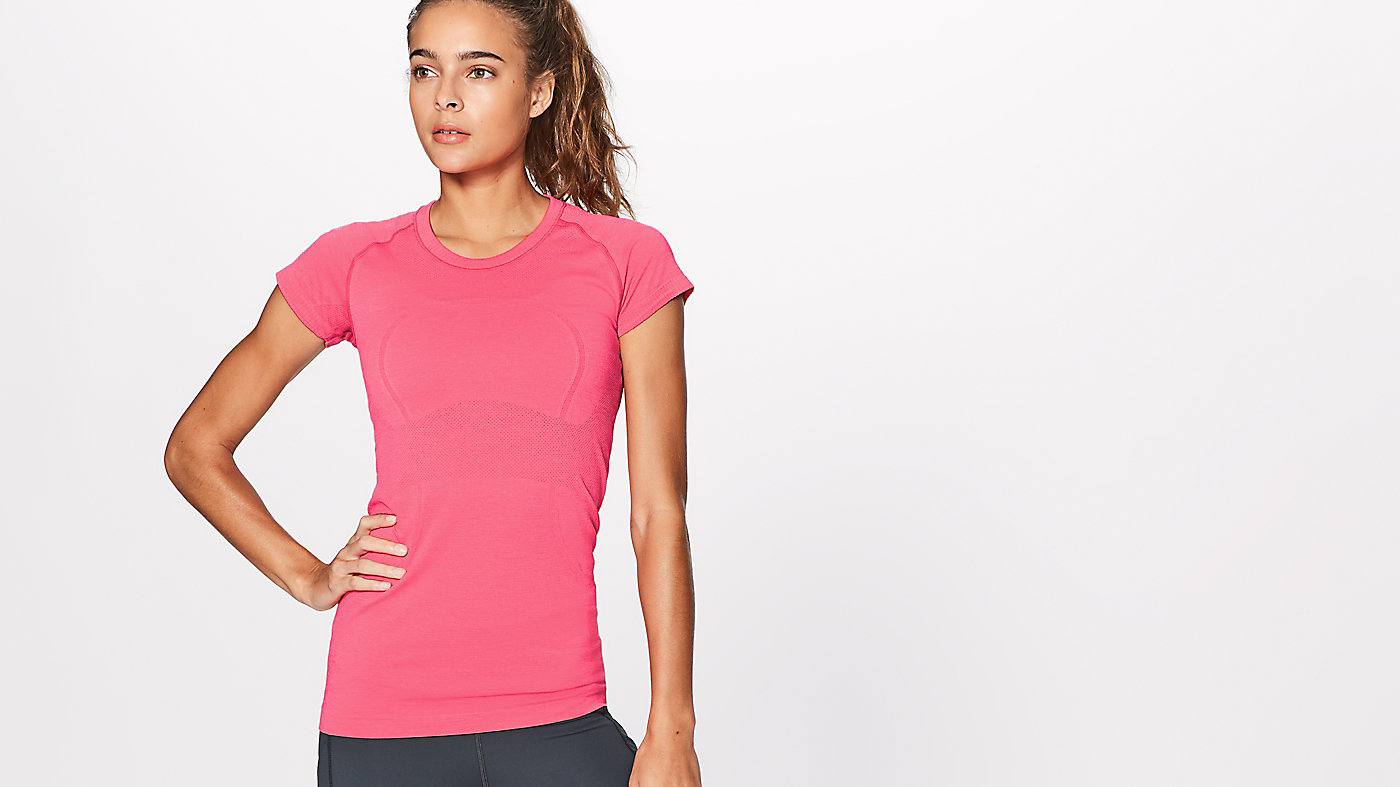 ---
No chafe
Seamless construction in the body minimizes chafing
---
fit
Body Skimming, hip length
---
SILVERESCENT® TECHNOLOGY
Powered by X-STATIC®, it inhibits the growth of odour-causing bacteria on the garment

Swiftly Tech Short Sleeve Crew
is rated out of
5
by
170
.
Rated

1

out of

5
by
mysticwater
from
Hole in the shirt second time wearing it
I went to the gym wearing this shirt the day i got it delivered (it was the black/grey hombre). After my workout I took off the shirt and noticed a hole in the back. The shirt's material was so fragile that in the process of putting it on/off a hole had appeared. I can no longer wear the shirt and I feel like I have wasted my money. I have not experienced this with other lulu purchases so I was very disappointed.
Date published: 2017-06-11
Rated

2

out of

5
by
franniloo
from
Misses the Mark
I like this top for to-and-from, it's flattering and lightweight for warm weather. However, it doesn't work for running. Every time I try to run in this top it rides up constantly, exposing my midsection so I have to continuously pull it down. I don't want to have to be adjusting my clothes while I run. For reference, I'm 5'3" and 140lb (muscular) and I wear this top in a 6.
Date published: 2017-05-26
Rated

4

out of

5
by
ashley281
from
Go to Top
I bought this top because I saw it on a friend and thought it was super cute. It's great! I bought one to see if I liked it and it fitted. I wore it to run in and even on a casual day running errands. I loved it so much I bought two more! I now have the dark forest color, marvel, and slate. I love them! I'm 5 foot 2 and roughly 108 lbs. I typically wear a xs in all tops I buy but since this top is suppposed to be form fitting and I wanted a more relaxed look I sized up from my normal size 4 to a 6. Only complaint is that it is rather delicate so you have to be careful because one of mine has a tiny snag near the stomach area.
Date published: 2017-05-13
Rated

5

out of

5
by
iretexas
from
Favorite golf shirt (s)- I have 3
I know other reviews have complained about snagging but I haven't had any problems. I do have to admit that I treat mine carefully (hang to dry and hang inside out in my closet) but when I wear them the last thing I think about is the safety of my shirt. Not only does it look good but it doesn't feel like I'm wearing a shirt...perfect!
Date published: 2017-05-03
Rated

4

out of

5
by
TxTarheel
from
Variation
Love these shirts! I have 4 and plan on getting more. They are perfect for the gym. However comma I have noticed a variation in length and fit. I wear a medium but some are longer than others and some fit tighter while some stretch out more.
Date published: 2017-05-03
Rated

4

out of

5
by
em1cf
from
Comfortable Tee
This is a comfortable shirt for hanging out - I haven't worn it for working out (I usually do CrossFit), due to the material being kind of "fragile"/prone to snags. But it is comfortable and flattering for wearing to work in a physical therapy setting.
Date published: 2017-04-30
Rated

1

out of

5
by
Blonde11
from
Unraveling hem line
I got this shirt for easter and just put it on today and noticed the bottom hem is coming unraveled. I'm very frustrated because I have only worn this shirt one time but cannot take it back because the tags are already off. This should not happen after one use without even washing it yet! I am an avid Lulu shopper and am very upset with this recent purchase.
Date published: 2017-04-19
Rated

1

out of

5
by
jport11937
from
not a good shirt
i bought the short sleeve shirt thinking it would be just as good as the long sleeve shirts i bought, but i was very disappointed. within the first time i wore this shirt there were holes in it, it fell apart, there are already 3 holes in the shirt and I've worn it maybe twice. I haven't even had the shirt for about a month and it is already ruined.
Date published: 2017-04-16
Rated

3

out of

5
by
Emma22
from
Swiftly Tech shirts are all getting holes
I love the Lulu Lemon so much and I shop there a lot. Lately I have been very disappointed because 3 of the shirts I bought all got holes in them and I've only worn them a couple times. I feel like for what you pay you should at least get a good use out of them. The shirts are all the same type too they are the the Swiftly Tech shirts. Please let me know what I should do about this because I am very upset.
Date published: 2017-04-14
Rated

5

out of

5
by
Nicole14
from
LOVE
Absolutely love this top! Hands down my favorite lulu piece. This top fits all of my needs as an athlete. I would suggest purchasing a size down than what you normally wear I have experienced some stretching in the material over time. I have also experienced fading in my brighter colored swiftly tech short sleeves but overall I am very impressed how well these tops have stood up to my sweaty workouts and daily needs. The versatility of these tops are beyond any workout garment I have ever worn. Always a go-to!!
Date published: 2017-04-13