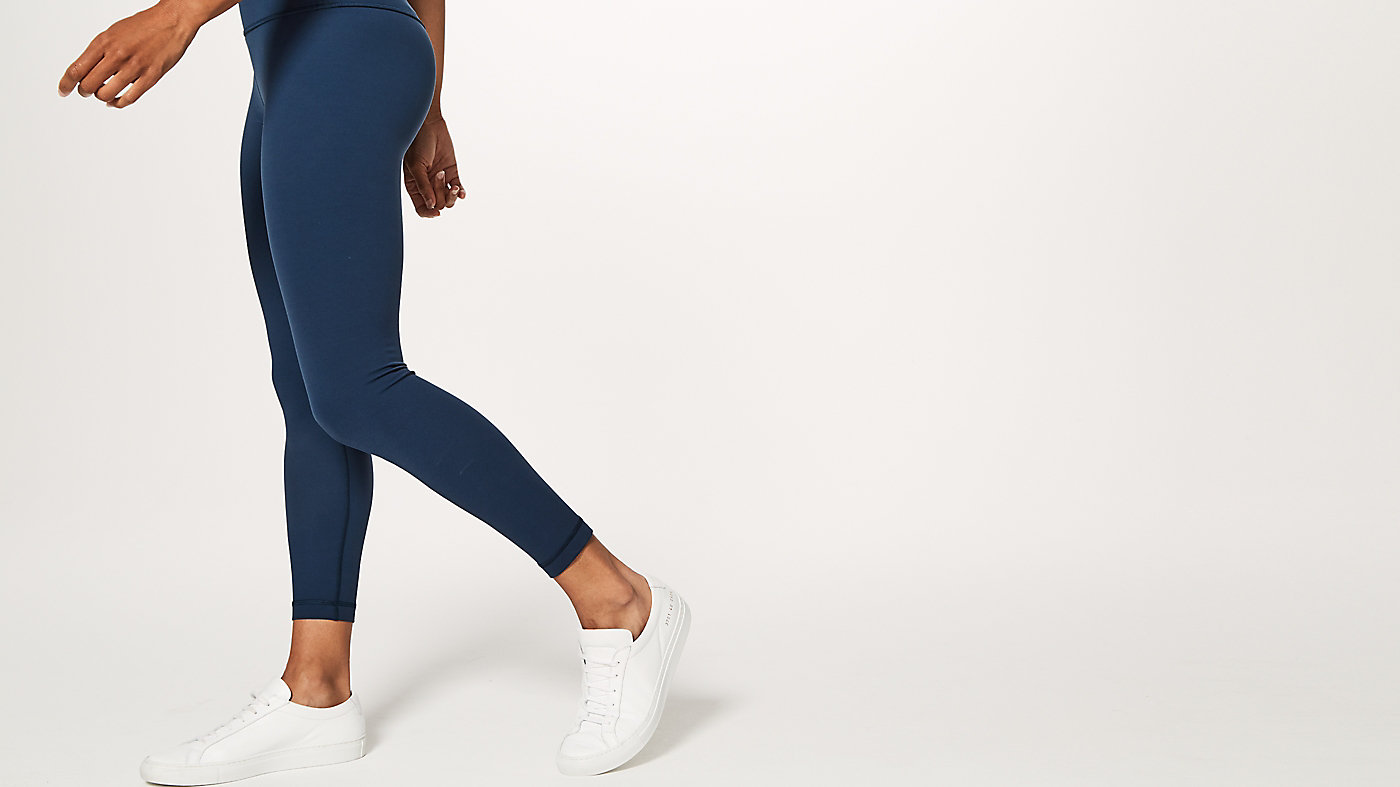 ---
Comfortable waistband
Lies flat against your skin and won't dig in
---
high-rise
Keeps you feeling covered and secure
---
ankle length
7/8 length stays out of your way
---
naked sensation
Engineered to feel like your go-to, lightweight, second-skin layer—you'll forget you're wearing this next-to-nothing sensation as you move
---
HIDDEN CARD POCKET
Hidden pocket in waistband holds your key or card
---

Align Pant II
is rated out of
5
by
1830
.
Rated

5

out of

5
by
Anonymous
from
Love these pants!
I really love these pants! I usually wear the wunder under but thought I would give these a try and I'm so glad I did! The fit is amazing - I didn't have to worry about them being too loose during barre class. They're very comfortable! I plan on buying more in different colors!!
Date published: 2017-07-19
Rated

3

out of

5
by
Anonymous
from
So frustrating
I love love love these pants, I want to buy them in every color multiple times over. They are so comfortable and flattering. BUT, I have only had them for 6 months and they are pilling up on the thighs to the point it is not flattering.
Date published: 2017-07-19
Rated

4

out of

5
by
Anonymous
from
Will show sweat - get a dark color!
I purchased these in the jade color and after taking a barre class (not even hot yoga!), it looked like I had wet my pants. Luckily, the store by me let me exchange them for a black pair. They said this would happen with any lighter color in the "naked" sensation. They are so comfortable and an incredible fit. However, I am going to make sure to wash them super carefully to avoid any of the pilling remarks that are in a lot of the other reviews.
Date published: 2017-07-18
Rated

1

out of

5
by
ghitchkins
from
I hate these pants
I've owned them for a total of 2 weeks and they started to pile. This is definitely not the Lululemon quality that I expected from buying these.
Date published: 2017-07-17
Rated

2

out of

5
by
dfit96
from
Great Feel, Terrible Quality
I bought three pairs of this pant because when I tried them on in the store they felt amazing, almost as if you are wearing nothing. They are super breathable and lightweight and not to mention make your booty look amazing. I mostly wore these pants to run errands in, nothing too extreme. After a few wears I noticed they were pilling and thinning out between my legs. I have an athletic build and no thigh gap, so every time I wore these pants and my thighs rubbed together they would thin out and pill., one of my pairs even ripped and there is a hole on the inner thigh seam. I am super bummed because I loved these pants!
Date published: 2017-07-17
Rated

5

out of

5
by
maryyyyy
from
Life Changing!!!!
WOW these leggings are actually life changing!! I would wear them every day if I could! I own three pairs of them and they don't disappoint! They will not pill if you wash them inside out, on delicate mode and with other delicate clothing y'all. Mine have zero pilling and they are over a year old! You will not regret buying these leggings, just wish there were more color options!!
Date published: 2017-07-17
Rated

4

out of

5
by
YOGIkelontheRUN
from
Perfect for everyday and everything, to and from yoga class
I LOVE these pants, I wore them all the time when I first got them about a month ago. They are super comfortable, great fit and easy to move around in. I love them because they don't hug in the wrong places, they give you smooth look but are still comfortable! I wore them when practicing yoga as well. Only thing I'm a bummed about is that I noticed some pulls on the knees!! I was even really careful about washing them, I would wash them by hand and let them air dry. It totally stinks because they don't look sharp and smooth black pants anymore. I do still wear them, just need to think about what I'm doing in them a bit more carefully so that I don't end up with a rip! Considering purchasing a new pair because they really are my fave but then again, stinks I just bought them a month ago!
Date published: 2017-07-17
Rated

3

out of

5
by
RunLoverTrace
from
Pants feel like butter!
When I bought these pants, I was in love! They are soo soft, and I couldn't wait to buy different colors. I have held off due to the pilling of the material and the snags where strings hang off. I'm torn because the pants fit and feel amazing, but I now only wear them around the home due to the pilling.
Date published: 2017-07-17
Rated

3

out of

5
by
Yogacomfy
from
Love the feel- hate pilling
These feel like butter! I absolutely love them! Never want to wear anything else! Purchased my first pair 6 mo ago and others since. I wash them on delicate inside out and inside a mesh bag. The backs of the pants are all pilling after 4-5 months and it's sooooo disappointing because they don't feel nice and soft on the outside anymore. I want more, but am waiting to see if the others I bought after the first start to ball up and pile on the surface too. Not sure how else I could have taken care of them gently. They look super cheap now. I can understand if they were a few years old, but in just a few months it's not something I'd recommend again unless I just got a bad pair.
Date published: 2017-07-17
Rated

1

out of

5
by
mw003
from
Not Worth the Money
At first when I got these pants I was in love the fabric feels amazing and the fit is perfect but only after two wears they are not holding up well at all. I wore them for running errands and haven't even washed them yet already there is so much piling on the inner thighs. I am really disappointed in the quality of these pants since all my other lulus have lasted so long. I would not recommend these since all of the other reviews say this seems to be a common problem. I just wish they would have lasted longer than TWO wears.
Date published: 2017-07-17