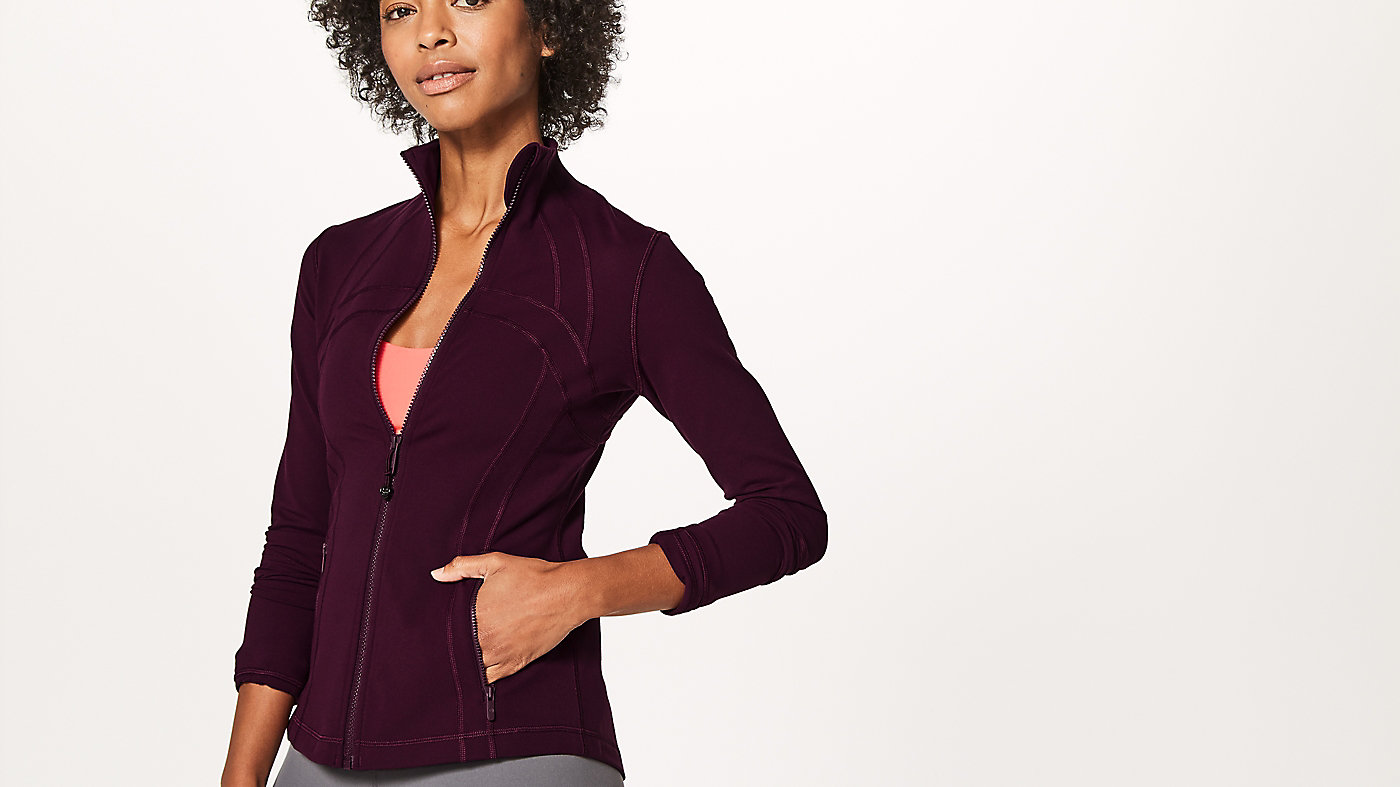 ---
lycra®
Added Lycra® fibre for stretch and shape retention
---
Thumbholes and Cuffins™
Help keep sleeves down and hands warm
---
SLIM FIT
Fits close to the body
---
hip length
Layers easily and stays out of your way
Define Jacket
is rated out of
5
by
1160
.
Rated

1

out of

5
by
jen6297
from
Love the jacket, very disappointed
I've always been a huge fan of Lulu leggings, so I was super excited to purchase my first jacket. It's one of the best lightweight jackets I've EVER owned, I love it so much. However, I'm extremely disappointed that only after about two months has it pilled in multiple spots. I only ever hand wash in cold water so this definitely should not be happening. I'd love to buy this jacket in more colors, but don't know if I want to invest that much in something that clearly doesn't hold up. :(
Date published: 2017-08-16
Rated

2

out of

5
by
slulu123
from
Can't be worn more than once!
I purchased this about 6 months ago when i visited Edmonton. I wore it 2-3 times before I washed it according to the instructions. The black color faded and had little cotton pulls all over it once it was washed. I really loved this jacket but after only one wash I dont ever want to wear it again because it does not even look the same. I've been having a few issues lately with lulu's quality.
Date published: 2017-08-11
Rated

1

out of

5
by
InvestInClothing
from
Quality is falling apart
I bought this jacket earlier this year, maybe end of winter. The quality was outstanding. I couldn't imaging a better fit, style, quality for a lightweight jacket to go over my scrubs at work. Got a second one 2 weeks ago in black currant. Loved the color, but it's already pilling on the left arm. Don't know what to do with it! I'm quite disappointment, considering the price.
Date published: 2017-08-09
Rated

3

out of

5
by
PrincessMiko
from
Cute Jacket but Fades Quickly
I love the fit of this jacket! It's lightweight and slim/sleek. I'm 5'2 and 104 lbs and wear a size 2. However after only a few months of having the black one, the color has faded A LOT (compared to my other black newer lulu leggings). I use Woolite and hand wash it when I shower and hang dry so I'm not sure why it's faded. I'd recommend the style, but DONT buy the black unless you're ok with fading. Too bad because it's too expensive to keep replacing every few months to keep a nice black color.
Date published: 2017-08-09
Rated

5

out of

5
by
Chelseamc
from
So Flattering
My favorite light weight jacket! This is so flattering on everyone!!! I will be buying another one soon :)
Date published: 2017-08-07
Rated

5

out of

5
by
Hershey
from
Absolute perfection
Love this jacket so much! The style, quality, durability and fit are all great. I'm petite and in between a size 4 and 6 and the 4 fits me perfectly. Highly recommend this!
Date published: 2017-08-06
Rated

5

out of

5
by
vron3687
from
PERFECT
this jacket Is so awesome!! it fits PERFECT. If you're looking for a more slim fitting lightweight jacket this is the one! I am 120 pounds and about 5feet 6 inches and the size 4 was perfect on me. I got the color "submarine" and its gorgeous!! overall great jacket!!
Date published: 2017-08-03
Rated

2

out of

5
by
Alexia11
from
loved it initally but would not reccomend
I recently bought this jacket in a size 4 in the navy blue and when it came in I absolutely loved it! I am tall and lean and this jacket fit great on the length and arms length! I had zero complaints about the jacket until after the first time I washed it. I washed it according to the instructions on a gentle cycle and after It was washed it did not even look like the same jacket anymore.. it looked as if I had worn the jacket for years and the stitching in the arms of the jacket just look awful. I am disappointed with the quality of this jacket. I order from Lululemon all the time and have never had an issue with any product besides this jacket.
Date published: 2017-08-01
Rated

4

out of

5
by
FashionEggplant
from
Flattering
I love this jacket, it's ultra slimming and flattering, hugs in all the right the right places and looks very chic. I would give it 5 stars but I did notice that the fabric began pilling after wearing twice and I haven't even washed it yet. Still I love the fit of this and it's not too thick so I can wear it all year round.
Date published: 2017-07-31
Rated

1

out of

5
by
pinkygirl
from
falling apart
I am so sad with my Define. I have only worn it a few times and already the seams are falling apart and threads are loose. I have washed it carefully and delicately like all my lulu items. I don't know what to do because I can't wear it anymore.
Date published: 2017-07-29