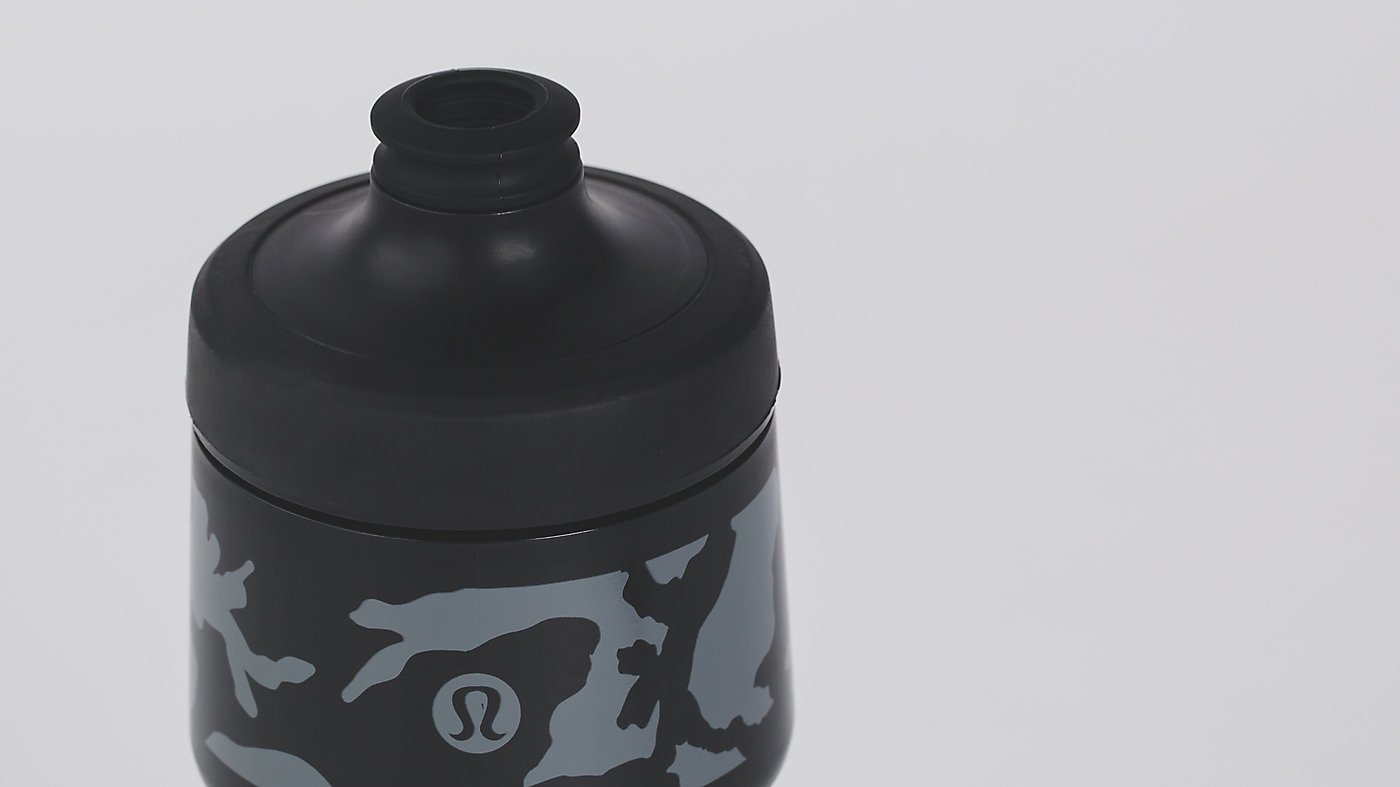 splash guard
Sport top and anti-spill valve prevent leakage
---
Caution
Not intended for hot beverages
---
wash + care
Dishwasher safe for easy cleaning
---
bpa-free
Means no harmful chemicals
---
Squeezable
Bottle is easy to flex and drink from
---
TASTELESS LINER
Glass-like liner keeps your water tasting like it should
---
volume
holds 26oz (769ml) of water
---
environmentally friendly
100% recyclable

Purist Cycling Water Bottle
is rated out of
5
by
49
.
Rated

2

out of

5
by
Schmoop
from
Love at first gulp... but quick deterioration
After going through countless Blender bottles, LifeFactory bottles, and more... I felt like I finally found a winner for all my hiking/gym/workout hydration needs! At first, I loved this: it is durable [won't crack when dropped], light weight, no plastic smell or taste, cute, and allows for quick gulps! My only gripe with this product, is how after 1 month of use, the text has already begun to come off. In any case, I am so sad that the design on the bottle ["Everyday I'm Hydratin'"] is coming off so incredibly soon.
Date published: 2017-06-23
Rated

4

out of

5
by
momo88
from
Great Water Bottle!
This is my absolute favorite water bottle! Not only is it visually appealing, but it also works great. I love that I can keep it in a bag and it will not leak all over my stuff. I can turn the bottle upside down, squeeze, and nothing will come out. I have had no issues with the design wearing off, but I have found that the mouthpiece is slowly breaking off into little pieces. It is still functional, but is very annoying to have the rubber falling a part when I try to take a drink of water. Very disappointing because I spent almost $20 on it only a short time ago, but I do love everything else about it.
Date published: 2017-05-23
Rated

4

out of

5
by
Runner1006
from
GREAT PRODUCT
This water bottle is great! I use it about everyday and i get so many compliments on it. It keeps water cool for a reasonable amount of time, and goes with just about everything. Its wonderful how the bottle doesn't leak even though the top is open. The only thing was that bothered me was that the bottle had been all marked up and scratched everywhere on the bottle. overall this product is amazing and i love it, would have more but they are a little pricy.
Date published: 2017-04-27
Rated

4

out of

5
by
Heidimc
from
Works for a while
My water bottle that I purchased about 2-3 months ago has gotten a lot of use, up until now. The mouth piece is ripping so it is quite difficult to use now but otherwise I love it.
Date published: 2017-04-19
Rated

1

out of

5
by
MMM1130
from
Doesn't Work AT ALL!!
I purchased this water bottle a week ago, and I tried to use it for the first time today. Like the other reviewers said, no matter how hard you squeeze, nothing comes out. I guess I got a faulty lid. I am VERY disappointed, as I expected something with the Lululemon brand name to have MUCH higher quality. This was my first purchase from the brand after hearing such good things from friends.
Date published: 2017-03-07
Rated

1

out of

5
by
madd
from
Cute but useless
I really, really wanted to love these bottles! My husband bought me a few of them, but they all leak like crazy!!!! Too bad they're final sale! Definitely would NOT recommend these.
Date published: 2017-01-16
Rated

3

out of

5
by
TravelSeeker
from
Works well...at first
I had a really great experience using this water bottle for the first couple of months! However, I soon noticed the lid wasn't squirting the water out properly, and also started to leak. I used it like a normal water bottle; mostly left it in my backpack pouch to and from classes. It doesn't seem like there was any physical damage to the water bottle, so really unsure why I found leaks from the lid.
Date published: 2017-01-13
Rated

2

out of

5
by
ky456
from
Purist Cycling Water Bottle Squirt mechanism
Hey guys! I have many of these water bottles at home because it is my favorite out of the two they offer. However, recently, two of the tops on them have stopped working. They are supposed to be able to squirt out the water, but no matter how hard I squeeze the bottle, even the pressure won't fix the top. I tried to see if I could fix this problem by sticking a rod down the squirt top to try to get it moving again, but nothing changed. I am kinda sad about this because I haven't had a problem with this water bottle before, but don't want to keep spending $20 on them if this is going to be a new reoccurring problem.
Date published: 2016-11-22
Rated

1

out of

5
by
Lexie150
from
Peeling Design
The design and idea of the water bottle is great, but after one to two washes the pretty design is peeling off, super sad that $20 peeled right off. Piece by piece its all coming off:(
Date published: 2016-10-15
Rated

2

out of

5
by
ki1234
from
Faulty Squirt Top
I have a water bottle similar to this type in the past. However, one I recently purchased, after only a few uses, the squirt mechanism on the top stopped working. No matter how hard I squeeze the bottle nothing will come out of the top. I am very disappointed at the quality of this water bottle.
Date published: 2016-09-16