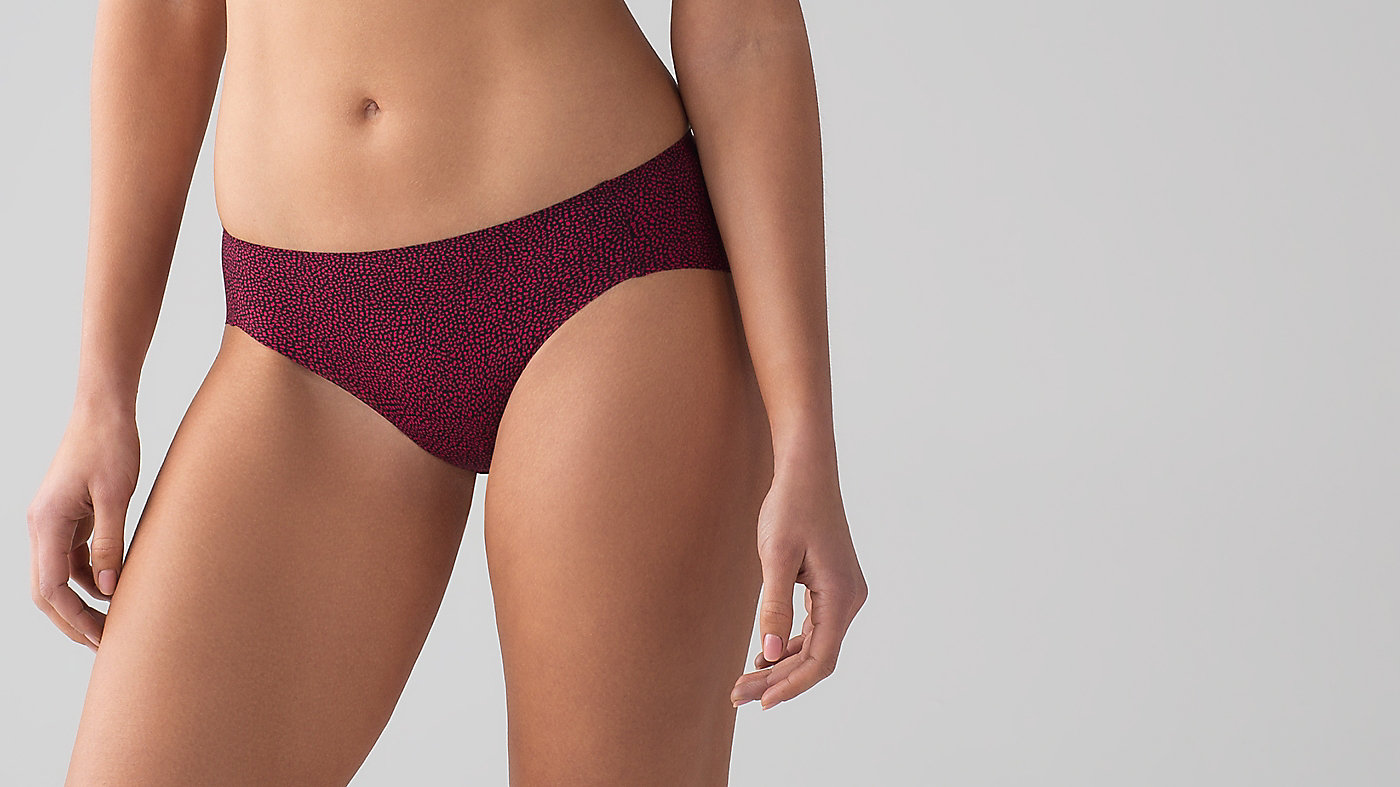 ---
bonded seams
Smooth seams help prevent chafing
---
freecut leg
Helps to minimize VPLs (visible panty lines)
---
bonded gusset
Lets you (and your lady parts) breathe easy
---
CONTOURED FIT
Centre back seam is shaped to fit your body

Namastay Put Hipster
is rated out of
5
by
98
.
Rated

1

out of

5
by
CLine
from
Loved the old style...
I have quite a few of the old namaste put style and wear them almost daily. They're my favorite underwear I have ever found! A few are starting to wear out, so I purchased one of the new namaste put underwear in the same size. Unfortunately ,they ride up, showed lines and were uncomfortable. I haven't worn them since the first time I tried them out. I'm not sure if it's because of the seem up the back or if they are just cut smaller. Is there any way I can buy the old style? Or that they might come back?
Date published: 2017-06-18
Rated

1

out of

5
by
JNogales
from
So very uncomfortable
I'm a big fan of the lululemon brand but this purchase was a bad one. They do not stay in place. I spent the whole time wearing them pulling them down and wishing I didn't spend the money.
Date published: 2017-06-15
Rated

1

out of

5
by
annie1997
from
Sad and Stretched Out
I invested in 7 pairs of these bad boys when I started to really amp up my workout game to motivate me to get active every day. Little did I know they'd stretch out to be twice the size after each wear. Namastay Put is deceiving - it's more like Namastretchout. Now I have 5 pairs that I can't even use so sad :( I wouldn't recommend.
Date published: 2017-06-14
Rated

3

out of

5
by
Hikergal
from
Used to love these
Bought my first pair 4 years ago. Fit like a glove- no seam up the back. Bought 2 more pair. New style,- bought 2 pair, different colors- they don't even fit the same even though they are the same size. One pair is like wearing boy shorts, the other is like wearing an itsy bikini. What happened to consistency? Now the seam has given out in my old pair. I don't usually keep underwear that long- but don't want to buy any more with the seam down the back. Please bring back the old style.
Date published: 2017-06-12
Rated

1

out of

5
by
LuluLover1000
from
Worst Underwear!
I wear Lulu ALL THE TIME! I workout 6 days a week. I love Lulu and I am a fit athlete. I was traveling and I needed full coverage underwear that would stay in place. I was thrilled to find a local Lulu and the sales woman told me the hipsters were wonderful. I bought two pairs and happily went back to the hotel thinking I was in good shape. I couldn't be more disappointed!! This hipster moves all around. It has no ability to stay in place, riding up and down the cheeks. It slid all around and was super uncomfortable. The lines under my clothes were horrible because the underwear bunches! I now have 2 pairs of underwear I will never wear again. Do not buy them!
Date published: 2017-06-07
Rated

1

out of

5
by
Lizthedancer
from
These ride up
I had a pair of the mula bandhawear, which work well, but a saleswoman at a store convinced me that these would stay put better and were overall higher quality. I should have stayed with the mula bandhawear and I wish I could return these. These ride up like nobody's business, and look like they'll fall apart in an instant. The one plus: the fabric feels great.
Date published: 2017-06-05
Rated

3

out of

5
by
Debster74
from
Miss the old hipster!
The older version was the best thing ever. I went back to buy a new pair, as my first pair was damaged in a washing room in India...but have had those for about 5 years.. And as my gran always said: you need three (one in the washing, one in the closet and one on your butt). Very disappointed you do not seem to make them anymore. But, as the sales rep suggested I tried these. There are ok, but not as great, you see them in the Naked Luon bottoms. But, than again, not that much. As a yoga teacher I am a bit more focussed on that ;)
Date published: 2017-05-29
Rated

2

out of

5
by
AddieRhy
from
Loved them until the seam came apart
I received five pairs of these as a gift for Valentine's day and was in LOVE. They were the best, most comfortable underwear in the world. The only negative to originally receiving them was that I didn't have more! However that ship has now sailed. Unfortunately, all but one pair have pulled apart at the seam and are now completely unusable. When it happened to the first pair I thought it was probably something I had done, even though they had only ever been hand washed and laid flat to dry. I mourned their loss but was able to pick myself up and continue on with the others (because you know, they needed me!). When 3 more pairs soon followed suit I knew it wasn't me- it was them. Now all I have left is one pair, sitting in my drawer, daring me to wear them. I can't bring myself to do so because after this pair- they'll ALL be gone! But alas, I know it's just a matter of time. It's a shame, what we had was so amazing.
Date published: 2017-05-21
Rated

2

out of

5
by
Caley
from
Loved them until they snapped
I have the curse of being a pretty intense sweater, so these underwear seemed to be worth the investment for the summer months. But, after only wearing them about a dozen times, the seems on the side snapped. I was actually in the middle of the workday and went the bathroom and they just pulled apart. They're super comfortable, and I love that they don't absorb sweat, but for $18/pair, the longevity just isn't enough.
Date published: 2017-05-18
Rated

2

out of

5
by
amygabb
from
Unfortunately a let down
I loved the fit and feel of the underwear. Also it is such a nice bonus to be able to wear hipster undies without panty lines!!!! However, after handwashing these for about six months the stitches on one side have snapped. If I am going to pay $18 for ONE pair of underwear, I want them to last longer than that. It was extremely disappointing.
Date published: 2017-05-15