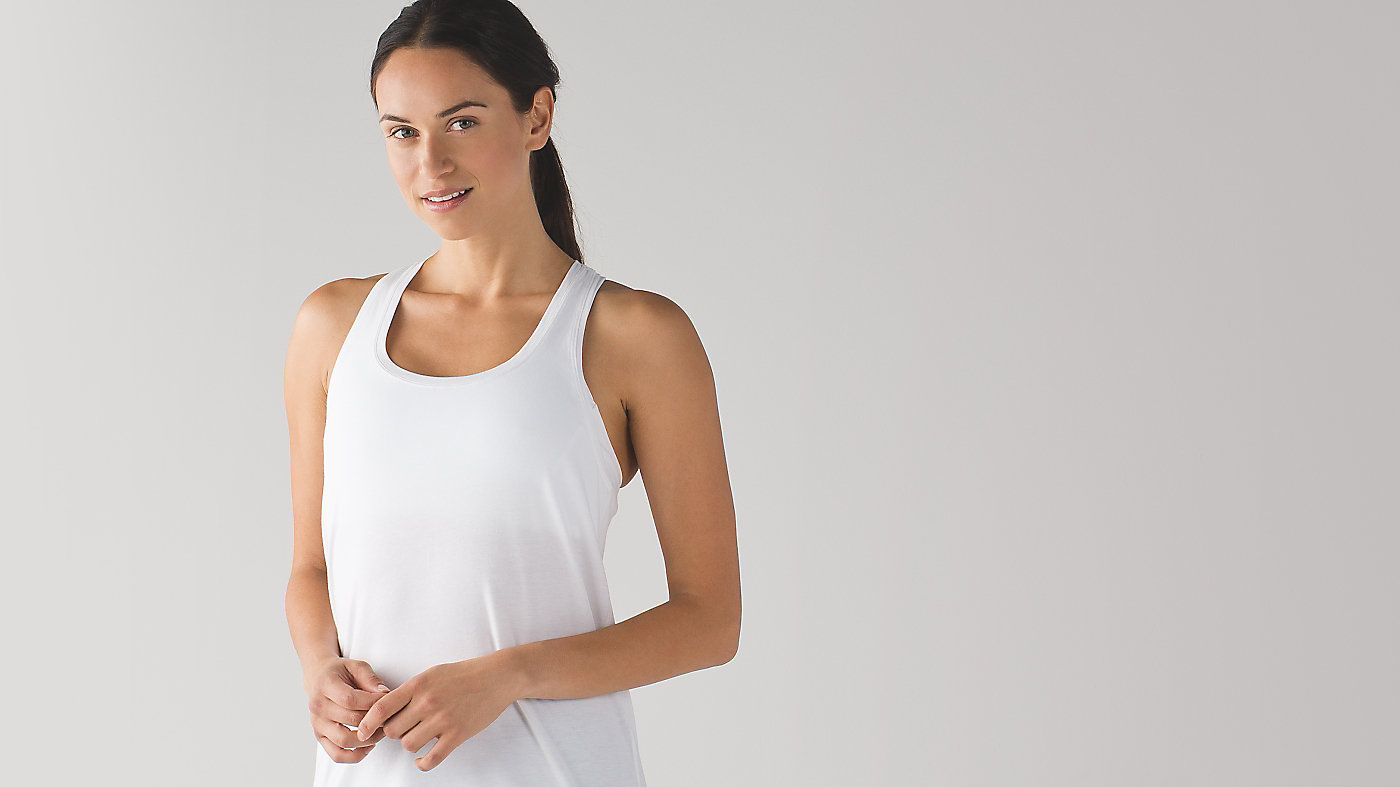 ---
lycra®
Added Lycra® fibre for stretch and shape retention
---
mobility
Racerback cut for full range of movement

Yogi Racerback IV
is rated out of
5
by
26
.
Rated

2

out of

5
by
cz16
from
Hate the bottom hem
I am not a fan of this tank top at all. I have 2 of this version and about 5 or 6 of the yogi racerback III and rarely ever wear this newer version. Along with many others, I appreciate the curved hem and pocket of the previous version and hope that it will be brought back. I don't think I will be buying any more of this version and will stick with the 5 racerback III that I have. Please bring the racerback III back!!!
Date published: 2017-06-06
Rated

1

out of

5
by
samc123321
from
Unfortunate
Purchased 3 of these tanks in black,grey,and white about a week ago. Wore the black twice and noticed a small hole directly in the front of the shirt last night. I have only wore it casually for a couple hours so im wondering if this is common with these shirts or is it just my luck.
Date published: 2017-05-30
Rated

1

out of

5
by
Lululuver80
from
Stretched
Ordered a size 4, fit well for the first couple weeks. Sad to say its completely stretched out. Haven't gained weight and i have an athletic build. So now my size 4 fits like an 6-8. Completely unsatisfied.
Date published: 2017-05-24
Rated

4

out of

5
by
luvlulu222
from
Please more colors
I recently bought this tank (in black) in the store after trying it on with different sports bras, which was the initial purpose of my visit. It was so comfortable that I didn't want to take it off, so I knew I needed to buy it! I came home and went online to order it in another color, but it only came in gray, black, and white! Bummer! If it becomes available in more colors I will be sure to check them out!
Date published: 2017-05-15
Rated

2

out of

5
by
BonnaRoo
from
Bring back the old one
This was pretty much one of threeitems that I bought at Lulu and it was my favorite! I had 4 of these shirts, one in every color except white. Great for dressing up, used as an undershirt and also great for working out. The new fit is no bueno. Boxy as previous women have stated and I don't like the new bottom hem. Please bring the old one back! Thank you.
Date published: 2017-05-10
Rated

2

out of

5
by
Geocat
from
Bring back the Racerback III!
Although this tank isn't awful, it's nothing compared to the fit of the Racerback III. Unless you want to look like a box, the cut is NOT flattering on this top (at least for someone who has hips and 36Cs). Bring back the III!
Date published: 2017-05-05
Rated

5

out of

5
by
squishd
from
My go-to tank for hitting the outdoors
I love this tank! It's super light weight and fits perfect. I wear this all the time, and would really love it if there were more colors to buy! Might have to consider buying a few more of the same colors, since I wear this in rotation so often. Please make more colors!! I love this better than the love tank, as the racer is thinner, and looks much cuter.
Date published: 2017-04-20
Rated

1

out of

5
by
scoots77
from
Poor quality
I really love the way these tanks fit and feel, I own three of the IVs. Sadly, two of my three have issues with small holes up near the collar and chest area of the tank. I had one "repaired", and will have to take another to lulu to have it sewn. Pretty frustrating given I spend so much money on my lulu gear with the expectation that it will hold up during my CrossFit workouts. I take care of all of my lulu pieces and follow all of the directions. Hoping I will not continue to have this problem with the tanks, even after they are stitched back up. Bummed out that the second tank's hole is right in the middle of my chest area and the fix will tarnish the look as I haven't been too impressed with the seamstresses work at the Walnut Creek store in the past. Please fix this quality issue.
Date published: 2017-04-06
Rated

5

out of

5
by
Adge80
from
Perfect
I second all the love this tank is getting. I'm 5"11 and like my tanks long so this is perfect and such a nice change from all the short tanks Lulu has had. I'm an 8 in CRB's and power y's but ordered this in a 6 since I wanted it to be more body skimming. This was perfect a perfect fit, not tight but also not flowy. The length is just as depicted and the fabric is so light and soft. I love the straight hem but agree that this might not be flattering for everyone. I got this in white and it is definitely see through (I can see black tights clearly through it). But I layered this over a power y (they fit PERFECTLY together) and couldn't be happier. I agree that more colors (something vibrant) are needed.
Date published: 2017-03-22
Rated

5

out of

5
by
BeausGirl
from
Favorite!!!
YEEEEEES!!! Finally the perfect tank! I love the material, it is lightweight and soft. The design and fit is just right. It is a perfect racerback tank. Simple and well fitting. I like the straight hem, the looser fit and the bum covering length. I am an 8 in the CRB and took an 8 in this. I love this way more than the form fitting CRBs. Please make more colors!
Date published: 2017-02-25