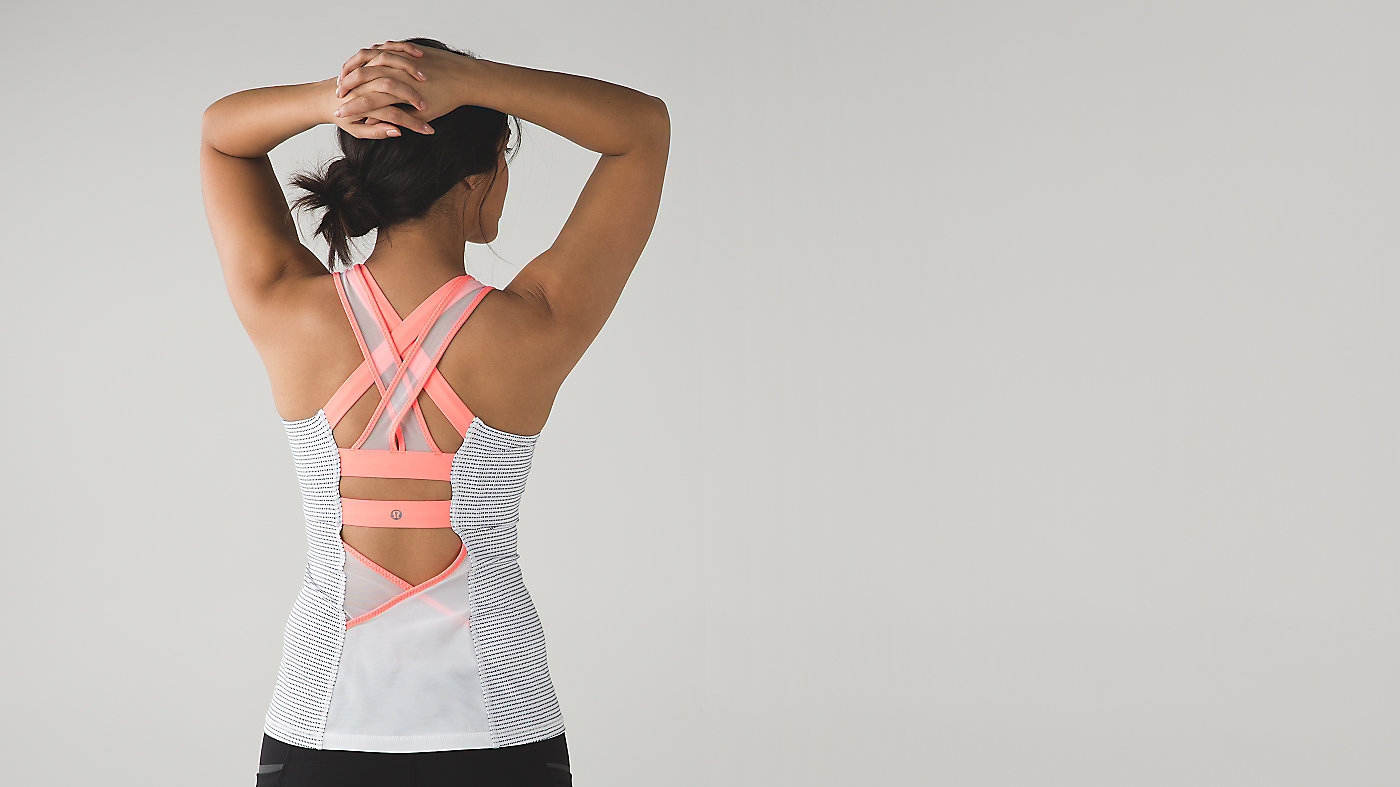 ---
built-in bra
With optional, removable cups
---
medium support
Intended to provide medium support for a B/C cup
---
slim fit
Makes for easy layering

Ready, Set, Sweat Tank
is rated out of
5
by
18
.
Rated

2

out of

5
by
AmesTran
from
Stylish Tank but EXTRA TIGHT Bust Area
Got this tank awhile ago, LOVE the style and look of it (PLEASE make more cute tops like this but appropriate sizing), however the bust area is super super tight. Got it in a size 4 which is my usual sizing for Lululemon. I'm hoping that it'll stretch over time for more room, but it's hard for the girls to breathe in sometimes. Definitely not TTS
Date published: 2017-06-12
Rated

3

out of

5
by
HotMessMama
from
Absolutely love this tank top, it's by far the cutest Lulu top I own! Unfortunately when I wear it the seams rub under my arms leaving a rash.
Date published: 2016-03-06
Rated

2

out of

5
by
Runnersbc
from
Love the style and fit but disappointed...
I loved this top from the moment I saw it. Great for everything- cycling, running, HIIT.. HOWEVER, with only 1 wash the elastic in the straps completely shifted leaving the straps a mess that ended up being very uncomfortable. It seems like the straps were not properly seen in. I see this top gets great reviews so maybe mine was a faulty product? Either way I was disappointed that the elastic shifted so easily and truly disappointed by the quality of what would be a great top.
Date published: 2016-02-26
Rated

5

out of

5
by
Kellee
from
Best for large chested
I love this. I probably won't wear another tank, I'm a 36 D and it gives me awesome support. Wish I would've bought both colors, am in search of the raspberry now.
Date published: 2016-02-22
Rated

3

out of

5
by
Daisyh
from
The sizing is abit off
I read all the reviews, lots of them complaining about the sizing, I thought some of them may have larger bust, that's why it didn't fit well. I have always been a size 6 in all my lulus, so I ignored all the comments, ordered 2 tops, and this is one of them. I just received my orders today and I tried them on, YES, they don't fit as well as my other lulus, they are tighter , feels like 1/2 size smaller than they suppose to be. Danfinatly needs to be a size up to be able to fit well in them. I took all my tags off, can't return them any more. That sucks! Looks like I have to shed some pounds for those tops! Lol
Date published: 2016-02-16
Rated

1

out of

5
by
irenemccormick3
from
Seams cut into skin
I loved this top in raspberry - so much I ordered the black. I wore it today for the first time for an 8-hour fitness training and I had the worst chaffing from the seams, directly under my arms into the skin on my sides. So bummed because it is so beautiful, but I had to continually pull it away from my skin all day and when I took it off, I had huge red welts. It's not too small - I wear an 8 and the other color is an 8 and fits great without any of those issues. I took off the tag and have worn it so no return for me:(
Date published: 2016-02-14
Rated

4

out of

5
by
Ksama
from
Luxurious, Attractive, Supportive Tank
I don't normally like high necklines but tried this tank on for the heck of it. I wasn't expecting it to be my favourite but I kept on cycling back to it out of all of the items I was trying on. The cut is snug in the midriff and belly ( = will not be my forgiving friend when things get a bit bloated) but I know will be awesome for flat(ter) belly days. The beauty of the design, especially the back, is what sold me. Although basic black, the combo of luxtreme (my fave), satiny ribbon-like material in the straps & mesh makes the top look & feel luxurious. The back design is ridiculously flattering, especially for a more broad-shouldered, wide ribcage gal like me. Looking forward to feeling elegant & badass doing/teaching yoga in this tank!
Date published: 2016-02-13
Rated

4

out of

5
by
imamathcat
from
Great! But Color Transfers
This has got to be one of the most beautiful tops I've ever purchases from Lulu! I bought it for hot yoga and it does a great job of wicking sweat and keeping me feeling relatively dry. One complaint though: the first time I wore it to class (hadn't washed it first) some of the color off of the back straps transferred onto my towel during savasana, and didn't come out in the wash. Kind of disappointed, since my towel is a gorgeous, but very light colored pattern. I didn't notice any color transfer on my skin, or on other clothing items in the wash, just the towel. That being said, I'd still buy another one of these if it came in more colors.
Date published: 2016-02-08
Rated

2

out of

5
by
Jans
from
Flattering and supportive, but the quality.....
I wanted to love this top. I really did love it - I bought it for the back detailing and mesh - ad a busy gal (34DD) I love the high mesh neckline - lots of airflow to reduce heat and sweatyness, but enough coverage that I don't feel I'm going to bust out at every forward bend in hot yoga. It's form fitting enough that I get a good view of my form in class, yet covers the belly (sorry, just not confident enough to rock the shorts and bra for class yet) I found it fit TTS - at 5'4", 180lb (apparently I carry it well with a lot of muscle as in standard clothes im an 8/med), and 34DD, I wear 8-10 in LLL Depending on style and in this the 8 was perfect. Sadly, 3 wears in and the mesh has already torn - and yes I've been washing on delicate and hanging to dry. If it weren't for the quality concern this top definitely would have gotten 4.5 - 5 stars, but I just expect more from a $65 top.
Date published: 2016-02-07
Rated

4

out of

5
by
VirginiaYogi
from
Weird sizing, still love it
I am a consistent 6 in Lulu tops but this one is definitely tight, particularly across the bust as other reviewers have noted. I have a small bust so it hasn't been a problem for me, but I do feel like the top is also tight around my hips (although not tight enough to make it uncomfortable, but I do notice it being more fitted). That being said, the burgundy is super cute and the mesh detailing/open back is so key for a super sweaty workout. Definitely a unique top and one that makes me feel great!
Date published: 2016-02-04