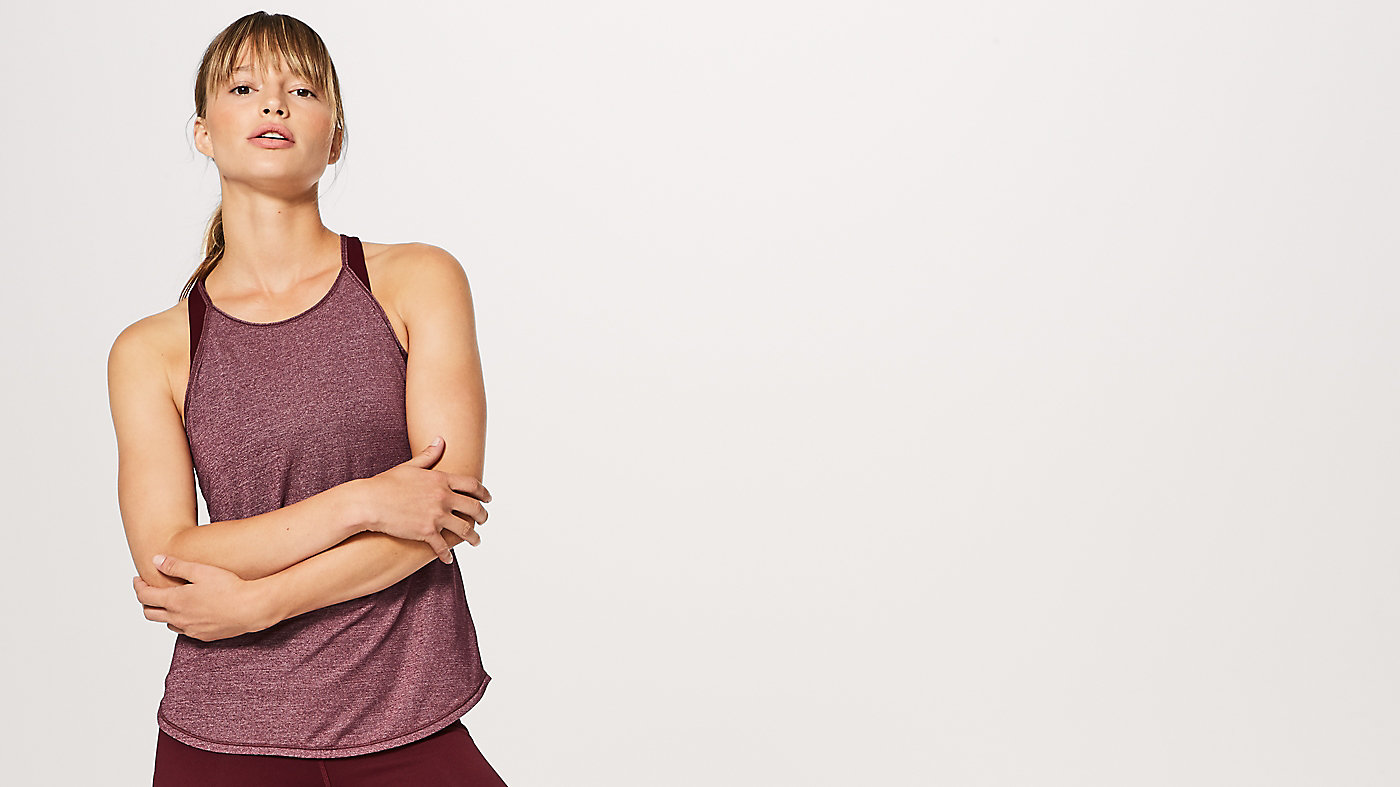 ---
Silverescent® technology
Powered by X-STATIC®, it inhibits the growth of odour-causing bacteria on the tank
---
high-coverage
Keeps your assets under cover
---
extra coverage
Curved hem keeps your bum covered
---
SLIM FIT, HIP LENGTH
Slim fit hugs your body and wicks away sweat while you train

Fast As Light Singlet
is rated out of
5
by
33
.
Rated

1

out of

5
by
Runner0726
from
Don't waste your money
I loved this shirt when I first saw it - I thought it was so cute! I liked that it wasn't quite as long as the other singlet styles, and the back design was really nice. However, after only ONE wear this shirt is already pilling - I'm talking just wearing it to a yoga class and back, not even washing it yet, I wore it a second time and the pilling got so bad I literally threw this shirt away - so after spending $50+ on the shirt (I bought it in WMTM), it wound up in the trash. I don't know what has happened to the quality of Lulu in the past few years, but I find it is really starting to be absolute garbage, I used to love Lulu, and I have 100+ of their products, but I think they're going to be losing an avid customer with these quality issues.
Date published: 2016-12-05
Rated

1

out of

5
by
Seren
from
Non-refundable
I bought this tank online in the on sale section which means non refundable, final sale! I didn't realize it until after I washed it. I usually put thinner materials in a wash baggie so the clothing don't get stretched out. But one of the straps are longer than the other, and it is impossible that the washer stretched it out because it was in a baggie. So I'm a little disappointed because the tank was still 49 and they're final sale. I wish i noticed sooner but I didn't realize a 50 dollar tank could still have uneven straps.
Date published: 2016-11-22
Rated

5

out of

5
by
catenthusiast
from
My favorite tank top!
This tank top is one of Lulu's wonders. Beautiful yet functional design, very breathable, and great material. Hope they bring this back for more colors and maybe a bit cheaper (price seems steep for such little material). I'm 5'2", 105 lb, and a size 2 was perfect. Not too roomy and fit was just right.
Date published: 2016-11-18
Rated

5

out of

5
by
MeaghanJP
from
Favourite Shirt!!
this is my favourite workout shirt! loved it so much that i went back and bought 2 more! very breathable and stays in place while working out! i want every colour!!!
Date published: 2016-10-30
Rated

5

out of

5
by
fjdlksajf
from
Cute and All You Need!
This singlet is the perfect workout top. I have not tried running in it yet, but I wear it to the gym and it is so light and airy. I am short (5 feet) and it sits just below my waist (I purchased a size 2). I don't find it too short or too clingy! I love wearing it with my energy bras because it accentuates the cute straps!
Date published: 2016-10-23
Rated

4

out of

5
by
SandiPaaws
from
Great tank but not my favorite
I purchased this tank in gray and I actually really like the material on the tank and the color. It is a light fabric that helps keep me cool during my cardio workout. I am typically a size 2 in workout tank tops and in this tank, the tank fit really snug on me and with the thinner fabric, its not as flattering and hits higher on my waist than I would like. It does not cover your but or hips. I had already been outside of my return window policy but I wish I had ordered a size larger and I would have been much happier with this tank. In all other lulu tanks that I buy, I am always a 2 and I am swimming in a 4. Its frustrating that the sizing has changed or varies. It would be helpful if the sizing was consistent.
Date published: 2016-10-18
Rated

1

out of

5
by
athleta1
from
Again, bleeding color
I posted a review addressing color bleeding of this tank in a nother color below. I purchased it in 3 colors because I loved the fit and well, that was a costly mistake. I'm now uploading the same report for the blue tank. After I posted the first review on this page regarding the burgundy tank bleeding color, I received and email from Lulu after I submitted the post. The Lululemon team reached out via email asking a laundry list of questions as follows - 1) What activities have you been wearing your gear for? 2) How do you wash and dry your gear? 3) What other garments are you washing your Fast As Light Singlet with? 4) Where exactly has the colour bleeding occurred on your garment? 5) Did you notice the colour bleeding develop immediately or gradually over time? 6) How long have you had the Fast As Light Singlet? 7) Is there anything else you'd like to share First of all, let me start by saying that I was everything in cold water with sport wash, mixed in with my exercise clothing from other brands like Nike and Athleta. However, when I purchase any item, I don't wash it first and then wear it. All of these items are supposedly pre-washed, pre-shrunk, and aside from that, it would an unreasonable thing to expect customers to wash every piece prior to wearing them. Let me get something clear here - at the price point of C$50-75 for shirts, this is not a 'partnership'. Customers are not in the marketplace to experiment with a retailer and 'work together'. We pay a premium for a high quality good, and the performance of all your goods should be as such. Customers should be able to buy an item, wear it and that's it - we shouldn't have to wash it first and then pray that it doesn't bleed color and have it be high maintenance. Also, I would encourage you to rethink your strategy when it comes to having customer return defective items. Having to mail them to a warehouse and wait 2-3 weeks for processing does not exactly leave a great impression on a company that just sold defective workout gear at high-end prices. Facilitate returns to stores and have them sent in batches to your warehouse so that you can test them on your own time and do not waste ours. I filled out the questions list and was told that the process of returning the item to the warehouse and receiving a gift card with store credit would take 2-3 weeks. I ignored the email and have just done away with the tank. I will not be purchasing any more workout tops from Lululemon in the near future. I have discovered Athleta and prefer their quality, as well as price point. Cheers!
Date published: 2016-10-06
Rated

1

out of

5
by
spin13
from
First Lululemon purchase that I wouldn't recommend
I was very excited about this top, wore it TWICE to spinning. after my second wear, I noticed that the threads were starting to pull multiple places on the top... I didn't get anything stuck to it nor was I doing anything besides sitting on a bike. should not be happening for the price. very light, comfortable material (until you start sweating), in theory good for the "hottest training days", but was expecting it to be of much higher quality. Also, the top absorbed all of my sweat, so after my spin class it was clinging to me/every last drop of sweat was visible through the top. Other tops I've purchased from Lululemon have lasted through countless workouts throughout the last 5 or so years...was very surprised this happened with this top :(
Date published: 2016-10-03
Rated

5

out of

5
by
hailsholland
from
THE lulu tank to own
I seriously can not say enough good things about this top! The straps are cute and different (in a good way), the high neck line is super flattering (which I was skeptical about initially, being a full C-cup), and it is literally the perfect amount of lose and form fitting (close to the body, but still flowy (so flattering)! The length is perfect, I am 5'4" so lately most of the lulu tops have been much too long for me. I will say, with my pale skin, the blue just looked odd on me so I did return that one, but I own it in the other 3 colors. Lululemon, please NEVER stop making this top, and please get more colors (the maroon-ish one is my favorite so far). All in all, GET THIS TOP, you will not regret it.
Date published: 2016-09-16
Rated

2

out of

5
by
LilyGmom
from
Short baggy top
I got the red-ish colored one on my usual size 2 (tops) and loved the color - it's almost like a watermelon red. The fit was not such a winner. Description says its supposed to cover your butt, but this top is very short, it barely covered my mid section. It's also too roomy in the back where the gap is and it just doesnt' hang nicely on me. It could be just my body shape, but this will be the first time ever that a LLL is not a keeper in my book. I loved the higher neck, fabric and, overall design idea - it just didn't deliver
Date published: 2016-09-16