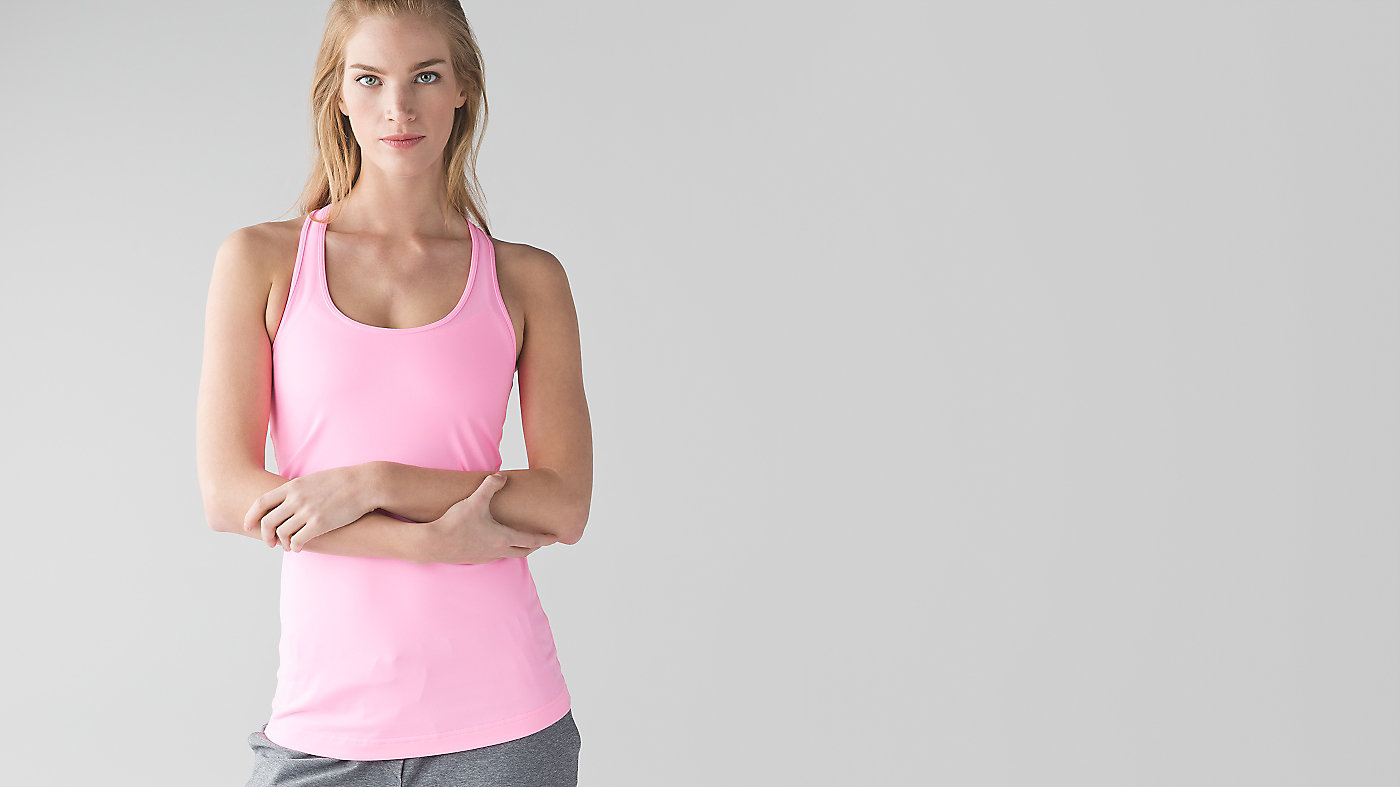 designed for
Yoga, run, train
---
tight fit
Sits right against your body for easy layering
---
hip length
Stays out of your way and moves with you

Cool Racerback
is rated out of
5
by
1752
.
Rated

5

out of

5
by
Nickster80
from
Please bring it back
This tank is my fave. It doesn't move, fits well and is a staple in my workout wardrobe. The Cool Racerback II, just doesn't compare!
Date published: 2017-06-20
Rated

2

out of

5
by
SpinNKBox
from
If It Ain't Broken...
This used to be my go-to tank. I have loads of them in every print and color. Loved everything about it - the fact that it was form-fitting, light fabric that supported my high-intensity training sessions without interfering or overheating. I was so excited to purchase the tank in red which was missing from my assortment. The color was really beautiful, but I had discovered the fabric had changed. The lycra % had increased, and the fabric is now extremely thick, stiff and chunky, almost to the extent I would hesitate to wear it during the summer. The tank no longer glides on and stays put. Instead, it rides up and gathers. A real bummer that my favorite style has lost all of its best qualities. If there is any way to reverse this and bring the previous fabric back, that would be awesome....
Date published: 2017-05-12
Rated

4

out of

5
by
em1cf
from
Too Long....
I have this tank in a couple different colors - I love the material and the fit, but it is super long. Because of the length I don't wear it to workout very often (it'll cover a lot of my shorts, and it looks awkward) :( But I like it for to/from, travel and active activities that I wear pants to.
Date published: 2017-04-30
Rated

5

out of

5
by
gibsemmal
from
Best Workout Tank!!
This tank is by far my favorite to workout in. Lululemon material is always the best quality and this tank is perfect if you are getting in a good hard sweat! Fits perfectly and hugs curves in all the right ways - I would recommend this tank to anyone!
Date published: 2017-04-29
Rated

5

out of

5
by
Essentialyogi
from
Perfect tank
This is the perfect tank, long enough to stay put, keeps its shape, great for hot yoga, very flattering, Lulu needs to make more for in-store and online. Especially, in black and print.
Date published: 2017-04-21
Rated

5

out of

5
by
MelissM27
from
My favorite tank of all time!
I order this tank online last week in hopes in would be just like the old cool racerback from a few years ago. To my pleasant surprise it is! The fabric is nice, smooth and thick. It fits nice and snug. I love that is a little bit longer. I really don't like the new cool racerback II that came out and was so dipointed with that one. (I don't like the material or the cut.) I was so excited when this one arrived! I hope they bring it back into stores and in more colors!
Date published: 2017-04-19
Rated

5

out of

5
by
LoveDogs
from
Happy dance-cranberry is luon!
The cool racerback has not fit me well since the switch was made from luon to luon light years ago. The older (vintage) luon CRBs fit me perfectly. I've been between sizes ever since with the size 4 being too tight, and the size 6 being too low in the body--hemming just makes the low scoop look out of proportion with the length on my body. The scoop is also too low in the 6. Anyway, I've had trouble with the CRB II stretching out, so I thought I'd give the original CRB another try, and I'm so glad I did. It is perfection! the fit is spot on even though I tried my size down. The best part for me is that 1. The tag says it is made from luon and not luon light, and 2. The quality is there-thicker fabric, and quality stitching. I really hope that lululemon continues to offer the original, or at least starts making the CRBs in luon and not luon light. I will happily pay more for the quality:). Just my two cents.
Date published: 2017-04-02
Rated

3

out of

5
by
Leesdino
from
It's nice, but way too tight
This version of the tank is WAY tighter than all that I've owned previously. I'm typically a size 6, but I could barely breathe when I first tried it on. Luckily it stretched out after one wear. Be careful when purchasing the cranberry! I would suggest washing prior to use. First time wearing them and the color bled and rubbed all over my white bra and pants, now ruined. RIP.
Date published: 2017-03-16
Rated

5

out of

5
by
finwife
from
Love the CRB
I have these in multiple colours and love them all. No issues with pulled strings or pilling!
Date published: 2017-03-08
Rated

5

out of

5
by
tallrunnergirl
from
My Happy Place
Well the title of this explains my opinion of this original Cool Racerback. Wearing this puts me in my "happy place". I was so excited when they resurrected the original CRB over Christmas and ordered several colors. Admittedly the fabric was a little different on those, but the cut was the same awesomeness as years past. I just received the new sapphire blue. The fabric of the new sapphire is like the CRBs from years back. Thick and almost cottony feeling. I literally didn't have a go-to lulu top for a while when they quit making the original CRB and original sculpt tank. Please keep making more of these in great colors. I love for the long length, slightly wider back, and higher arm holes than the new version. Please keep making a top that is long like this. Seems to me that the CRB2 is power Y with a different name and no bra.. I respect a company that can go back to its original design because the new one just isn't quite right!
Date published: 2017-02-27