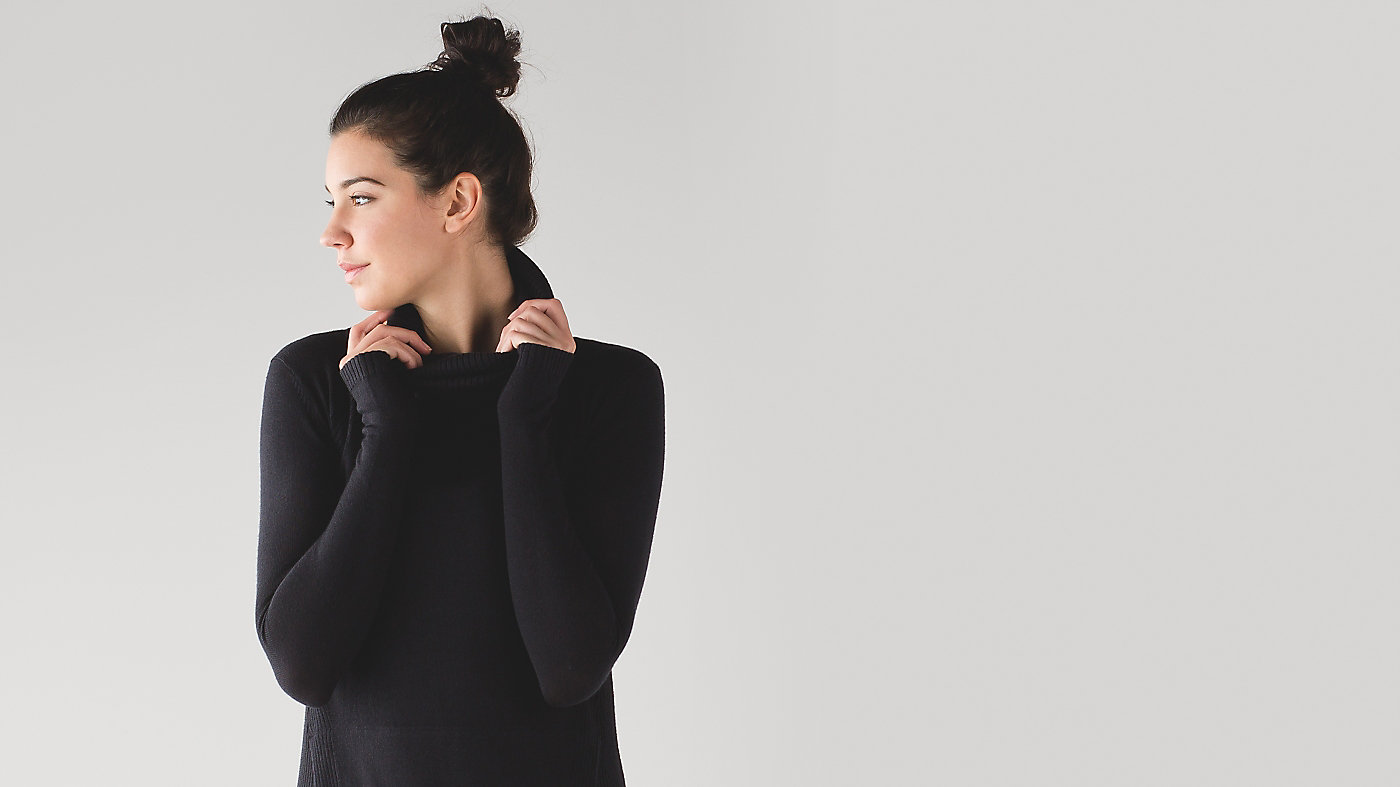 ---
kangaroo pocket
For easy access to your essentials

Sweat And Savasana Sweater
is rated out of
5
by
49
.
Rated

1

out of

5
by
pivoteturn
from
Shrunk - No forwarning from staff........
My first 'poor' review. I wish I'd been given a 'heads up' from retail staff that my formerly- perfect sweater would shrink. I bought size 6 (typically wear 4 or 6 depending on the look I'm aiming for). It was perfect initially..... until I washed it. Now it's short and boxy..... but not in a good way. I'm 5' 3 - so I should be able to get away with a little bit, but my sweater now hits just below my hip bone. Very sad because I LOVED it.
Date published: 2017-04-21
Rated

5

out of

5
by
kelbalina
from
So beautiful!!
I honestly feel like I need to defend all the bad reviews on this sweater... The first time I saw it was shortly after it showed up on the website, and I fell in love with it. I was not so excited about the price at the time, but my mom ended up getting it for me for Christmas. I was so happy! I have wore this sweater since Christmas probably at least 5 times now, and I have washed it 3 times. Since I got this sweater, it looks the same! I haven't had any issues with pilling, and it has retained its shape since I got it. I don't know if I just got lucky with mine, but I seriously still love this sweater as much as the day I got it. As with all of my lulu clothes, I wash this sweater only with other lulu clothes - on delicate, cold water, and I hang them all to dry. I have lululemon clothes from 9 years ago that still look brand new... So please, take all reviews with a grain of salt (including mine), and consider that if you genuinely take care of your clothes (which you should, even though this is on sale now, $108 is not thrift store pricing...), they will last you a very long time! My wardrobe has grown to be over 1/3 lulu clothes, not just for yoga, but for every day wear, and that is largely due to the longevity I have experienced in their products. However, I am confident that others will not experience the same sort of longevity if they do not take special care in washing and storing their garments! To add - the fit of this is perfect, I love the fold over turtleneck style, and it is fitted enough to show off the shape of my body, but baggy enough that I can hide any bloating or anything and still feel really great about how I look :P. I am 5'4" and wear a size 2 in all lulu tops, and that didn't change with this purchase. Very happy!!
Date published: 2017-04-15
Rated

1

out of

5
by
Chindaroo
from
It shrunk!
I loved this sweater when I bought it and started wearing it. Am always on the look out for warm sweaters during the winter and this one (88% merino wool) seemed great. Then I washed it... and I am no longer loving this sweater. I followed the directives: hand wash cycle, cold water, no dryer, laid flat to dry... Results: the sweater shrunk. It's now generally smaller all over, but more so under the arms. And I'd say it's not as smooth.. it looks crumpled, and "cheap"! For the price I paid, I'm definitely not happy!! What a disappointment Lululemon.
Date published: 2017-03-16
Rated

1

out of

5
by
medandbed
from
Great, until you wash it
I absolutely loved the look of this sweater! I tried it on in store in the blue colour and ended up receiving it for my birthday. I wore it for the first time the other day, got lots of compliments and I felt great wearing it. The fit and sizing was perfect, super comfy, super soft, not itchy - no complaints. This morning, I followed the washing and drying instructions on the tag. When I went to go put the sweater away, I noticed two runs (one in each arm) of the sweater producing two visible holes. I am so upset! For such a pricy item, and for only getting one wear before it was ruined, I am very, very disappointed.
Date published: 2017-03-14
Rated

1

out of

5
by
LZilinski
from
Should have read the reviews....
I wore this sweater once. Came out of the wash with a large hole in the front middle of the sweater. Its ruined. So disappointed in the quality of what I thought was going to be a go to sweater this spring.
Date published: 2017-03-01
Rated

2

out of

5
by
WyOMite
from
No longevity
I bought two of these because I loved the fit and material so much. I ended up washing the black one (on gentle cycle and no dryer) and now it has two areas where large holes have developed, one near the pocket and the other at the neck. I am not going to wash the other one I have for fear that the same thing will happen.
Date published: 2017-02-27
Rated

2

out of

5
by
momof2lululover
from
Another shrinking sweater...
I am SO disappointed with this sweater after it's first wash (hand washed, laid flat to dry). It is now almost too small, the thumbholes are up past my wrist (so, unusable) and the pouch/pocket is still loose while the rest of the sweater is tight. For the price point, this is ridiculous!
Date published: 2017-02-26
Rated

1

out of

5
by
yogalover100
from
My favorite piece ruined!
Loved, loved the sweater! It was so soft comfy; I truly wanted to live in it. However, I was nervous about finally washing it. I inquired at the store, and Lulu sales person suggested using a dry cleaner. Unfortunately, after one wash an expensive dry cleaner, the sweater has pilling all over. My soft beauty looks like a faded and nubby mess. I am so disappointed!!!
Date published: 2017-02-23
Rated

1

out of

5
by
Philly
from
More trouble than its worth
I live in Japan, but was travelling in the US a few weeks ago. I purchased this sweater while we were in the US, was excited to wear it once we returned as the sweater was just the right weight for the weather in Tokyo. Washed the sweater according to the label instructions and well that one washing completely ruined the sweater. The pocket on the sweater has totally puckered and pulled and now has a bizarre diamond pattern on it. It is unwearable. Wish I had read the previous reviews before I purchased this as it would have saved me a lot of trouble. Thank goodness Lululemon has decent customer service as I have contacted them and they have agreed to do a return and issue a gift card. However, because I live in Asia it is a bit more of a process than just going to the store to return it. It is a lot more trouble than I needed for just purchasing a sweater.
Date published: 2017-02-23
Rated

2

out of

5
by
Jules801
from
Dang.. wish I read the reviews
I LOVED this sweater. I've worn this once at week since I got it. It was so soft, comfy, flattering, It was a christmas present from my fiance. I have so much lulu that I trusted I could dry it, and it would hold quality. I also thought by drying it, the softness would hold. I'm devastated its ruined. It fits more at the waist then the hip, the arms are tight and sleeves don't hang by my hand, but at the wrist, its not so soft anymore and the quality look for a $148 sweater is gone. I'm so sad. I thought about dry cleaning but leaving for a Dallas teacher training and wanted it clean. Yes, I've worn it for two months and this is the first wash. :(
Date published: 2017-02-21