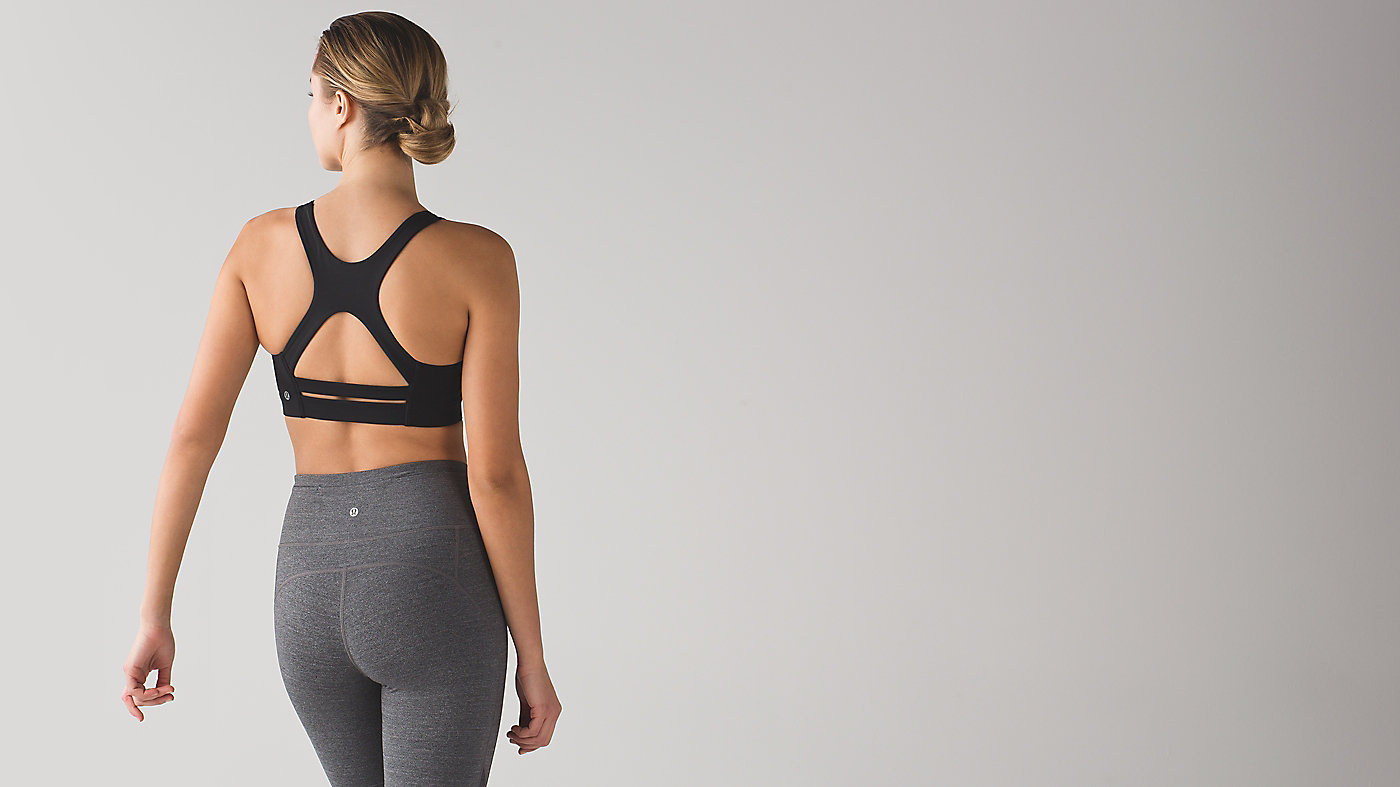 ---
lycra®
Added Lycra® fibre for stretch and shape retention
---
high-coverage
Keeps your assets under cover
---
medium support
Intended to provide medium support for a B/C cup

Gear Up Bra
is rated out of
5
by
17
.
Rated

1

out of

5
by
caseymcc
from
Fraying seams
I purchased this bra a couple months ago in the navy color and loved it!!! I love that it is higher in the front and really supportive. I decided I would order another one. Ive only worn it once and the seams are already letting go!! right by my arm pit, I noticed black thread as I was running. I am so disappointed, this never happened with the original one I purchased :( I don't even know if its something that can be fixed.
Date published: 2017-06-23
Rated

1

out of

5
by
cliffmo
from
Wouldn't recommend...got terrible chafing where mesh seam meets the bra :(
I'm 5'9" 150lbs and 36c. I bought this in my usual 8 and had worn it for a few bootcamp classes and it was fine. Then I wore it on a run and it chafed in the most bizarre spot on the seam where the mesh meets the rest of the bra. It burned like crazy when I got in the shower. I understand that chafing may occur from skin rubbing on skin, but I have never experienced chafing from bra seams before and in such a strange place. Not impressed with this, but sadly I'm stuck with it since I bought it in wmtm.
Date published: 2017-05-30
Rated

3

out of

5
by
LuluStrong
from
SIZE UP!!!
Size up for sure!! This bra is amazing and super cute! But it might end up just hanging in my closet because it is way too tight to breathe in! I am normally a size 4 in all lulu items so I didn't try it on before I bought it and that was a huge mistake! Also, they changed the size chart for bras online so you can't check your size for the bras numbered 2-12. I would recommend this bra if you try it on first to get the correct size before you buy it!
Date published: 2017-05-28
Rated

4

out of

5
by
AmesTran
from
Cute bra but a bit snug
bought this bra on the WMTM section, cute bra with a high neck and mesh designs. However, I'd suggest sizing up as the bands are a bit snug than their normal bra's. I'm usually a size 8 but luckily grabbed a 10 and fits well. Wouldn't recommend for for ladies with a busty chest.
Date published: 2017-05-25
Rated

1

out of

5
by
Emsa
from
Not a great option for a fuller chest
Pros: I'm glad I purchased this at the sale price from WMTM. Cons: I am a 36DD/36E and this bra just stifled my girls. I'm usually a 10 in lulu sports bras, sometimes a 12. Based on the reviews, I decided to size up to a 12. Clearly, this was not enough. Everything felt far too snug on my chest, while the band at the bottom simultaneously felt loose. How is this possible?? I wore the sports bra for a few barre classes and felt that at any moment during an arm extension, one of my girls would slide out *beneath* the band (this is definitely a new one for me). I sincerely wish I had tried on in store before purchasing because the fit on this sports bra was abysmal. I would NOT rec'd this bra for fuller-chested folks. That said, I'm disappointed because it's hard to find sports bra styles for fuller-chested women that are cute (I really did like the look of the mesh at top).
Date published: 2017-05-11
Rated

4

out of

5
by
MrsCope
from
Where are the removable pads?
I love this bra and would definitely but more buy I need the removable pads. I was disappointed when I didn't see any in the package. Pads are a must have for me.
Date published: 2017-05-08
Rated

5

out of

5
by
augend
from
Great A/B cup bra for lifting
I often wear low cut tanks and tops when I'm weight training, and most of the bras I have are similarly pretty low cut. When I bend over over doing deadlifts, rows, or pushups, you can completely see down my cleavage. I hate that, especially in a weightroom full of men. I like this bra because it adds coverage to my chest with flattering, breathable mesh. I ended up buying two more of these bras in the same black/blue color. Please make more lifting- and training-centric bras that cover the chest area in cute ways like with this mesh!
Date published: 2017-05-06
Rated

2

out of

5
by
RunnerGabby
from
Good Coverage BAD CHAFING
I was really excited to receive this bra after so many positive reviews. I'm a runner with a 32D so am constantly looking for a supportive and good coverage bra to take out on my long runs. When I got this it seemed great, fit well, and was super comfortable. I went out for a run and unfortunately 3 miles in I started feeling an uncomfortable burning around the top seam of the bra where the mesh is outlined. I got home and got undressed and realized that this seam had rubbed my skin raw all along the top seam on my chest. I looked like I was wearing a necklace of a skin burn for days. I emailed customer support but haven't heard back and am now stuck with a bra that I can't wear. Super disappointed. :( The search for a non chafing supportive run bra continues.
Date published: 2017-05-03
Rated

5

out of

5
by
IslandSweat
from
PLEASE KEEP MAKING THIS BRA
I LOVE LOVE LOVE LOVE LOVE this bra. It is so cute and it's hard to find a good racerback sports bra that feels comfortable when I'm running 10km since I'm on the bustier side (32DD). The mesh is also perfect for added coverage when I'm teaching yoga or on the spin bike. I basically use this bra for everything so please please please bring it back :)
Date published: 2017-04-29
Rated

5

out of

5
by
Julz2015
from
Does the job
This ish is TIGHT! I wore this running, just to test it out, and I felt so secure! I wore this during yoga, and this high neck of mesh ensured that my boobs stayed in, but were still getting air. I wore this hiking, and felt great. I wouldn't wear it to lounge around though, my boobs are SO WELL held in that they do start to ache. This bra is what I've been missing. PLUS it's super cute so when I don't wear a shirt in the summer while I run, I will still look cute and be FULLY covered! This bra is a win for me!
Date published: 2017-04-25