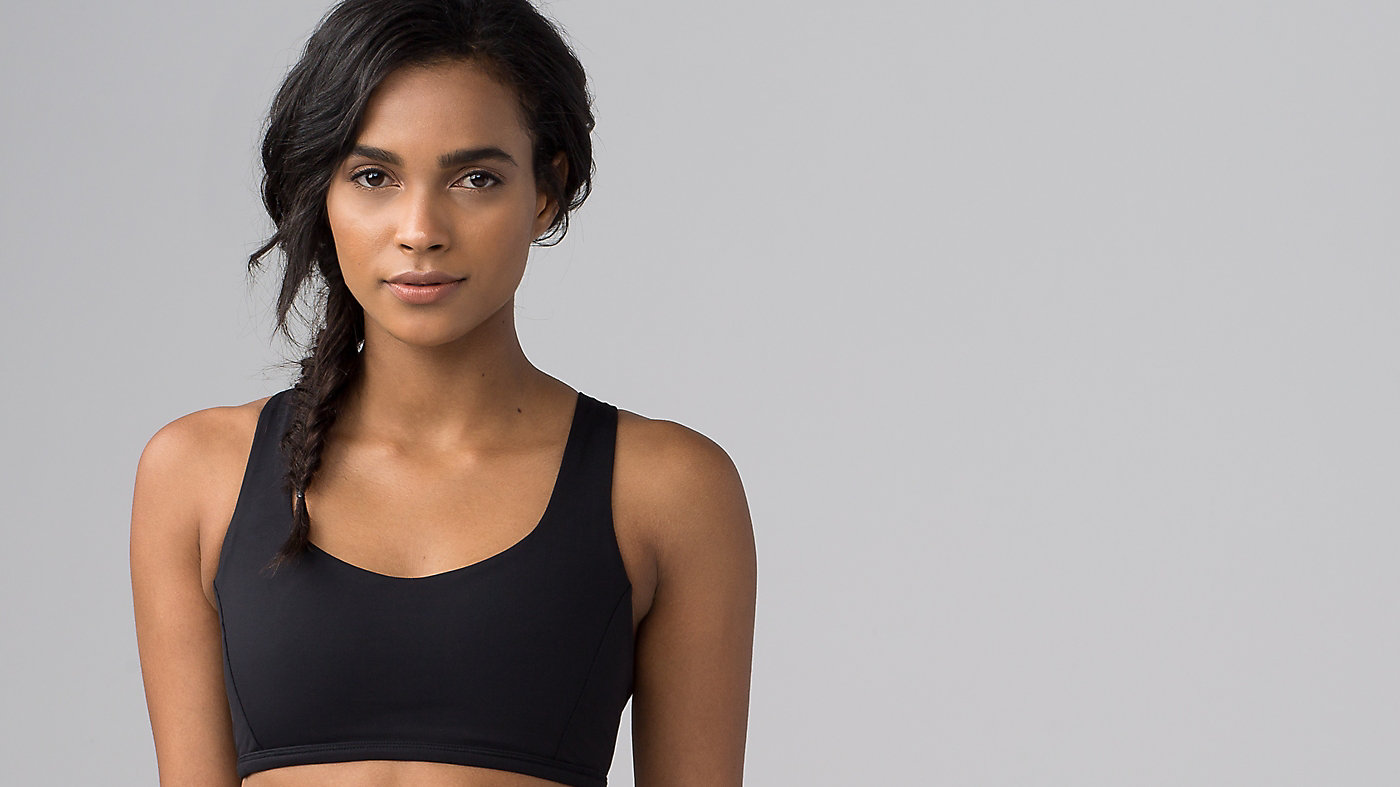 ---
lycra®
Added Lycra® fibre for stretch and shape retention
---
coverage
Designed to provide coverage for an A/B cup

Free To Be Tranquil Bra
is rated out of
5
by
61
.
Rated

5

out of

5
by
beachvolley98
from
My favorite sport bra yet!!
I have a lot of sports bras, but this one is actually my FAVORITE. Supportive, cute and so simple! I am a beachvolleyball player and I dig balls in the sand, and this bra is as new as when i bought it. Never gets dirty and the fabrics is very durable. So happy about it.
Date published: 2017-06-07
Rated

5

out of

5
by
NicoA
from
Perfect
This bra is great! I adore it! Not only is it super cute, but its SUPER comfortable (the most comfortable sports bra I have ever owned). I'm a 36C and this bra in a size 10 is my GO-TO. I love it at the gym, during yoga and for lounging. It will be my travel bra during my upcoming 10 hour flights this summer. It might not work for running (but I wear the Ta Ta Tamer for running anyways) but it definitely works for HIIT cycling sessions as well as general strength training and accessory workouts.
Date published: 2017-05-18
Rated

4

out of

5
by
Rhae
from
Simple and Good Quality
Love this sports bra. Comfortable and cute. Works well for all types of activities such as running, yoga, weight-training. Would recommend!
Date published: 2017-05-16
Rated

2

out of

5
by
GirlfromMaine
from
Different between colors
I purchased the FTBT in grey about 2 months ago and just love it. It's perfect and comfortable. Unfortunately I purchased the same bra in black and there is a huge design change. On the grey one the understrap that rests below your breasts is think. On the black one it is about 1/3 of the size in thickness and so it doesn't provide any support. I'm incredibly disappointed and will be returning the black one.
Date published: 2017-05-11
Rated

2

out of

5
by
JRB11
from
Stretched Out
This bra stretched after just a few wears. I can no longer wear it. Every time I raise my arms, I have to adjust my bra so I don't have under-boob. If you are in between sizes, I would suggest ordering the smaller size. It will stretch! I have never had a similar problem with other bras - I love the Free to Be Wild bras and didn't experience the same issues. This bra definitely fell short of expectations.
Date published: 2017-04-30
Rated

4

out of

5
by
WindyRunner
from
Very Comfortable, Decent Support - Don't Discontinue!
I finally got to try this bra on in a store, but it was the very last one on the rack. The Eds there told me it was being discontinued, to be replaced by the FTB Serene. The bra is perfect for me, very comfortable with decent support. I'm really small on top, so if you are a B-C, I could see how this one wouldn't provide enough support / coverage. I'm sad it is being discontinued as the FTBZen straps are uncomfortable and the FTB Serene is a little too much coverage for me.
Date published: 2017-04-25
Rated

5

out of

5
by
dairy4life
from
My perfect sports bra
LOVE this bra! I often find sports bras way too tight and restricting and this will be my new go to. Exactly as the name implies, Free to be! I hope it stands up to ware and washing.
Date published: 2017-04-24
Rated

1

out of

5
by
Bumble
from
Disappointed
Unfortunately this sports bra did not live up to my expectations - in the least. Despite the pattern I don't have much else positive to say about this article, which it too bad. I had such high expectations because of the pattern and number of straps... but the band fits very loose and the straps are too long for my shoulders so they just hang there and get in the way, rather than touch my back like they should. Also the band provides very little support and does not fit according to the sizing chart. All my other sports bras are size 12, but I got this one to be a little tighter, unfortunately it is way too loose and I will have to alter it just to fit semi-properly.
Date published: 2017-04-12
Rated

5

out of

5
by
cassidurr21
from
Amazing!
I normally stick to the sport bras that I know, but I decided to give this one a chance. LOVE IT. Just enough support and the fit is great. I only wish that they would come out with more colors in this bra.
Date published: 2017-04-11
Rated

5

out of

5
by
bluesky123
from
Amazing Sports Bra!
I found this sports bra to be very comfortable and even though it says light support for B/C cup, it felt to be to be at least a medium support (I'm a B cup). I also really like the straps at the back.
Date published: 2017-04-07