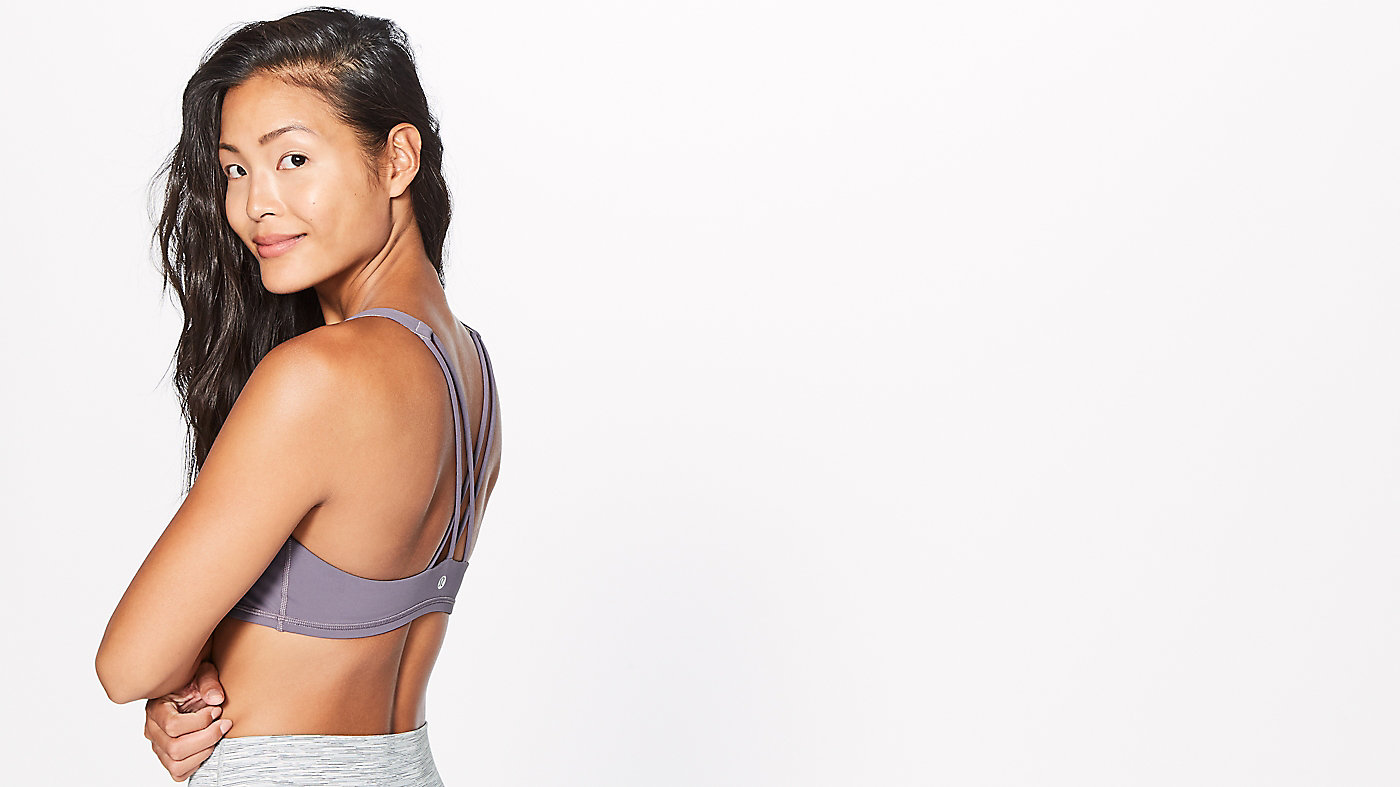 ---
lycra®
Added Lycra® fibre for stretch and shape retention
---
Coverage
Pockets for optional, removable cups
---
light support
Intended to provide light support for an A/B cup

Free To Be Bra
is rated out of
5
by
1031
.
Rated

3

out of

5
by
SJai09
from
Very pretty clean look, but stretched out after 1 wash
I was really excited about this product. I consulted a sales associate on which size I should go with (was in a rush to try it on) so the sales associate recommended size 4 (small). which I then purchased and and the day I was ready to use it, of course I tore all the tags off and wore it. I felt it had a bit more space than I would like. It looked very nice on, great material. I washed it once and it felt very loose with no support, unfortunately. I noticed there were some bleach stains (some bright pink spots) on various areas of the bra. I'm not sure why that is as non of my other clothing or other lululemon products have any on it. I recommend getting a size smaller just to ensure this fits you perfectly!
Date published: 2017-08-17
Rated

3

out of

5
by
lululover7736
from
Good and pretty sports bra that stretches out after repeated washes
I really love this sports bra. I love it so much that I have 3 of them. I have a small chest (32B) so it provides the perfect amount of support for running, yoga, dance, ect, while still being super cute. My only complaint about the sports bra is that it stretches out quite a bit after 10 washes. I hand wash in cold. One of my sports bras has stretched out so much that I can only wear it under full cover t-shirts, otherwise I would be exposing myself too much since it no longer stays up. It's just a tad disappointing, since I generally am able to trust the quality of lululemon products to hold up for the long term.
Date published: 2017-08-13
Rated

4

out of

5
by
Seasalt
from
Perfect for everyday-wear
I have purchased the Free to Be and Free to Be Wild in the past, and have just recently picked up a third because they are so simple and easy to wear! I really do enjoy the style, fit and fabric of this product. The only downside is that the stitching on on the back of BOTH bras have started to unravel! It is a huge disappointment as I wish I could continue to wear them, but I don't want the stitching to unravel even more! I will give it one more chance with the one that I have just purchased, I really hope it doesn't happen again.
Date published: 2017-08-09
Rated

3

out of

5
by
ljortberg
from
Good bra, but color fades quickly
I really love this bra. However, I have two teal versions of it, and they are both fading a ton. They are super awesome, but I'm super sad that the vibrance of the color faded so quickly even while following their wash and dry instructions. It is my favorite bra, but I am hesitant to buy it in any color but black.
Date published: 2017-08-07
Rated

1

out of

5
by
RCboxing
from
Sports Bra
Overall I think this bra does the job. In comparison to previous Free to Be Bras I think the newer ones lose a little bit of comfort, but I am giving it the benefit of the doubt. For someone who has a small chest this bra has a decent fit. They are great for me to wear in the gym and in between class and work. As far as the sizing I wear a size 6 and I am a 34A, I feel like if I went any smaller it would be way too tight. Where my disappointment comes into play is when I purchased online and received the bra it was covered in makeup. Really killed my joy of getting a new bra I paid $40 bucks for when it was dirty from makeup stains. I was sad about that usually I have had good success with Lulu.
Date published: 2017-08-07
Rated

5

out of

5
by
meganca
from
Best fitting bra for a non-busty chick
This bra fits like a glove. I'm a 32B and I'm really not all that busty. This bra beats them all with the simple back and faltering bust line. I don't have to worry about sweat collecting under my bust and then staying their through the day. The seam is thin enough so I can stay supported and dry throughout as well as after my yoga practice. I also wear it on my runs. My collection consist of black or a black print. I bought Sea Water, but the color faded on the straps already. I gentle washed and line dried, so I'm not sure if there was anything I did that got to that point.
Date published: 2017-08-06
Rated

3

out of

5
by
scb092
from
Loved at first
I bought this bra in multiple colors. It is one of my favourite bras from lulu especially as an everyday light supportive bra. I recently went and picked up a new one when I fell in love with the color but the straps are just way to loose. I bought it in my regular size. It fits perfectly around my chest but the straps are so loose they just hang there. Disappointing when I thought of this as my favourite bra.
Date published: 2017-08-06
Rated

5

out of

5
by
kaitykates
from
Super comfortable, love the colour!
I bought this bra 6 years ago, and it was comfortable but lost it's shape in a month or so. Plus the inner cups kept moving around. I saw this online and loved the vibrant raspberry colour and decided to give it another chance. LOVE IT! I wear it to practice gymnastics, running at the gym, and hot yoga. I find this revitalized version keeps it's shape a lot better, and the cups stay in place! I am pretty small chested (32 A) so I'm not sure how this would work out for others. Not to mention, this version has a inner mesh like material which the older version did not have. It just gives it that added durability and breathability.
Date published: 2017-08-04
Rated

5

out of

5
by
Mrsmach
from
Favorite LL bra
I'm finally writing a review about this sports bra. It is my absolute favorite but not for working out in, not really great for holding the tatas down while bouncing up and down, but would be great for something like yoga. I have it in probaby 8 different colors/prints. It's not really tight enough for me to workout in but I literally wear this bra every day. I have a hard time with other Lulu bras because the band around the chest is usually way too tight with in the breast area is usually way too big. I'm about a 38B is wear this in a size 8. I don't like things very tight; my husband thinks I wear LL one size too big :)
Date published: 2017-08-04
Rated

5

out of

5
by
czl0088
from
A Classic Must Have for Me!
This style will always be one of my most favorite bras I've ever bought from lulu. I have 4 of these and a variety of Wilds, and as much as I love how the Wilds look, sometimes you just want to put on a bra without a thousand straps. This is my go to! I'm barely a 34B, but with a wide ribcage and an athletic, muscular build, I always go for a 6 and it's very comfortable. A 4 chafes on me. Personally, I feel like it has enough support to do higher impact workouts and running, but I'm also a member of the #ittybittytittycommitee :)
Date published: 2017-07-25