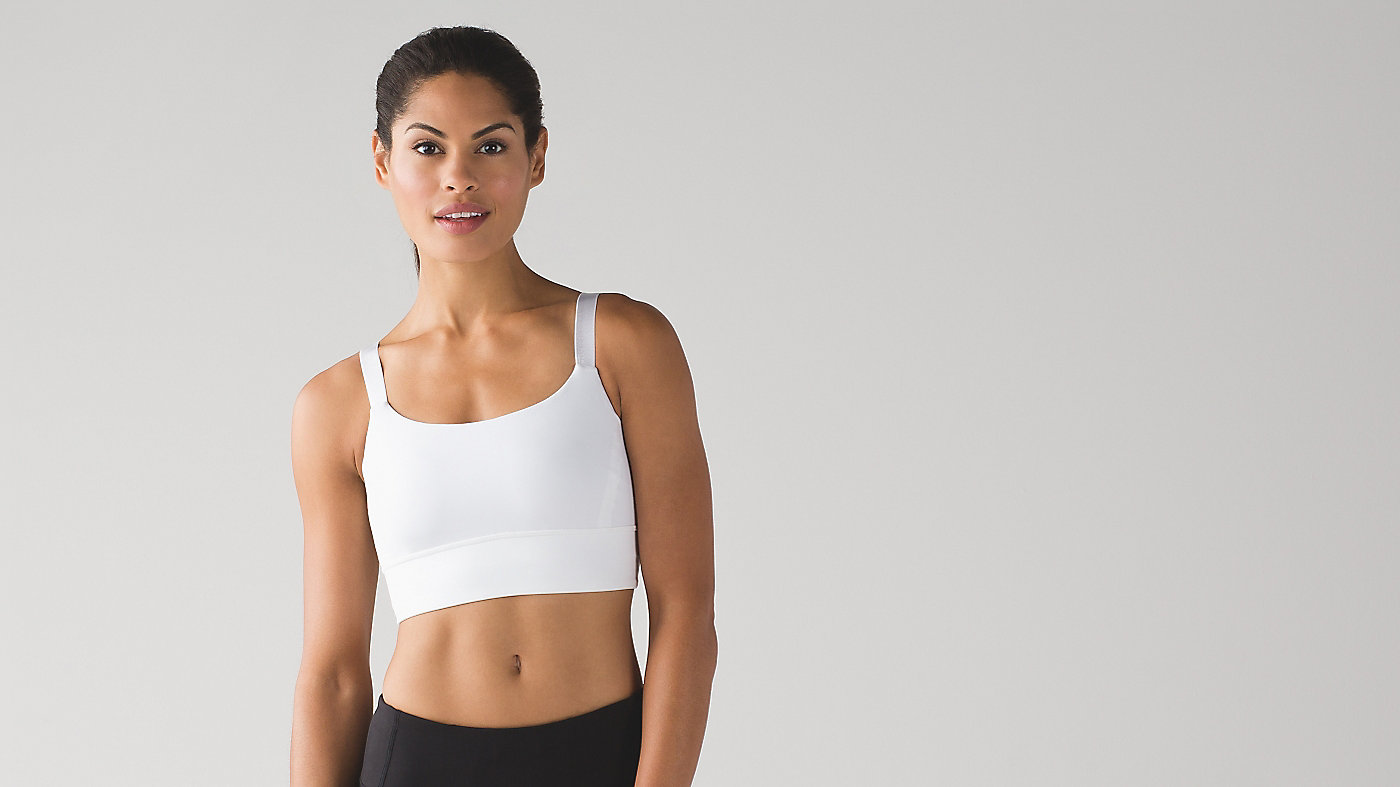 ---
medium support
Intended to provide medium support for a B/C cup
---
lycra®
Added Lycra® fibre for stretch and shape retention
---
built-in bra
With optional, removable cups

Both Ways Bra
is rated out of
5
by
55
.
Rated

1

out of

5
by
wongwongtina
from
Wear those if you are a size A
I bought a couple of those bras when they were on sale. Hoping they gonna work as good as they look. They fits very tight. I'm normally a size 2 with lulu. I bought 4 for these bras because of how tight they are and they still fits so tight that I can hardly breath in my yoga classroom. And also the cup size is extremely small. I'm a C cup and with only the pads that comes with it. My breasts felt crushed by this bra... Very uncomfortable.
Date published: 2017-06-08
Rated

5

out of

5
by
LadyLifter
from
No Surprises
I bought off the WMTM section a couple months ago and have had no problems. I generally size down to a 6 to get a tighter fit, but opted to go for an 8 in order to wear this bra on the go or to wear during lifting and other low movement activities. I love it. Definitely got a deal on WMTM. I have no problem with getting it on, but have not tried crossing the straps. It does ride up a bit, but I don't find it interfering with my workout (I barely notice). Good as a sort of makeshift undershirt too!
Date published: 2017-03-09
Rated

1

out of

5
by
dancerunsleeprepeat
from
Poor Quality
I have worn this bra once and the stitching is already coming out on the side. Not a great fit either. Definitely not worth the money! Don't usually have this issue with lulu bras.
Date published: 2017-03-09
Rated

1

out of

5
by
Starma
from
Poor Quality
I've owned this bra for two months now and have worn it maybe once a week (if that) for low impact activity only like walking. So you can imagine how unimpressed I was when one of the bra straps completely detached where it was sewn when I was just walking to class. The seams are such poor quality and threads just loosen, then detach. Completely unacceptable for the price paid. I've been resorting to other sports bra brands (Nike, UA etc) for more intense workouts since I just can't seem to trust Lululemon bras anymore. And yes I follow proper washing and drying protocol for Lululemon garments. What a waste!
Date published: 2017-02-28
Rated

5

out of

5
by
kalla
from
Love this Bra...so sad to see it's not being made anymore
This has by and far been my favourite LL bra. I can wear it to work, lounging, running (and I'm a 32DD). Would love to see LL make more comfortable, supportive bras that are not racerback.
Date published: 2017-02-26
Rated

5

out of

5
by
alvarmar5
from
Super Comfy
I was hesitant buying this bra because of all the bad reviews. It was such a good deal in the WMTM section so I decided to purchase it anyway. Wow! I immediately loved the way it felt as it was a little longer than the other sport bras, super comfy and good support! I am a 32DD and size 6 fits perfect. It is definitely worth it!
Date published: 2017-02-08
Rated

1

out of

5
by
Lovelullu
from
Disappointed
I love lullulemon and usually wear size 2 or 4. So I bought this size 4. This is too small to wear. It is hard to breath with this. I will never buy lullu product online.
Date published: 2017-02-07
Rated

2

out of

5
by
Annabellle
from
sizing is really off
I bought them with the WMTM sale and bought my usual size of eight but when I went to try it on l almost suffocated. Mind you that I have an average chest size. This was a huge disappointment as I thought it would eventually stretch a bit but its still way too tight and has been sitting in my closet after only one wear :(. Size up if you want these they are super cute just very constricting.
Date published: 2017-02-07
Rated

3

out of

5
by
KCPR
from
It's just ok
I am a straight size 6 in everything Lulu above the waist. I have two other sports bras and they fit perfectly. I got my regular size 6 from WMTM and I could barely get it on. I've had it for over a month and it's starting to stretch out a bit, so it's slightly more comfortable, but it's certainly not my best LLL purchase. I also find it's not as low on the torso as it seems in the pictures. Had I tried it on in the store, I wouldn't have bought it. For a LLL sale item, it's ok, but I would never pay full price.
Date published: 2017-02-02
Rated

5

out of

5
by
jyjelly
from
Great bra, sizing is off
I am 5'2, 98lbs, and normally a size 2 in lulu bras (underbust is somewhere between 26 and 27inches). After reading reviews, I got this one in both size 2 and size 4. The size 2 is very snug and a bit difficult to get on, but feels fine once it's on. The size 4 fits more like my normal size 2 bras. When I put it against another size 2 lulu bra of a different style, the band sizes were almost identical. The bra itself is very comfortable. The underside of the straps are very smooth and don't cause chafing. I'm not a fan of normal bras so I bought extras in the size 4 and I plan on wearing them regularly.
Date published: 2017-02-02