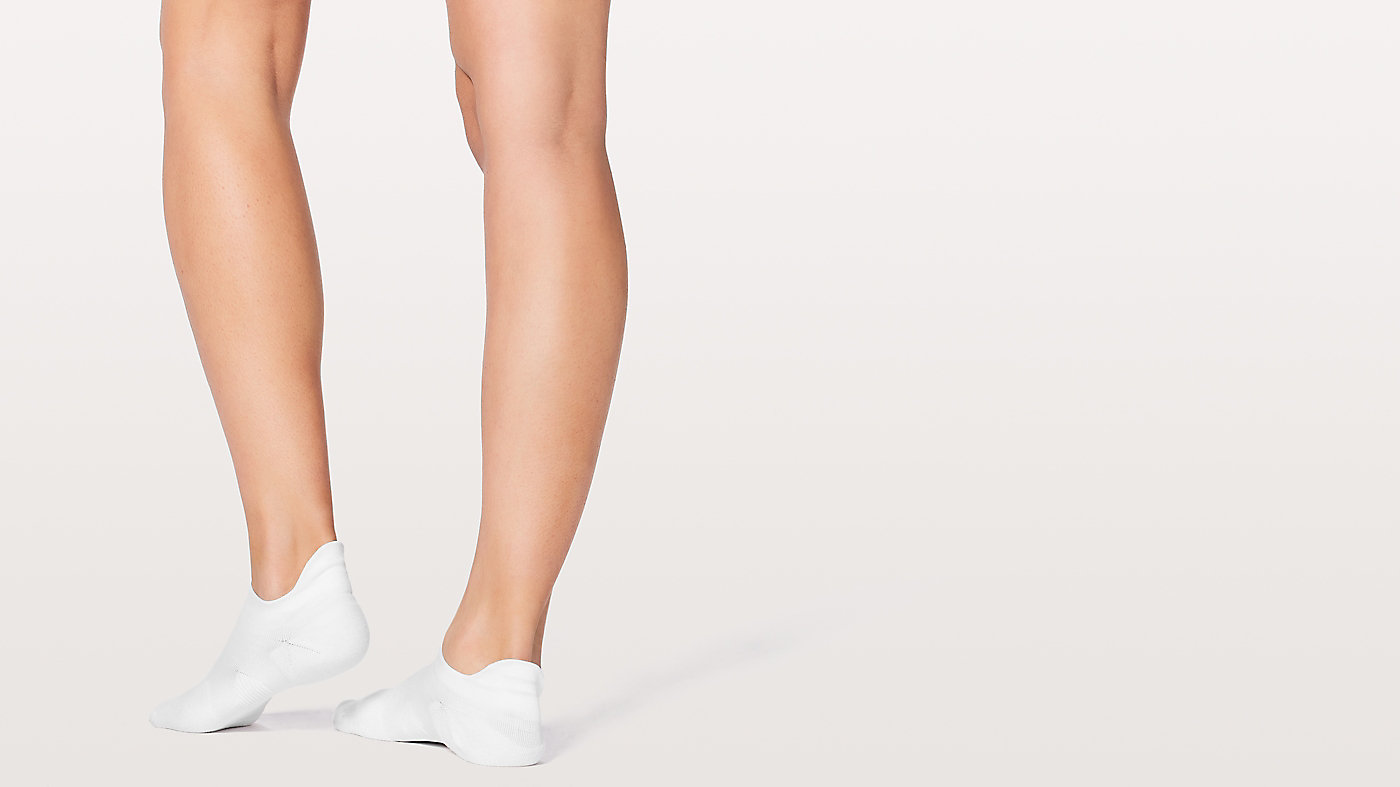 ---
support
ActiveArch™ arch support
---
ergotoes™
Foot-specific design
---
seamless construction
At the toe designed to reduce bulk

Speed Sock
is rated out of
5
by
18
.
Rated

4

out of

5
by
ves17
from
Love theses socks!
I purchased these socks on a whim -- not gonna lie, I only purchased them because the color I got them in matched perfectly with a pair of tennis shoes I have. Luckily, these socks are incredible. I got them in a size M/L and they fit my big ol' 9.5 foot tightly, but not uncomfortably so. I love the padding on the bottom, makes for a *really* comfortable wear when cycling, running, walking, anything. I also love the tab-like detail in the back that prevent some of my more structured shoes from giving me a blister on my Achilles. I always worry that when I wear them, they'll begin stretching out and losing their tight feel that I like so much, but they always return to normal when I wash them. I would HIGHLY recommend these if you're looking for a nice padded pair of socks.
Date published: 2017-03-13
Rated

5

out of

5
by
spippy27
from
great feel during runs!
I love the padding in these socks during a run or even during my other workouts. They are a good length too!
Date published: 2017-01-10
Rated

5

out of

5
by
deedeemarie
from
Favourite Running Socks
It never crossed my mind to buy a pair of Lulu socks until I received these in my stocking one Christmas. I was so impressed with them I immediately purchased as many as I could. These are now my mandatory running sock. As someone who is blister prone and struggled to find a good pair of socks, I've put at least 80kms a week in these socks and never once had a problem! They also stay up on your heel well with no slippage.
Date published: 2016-08-22
Rated

1

out of

5
by
TBehms
from
So tight
These are my second pair of lulu socks and I was so happy with the first pair (I got them 3 years ago and still wear them) I was excited to try these ones out. However, I was disappointed when I tried them on and found them so tight they are uncomfortable. I thought they would still be ok for running but I got a blister wearing them for only a 3 mile run. If you decide to go with these, I would go a size up! I wear a size 7.5 running shoe (size 6 or 6 1/2 normal shoe) and the size small was way too small.
Date published: 2016-07-11
Rated

4

out of

5
by
sockcollector
from
Would Buy More
I'm sort of newer to running, but I like to run 5-6 days a week on the treadmill, with an average distance of 3.5-4 miles a run. These socks make my feet feel so light and air-y that I could keep running as long as I wanted. I never really understood the point of running socks until I tried these. They're snug for my feet but I think that helps with my overall performance. Not sure, but I think it also helped my sore ankle when I was running. Plus they're so cute! I would definitely recommend these if you like to run and sometimes the heaviness/unease of your feet hold you back.
Date published: 2016-06-21
Rated

5

out of

5
by
MidDistanceLover
from
Worth the Money
I'm run track and cross country in college and my entire running career I never believed the hype of running socks. I have always made fun of my teammates for spending the money on them, and I'd just stick to my bulk Costco socks. However, my sister in law bought me a pair recently and my life is changed - I'm never going back to the Costco sock life. These babies keep your feet cool and comfortable, and I have already bought three more pairs. I used to have problems with blisters on long runs and in my racing flats and spikes, but not anymore! Speed Socks are definitely work the money!!!
Date published: 2016-04-21
Rated

5

out of

5
by
gustafsone
from
Love these
I never really thought to buy my athletic socks from Lululemon. I love everything they do so last time I was in the store I got a pair. Then I quickly ordered 3 more. I loves these socks. They are super soft with great overall quality. I do everything from running to wearing them to and from the barre studio. They are worth the investment and have so far been extremely durable through all the washes.
Date published: 2016-04-17
Rated

5

out of

5
by
heartsyoga
from
my go-to socks
Ever since I bought three pairs of these socks, I seldom wear any others for working out. I love the way they feel on my feet and that they don't move once they're on. If I'm just wearing them casually with my sneakers for a few hours, I find I can easily wear them a few times before washing because they don't even seem worn.
Date published: 2016-04-09
Rated

1

out of

5
by
WorkingOut
from
Sizing Problem
I'm not sure how to review these socks. I decided to go with the lower rating and explain myself. I ordered 6 pairs of these socks. Two in white, two in black, 1 in boom juice/sea mist and 1 in porcelaine/minty pink. All in the same size. The white ones and the multi color ones fit perfectly. The black ones are too small. They actually hurt the toes. Seems like the Quality Assurance department missed the boat on this one.
Date published: 2016-03-18
Rated

1

out of

5
by
RunForaLifetime
from
Poorest lulu Quality yet
After purchasing these socks, I wore them for a total of 8 hours one time, and you can already see the seems coming apart. These are not good quality. I expect a pair of $14.00 socks to last more that one wear. On top of this I live 2.5 hours away from the closest lulu store so I am not even able to return them. Very disappointed lulu. Shame on you.
Date published: 2016-03-16