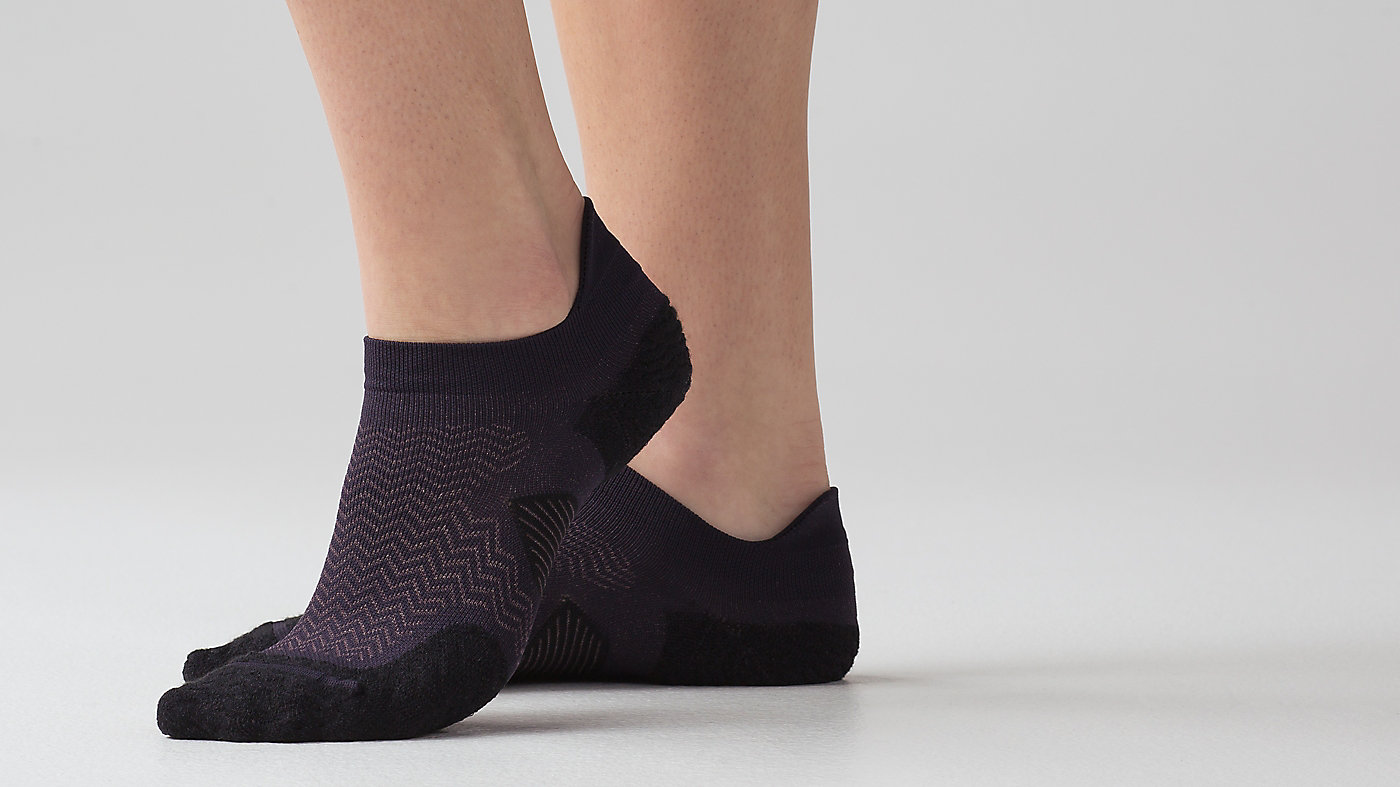 ---
Silverescent® technology
Powered by X-STATIC®, it inhibits the growth of odour-causing bacteria on the socks
---
stay dry
Sweat-wicking yarns and a mesh construction help your feet breathe
---
support
ActiveArch™ arch support
---
FOOT-SPECIFIC DESIGN
Right and left foot-specific ErgoToes™ design for a bulk-free fit

Speed Sock *Silver
is rated out of
5
by
14
.
Rated

5

out of

5
by
Maedward
from
Game changing socks
I got a pair of these in the grey color about 7-8 months ago and loved them so much that I got another pair 4 months ago in the black & white color. Before I purchased these socks, I never understood how a pair of running socks could increase your performance but these fit on my feet perfectly and the cushioning is amazing. I got the M/L and I have a size 9 foot. I can understand how some peoples feet may not fit right since they are pre-formed (toes that are longer or shorter than average may not fit or may have bunching) so definitely try one pair before ordering multiples. I haven't had any issues with holes like previous reviewers.
Date published: 2017-04-03
Rated

5

out of

5
by
Jessieclaire
from
Super comfy and good looking
By far my favourite pair of socks!
Date published: 2017-03-13
Rated

3

out of

5
by
deepcoverunner
from
Good but bunchy
I have a few pairs of these socks and the pair I got most recently is bunching. I don't know what's wrong with it as I have the exact ones (albeit from a different season, maybe there was a fabric or design change?) but these ones are bunching. The pinky toe area is huge, the heel is bunching and they only feel tight enough at the arch of my foot where there is the support thing, which is what I love about these socks! I am not happy with the bunching of these socks and wish they would be more comfy to put on! I do not wear this bunching pair anymore as they feel so strange in my shoes, but it is a shame because I just got them.
Date published: 2017-01-17
Rated

3

out of

5
by
Kadipoo
from
Great, but beware of quality
As other reviewers have mentioned, these socks suffer from inconsistent quality issues. I bought 3 pairs. 1 formed a hole near the heel after sitting around in them for about 15 minutes. A second pair had a strange fit issue, where there was excess fabric at the pinky toe and would stick out - it looked like I had a 6th toe! But the single pair that did not have defects fit great. Snug in all the right places, without being overly tight.
Date published: 2017-01-05
Rated

4

out of

5
by
lululoversweater
from
Great sock, but inconsistent quality
I ordered 4 pairs of these as gifts. One of the pairs had an issue with the words printed on the inside, but since I did not notice before I took the tag off, customer service said there is nothing they can do. Be weary of buying these online and if you do be sure to check them before you take the tags off. The fit is great - snug in all the right places. I want to give them 5 stars but can only give 4 due to the quality issues. Also - apparently lululemon has removed the ability to post pictures with a review or I would show you what I'm talking about.
Date published: 2016-12-29
Rated

4

out of

5
by
badavis7
from
Hole in socks
I really like these socks, however, i just purchased them this summer and a hole has already formed at the front of the sock :( usually my lulu products hold up well so i was slightly disappointed.
Date published: 2016-12-28
Rated

3

out of

5
by
jscp
from
Stiches out on the first day :(
Just received my socks today. I love the color and design. The fit is comfy too. However, I found the stitches on the top part of the sock fell apart. I would have attached a picture to show you this but there's no option to do so here.
Date published: 2016-12-01
Rated

1

out of

5
by
KenzieMiller
from
Big let down
When I first bought the socks I loved them, and went back out and bought another 5 pairs. But after the second wash the heel stretched out completely, and there is holes in the bottoms of the socks after no time at all. I know that it is part of the circle of life for socks, but I figured they would last for more than a month.
Date published: 2016-09-17
Rated

2

out of

5
by
sweatlife285
from
HOLE in the arch already?? One expensive hole in my heart. :-(
Let me start by saying that these cushioned run socks are the best in design, and I espl love the silver thread, it adds sparkle to the look and helps with odor control in feet when running and sweating. But 2 wears and my favorite socks are already developing 2 gaping holes in the arch area of my left foot. (See the attached pics!!!) Where is the quality? I have loved and owned these socks for a long time, bought so many of them over the years, and this recent purchase lasted barely 2 runs and this??? Up the quality Lulu please. $18 for a pair that lasts 2 runs is unjustified!!! Of all the colors I have this was one of my top 2 favs... so choked these are out so soon!!! Coming to think of it, none of my other pairs have been out yet, actually none but this...
Date published: 2016-08-08
Rated

3

out of

5
by
atothelynnie
from
I love them but maybe my pair was defective?
I really like the fit and feel of these socks, but mine have not held up in the wash like others have noted. The white part of the sock has gone completely grungy, and I cannot for the life of me figure out why. This, mind you, is after ONE wash, and it didn't look dirty before I washed it. This doesn't necessarily make the sock unwearable, but it drives me bananas that they perpetually look dirty. If you're paying $18 for a pair of socks, they should hold their color. (My opinion.) I included a picture of a pair I've washed vs. a pair I have not for comparison.
Date published: 2016-06-18