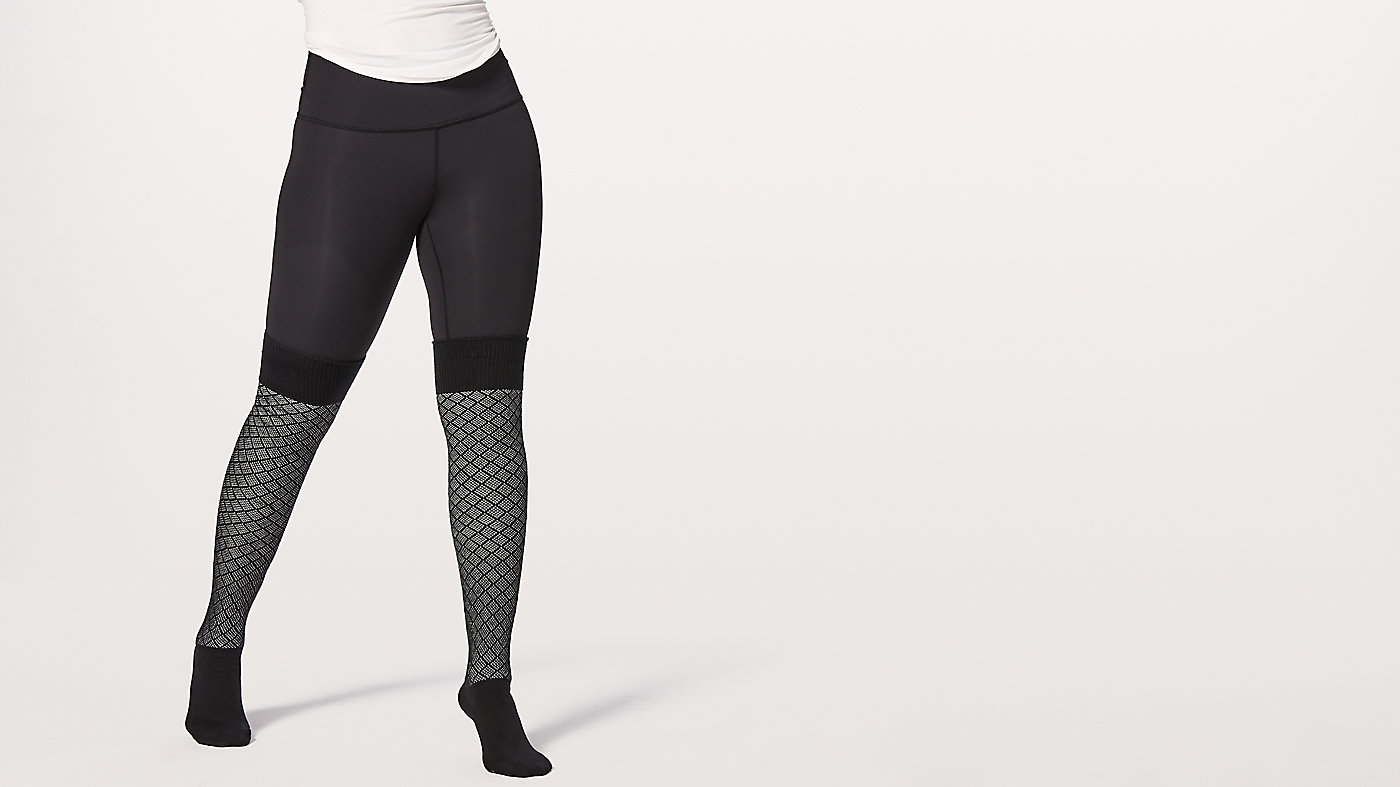 ---
grip
On soles help keep you in place on the mat
---
you've got options
Wear them above the knee or scrunched down

Savasana Sock
is rated out of
5
by
71
.
Rated

2

out of

5
by
SantoniRose
from
Cute Sock, Grips fell off
These socks are cute, warm, and look great on. Unfortunately after teaching a few classes, most of the grippies on the right foot have fallen off. I am really dissapointed as I like to wear them in the winter while teaching in my chillier studios. The grips fall off throughout one class. Bummed this happened as these are cute!
Date published: 2017-02-27
Rated

2

out of

5
by
yPatsy
from
Comfy but grippy soles are useless
I initially loved these socks but the all of the grippy dots have fallen off of one sock, and on the first wear. So now I have one sock with dots and one without. The socks themselves are lovely, but I wish the grips had stayed on, or had been left off entirely. I am also concerned, because I gave a pair as a gift and a I hate to give defective gifts.
Date published: 2017-02-07
Rated

4

out of

5
by
queenlexa
from
Really Like These!
I am clearly in the minority here, but I really love these socks. I own both last years model and this years update, so I am able to compare. I am 5'5, with relatively short legs, and I this hits right above my knee. I love to wear them with knee high boots for an added layer of warmth on my legs. They are easy to wash, and I have not experienced any shrinkage (machine wash cold - delicate cycle, lay flat to dry). The only drawback with this product, is that they are not as thick as I would personally like, especially in comparison to last years model. I do quite a bit of walking during the day, and I have to wear another sock under this one for warmth. For something that is supposed to be Merino Wool, I do wish I didn't have to wear a base layer sock. Keeping it real, I do prefer last years model. However, I would still recommend this product to a friend, as it is a great sock to wear, and I have not found anything comparable.
Date published: 2017-01-11
Rated

1

out of

5
by
jseid
from
Why'd the design change? Also not made from merino wool
Oh dear. These socks are horrible. Why mess with a simple design and material that was already tried and true? I got these thinking they were moderately modified from previous years and have a hard time finding over the knee socks. Forget about pulling them up over the knee. I'm an active yogini and anyone who is remotely athletic will never get them past the knee. I wore them for 30 minutes and took them off because they were slipping down. Lululemon, the R&D product feedback link isn't working, so I'm submitting my feedback here. Please resurrect the old design AND material. It was thicker, more luxurious and actually got up to my thighs and DIDN'T SLIP. New material is definitely not Merino wool, and feels cheap. Luckily, I didn't experience any of the grip detachment, but this was an immediate return. I went in saying that I absolutely hated them, and I never say that.
Date published: 2016-12-30
Rated

3

out of

5
by
llm743
from
Dots fell off after wearing them once
I really wanted to love these socks, but the sticky dots on the bottom fell off after less than one day of wearing them around the house - I didn't even work out, I was just lounging. Aside from the sticky dots, I do love how the socks feel and look - especially the print. Just wish the quality was a little better.
Date published: 2016-12-28
Rated

1

out of

5
by
smilingdevi
from
NOT MADE OF MERINO WOOL, MADE OF VISCOSE, POLYESTER, and a little silk and lycra. My legs are FREEZING
These socks are advertised to be made of merino wool but its FALSE ADVERTISING. They're not made of merino wool, they're made of 77% viscose/14% nylon/8% silk/ 1% lycra. I have the merino wool savasana socks from last year and the previous year which I wear over my WUPs and these savasana socks are so warm to wear in comparison to how cold my legs are wearing these socks. These socks don't warm my legs at all when I'm walking around the house (71F) or outside (45F to 65F). In fact, when I was walking around in the house in these socks, my legs felt COOLER...so maybe they're perfect to wear during a vinyasa yoga or dance class if you don't want your legs to feel too hot? These socks seem to have great breathability so heat easily dissipates from the legs.. Appearance-wise, these socks are super cute, super black, and if they were merino wool, I would so happy with my purchase. I am returning these to the store. Lulu, please change the fabric composition of these socks on your online description ASAP. From my lips to Lululemon's ear.
Date published: 2016-12-24
Rated

3

out of

5
by
kittykat87
from
Love the socks, not the dots
I love these socks. They're super comfy and warm, and they stay up. However, the rubber dots started falling off after one wear (a 6-minute walk to the studio). I took off my shearling-lined boots and saw them flaking off. Maybe consider re-releasing these without grips? The socks themselves really are fabulous.
Date published: 2016-12-18
Rated

2

out of

5
by
Sarina
from
snags
love the sock just not happy with the snag in it. Although I do wear them still
Date published: 2016-04-21
Rated

2

out of

5
by
baubin
from
Grips fell off
I wore these once and the grips fell off. After my first wash *on delicate* several strings pulled and they look awful. I had such high hopes for these.
Date published: 2016-04-20
Rated

1

out of

5
by
LMyogi
from
False advertising...
I was super excited to receive these socks (choosing to ignore the poor earlier reviews), and was very disappointed to find that there were no grips on the bottom of either sock (it seems like I'm not the only one who's had this problem). They're warm and comfortable anyway (and non-returnable) so I'll use them..but expected more from Lulu Lemon!
Date published: 2016-03-07