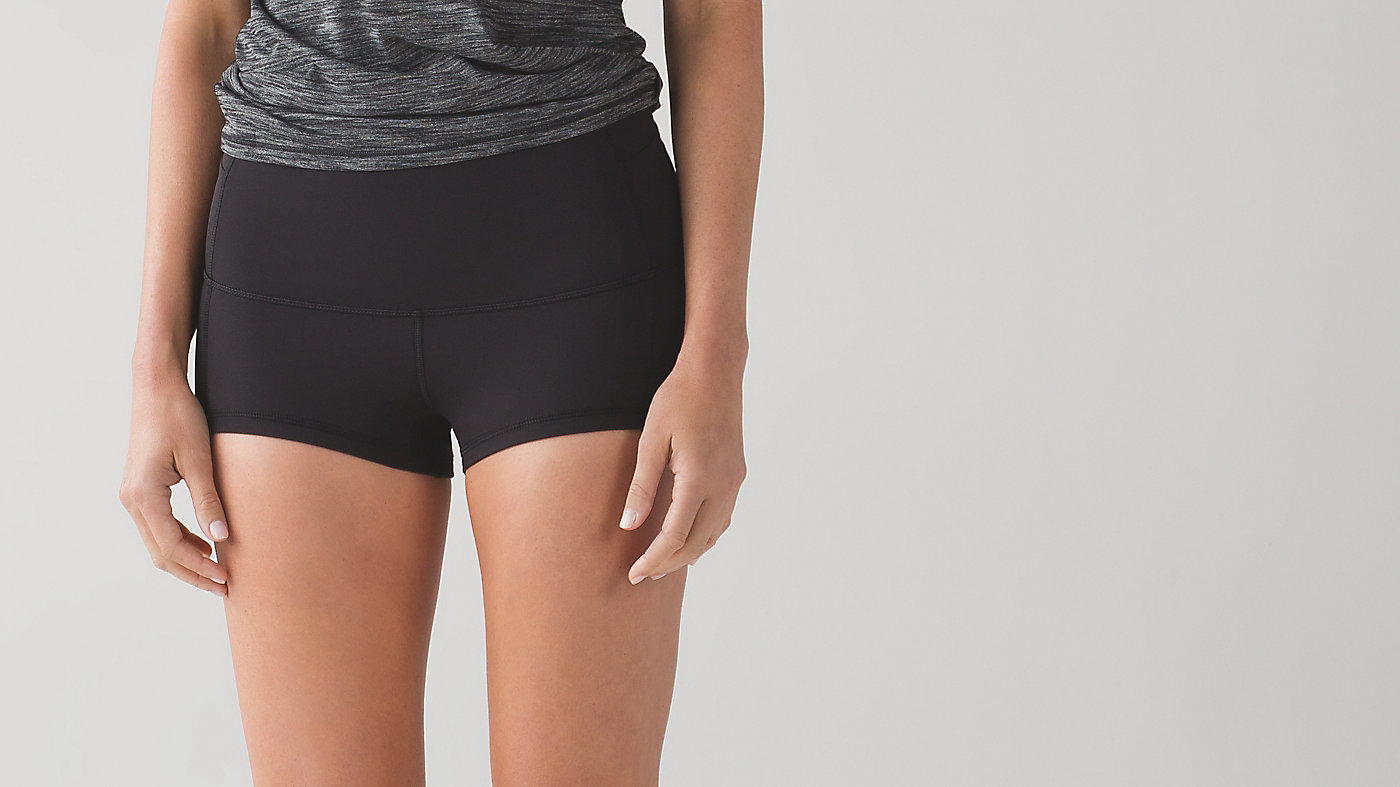 ---
lycra®
Added Lycra® fibre for stretch and shape retention
---
no-dig waistband
Soft, no-dig waistband lies flat against your skin
---
---
hugged sensation
Engineered to feel like a comfortable embrace throughout—it holds you close and moves with you
---
Waistband storage
Pocket on the waistband holds your key or card

Wunder Short 2" *Full-On Luxtreme
is rated out of
5
by
14
.
Rated

3

out of

5
by
Saesje
from
Shows the bum
I have quite some derriere, but however a size 10 in luxtreme pants fall off my bum, therefore I chose to buy these shorts in size 8. Fits perfectly around my waist, and it's very flattering. Love the material and fit, BUT after a few jumps or squats, the back of the shorts shifts up and my bum becomes clearly visible. These shorts are not suitable for curvy butt-cheeks, unless if you dont mind showing them off :) (like me)
Date published: 2017-06-21
Rated

5

out of

5
by
crossfitmove
from
Favorite shorts!
I use these shorts for crossfit primarily. Lots of high intensity, heavy weights, gymnastics, calisthenics, etc. I switch to long shorts or capris if it is a strictly running day. But these are great!! you have to love and be comfortable with very short shorts though for sure. I have not noticed any significant stretching out of any of my shorts. I have 4 pair in the luxtreme and I have had them about 6 months. Wear them every week almost. They are too short to roll up on me in the front so I dont have to unroll and pull them down after every single squat (yayy!) and they are long enough in the back that they cover the bum and I dont have to pull it down to make sure its covering and not riding up (yayy again!). The high waist is very nice and the fabric is super smooth. I work out in Florida, outside, with no A/C so these can definitely handle some serious sweat!! I am 5'4", approx 150lbs. I buy size 10. Strong thick muscular thighs and butt. Could get an 8 in the waist but need the 10 room in the thigh leg opening of the short. Love these shorts! and I will keep buying them!
Date published: 2017-06-08
Rated

5

out of

5
by
BikramEssential
from
My absolute favorite for Bikram
It's tough to find gear designed for the sweat and intensity of Bikram hot yoga, but these shorts are it! These are the ONLY shorts I wear to Bikram class for several reasons: 1) Once you start sweating, they don't move. They don't ride up, they don't need to be adjusted, they don't fold over, they are perfectly in place the entire class. 2) The cut of the shorts contours your body perfectly. They are shorter in the front than the back and sit right on top of your thigh giving you 100% comfortable range of motion. 3) I am assuming they have some sort of antimicrobial properties because the stench comes out of these shorts when they don't come out of my Bikram sports bras or towels after washing. 4) The high waisted band is SO comfortable and smoothes out the lovies making you feel & look amazing during class. Huge confidence booster. 5) Since starting Bikram (and buying these), I am down over 10 pounds and these shorts still fit me perfectly. 6) I own 3 pairs, wash each one twice a week for 3 months now and they haven't shrunk nor has the color vibrancy or quality been compromised. These shorts are a dream, I'm totally hooked. If you do Bikram, buy them. They are worth every penny. However, I wouldn't personally run or lift in them because I am sure they would ride up like crazy with the faster movements and lack of sweat.
Date published: 2017-05-24
Rated

1

out of

5
by
Lauren013
from
Not Flattering and Dislike Material
I generally LOVE lululemon bottoms, but these shorts are just not for me. They fit very awkwardly and I do not like the material of these particular shorts. Wish I could return them.
Date published: 2017-04-04
Rated

2

out of

5
by
YogaGirl08
from
Disappointed
I was really excited about these shorts because of their cut, they seemed perfect for leg days at the gym. after just three wears the leg holes stretched out and I can no longer wear the shorts. They are too short to not have a fitted bottom.
Date published: 2017-03-31
Rated

1

out of

5
by
axc310
from
Stretchhhh
I love the idea of these shorts. And they fit great when I initially put them on. The problem with these shorts is that they stretch out and no longer stay where they need to. Great idea, and I love the cut. I still wear them around the house but they are no longer functional for physical activities.
Date published: 2017-02-27
Rated

1

out of

5
by
thesuse
from
Not Working for Me
I bought these in a size 8 due to the high waist - my usual bottoms size for lululemon is a 6 or 8 - for hot yoga. At first these were great! The high waist band was exactly what I wanted, and the coverage was perfect for yoga class. I got them in a floral motif, the inside of the shorts are white. They rolled up sometimes showing the white against the dark background, but the rolling wasn't a big deal (I just wish the inside was black). However, after a few classes the leg holes in the shorts stretched out, to the point where I would have to constantly adjust my shorts in certain yoga poses. It got to the point where adjusting them became so bothersome that I can't wear them to yoga anymore. Maybe they work in a normal athletic environment, but the heat and sweat of hot yoga made them stretch out too much for me.
Date published: 2017-02-20
Rated

1

out of

5
by
JulieE
from
Horrible shorts!
My favorite thing about most Lulu items is that they stay in the right places. These, however, are the exception. They rode up in the front AND in the back and didn't stay in place at all. They were horribly uncomfortable. I couldn't wait to get home and get them off. I guess I will be wearing them around the house or something. They did not work for Orange Theory Fitness AT ALL.
Date published: 2017-01-06
Rated

5

out of

5
by
Angenoel
from
Perfect Shorts
These were perfect for squats. Felt cute and comfortable and secure. Going to buy one in every color.
Date published: 2016-12-14
Rated

4

out of

5
by
Comma
from
Dream short for some sports
I pole dance, and these shorts are the answer to my prayers. They give me the exposed thighs I need to do leg and thigh holds, but I don't have to worry about over-exposure. The higher rise gives me a nice hugged feeling and keep me from feeling too naked, particularly when I'm only wearing a sports-bra. If I need a bit more traction through my stomach, I can roll them down. They've held up well so far, both to washing and to workouts. I've worn them a half dozen times so far, and no bleeding either. I'm normally a 6 in tights and I have these in both a 6 and an 8. They both fit well, it's just a slightly different fit. 5'7", 135 lbs, curvy.
Date published: 2016-09-24