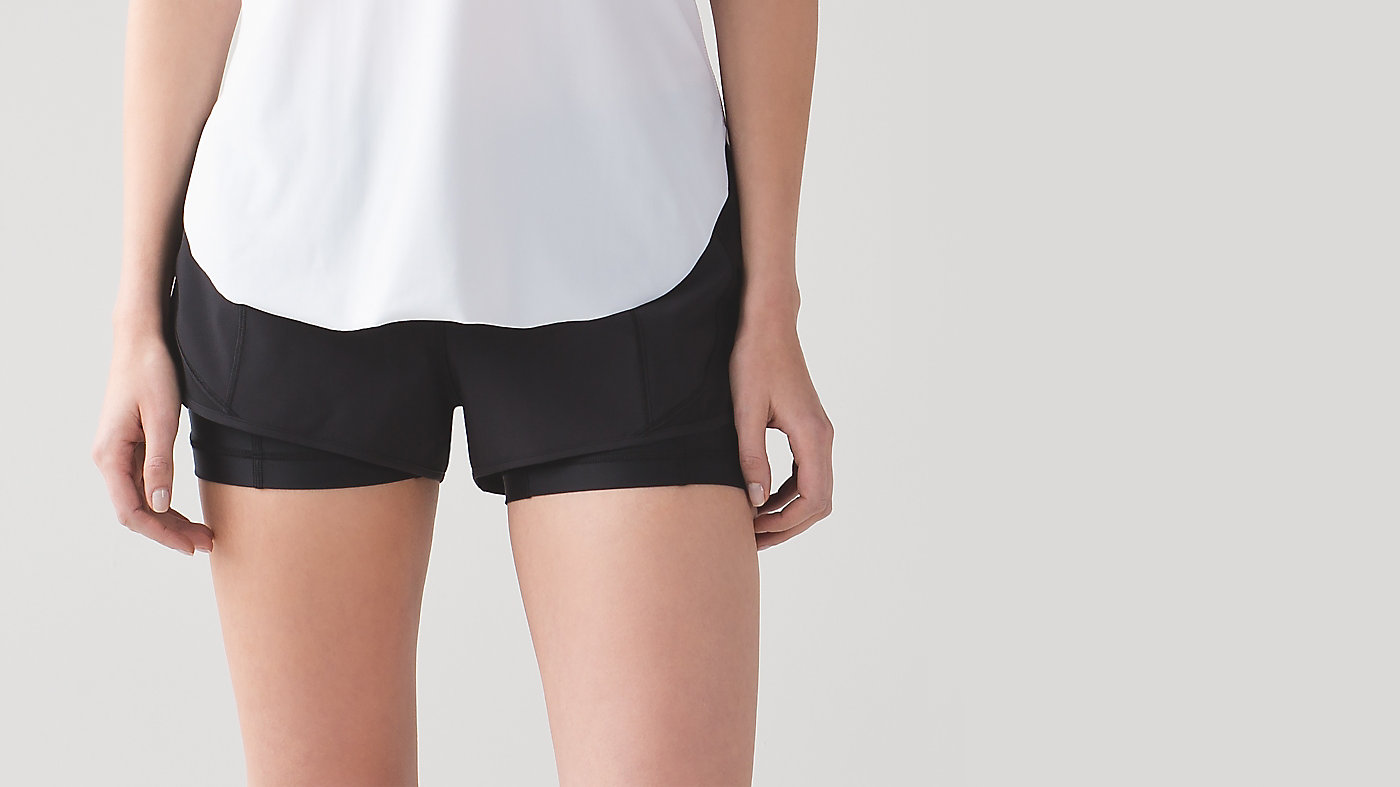 ---
drawcord waist
Internal drawcord lets you customize your fit
---
low-rise
Keeps you feeling cool yet covered
---
hugged sensation
Engineered to feel like a comfortable embrace throughout—it holds you close and moves with you

Work Out To Water Short
is rated out of
5
by
12
.
Rated

3

out of

5
by
mariajk
from
Good concept but run large
I live at the beach so wanted these for days I'm walking or running and possibly want to get into the ocean afterwards. I normally wear a 4 for bottoms except some of the shortie shorts I've ordered a 6 so I thought I'd go with a 6. Too roomy! The inner part is loose. I'd like it to be more snug. I didn't mind how the rest fit/looked. I am short wasted so it works. I did wear them to the beach to hang around and play in the sand with my nieces. I just ordered another pair but this time a 4. Hope it fits much more snuggly! I've read the reviews and they are not positive but I like the concept and am willing to give them another try. Hope I don't regret it. Too bad I don't live close to the person who ordered a 4 and wished they'd ordered a 6. We could exchange. Wish the sizes would be more consistent. Some retailers have problems with this when they don't use consistent models/sizing charts. I've had this experience with one before and had to drop shopping from them. I almost feel like it's false advertising when you follow sizing/sizing chart and it is incorrect and then you can't make and exchange. So you do the right thing but the retailer doesn't have too.
Date published: 2017-05-17
Rated

4

out of

5
by
SmashFM
from
I liked them enough to buy a second pair
These work great for me - they handle the high impact of CrossFit just fine. I agree with other reviews that the inner shorts are long, but once you get moving they settle into a comfortable place and don't bother me. My thighs are touch at the top but these shorts help create a barrier so I'm not chaffing. Thumbs up! I bought a second pair.
Date published: 2017-05-17
Rated

1

out of

5
by
Anonymous5
from
Not great
The linear shorts are very long and the outer shorts are very short so they look awkward on. I will be returning these.
Date published: 2017-04-29
Rated

3

out of

5
by
Doyouevenyogabro
from
Not Quite Enough
I am a tried and true Lulu size 6. These shorts are definitely very loose on me, so their sizing seems to be inconsistent. There is a drawstring, but the fabric doesn't really allow you to tighten it. The fabric also doesn't have too much stretch so I cannot size down. You just have to be a very specific size to fit these and I don't quite make it. I cannot wear them in water, but wanted them for beach run shorts and for that they work well. I there are also no pockets in these, which I can understand for shorts intended for water, but a key pocket would have been ideal. I say if you don't need a short with pocket, and you like the style but don't plan to be active in the water with these, go for. If not... they don't hit the mark.
Date published: 2017-04-22
Rated

1

out of

5
by
LLLFan
from
Good idea, bad design
I really liked the idea of these shorts. However, as soon as I put them on and hit the water, I knew it wouldn't work. I kept them on for 2 pool's length before I rushed to take them off... forever. There are many design flaws. I don't know if it's just this one pair, if I have a weird bottom or what, but the outer fabric bunches up at the center back in a weird spot, where the waistband meets the legs. Not pretty, but I could live with it. Then there is the liner that keeps riding up, pretty annoying... But the real deal breaker is that the gusset is way too low, doesn't cover what it is supposed to, so there is a very chafing and irritating seam rubbing you can imagine where... Ouch, to say the least. On a more positive note, the fabric is nice. But for this price tag, I expect my gear to be functional. Very disappointed.
Date published: 2017-04-05
Rated

3

out of

5
by
trisport
from
Not quite right
I like the concept of these shorts. However, as someone else noted, there aren't grip strips to keep the inner liner part in place. This usually isn't a problem since good quality lycra stays put but the liner short part seems to run wide. I'm average weight with normal /proportional sized legs (5'7" 135 #) so I think the sizing is off because even if there were the grips, I don't think they would stay put. I suspect they would ride up in the water with any type of activity . They certainly don't have any compression--not that the description states this, but the liner isn't tight either. Definitely not functional for triathlons. Overall, probably something that is better to try in store than buy online.
Date published: 2017-03-28
Rated

4

out of

5
by
rachelwoz
from
Good shorts
I like them and the quality was so good
Date published: 2017-03-21
Rated

5

out of

5
by
ZonaYYC
from
Great shorts!
Read all the reviews before making a decision and went with a slightly snug size 4. It fits but I wish I got a 6 (5'7", 130lb, lean athletic build). I also found them just a tad shallow or low rise but maybe it's just my body. I usually get size 4 in lulus and it's great for tights, I like the shorts to be a tad roomier, so use your own judgement when picking the size for these, don't just follow the reviewers. Having said that, they are of beautiful quality, love the blue colour for a change, fit comfortably and I can't wait to go for a run in them. The underlayer rides up a bit but not out of control....not sure it can be avoided. My kids have other shorts with underlayer and it always seems to happen.
Date published: 2017-03-16
Rated

2

out of

5
by
WTT1886
from
Disappointed
I am constantly looking for ways to incorporate Lululemon into my triathlon gear. I purchased these shorts with the intent to go from water to cycle/run. I knew as soon as I ran once in them they would not work. The under layer rides up on both the run and the ride. This is the first product I have purchased that I have not been completely satisfied with. Would work well for casual water events but not for what I thought it was designed for.
Date published: 2017-03-15
Rated

4

out of

5
by
staceybski
from
Love these shorts
Great fit and flattering. I am a 6-8 in lulu bottoms. I ordered the 8 and they fit well without being too tight. I have not worn these in the water but there is a drawstring so I can't imagine they will be a problem.
Date published: 2017-03-14