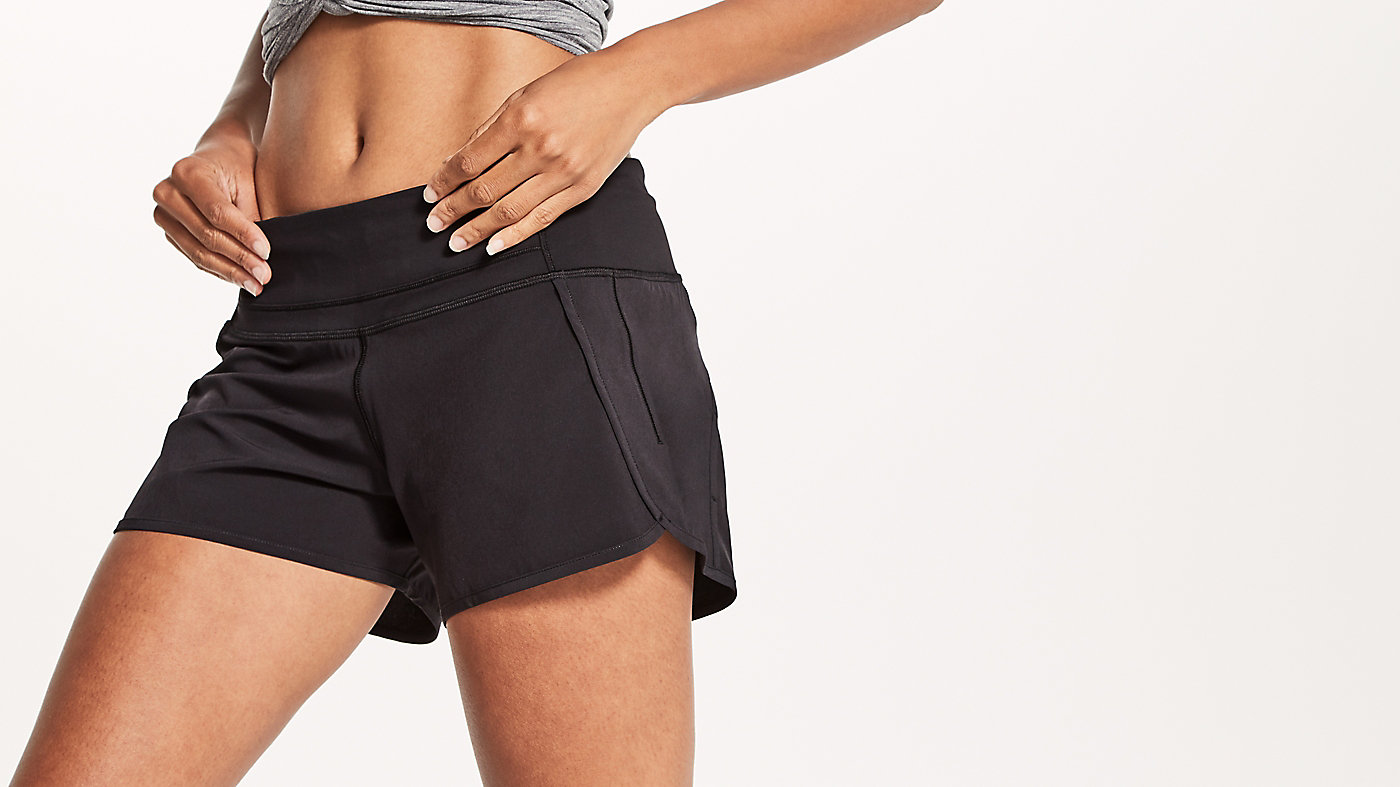 ---
no-dig waistband
Soft, no-dig waistband lies flat against your skin
---
three-pocket waistband
Gives you plenty of storage options
---
lightweight liner
Helps keep shorts from riding up
---
medium-rise
For coverage and cool comfort
---
relaxed sensation
Gives you the ultimate feeling of nothing in your way—it sits away from your body to give you maximum room to move
---

Run Times Short *Block-It Pocket
is rated out of
5
by
34
.
Rated

2

out of

5
by
azrunner
from
the reflective logo is falling off
i got these for Christmas so there not even 6 months old. i run at night so i like the little reflective logo but i just noticed that its fading well not even fading its chipping off for 50$ i expect higher quality my friend wanted to get the same ones but now she isn't to sure kinda disappointed.
Date published: 2017-06-03
Rated

4

out of

5
by
rachelwoz
from
good shorts
The shorts are nice, I mostly get a size 4 in everything lulu but i got a size 6 and they still fit ready well and they weren't too short either
Date published: 2017-03-19
Rated

5

out of

5
by
LosAngelesNewRunner
from
Great comfy shorts, makes your legs look great
I bought them in a size 6; I'm 5'6" and 132 lbs. I didn't want them to be tight or ride up while running. These are my great go to shorts for a run. Very comfy. I've washed them many times and they hold their shape and color. Pocket in the back allows for keys and gel. The material is good quality, not too heavy or too flimsy.
Date published: 2016-11-13
Rated

2

out of

5
by
meems
from
Loved them at first, but they stretched out
Let me start by saying that I loved these shorts the first few times I wore them. The no-dig waistband is amazingly comfortable, and these shorts are long enough that I don't feel like everything is showing when I go out. I bought this in my usual size and they fit perfectly, but after owning them for just about 2 months now, they have stretched out so much. The waistband is loose, and the shorts themselves just sort of flare out at the bottom. I loved these shorts for the very specific reason that unlike Nike tempo shorts, these Run Times shorts are (were?) slim and straight cut in the leg. I am disappointed in the quality over time - 2 months really isn't even that long, and I've only worn them a handful of times! I've even taken time to make sure to hand wash and hang dry them, to retain their "newness" but that did not help with the stretching. Additionally, as others have mentioned, the Block-It pocket is waterproof which is nice in theory but it is not breathable. This leads to discomfort, so I can't even wear these when I run.
Date published: 2016-08-13
Rated

2

out of

5
by
hannahboo
from
Kinda disappointed
When I first bought these shorts I absolutely loved them and thought they fit great, but I was soon disappointed when I came into one of the stores and tried on the same pair of shorts in the same size I originally bought. My original shorts were super stretched out in comparison to the shorts in the store and the quality of the shorts was very evident in the comparison of my shorts and the shorts in the store. I originally came in with the intent of buying more shorts but found that didn't want to waste my money on shorts that weren't going to withstand normal use. Keep in mind I always made sure to follow washing directions and even hand washed my shorts more than anything.
Date published: 2016-06-10
Rated

5

out of

5
by
leahbutterfly1978
from
Great Fit
I am a teacher and needed shorts that I could wear to school and to teach crossfit kids classes that were comfortable and not TOO SHORT. These were perfect for me. I am 5'1" so they came down just to where my fingertips hit on my thighs. They are super comfortable and have held up very well with a lot of use! Great for running, crossfit workouts etc.
Date published: 2015-12-12
Rated

5

out of

5
by
astridbell
from
flattering fit
I've had these shorts for a couple of months now, and I'm very happy with them. I don't know what it is about them, but the fit is very flattering. The waistband is wide, comfortable, and stays in place well. I like that they aren't super short either. I don't need the liner really, but it hasn't been a bother.
Date published: 2015-09-07
Rated

5

out of

5
by
CathyF
from
Perfect Running Short
I bought one pair of these shorts last year because I was looking for something with a good zip pocket for gels for my fall marathon. Now, I own 4 pairs and won't do a long run in anything else. The pocket will fit up to 4 gels. The shorts sit perfect midrise on my waist and don't move at all. They are the perfect length. Wicking. I've worn them for marathons and 50ks and have been comfortable the whole way. If these ever disappear from Lulu's line, I'll be a sad, sad girl.
Date published: 2015-07-31
Rated

3

out of

5
by
trout28
from
They are not awful but for me they are too much like the speed short to be a product on their own. I own both pairs and I personally like the speed short better.
Date published: 2015-07-23
Rated

2

out of

5
by
luluvillian
from
buy if you like butt sweat
I bought these shorts at the recommendation of the sales girl at the store because she said how great they were for keeping things dry while running....BUT what she failed to mention was how the block-it pocket actually creates more sweat!! Since the material used for the pocket is water/sweat proof that also means the material is NOT breathable. They are fine to wear while you are working out since you're generally sweating all over but they are not the most comfortable pair of shorts to wear around the house or running errands when you are not working up a sweat. I decided to keep the shorts just for running but I will not be purchasing another pair of the block-it shorts.
Date published: 2015-07-15