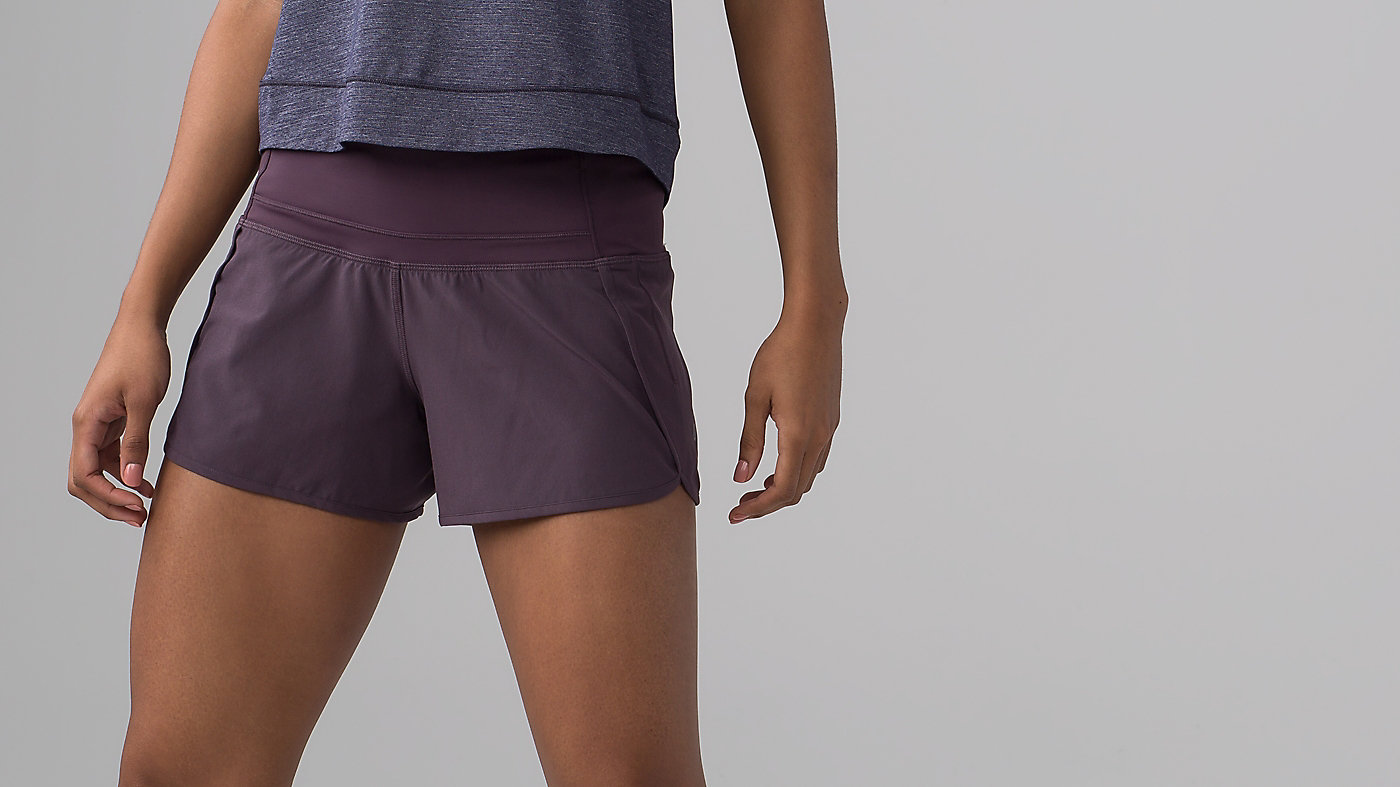 ---
lycra®
Added Lycra® fibre for stretch and shape retention
---
three-pocket waistband
Gives you plenty of storage options
---
relaxed sensation
Gives you the ultimate feeling of nothing in your way—it sits away from your body to give you maximum room to move
---
LIGHTWEIGHT LINER
Lightweight liner for comfort and support
---
medium-rise
Higher rise increases coverage and comfort
---
no-dig waistband
Soft, no-dig waistband lies flat against your skin
---

Run Times Short *4-way Stretch
is rated out of
5
by
302
.
Rated

1

out of

5
by
Darwoh
from
All stretched out from use
I run frequently, and I loved the relaxed fit of these for long distances. I also usually do stretching cool-downs, and I don't know if that was the reasoning, but I was really disappointed to find these shorts stretch out immensely. So much so, that now they fall down when ever i'm running in them. This is my first pair of Lululemon shorts, I own several pairs of leggings and love those for running in, so i'm confused as to why there's such inconsistency! I'm about 135 pounds, 5'5" and I typically wear a size 6.
Date published: 2017-06-24
Rated

2

out of

5
by
ar1989
from
Inconsistent
My sister and I both own these shorts: same style, same size, same color. We were on vacation together last week and I tried hers on after complaining about how tight mine were and found hers to be perfect! Mine are so tight you can see lines from the built-in underwear which is obviously not very flattering. Just don't understand why Lulu struggles to be consistent.
Date published: 2017-06-19
Rated

1

out of

5
by
JB04
from
Definitely my last Lululemon purchase
I have written rave reviews about multiple products in the past and been a faithful Lulu customer for years. I have never experienced quality issues like other customers/reviews outlined. Favourite items that I've worn COUNTLESS times: groovy run shorts (6+ pairs); Run Stuff Your Bra II (4+); Inspire Run crops (amazingggg); the On the Go pant..heavenly...any run t-shirts...love it. Love the variety in colours, love the fit, etc. But I'm done. This same issue happened that threw me off Lulu run shorts a couple of years ago - bought one pair in black, went back for another in a cute pattern and the fabric was so different that they chafed like crazy. I'm an idiot. I bought the Run Times a few weeks ago in all black. They are soooo silky, you honestly don't feel them at all on the run (tested on runs 1.5+ hours). I had a discount with a race entry and decided to grab the "polar pink". FINAL SALE like a fool. The fabric feels only slightly more rough to the touch, but they ride up after 5 seconds of running and drive me crazy. I am so, SO disappointed that I wasted my money like that. I obviously would've bought an identical black pair than a cute colour that is totally useless to me. Never again, Lulu. I don't have the time or money to waste on inconsistent products like this. Running is hard enough without having to worry about crummy gear.
Date published: 2017-06-15
Rated

3

out of

5
by
FromOHtoVARunner
from
Comfortable, but concerned with quality issues
These shorts are very comfortable to run in and fit true to size - I like my running shorts slightly looser than capris. Love all of the pockets they come with, especially the zipper one in the back. My concern is quality - after a few wears and one wash according to the instructions, a pair is already showing pilling and fraying on the seams. I recently switched from Nike shorts, and am disappointed that shorts this expensive look like they have been worn for several years, as opposed to a few weeks. Hoping this doesn't happen to the other pairs I purchased, but am not optimistic.
Date published: 2017-06-14
Rated

2

out of

5
by
Lulusici
from
Is it me or does the design highlight the unmentionable area?
I love the color and material of this short. I am trying to understand who can wear this short? @ 117lbs/5'3" and all I can seem to see is a big line straight to the unmentionables.
Date published: 2017-06-07
Rated

3

out of

5
by
Birde1982
from
Feel like the fit has changed.
My old pairs of run times are some of my favorite shorts. The fit, the material; they are just wonderful. I recently bought a new pair this past week and it feels as though the cut has seriously changed. The difference between my old pairs and my new pair is pretty big. I hope you guys bring back the old fit, because that was the bomb. The new fit is kind of meh for me.
Date published: 2017-06-04
Rated

5

out of

5
by
sheenie09
from
Life changing shorts
I used to run in just any sports shorts but now these are by far my favorite. They fit just right and have held up really well over the years. I would definitely recommend these to anyone looking for new running shorts. For reference, I am 5'7", 128 lb and wear a size 6.
Date published: 2017-05-31
Rated

5

out of

5
by
Jmom627
from
Perfect for maternity!
I love these shorts! I just purchased 2 of them in a size 4. I'm 5'2, petite, and am now 28 weeks pregnant with my third, so my belly is pretty huge at this point. These shorts are sooo comfortable to wear. They roll under the belly just fine, don't cut into my skin, and my pre-pregnancy lululemon size fits perfectly! I'm excited to continue wearing these through the remainder of my pregnancy, as well as afterwards. I love the 4" inseam as I can't imagine myself wearing anything shorter. LOVE.
Date published: 2017-05-31
Rated

5

out of

5
by
kellybelly13
from
Favorite shorts
I was recommended these shorts or the speed shorts by a Lululemon educator. The speed shorts, while cute, fit like spandex and were very short on my legs and I wanted a more loose fit. I purchased these shorts and absolutely fell in love, so much so that I went back for a second pair! They fit wonderfully and are comfortable enough to lounge in or run in. For reference, I'm a size 6, 5'10" , 135 lbs.
Date published: 2017-05-28
Rated

5

out of

5
by
LAB110
from
Best running shorts for tall girls, but need more patterns!
These are my go-to run shorts (5'8", 145, size 8 is best). I've tried other lulu shorts (trackers, hotty hot longs, and mind over miles), but none is better than the run times. They do not ride up. The fabric is light and silky, so I've never had a chafing problem with these, even after 10+ miles. Having the pockets in the waistband keeps your stuff comfortably away from your legs while running, but it would be great if there were a few more pockets or a larger phone-sized pocket. Be careful about your color choice, though--I've got these in the royal color, which is a gorgeous blue, but the sweat shows in a big way. Lulu--please make these in more patterns because those seem to show the sweat less than the solid colors.
Date published: 2017-05-28