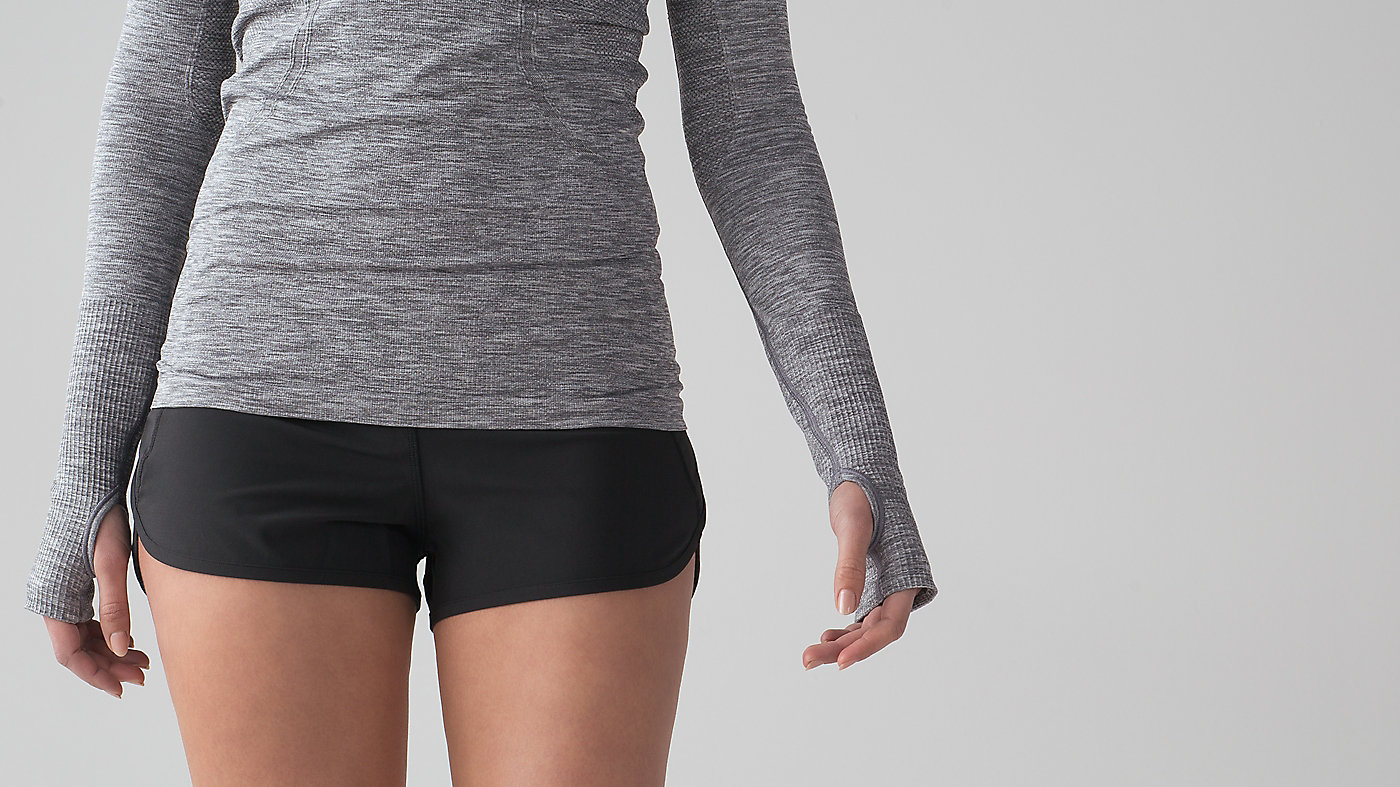 lycra®
Added Lycra® fibre for stretch and shape retention
---
medium-rise
For coverage and cool comfort
---
relaxed sensation
Gives you the ultimate feeling of nothing in your way—it sits away from your body to give you maximum room to move
---

Speed Short *Block-It Pocket
is rated out of
5
by
73
.
Rated

4

out of

5
by
summertime06
from
Beware of Pilling
I love the way these shorts look on my legs, and the color I got was a really complimentary cerulean. But after having them for about 4 months I found that after the second wear mine are pilling on the back a ton. Really unfortunate and I wish I knew that was going to happen before I spent close to $70 USD on them.
Date published: 2017-06-16
Rated

4

out of

5
by
laxpower08
from
DIAPER SHORTS!!!
I have been a faithful Lululemon customer for about 6 years now, and I love these shorts. I must have atlas 10 pairs and wear them regularly for workouts and on the daily- they are so flattering and I don't even think about buying or wearing any other shorts. However, after only having these for a few weeks, these shorts have bagged out in the butt area so badly I cannot wear them anymore. It literally looks like I am wearing a diaper when I have them on! SO UNFLATTERING!!!!!!!!!!!! Having plenty of these shorts I have noticed a difference in the fabric with the different colors of shorts I've purchased, and some have definitely stretched with wear, but these are a whole different story! My rating stands a 5 because its hard to believe that this may happen with all lulus shorts, or maybe it's just a fluke, but regardless, a 64$ diaper is very upsetting. This pair wouldn't get any stars from me.
Date published: 2017-05-30
Rated

5

out of

5
by
momofmultiples
from
love these shorts!
These shorts are great! I have several pairs of them and have not had a single issue with them. I love that there is a liner on the inside, too. My workout is similar to Crossfit, and I wear these 4 days a week when it's hot (April through September). I am able to move easily when rowing, biking or when lifting weights. These are wonderful all around shorts. For reference, I'm 5'1", 105 lbs and wear a 6. Mine are a little roomy in the waist and legs, but I don't shorts that are super fitted.
Date published: 2017-02-01
Rated

4

out of

5
by
hp0406
from
Great running short
Love this pair--comfortable and free. It's one of my go-to running shorts. I've been wearing this pair throughout my marathon training, during long runs ranging from 13-20 miles every weekend. Only thing why I had to knock down one star is---they were great until I wore them at the actual marathon I trained for; I chafed badly on the lower back where the back pocket sits. Not sure what exactly happened as I never had problems when I wore them during my long runs. Would still continue to train in them, just won't wear them during runs longer than 20 miles. :(
Date published: 2016-10-14
Rated

5

out of

5
by
Claire1342
from
Love! But one flaw :(
My favorite pants! I love to wear them when i work out or just wear them around the house. The only flaw about them is that i got the reflective logo on the leg and after about maybe 2 or 3 washes the reflective came off and you are unable to see the logo anymore. i would like people to see that they are lulu so i am really disappointed with that.
Date published: 2016-10-09
Rated

1

out of

5
by
FiBe
from
Great for the first time
I bought these shorts and loved how they fit! But after only 2 wears I find they are way to big and not flattering- not sure why they stretched so much. :( Boo
Date published: 2016-08-05
Rated

2

out of

5
by
AZ11
from
Great....until I washed them.
I loved these shorts, until I washed them for the first time. I make sure to wash on a delicate cycle, and tumble dry low, only to find that they had shrunk a full half size and now are tighter that I am comfortable with. Expensive shorts for one time use. I believe in Lulu and the quality of their products, so hopefully this was just a defective pair.
Date published: 2016-08-03
Rated

5

out of

5
by
kimiashay
from
Love them
Worth the price!! I love to wear them to bed, or to the gym, or when I'm running errands. Best shorts!
Date published: 2016-08-02
Rated

4

out of

5
by
alison11
from
Weird Sizing
I got a par of the regular 4 way stretch shorts about two years ago and that are my absolute favorite pair of shorts. They're pretty faded now so I decided it was time for a new pair. Ordered these and when they got to me they were way too tight even though it was the same size. Took them back to the store and tried on the regular 4 way stretch ones and those were way too tight as well and I went up a size and they were too lose. Something has changed with the sizing of these from a few years ago and I don't like it! I recommend going to the store to try them on!! Also I wish they didn't only make all these weird patterns. Do a few that are just white grey and black or a combination of those because thats what most people seem to be wearing!!
Date published: 2016-07-14
Rated

1

out of

5
by
CatBacon
from
Fitting is Weird
I really enjoyed this brand's sports bras, so I decided to buy a pair of these shorts from a nearby mall. I thought these fit, but when I started running in them, not only do they show my underwear line (despite wearing no-shows) but the inner shorts also dug into my skin. I don't know why, but when I wear these around the house they are perfectly fine, but once I start running with them they feel too snug. I went back and tried on a different size but it was way too big on me. Since I took the tag off, I wasted a good $60 on what I thought would be good running shorts. Would not recommend.
Date published: 2016-06-25