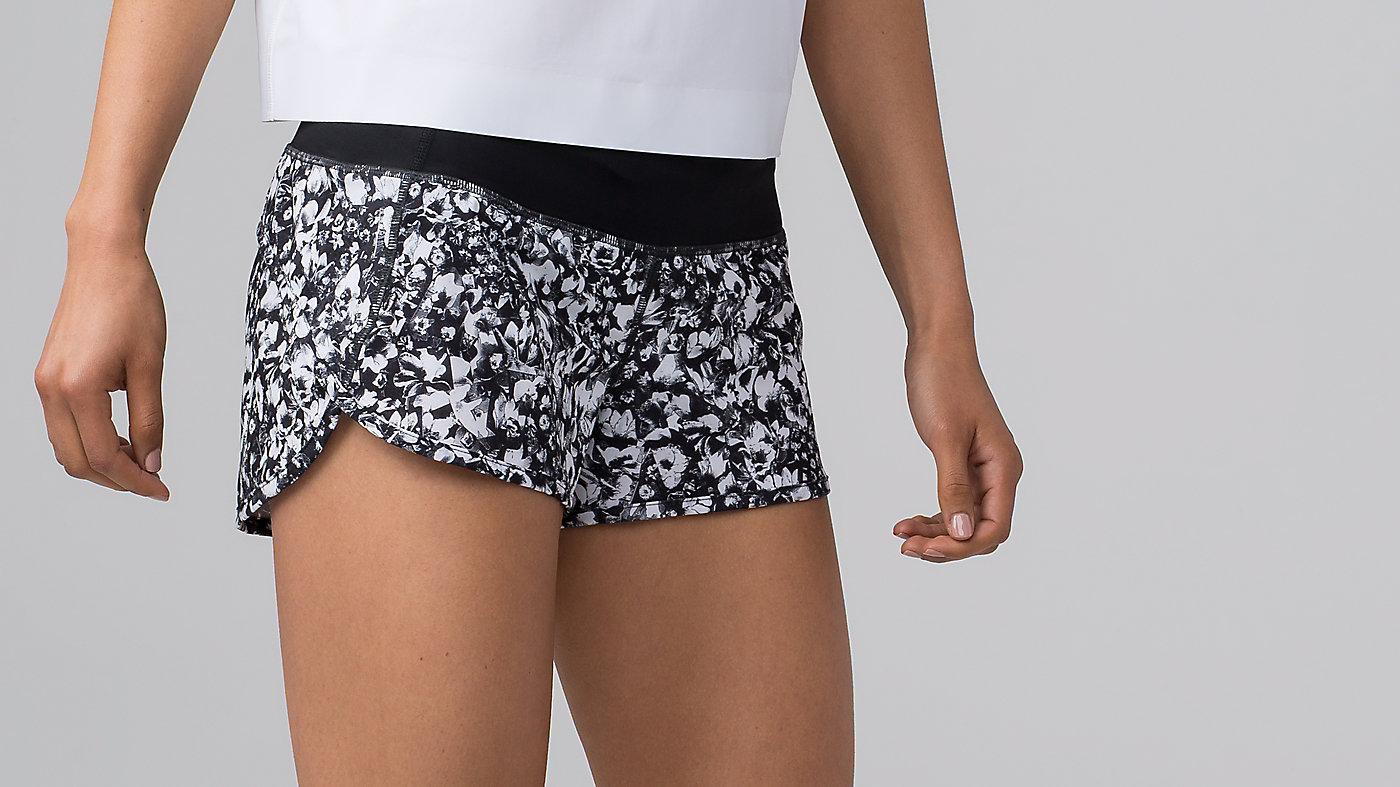 ---
CONTINUOUS DRAWCORD
Won't get pulled inside or lost in the wash
---
relaxed sensation
Gives you the ultimate feeling of nothing in your way—it sits away from your body to give you maximum room to move
---
LIGHTWEIGHT LINER
Helps your shorts stay in place while you run
---
---
SMOOTH WAISTBAND
Lies flat under your top

Speed Short *4-way Stretch
is rated out of
5
by
684
.
Rated

4

out of

5
by
clairegolden
from
Loved These BUT...
I love these shorts so much! They are so cute and very comfortable. The color selection was great and I cannot wait to order more! However, the liner was really tight and you could see the outline, which is unflattering. To solve that problem, I just cut out the portion of the liner that cut into my skin and it worked PERFECTLY. You can no longer see the lines and it is really comfortable... you don't even notice it. If you are struggling with the liner, just use scissors and cut out the edge of it!
Date published: 2017-05-21
Rated

3

out of

5
by
ENGYYC
from
What's up with sizing??
I bought a pair of these in store in size 4 about 2 months ago and LOVE them. They fit so perfectly and are super lightweight. The liner doesn't bother me like it does to others. I love them so much that I decided to order an all black pair online a couple weeks ago, (same size and style). When I tried them on after they arrived they are literally an inch bigger everywhere than my pair I bought in-store, in the waist, the inseam, and the length in the back. They are both dot confirmed size 4 so it makes no sense and was super disappointing. I gave it 3 stars because I love my first pair but the second are terrible.
Date published: 2017-05-19
Rated

2

out of

5
by
FLnmt
from
Hit or Miss
I have one pair in these that works for me, ordered a new pair and turns out the liner is way tighter. Have to return these because you can see the liner cut into my behind through the fabric. Sizing up looks like I am wearing a diaper. Really like the shorts, I guess I am just too booty-full to wear them and getting one with a liner that is not as obvious is very hit or miss for me :-( I have the tiger water pattern, resold all my blacks, tried a new grey/black pattern thinking the pattern would make it less obvious but I struck out. Don't want to cut out the liner in fear they would the ride up on the regular and wouldn't be practical to wear to the gym. Lululemon could you please make these with a less severe liner???
Date published: 2017-05-18
Rated

1

out of

5
by
runnerMDmmh
from
disappointed in quality and fabric
I have been buying lulu since 2008 and this is the first review I've ever taken the time to write. I pretty much exclusively work out in Lululemon gear because I'm a believer that I'd rather spend more money and have the item last for 10 years than something cheap that lasts for only a year of hard use. I have 4 pairs of speed shorts and bought a 5th last month, the dark army green color. On the store they looked good and I was my usual size. However, after a couple workouts and 1 wash (on cold, hang dry) these shorts have shrunk up into nothing. They didn't hold their shape at all and they are now extremely uncomfortable to the point that I can't wear them for a run (and mind you, I didn't go through any drastic weight gain that would affect this). I am so disappointed--I think it is the new fabric they are using because I don't have this problem with any of my others. The fabric is thin and cheap-appearing. I don't know why they had to change a good thing, I will NOT be buying these again. Also the ventilation slits in the back don't lie flat--they are constantly getting bunched up.
Date published: 2017-05-17
Rated

1

out of

5
by
Missmoo2
from
Too bad...
At first, I loved everything about these shorts. They're comfy and very cute. However, after not very long, the zipper on the pocket has broken and many of the seams are unraveling. I'm disappointed that for the price of these shorts, the quality just isn't there.
Date published: 2017-05-16
Rated

5

out of

5
by
mcrunner262
from
Impressive Run Shorts
So I didn't believe in LuLuLemon plus I didn't think it was for real runners. I thought this store was for Yoga and the Want to Look Good "runners". I was pleasantly surprised! These shorts are SUPER comfy and they seem to dry super quick. I sweat, I mean Sparkle, a LOT when I run and these shorts are pretty dry when I am done with my run. Love the zip pocket on back waist band. These shorts have made me a LuLu Fan! In fact, they may be running with me when I hopefully qualify for Boston in Buffalo this month!!!
Date published: 2017-05-16
Rated

3

out of

5
by
harrishj
from
Disappointing Ventilation Spaces
I was very disappointed with the little spaces on the back side. I understand they are for ventilation but the fabric behind the hole opens frequently causing there to be a number of holes showing off the liner and my backside. Love the rest of the short but that is it's one major flaw.
Date published: 2017-05-16
Rated

4

out of

5
by
athletic2425
from
Absolute favorite shorts!!
These are my favorite shorts I have ever bought! I heard people talking about them and thought I would go try them on and I fell in love with them and now have 4 pairs! They do stretch a little bit and the tie around the waist doesn't stay tight but I would still get ur normal size.
Date published: 2017-05-14
Rated

3

out of

5
by
TillyString
from
Why did you change these shorts recently?!?!?!
I've been on the lululemon band wagon since nearly day 1. Even when I get annoyed with some issues here and there, I hold fast. It is the only workout clothing I buy and wear- I run, play tennis and do Pilates in your gear day after day. These shorts have been my only running shorts for as long as I can remember and the old ones have held up well- perhaps the best running shorts I've ever had. I have them in many colors from over the years, but like most girls, I love buying new colors and patterns. I was one of the lucky runners who made it into the SeaWheeze Half Marathon registration for 2017. I received the shorts in the mail on Friday and immediately put them on in excitement. They fit nothing like the 10+ other pair of these shorts I have in the EXACT same size that I have purchased over the years. At first I thought maybe it was because they were the SeaWheeze Speed Shorts, so I went to the reviews. Sure enough, I'm not the only loyal customer who hates that you made this change. These are shorter and smaller. The fit is definitely different. And it's not an improvement.
Date published: 2017-05-08
Rated

5

out of

5
by
TeamLCL
from
Best. Shorts. Ever.
Love these shorts! They are perfect for training and racing, with lots of fabulous pockets to hold gels, camera, keys. They come in lots of cute prints and are super comfortable. They hold their shape well and look great in photos too. I sized up to avoid muffin top effect but if your stomach is flat you probably can go true to size.
Date published: 2017-05-07