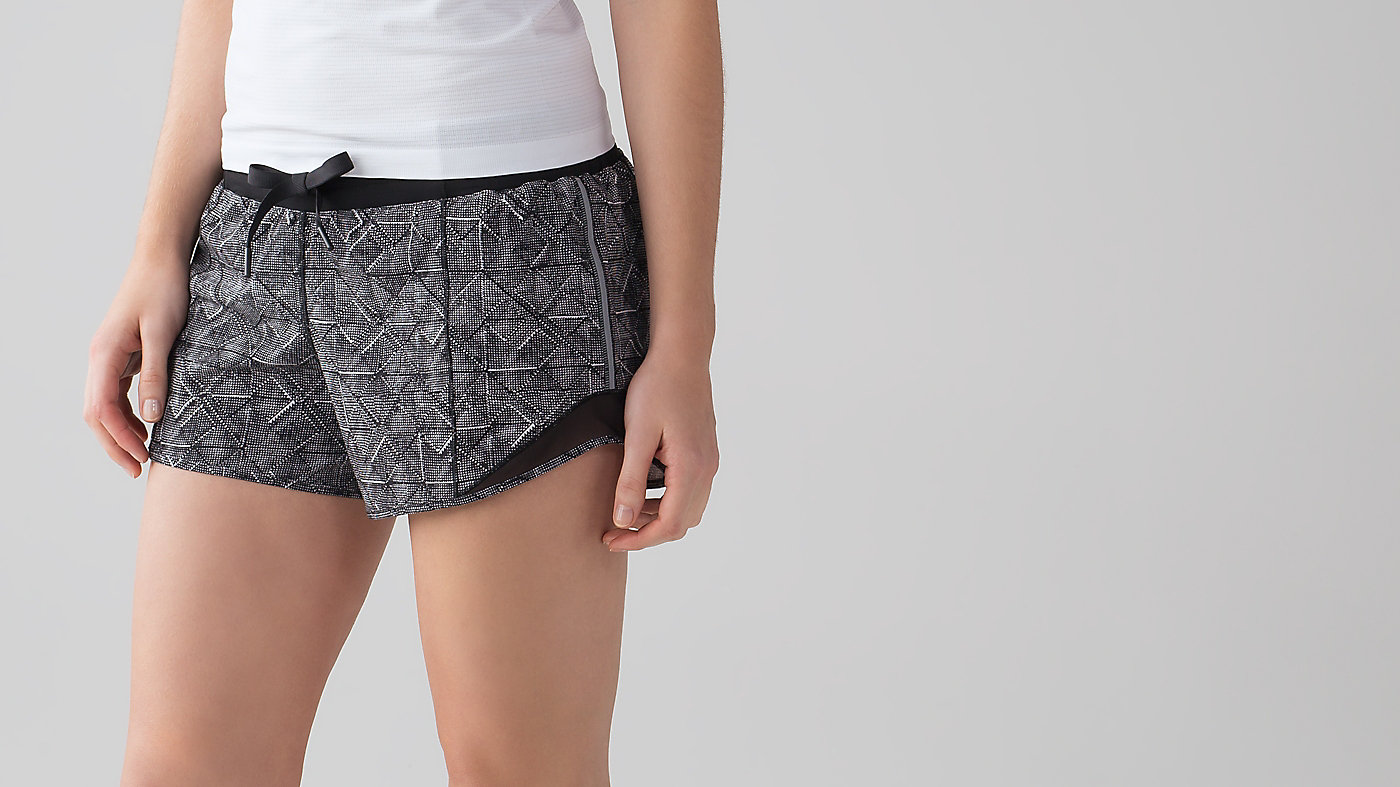 ---
Secret Pocket
stash your stuff in the secret liner pocket
---
reflective details
Intentionally placed for visibility in low light
---
no-dig waistband
Soft, no-dig waistband lies flat against your skin
---
lycra®
Added Lycra® fibre for stretch and shape retention
---
low-rise
Keeps you feeling cool yet covered
---
---
relaxed sensation
Gives you the ultimate feeling of nothing in your way—it sits away from your body to give you maximum room to move

Hotty Hot Short (Long)
is rated out of
5
by
94
.
Rated

5

out of

5
by
hasn325
from
LOVE these!
I am 5'10, so typically have trouble finding lulu shorts that are long enough to actually workout in. These shorts are awesome, adorable pattern and mesh detail, extremely comfortable. Loose enough to relax in but tight enough to workout, these and the Tracker V shorts are my new go tos! Don't miss these while they're on WMTM - what an awesome deal!
Date published: 2017-06-25
Rated

4

out of

5
by
nicole09
from
Love The Shorts BUT.....
I purchased a pair of the Hotty Hot Short (Long) in the color black in the late spring time. I noticied after a few washes that there was a slight sharp poking in the upper left side of my waistband. It can be bothersome at some points so I usually end up tucking my shirt in. However besides that, I ABSOLUTELY love these shorts!!
Date published: 2017-06-23
Rated

5

out of

5
by
RunnerDG
from
Perfect Running Short
Absolutely love these shorts! I prefer a little longer short so up until these I only wore the Tracker short. It's nice to now have a couple of options for shorts. I have 3 pair and I mostly wear them for running, but I also just wear them around. The amount of legroom is perfect and I like the tie on the waistband. I have not experienced the poking that some of the others have mentioned and I have worn all 3 pairs many times. Would love to see these in more fun patterns!
Date published: 2017-06-20
Rated

4

out of

5
by
Bcaldwell34
from
Everyday shorts
I have long legs and a booty and these shorts are perfect. I can chase around my toddler and not have to worry about showing my goods. I got the magnum color and it does not match the color online, I thought it was a grayish purple, these are more grey.
Date published: 2017-06-20
Rated

2

out of

5
by
pennstater28
from
Love them until they started poking me
I bought three pairs of these shorts within the last week because I loved them so much. After just one wash though I experienced the sharp poke on the left side of the waistband. I have no idea what this is that is causing the problem but it makes the shorts nearly unwearable.
Date published: 2017-06-18
Rated

4

out of

5
by
RunningAficionado
from
Amazing shorts BUT ...
So, the good first: these are super comfy and much roomier in the leg than the speed shorts and even the run times shorts. After 2 kids, I can still get into my size 6 Lulu gear, but my thighs and hips are a little wider these days. :( Cute fit, sweat wicking, all that jazz. I opted for the longer lengths since I'm 5"10 and stayed with my regular size (6). The meh: I don't love the draw string. I'd recommend getting rid of that. It pokes out when wearing fitted tops, so I usually just tuck the strings inside. The bad: It's true what other reviewers said about something really sharp poking you in the waistband. :( It didn't happen until the fourth time I wore it, and I can't for the life of me figure out what it is. And it's only on the left side. Ugh!! After my run I had a red mark on my skin right where it rubbed/poked. Not cool, especially since I paid full price for them. I may put a piece of tape over it next time, I guess?? Not sure what to do.
Date published: 2017-06-10
Rated

2

out of

5
by
MamaMayhem
from
Folding Waistband
Okay - I really like the idea of these shorts. The length is great and the cut around the back of the leg is great. The problem is with the flat part of the waistband (right in front). After the first wash, the top rolled/folded over. Now the waistband doesn't flat against my torso. I still wear them because they provide good coverage and because they were pricey, but they feel and look pretty bulky at the waist. I have relegated them to just lounge around the house shorts. I have never had any problem with the Run Times so I was pretty bummed when these didn't hold up.
Date published: 2017-06-09
Rated

4

out of

5
by
adia717
from
Love these shorts except...
These shorts are a great length, and are super flattering. I absolutely love them except...as others have said there is something sharp and pointy coming out of the top of the elastic waistband (only on one of the 2 pairs I bought though) that is scratchy and uncomfortable. I don't know how to fix this, if you have any pointers I'd love to hear and I'd buy one in every color if I was sure they wouldn't scratch me.
Date published: 2017-06-09
Rated

4

out of

5
by
Carly17
from
Great Everyday Shorts
So about a year ago I purchased these shorts. They are great shorts and have been holding up very well, but can be too long sometimes. I also own a pair of the short version of these shorts, and they are too short. I wish there was an in between, because I love the style. Also I realized that on two pairs of these shorts, one the long version and one the short, that the waist band had plastic pieces sticking out of it. I did take them back and they were not very happy to return them, but they allowed it.
Date published: 2017-06-06
Rated

5

out of

5
by
yogi1234909i
from
Favorite pair!
These are my favorite Lululemon shorts so far. They are good quality, I haven't had any problems. I love the material and the overall fit. I never have to mess with them or pull them down/up during my workout! Purchasing more colors.
Date published: 2017-06-01