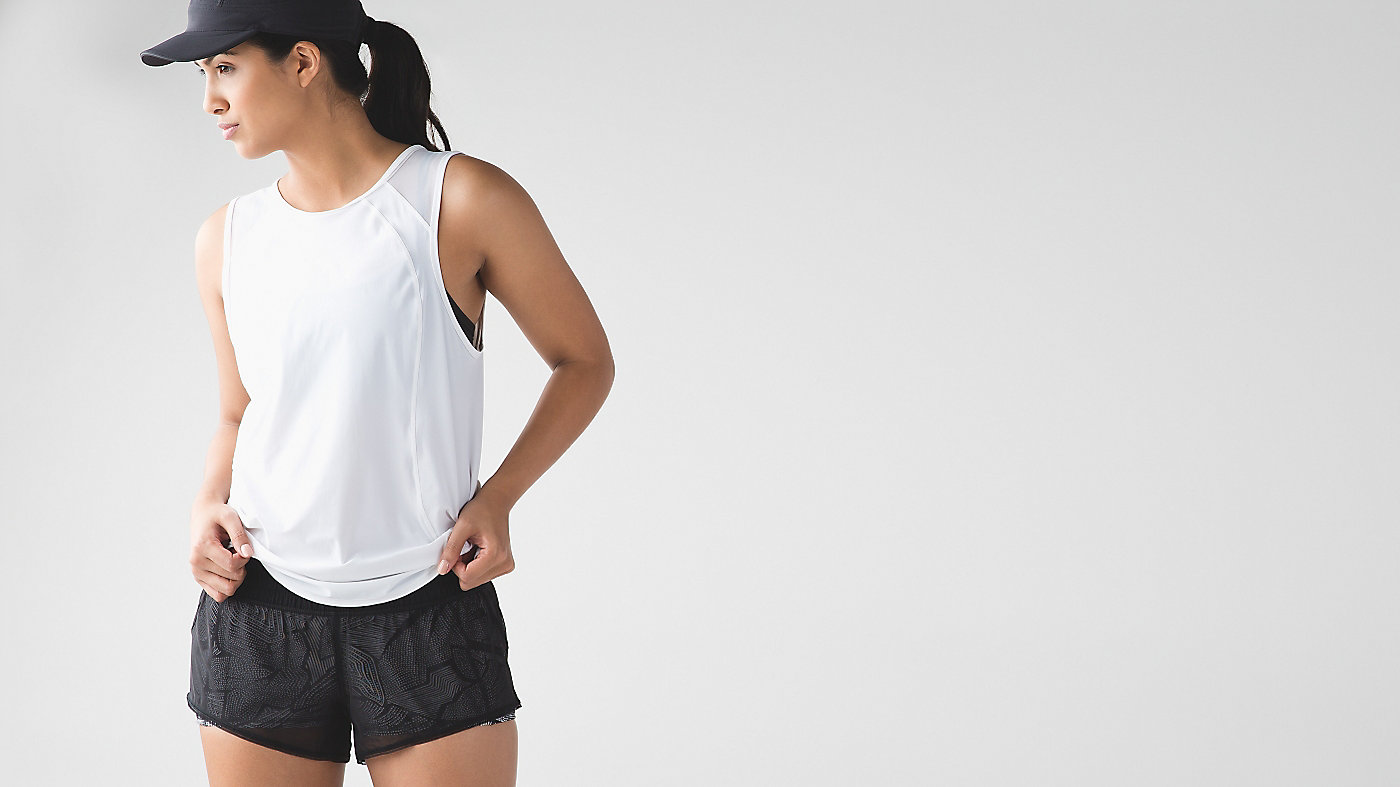 ---
media pocket
Added cord exit for tangle-free headphones
---
medium-rise
For coverage and cool comfort
---
hugged sensation
Engineered to feel like a comfortable embrace throughout—it holds you close and moves with you
---

City Sky Run By Short
is rated out of
5
by
6
.
Rated

5

out of

5
by
JuliNoE
from
Biggest surprise
Picked these up in store because of the sale price and was so pleasantly surprised. I did have to size up from my regular 8 to a 10. If you like short shorts that don't get in the way of your legs and lifting, but the 2" boogies just don't quite cover your assets, these might be for you! I need a 2.5" inseam on my shorts to have bum coverage, and these are the closest I've gotten in Lulu to that. The overlay is very unique, but does a great job of hiding up your bum in the back. It's a very light overlay and doesnt bug me at all. These are my new favorite all-the-squats day shorts. I probably wouldn't run in them since my inner thighs are just built to touch... but for weighlifting and crossfit, these rock. And the packets built into the base short layer are awesome! I was so surprised of how much I liked these.
Date published: 2016-12-02
Rated

2

out of

5
by
activiD
from
cutie patootie shows too much booty
I wear these shorts around the house. They are very low rise and really short. I love the style. I think the overlay makes them really unique. They have the potential to be so adorable but missed the boat a bit in the fit. While I could not imagine anyone loving these shorts for running (they ride quite a bit), I think they would work best for girls who aren't curvy.
Date published: 2016-09-28
Rated

4

out of

5
by
Loverunning77
from
Cute running shorts but terrible customer service!
I bought these shorts in a store in size 8. I'm size 4 or 6 with Lululemon. But that day they only carried size 6 in color blue. It fitted me all right but a little bit roomy in the waist area. And that pair looked like a sample or be worn by someone for quite a while because the waist band is not that tight compared to other pairs in the store. Anyway, I loved the shorts so I bought them. Well, after wearing it a few days, these shorts were getting looser and looser. At that time, I found out they have new size 6s online again! I called the customer service to see if I can exchange mine but was told it was me who bought the wrong size so they can't exchange them. The receptionist was cold and didn't want to help me at all. The people at the store were so nice and told me I could bring the items back if they don't function well (they understood I bought a bigger size). But the store is in DC and I live in Florida. Very disappointed with lulu's customer service though I love their products. I gave four stars because if mine are size 6, they would fit very well.
Date published: 2016-08-26
Rated

4

out of

5
by
Runningroundtown
from
Super cute shorts
I got the black/dottie tribe white & black pattern. I love them! They are a little bit on the shorter side, mostly because the mesh material is very light so it rides up quite easily and i found i was readjusting the spandex bottom layer part and pulling it down every so often. I wish the bottom layer was a little bit longer, like the 2-in-1 running compression shorts. But they are perfect for running! The side pockets are super handy, fits my iphone 6s (in its case) easily, it does stick out of the top cause the pockets not deep enough, but it would be the perfect size for smaller phones and ipods. I haven't tried running with my phone in the side pocket yet as i don't normally go running with my phone but i had it in the side pocket while biking and felt it was pretty secure, the hole for headphones is also super handy. Overall i love them for running and only wish they were a little bit longer :)
Date published: 2016-08-02
Rated

2

out of

5
by
kayanne
from
Too short to be practical
I am SO bummed... these shorts are absolutely gorgeous, but I could not justify keeping them because of the length (or lack thereof). I love the detailing of the outer mesh and the tight-fitting short liner. The liner has a small slit for headphones and a shallow phone pocket. The design is genius.... These shorts are perfect in almost every way aside from the length. I felt like I was wearing underwear or lingerie. They barely covered my tiny butt. As an avid fan of the Wunder Under and All-Sport shorts, I'm ok with 'short', but these were ridiculous. PLEASE make a longer version, Lulu!! I'd love the opportunity to purchase this product :)
Date published: 2016-07-27
Rated

4

out of

5
by
QueenofLulu
from
Very cute design even for bigger legs
I bought these thinking I'd probably have to return them because they looked short for someone with a butt and more muscular legs. I'm so happy I was wrong. These are gorgeous and super comfortable. They are short but I don't feel self conscious about it! A little more length would be nice but I'll still be keeping. FYI I sized up. I'm normally a 6 in pants and crops and got a 10. I normally size up in speeds too.
Date published: 2016-07-22