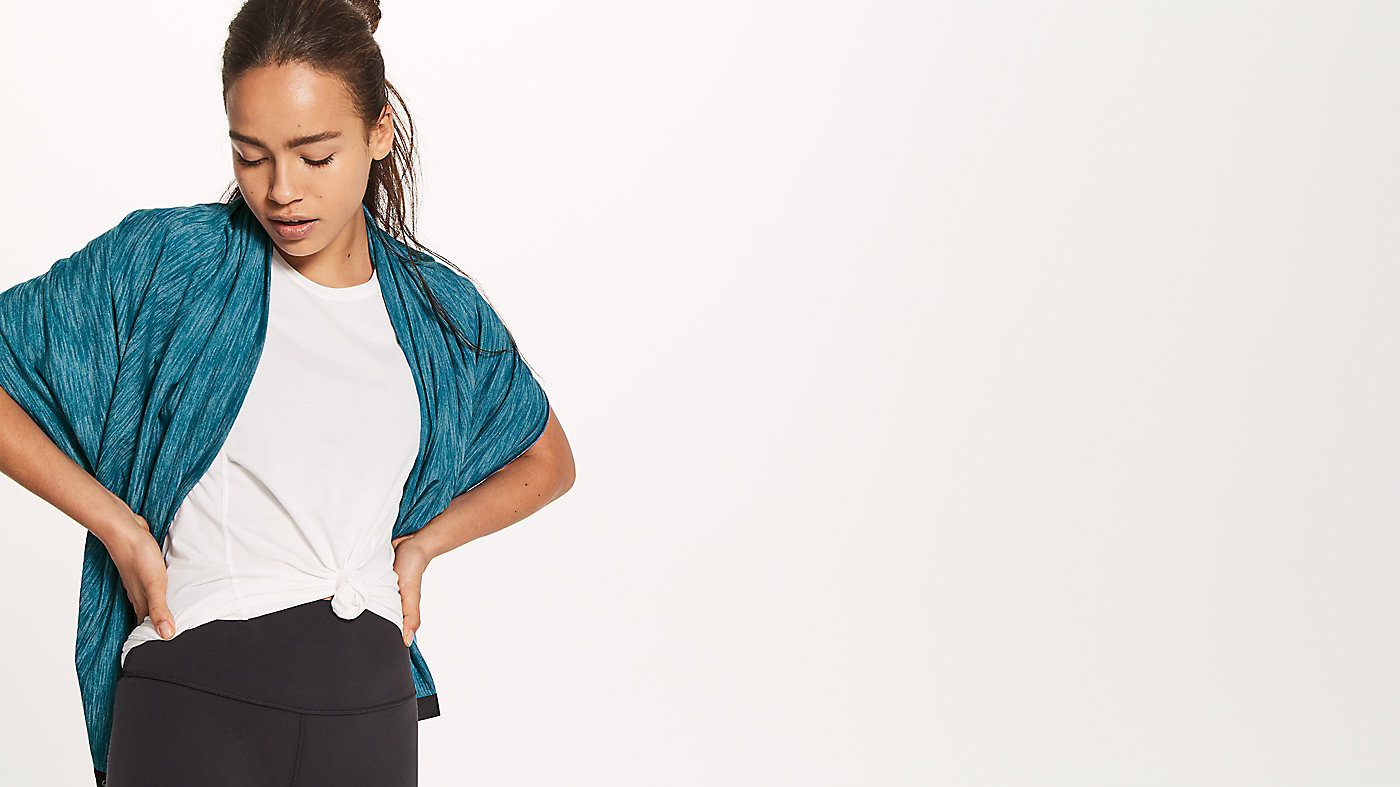 designed for
Yoga, to + from
---
locker loop
Reflective locker loop makes for easy hanging

Vinyasa Scarf *Rulu
is rated out of
5
by
329
.
Rated

5

out of

5
by
mpollzzie
from
Hi my name is Matt and I am a Scarf-aholic
I stumbled upon they lovely babes last fall....and now I have a collection, both of the Vinyasa Scarf and Wrap. I like the myriad of ways it can be worn (it seems endless). I know these scarves are listed under the women's section but I really think they are unisex. I rock these scarves/wraps more than a few times a week. I constantly receive compliments whenever I wear them. I let the scarf do all the talking so I usually wear them with a plain v-neck/crew-neck shirt. I don't need anything competing with the style and pizazz these scarves bring to the table!
Date published: 2017-05-23
Rated

5

out of

5
by
Ash171
from
Amazing!!
Ok I am obsessed with this scarf! It is perfect for a lot of things. First of all, I am a yoga instructor and I love wearing it to my class. I even plan on taking this with me when I leave next week for a month of travel. I think it will be perfect for the plane and transitioning between cold and warm weather.
Date published: 2017-05-11
Rated

4

out of

5
by
butterfly17
from
One of my favourite lulu products
I'm happy the vinyasa has made a return - the other scarves and wraps don't have the same appeal to me. It is one of my favourite lulu items and black swan/grape is one of my favourite colours as well. The only reason I didn't rate the scarf as five stars is because it's not quite as soft as some of my other vinyasas.
Date published: 2017-05-09
Rated

5

out of

5
by
Dahlia2017
from
So Happy with this purchase!!!
Thank you Lulu for releasing new colours of Vinyasa scarves for spring! I purchased the "tonka stripe heathered slate white" and absolutely love it! Will definitely purchase additional colours! I love that you can wear this in so many ways, perfect for my freezing office and airplane travel!
Date published: 2017-05-05
Rated

5

out of

5
by
casper15
from
Quality Scarf
I didn't get a chance to try out the older version of this scarf, so when people were saying that this version didn't compare I thought, "great, another product that should have never been changed." However, this scarf is incredible! Right away I tried out each of the different styles they show on the video and I could not be happier with my purchase. The material is very comfortable, it's stretchy yet very durable. I spent the day lounging around with it styled as a cardigan and it kept me warm.
Date published: 2017-05-03
Rated

5

out of

5
by
NCVCo
from
Lighter weight for the warmer weather
I have been waiting for the Spring lighter weight version of the Vinyasa scarf and I was not disappointed. Just like the cold weather version, it will be a versatile item especially to travel with whether as a scarf, shawl, throw, or vest. Please continue carrying this item!
Date published: 2017-05-02
Rated

5

out of

5
by
lilbittylulu
from
Awesome
I love this scarf. There's so many things you can do with it and the rulu fabric is so soft. I really want another one, please bring back some of the colours!
Date published: 2017-04-04
Rated

5

out of

5
by
Cdnbutrfli1
from
So soft and cozy
I always looked at this in the stores and never took a chance. I finally did and my life is changed!!!! It is soft, warm and stretchy. It washes nicely. I have watched many tutorials online on different ideas and ways to use this scarf and it is truly endless. I am on the curvy size and some of options don't work , but that is ok because i love the ones that do work. Worth every penny
Date published: 2017-03-05
Rated

5

out of

5
by
HJS13
from
Amazing Versitile Scarf
I love this scarf, it is incredibly soft and keeps you warm when you need it! What is also amazing about this product is that you can pop it on after a hot yoga session and will not feel overheated. For those who sweat a lot, it wicks away moisture but doesn't smell. Great for to and from class or daily wear!
Date published: 2017-02-27
Rated

2

out of

5
by
lulufan905
from
Old Version MUCH better!!!
I own several vinyasa scarves and I have loved their versatility and durability. And every time I wear one, I get tons of compliments. BUT the new scarves are not the same quality as the older scarves and I an SO disappointed! The newer version is too short to wear as a wrap!! This is a key style if you travel and want to protect your neck and shoulders on a chilly flight. The older, larger scarves were the perfect size! The new scarves are shorter and narrower. Also, I never put my scarves in the dryer...I prefer to hang dry. The old scarves look and feel as good as they did the day I bought them (5years ago or more)...but the scarf I purchased within the last year is not lasting as well: the edges are curling and the fabric is pilling. I was hoping for more colours, but at this point I don't think I'll buy any more unless Lulu goes back to the original version.
Date published: 2017-02-02