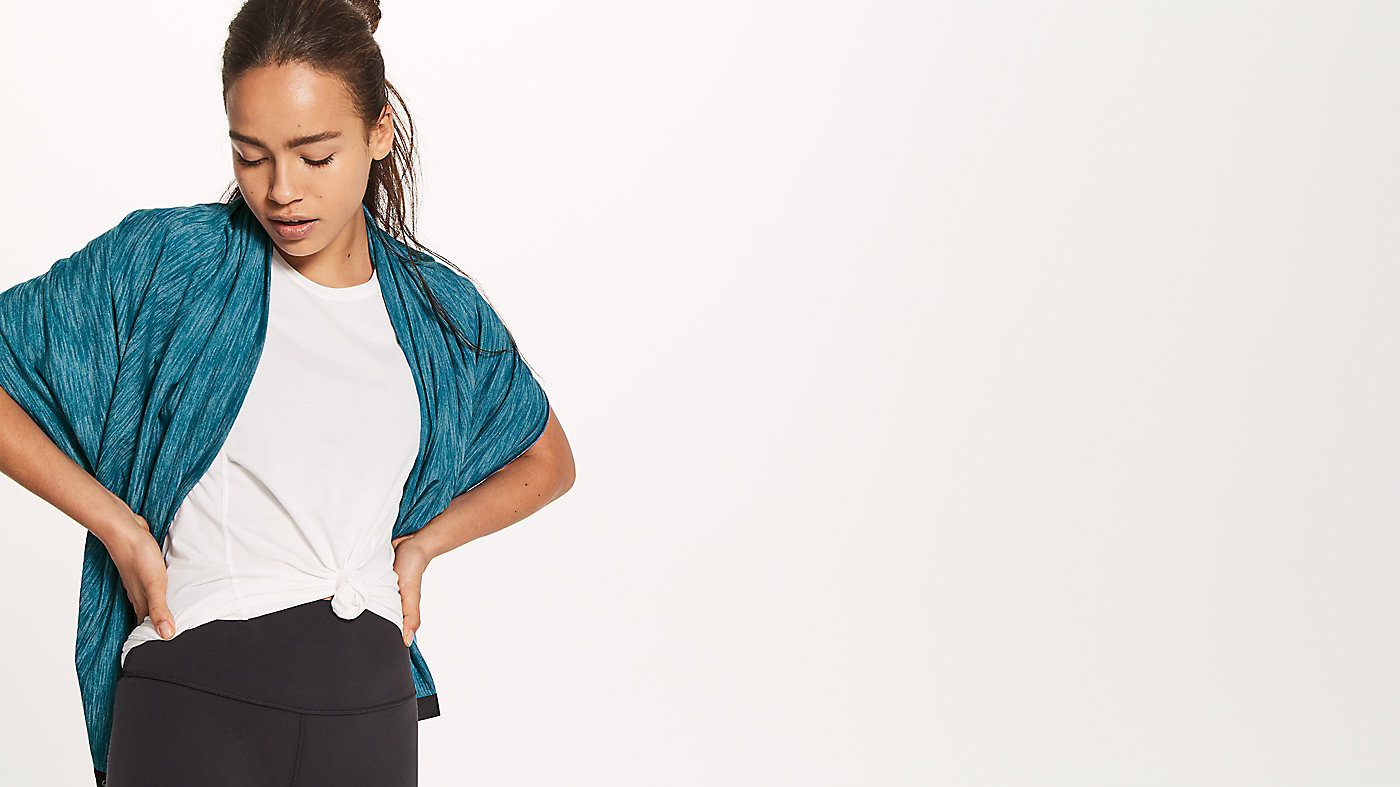 designed for
Yoga, to + from
---
Reflective Locker Loop
Locker loop makes for easy hanging
---
WEAR MULTIPLE WAYS
Snaps at either end put the fit and look in your control

Vinyasa Scarf *Rulu
is rated out of
5
by
333
.
Rated

5

out of

5
by
kmarion
from
Must-have: slowly collecting a few unique ones
I've got three of these now - one from 2014 (bumble berry/heathered bordeaux drama), the quilted winter one (sadly bought at full price but I love it all the same), and my newest one (sailor stripe hero blue alarming). They're all super soft, and really versatile. Awesome for travelling and great accessories for virtually any outfit. My only complaint about the sailor strip hero blue one is that it's not solid blue on the other side - that'd make it a lot nicer. Awesome pickup on WMTM though, and it's a bit lighter for not having the second layer of fabric.
Date published: 2017-07-20
Rated

5

out of

5
by
CayJay
from
Every Color NEEDED
I need this scarf in every color that Lulu will make it in. I buy one every year to add to my already overflowing collection of this scarf. I travel for work and this is my new go-to thing that I buy for gifts for the girls in my life. Its a great scarf that doubles as a pull over, jacket, scarf. In the conservative countries I have travelled in, I have also used it as a head covering when in a pinch. I think its absolutely amazing. Please get yourself one and buy one for all the ladies (and men!) in your life.
Date published: 2017-07-19
Rated

5

out of

5
by
RMSI
from
A favorite item
Seriously I can't recommended it enough. You can wear it how ever your mood feels. Up / down . Summer cover up, fall chilly weather. Travel , quick stroll in the city , quick outdoor. You can dress it as your imagination can go. You can wear it more ways than showed on the video , it just depends on how you feel comfortable on every outing, a definite piece for every wardrobe. Total love,
Date published: 2017-07-10
Rated

5

out of

5
by
KAR01
from
Functional and amazing!
My favorite Lululemon product ever. This scarf can be worn multiple ways but also doubles as a blanket. I travel a lot for work and take this on every trip. It folds up and easily fits into my bag and is the perfect blanket for the plane. I highly recommend this product!
Date published: 2017-06-27
Rated

5

out of

5
by
mpollzzie
from
Hi my name is Matt and I am a Scarf-aholic
I stumbled upon they lovely babes last fall....and now I have a collection, both of the Vinyasa Scarf and Wrap. I like the myriad of ways it can be worn (it seems endless). I know these scarves are listed under the women's section but I really think they are unisex. I rock these scarves/wraps more than a few times a week. I constantly receive compliments whenever I wear them. I let the scarf do all the talking so I usually wear them with a plain v-neck/crew-neck shirt. I don't need anything competing with the style and pizazz these scarves bring to the table!
Date published: 2017-05-23
Rated

5

out of

5
by
Ash171
from
Amazing!!
Ok I am obsessed with this scarf! It is perfect for a lot of things. First of all, I am a yoga instructor and I love wearing it to my class. I even plan on taking this with me when I leave next week for a month of travel. I think it will be perfect for the plane and transitioning between cold and warm weather.
Date published: 2017-05-11
Rated

4

out of

5
by
butterfly17
from
One of my favourite lulu products
I'm happy the vinyasa has made a return - the other scarves and wraps don't have the same appeal to me. It is one of my favourite lulu items and black swan/grape is one of my favourite colours as well. The only reason I didn't rate the scarf as five stars is because it's not quite as soft as some of my other vinyasas.
Date published: 2017-05-09
Rated

5

out of

5
by
Dahlia2017
from
So Happy with this purchase!!!
Thank you Lulu for releasing new colours of Vinyasa scarves for spring! I purchased the "tonka stripe heathered slate white" and absolutely love it! Will definitely purchase additional colours! I love that you can wear this in so many ways, perfect for my freezing office and airplane travel!
Date published: 2017-05-05
Rated

5

out of

5
by
casper15
from
Quality Scarf
I didn't get a chance to try out the older version of this scarf, so when people were saying that this version didn't compare I thought, "great, another product that should have never been changed." However, this scarf is incredible! Right away I tried out each of the different styles they show on the video and I could not be happier with my purchase. The material is very comfortable, it's stretchy yet very durable. I spent the day lounging around with it styled as a cardigan and it kept me warm.
Date published: 2017-05-03
Rated

5

out of

5
by
NCVCo
from
Lighter weight for the warmer weather
I have been waiting for the Spring lighter weight version of the Vinyasa scarf and I was not disappointed. Just like the cold weather version, it will be a versatile item especially to travel with whether as a scarf, shawl, throw, or vest. Please continue carrying this item!
Date published: 2017-05-02