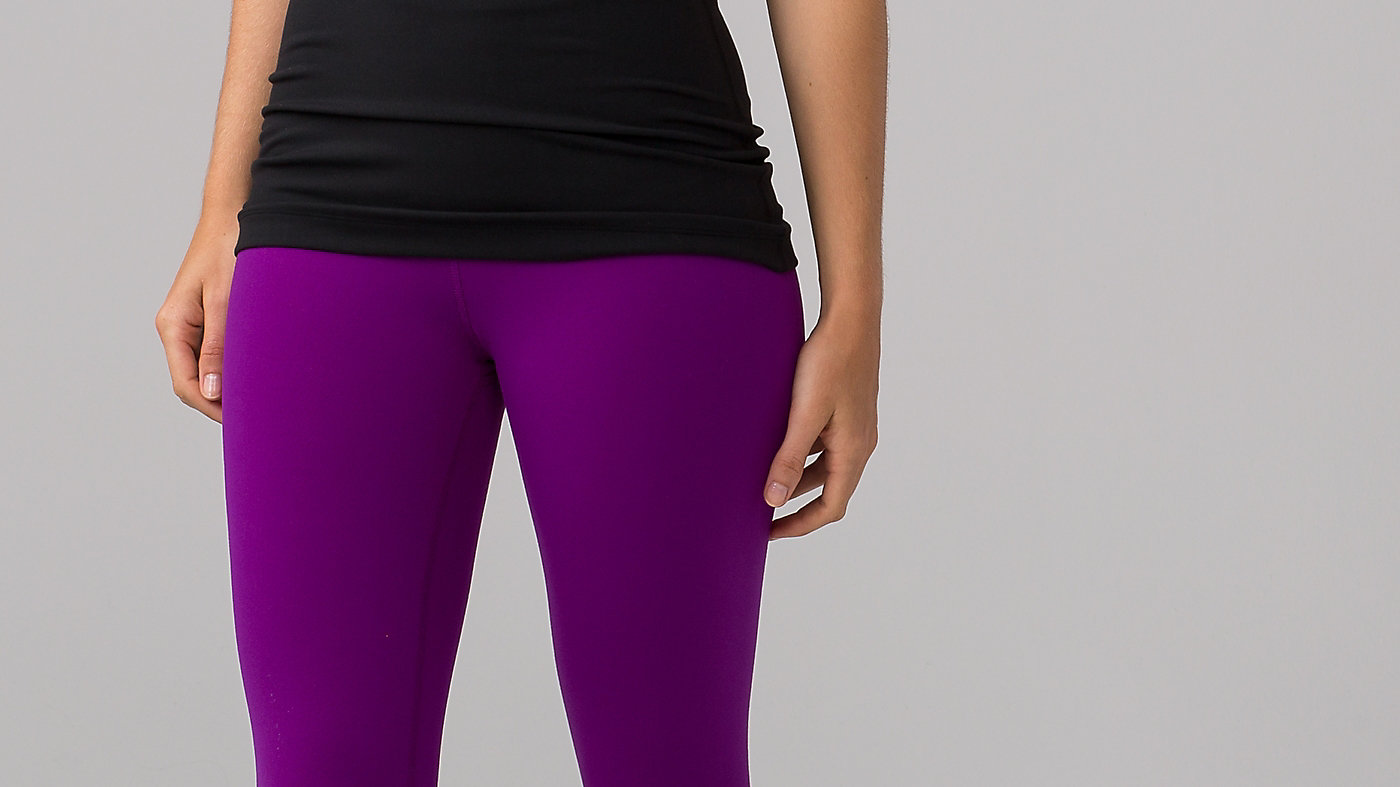 ---
---
lycra®
Added Lycra® fibre for stretch and shape retention
---
hugged sensation
Engineered to feel like a comfortable embrace throughout—it holds you close and moves with you
---
hidden pocket
Perfect for stashing your essentials

Wunder Under Pant III *Brushed
is rated out of
5
by
143
.
Rated

1

out of

5
by
traveler1111
from
Brushed bummer pants, way too pilled to wear and not be embarrassed
I got these as a present for a trip to Germany this winter. I was psyched since the brushed pants are meant for warmer weather. Unfortunately, they did not even hold up for my three week trip. I've had other lululemon pants in the past, but these pilled almost immediately, rather than years after I bought them. I also found them to be super itchy. I hand washed them in my sink with special sensitive fabric wash. I'm definitely bummed they have not worked as intended.
Date published: 2017-08-19
Rated

3

out of

5
by
agco
from
Love LuluLemon, just not these leggings
I've had these leggings for quite some time now, and I truly do love them along with my other LuluLemon products. My only complaint with these leggings is the thick seam around the very top edge of the waistband. The seam is extremely uncomfortable, especially compared to my Hi-Rise Wunder Unders that don't have that uncomfortable seam. I find it becomes a barrier with certain activities that I wear my leggings for, (ie. yoga), and I now never wear them anymore. Bummer..
Date published: 2017-04-08
Rated

2

out of

5
by
reviewonlulu
from
Save the money, not worth it
I purchased these pants and loved them at first. Shortly after they began to rip in the crotch area and down the leg on the stitching. This resulted in a hole that now makes it uncomfortable and impossible to wear these pants. I am SO disappointed in this product. I would NEVER recommend ANY types of pants from lululemon due to this incident. So not worth the money to buy clothes that rip for no reason.
Date published: 2017-04-08
Rated

1

out of

5
by
Kateebean
from
Save your money!!
Incredible pilling after only wearing them 3x!!
Date published: 2017-02-18
Rated

1

out of

5
by
Aalisha
from
Not Good
I had high hopes for these pants. I really just wanted good quality black leggings. I bought these pants and after one wash they started to feel really itchy. The seams were also coming apart and I'm afraid they will rip soon. My main concern was the material. The material really itched and it is very uncomfortable to wear.
Date published: 2017-02-03
Rated

3

out of

5
by
BostonYogi1
from
Fits Well but Pilling
This is my first pair of LuLulemons and I love them! I am disappointed though because they are already pilling in the crotch and inner thigh/leg area. I invested in them because I thought they weren't suppose to pill and uphold their quality. I will say they do fit amazing well and the material is very comfy, just wish they wouldn't pill!
Date published: 2017-02-01
Rated

2

out of

5
by
liss7
from
Love Lulu but these are disappointing!
I have lots of Lulu leggings and these are the only ones I've ever had problems with. They are rough everywhere because of so much pilling. I never put them in the dryer & always follow the washing instructions so I'm not sure what is wrong! I've only had them for a couple of months and the pilling is extremely noticeable.
Date published: 2017-02-01
Rated

1

out of

5
by
Lexxxie19
from
aggarvated..
i have 1 other pair of lululemon pants (which do pill at the top but not horribly.) and after a few times washing the wunder under pant III there was pilling between my legs on the outside and inside of the pants,which was very uncomfortable to walk or just to lay around in. The band became very loose around my waist to the point where whenever i would walk, i would have to pull my pants up. very aggravated i spent money on this pair of the pants.
Date published: 2017-01-31
Rated

2

out of

5
by
hank10255
from
Stretch Out and Pill
Really great first wear- every wear after that they get a little looser. A little bit i understand, but I really dislike having to pull my leggings up every time I move. They also pill quite badly on the inner thigh- as a well-known friction zone, some forethought should have been put towards this common problem so that my leggings do not look like fleece between my legs.
Date published: 2017-01-31
Rated

3

out of

5
by
Sportygirl09
from
Comfortable but so many pills
I love these leggings I wear them often but very disappointed because I bought them about 2 months ago and they are already pilling around my legs. I don't think that they are worth 98$ if they pill in less than 2 months from when they were bought and I even wash them by hand.
Date published: 2017-01-28