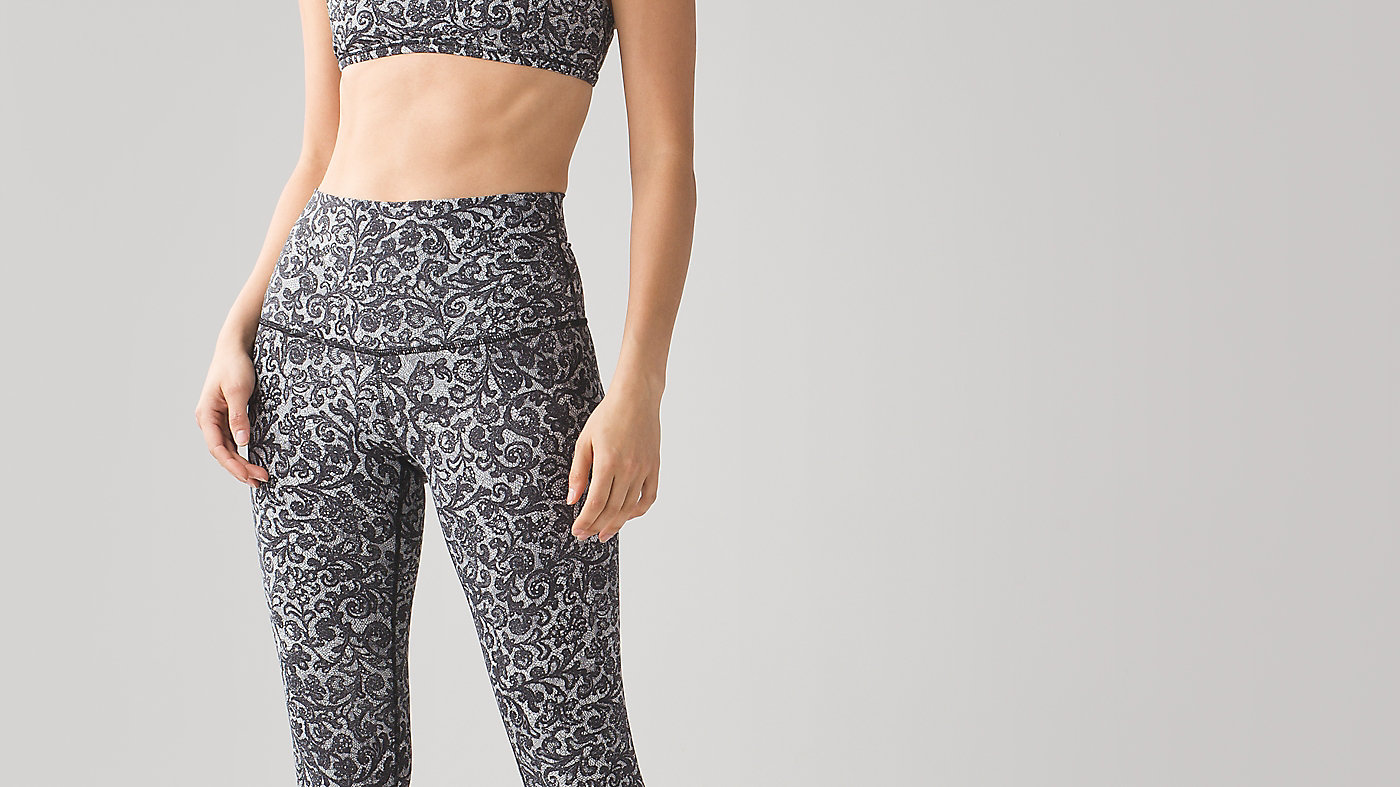 lycra®
Added Lycra® fibre for stretch and shape retention
---
hugged sensation
Engineered to feel like a comfortable embrace throughout—it holds you close and moves with you
---
Comfortable waistband
Lies flat against your skin and won't dig in
---
hidden pocket
Stash your essentials in the hidden waistband pocket
---

Wunder Under Pant (Hi-Rise) *Full-On Luxtreme
is rated out of
5
by
81
.
Rated

3

out of

5
by
JenniDubb
from
size up 1 or 2
I have been DREAMING of these pants to go on sale. The reviews state they run small, so I sized up. I normally wear an 8 and a 10 was a struggle to put on. I literally had to PEEL them off of me. I'm worried about working out in them since they may stretch and become sheer in areas. Great fabric & print but the sizing is all wrong.
Date published: 2017-06-10
Rated

1

out of

5
by
jeans342
from
Too tight, see through
I ordered the same size I have been fitting into with lululemons and these were incredible tight around the waist. I wore them around the house for a day and had change out of them before going to the gym. They were so uncomfortable I could not imagine wearing them in class. The material is much more thin than any other pair I own. I do not recommend these and have not worn them since the day I tried them out at home. I do not think I will ever use them. Also, they are incredible long! The longest pair I've ever bought.
Date published: 2017-05-12
Rated

1

out of

5
by
Ariadne
from
Not pleased..
I bought these leggings last night, wore them today. They are super comfortable on. But when I got home, I saw that the stitching by the knee was already falling apart. Didn't look in store yesterday to see if they were already like that, but I am super upset that they are already falling apart.
Date published: 2017-05-10
Rated

1

out of

5
by
ek2975
from
What's Happening With the Quality?
I've been an avid lululemon shopper for YEARS in the U.S. and in Korea. I don't do any aggressive sports in my yoga pants. Only for doing yoga indoors or for jogging/running outdoors, and I really try to minimize washing in fear of ruining these expensive pants. I bought these in a different color a few months ago, and I just discovered a rip on the seam in the crotch. It doesn't make sense that the crotch is so flimsy because by default there are a lot of stretching positions in yoga like leg splits..... Just bought the Wunder Under hr nulux pants as well, but I've also been reading a bunch of reviews on how they've been ripping as well. Might have to return those now....
Date published: 2017-05-09
Rated

2

out of

5
by
smsa
from
Super Tight
I have a few pairs of Lulu pants and I saw a pair of these on clearance so I was excited. I ordered my normal size, 4, and when they arrived I could barely pull them on! The material has very little give and even the band around the ankle is super tight! I tried wearing them for a bit to see if they'd stretch out like Lulu pants often do but I didn't have much luck.
Date published: 2017-04-13
Rated

1

out of

5
by
abrown632
from
Very disappointed
I bought a pair of these about 3 weeks ago and was really excited about the pattern and the fit. They're really comfy and I was such a big fan. However, after wearing and washing them twice I've already noticed really bad pilling all the way up the inseam. I bought them on WMTM, which is frustrating as they are final sale. I'm disappointed that for a pair of leggings that go for $98, their quality is worse than leggings I have had for over a year and spent less than $30 on.
Date published: 2017-03-16
Rated

1

out of

5
by
ebuckk
from
My First True Lulu Disappointment
I've tried my fair share of different Lulu pants, and usually like all of them for different reasons. I'm not one to complain about piling after a year or fading over time (normal wear and tear to me) but I am hugely disappointed in these pants because they are totally see-through. I ordered the heathered black, for reference. I was mortified at the gym when I looked in the mirror and saw how clearly you could see when I bent over. They also show sweat very easily, and I am not a heavy sweater by nature. I've worn them one time and now they sit on my shelf in the bottom of the stack. These pants are a true disappointment for me, and I'd encourage you to look for another type. So many better Lulu options!
Date published: 2017-03-13
Rated

5

out of

5
by
jbq123
from
Super cute!
I love these pants! They are tts and I ordered my usually size 6. I'm 5'8", 143 pounds with a booty--and these fit like a glove!
Date published: 2017-03-03
Rated

5

out of

5
by
oyoder81
from
Love these - no pilling compared to my Full-On Luon pairs
I got a pair about two years ago now and this pair has held up extremely well! After all this time, still to this day have had no pilling. If you want a pair that will not pill, get these! These pants retain their shape and hold extremely well. They are tight, that's for sure, but they feel secure and help suck everything in. They still feel brand new every time I put them on! I like the hi-rise because it helps me keep my core tight during practice and the material isn't too thick so it doesn't get too hot. My only complaint is that the hi-rise waistband does roll down sometimes when seated or in downward dog which can get annoying.
Date published: 2017-02-19
Rated

4

out of

5
by
JuliNoE
from
Chose these for no pilling
I sent back a pair of WU due to pilling after a review and after asking around, it was suggested I try the Fullux in black. I feel confident that they will not pill, although I wanted to get the traditional material because it is thicker and Fullux is much thinner. I got my 8TTS (5'5" 155 muscular 29-30" waist) that pretty much every other pair of LLL leggings I have and they fit, but they are TIGHT spandex, but not so tight that they dig in or are uncomfortable for lounging in . I did the bend over and look at your butt test and I didn't see any sheerness. The hidden pocket is kind of strange and akward and difficult to get into, but still useful if necessary. The top half inch or so of the high rise has a tendency to flip down when you bend over or sit down, but it feel so comfortable squatting in these having fulllllll coverage. If pilling is your main concern (which might I say it should not be a concern whatsoever for any kind of LLL tights paying this much money when I have Old Navy tights that have never piled and cost $15), I suggest that you try the Full On Luxtreme over the other WU's more cottony feel. I also tried on a printed pair, and if it has a white backing, when I put them on in a TTS size, it looks kind of faded because the white shows through. Crossing my fingers that these hold up without pilling or unravelling. Also wish there was an option for the logo to be on the calf like some other reversible pants, but not a dealbreaker
Date published: 2017-02-07