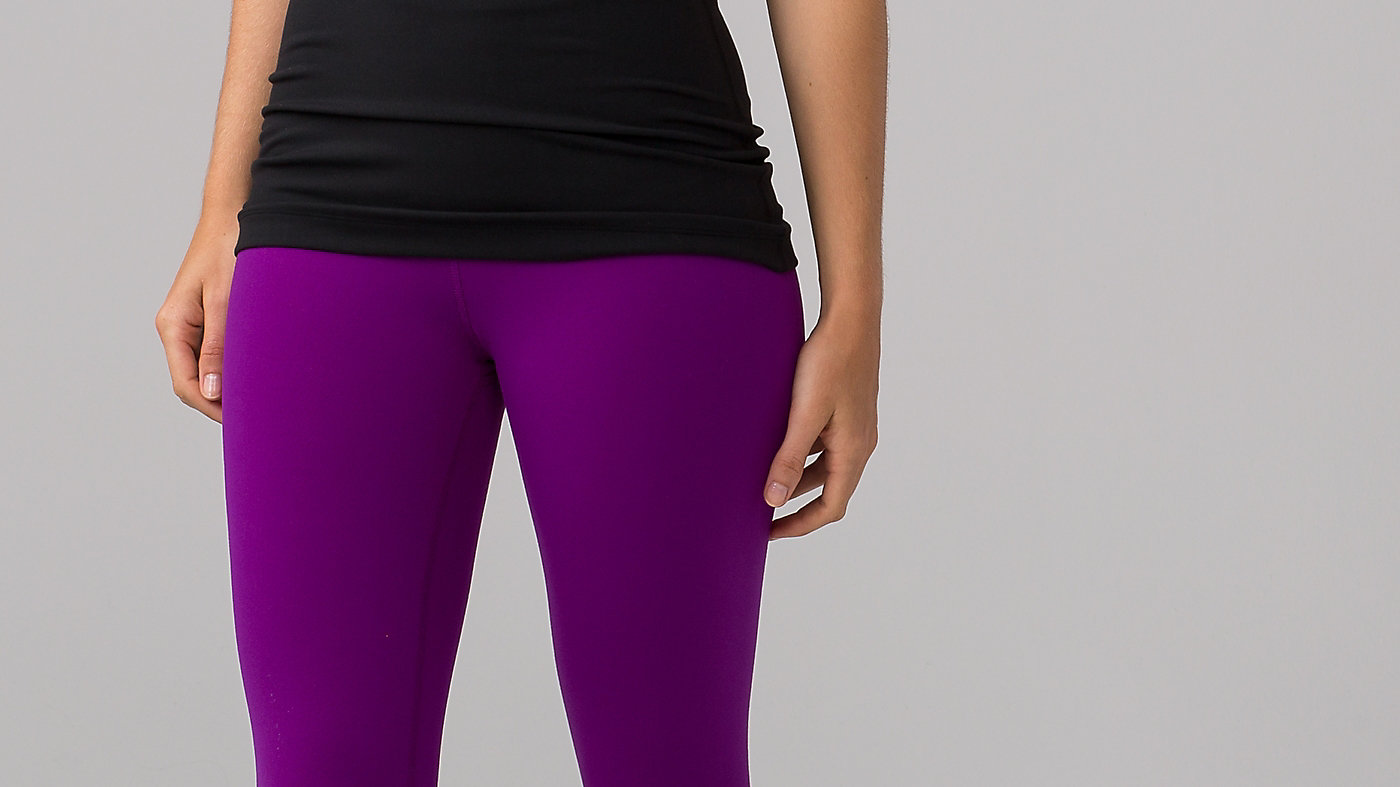 ---
---
lycra®
Added Lycra® fibre for stretch and shape retention
---
hugged sensation
Engineered to feel like a comfortable embrace throughout—it holds you close and moves with you
---
hidden pocket
Perfect for stashing your essentials

Wunder Under Pant (Hi-Rise) *Full-On Luon
is rated out of
5
by
750
.
Rated

4

out of

5
by
Isia
from
Only use Lulu, but as everyone has said.. pilling
I have already gone through numerous pairs of these leggings, but every time I buy them, they do pill. Granted, I absolutely love Lululemon, and I will continue to support the brand, but the pilling is a constant issue. On one of my other pairs, the fabric fell apart and a hole appeared. They weren't wearable anymore. The color has also greatly faded as well. I always wash them in cold water and delicate detergent. These leggings have lasted a long time in the past. They wash well and hold shape very well.
Date published: 2017-07-20
Rated

1

out of

5
by
swimgirl24
from
Very poor quality
I have a pair of longer Wunder Under leggings so I thought these would be the same quality, but that definitely wasn't the case. The material is so thin, and when I put them on they were completely SEE THROUGH. Just sitting down in a chair you could see everything. Definitely disappointed with the quality of these leggings. Unfortunately bought them on final sale and can't return them, but I do NOT recommend anyone buying these (especially on final sale).
Date published: 2017-07-20
Rated

2

out of

5
by
101010
from
SO MUCH LOVE; NOW DISAPPOINTED
I have SOOOO much love for Lululemon and hate to be writing this review, but all my wunder unders and high times are pilling like CRAZY!! I buy so much lulu because I they're all I wear, switching out tons of pairs of leggings, and never had issues with pilling. 3 of my most recent pairs are all pilling so much that I can't even wear them on a grocery run, and I've only had them for less than half a year! My lulus are an investment, and I hope my next purchases last a bit longer
Date published: 2017-07-17
Rated

1

out of

5
by
theatreyogi
from
Disappointed
All my friends raved over Lulus and I decided it was time to join the club. Figured it best to start with a solid black pair and expand my collection from there. Okay I love the high rise on these, it feels comfortable and the material is cozy but the pilling that has accumulated within the month I've had them is crazy! Just after a a few hot yoga classes, they ripped from the seam on the inner thigh/crotch area. I didn't want to believe the reviews about the pilling and delicate fabric and of course it happened to me. I'm super careful about washing them also. I sent them to get hemmed also and the hemming came back wrong. I've bought other pairs since then and have been totally satisfied but I can't get over the disappointment that came with these.
Date published: 2017-07-16
Rated

2

out of

5
by
dancebro423
from
terrible pilling
i love lulu and usually would recommend any of their products to any of my friends for any occasion! but unfortunately these leggings, that i was looking forward to so much, were a total disappointment. the first wear of them were as great as the other leggings i have bought but after i washed them properly, like i always do they had terrible pilling and i was very disappointed. a few wears after this the developed a hole which has never happened to any of my other purchases. i love and live with lulu but these leggings were a total bust.
Date published: 2017-07-14
Rated

4

out of

5
by
Suze98765
from
Solid Leggings
These are super comfortable. I wish they were a bit more compressive but they make up for that by being so soft I forget that I'm wearing them.
Date published: 2017-07-14
Rated

2

out of

5
by
lanceli
from
Not the quality I expected
I loved these leggings until they ripped after a few months. I wouldn't have felt bad about them ripping if I didn't pay so much, but I'm a college student so $100 is considered a large investment for a pair of leggings. I have shorts from here that are great quality and I love them for yoga, running, and rowing, and I was hoping that these would be the same amazing quality. I may have gotten a bad pair, but I know a lot of people love them.
Date published: 2017-07-13
Rated

2

out of

5
by
HotYogaFanatic
from
Good until they ripped........
I ordered these leggings in March. Little did I know that it would only be a few months before they would rip. I loved them, as they fit well and I thought they were holding up well through my hot yoga classes. Until one day, they ripped. Right in the crotch. During class. It was two little rips, but still. Very upset I spent this money to only enjoy for a few months. Will not buy again.
Date published: 2017-07-10
Rated

2

out of

5
by
rippedrunnergirl
from
Pilling Pilling Pilling
I placed my first order through Lululemon including two pairs of Wunder Under Hi Rise. These pants were great the first two wears. I followed the washing directions carefully and after the first wash they started pilling. I also notice they do not fit as snug as they did when I first purchased them. After two wears and one wash I wouldn't have expected this. I should have read more reviews before I purchased as it seems as if other buyers have had the same issue. I will be hesitant to purchase this specific pant again. I don't believe the product is any higher quality or worth the asking price.
Date published: 2017-07-08
Rated

2

out of

5
by
BarreBabe97
from
Awful Pilling - scared to wear them!
These were my very first pair of Lululemon and after a friend raved about them, I was sure I would love them too. They fit perfectly but after the first pair, started pilling. I have barely worn them since because I want to keep them perfect. I was worried at first that the pilling was due to my lack of thigh gap, but of course this is ridiculous because the pants are marketed for all body types. I didn't pay almost $100 to have them sit in my drawer unworn. This was a major investment for me and I'm extremely disappointed that lululemon didn't live up to the quality I was expecting.
Date published: 2017-07-06