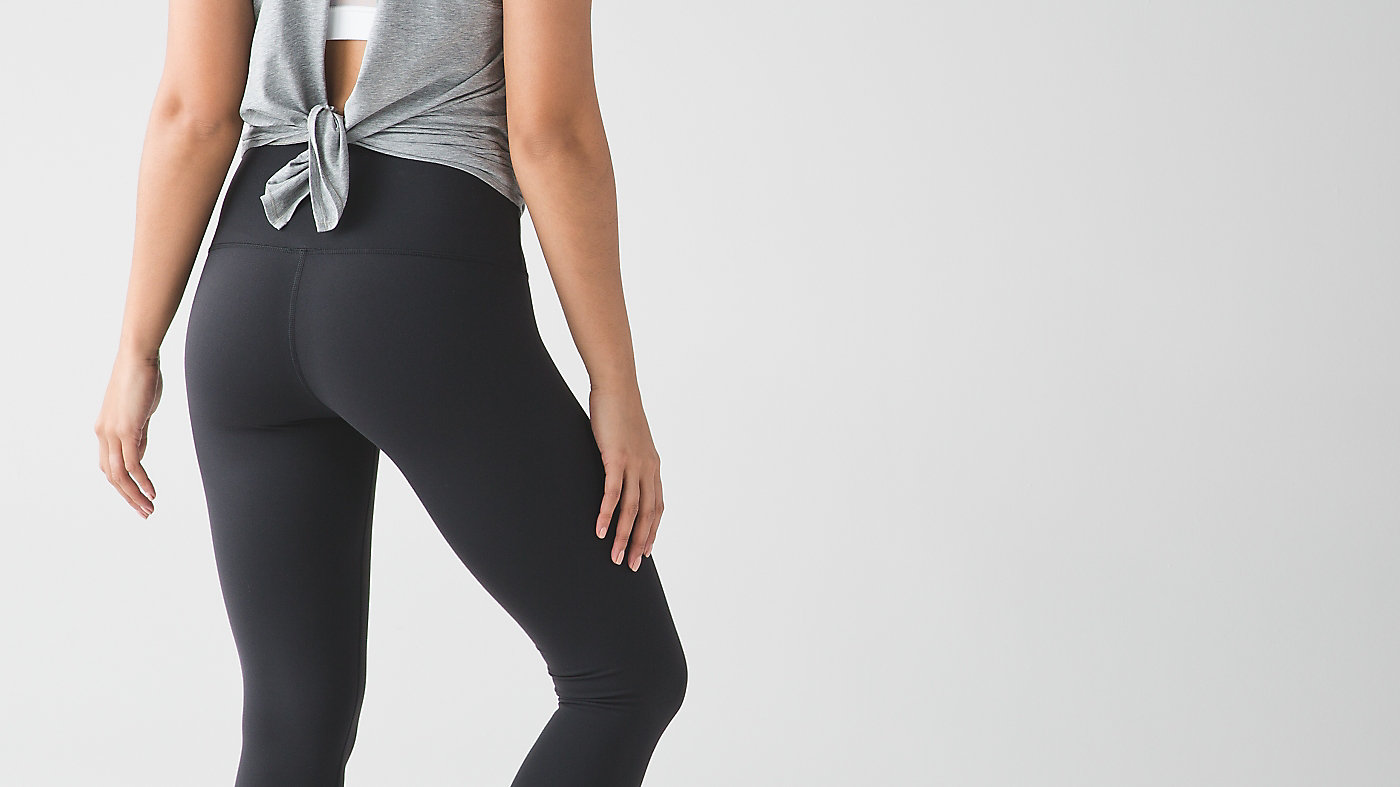 ---
lycra®
Added Lycra® fibre for stretch and shape retention
---
no-dig waistband
Soft, no-dig waistband lies flat against your skin
---
Waistband storage
Pocket on the waistband holds your key or card
---
hugged sensation
Engineered to feel like a comfortable embrace throughout—it holds you close and moves with you
---

Wunder Under Pant (Hi-Rise) *Full-On Luon
is rated out of
5
by
734
.
Rated

1

out of

5
by
Michigan123
from
SUPER DISAPPOINTED!!!!
i bought these pants after having a bit of back and forth with myself because of their steep price tag. Finally, i decided to invest as I regularly wear leggings and thought they would be worth it if they lasted a long time. They fit wonderfully in the store, and I wore them maybe 5-6 times over the course of a couple weeks before i noticed pilling around the inner thigh. This was extremely disappointing!! I've had leggings for a tenth of this price that have not pilled to this day. The last day I wore them, i noticed a hole on my inner thigh where the stitching had begun to fray and tear. That was the last straw. I threw these leggings in the trash the same day. $100 leggings, and couldn't even make it a month of semi-regular wear!!! I am so unhappy with this purchase. Buyer beware, take your hard earned money elsewhere. The quality of this product is disastrous, I'm still upset at myself for going out on a limb to purchase this.
Date published: 2017-06-21
Rated

4

out of

5
by
DR123
from
No Pilling So Far
I've had these leggings for about half a year and I haven't had any problems with pilling or holes. One thing that I would suggest is getting a size up from normal, which I think prevents pilling.. I'm normally a 4 in bottoms but I got a 6, and they fit perfectly (for reference, I am 5'11 and 147 pounds).
Date published: 2017-06-19
Rated

1

out of

5
by
bwedge
from
Pilling!
I owned this pants for about 2 weeks and in those 2 weeks, these pants have pilled so much. I usually love Lululemon products but these pants pilled so easily.
Date published: 2017-06-15
Rated

2

out of

5
by
Kastle
from
disappointing
I bought these a little while ago but have only worn them a few times, and i'm disappointed at how much pilling they have already.
Date published: 2017-06-15
Rated

2

out of

5
by
sgorms
from
Disappointing
I absolutely love the fit of these pants, and the Full-On Luon is so soft and comfortable, however, it only took wearing them one time (not for a workout, but for a casual day at home) for there to be pilling near the inseam. It's a bummer because I disliked the feel of the Luxtreme fabric when I was trying them on in store, but these pants are way to pricey for them to pill after the first time wearing them. Very disappointed as these are the first pair of Lulu leggings I've invested in, and I'm not sure they are worth it.
Date published: 2017-06-12
Rated

1

out of

5
by
VNMI
from
Hole in butt afte wearing just a couple times
I bought these with my daughters account and she wore them twice and there is already a whole in the butt. It is such a shame great fit, nice rise and not sheer. This is the first time this has happened with any of our purchases. HUGE disappointment!
Date published: 2017-06-09
Rated

2

out of

5
by
WVtransplant
from
SOOOO sheer in the rear
I have a few pairs of Wonder Under Pants and have loved them for their length and how high the waist is. I prefer to purchase my Lululemon in person so I can do the bend test, but as I have purchases 3 other pairs of the Wonder Under I thought I would be safe, but the black pair I recently purchased is so terribly sheer! I am so disappointed in the quality of the black even though the fabric is all the same. Do not purchase the black if you care about showing your rump to everyone at the gym or at yoga class.
Date published: 2017-06-08
Rated

2

out of

5
by
NBains
from
So sad :(
I don't normally write reviews but I kinda had to in this case. I was so excited to try these pants out but I am disappointed with the piling :( I loved the pants the first time I wore them for a run. The fit and look was amazing! I followed the wash instructions, but after just one wear and wash they have started piling. I still wear them because I love the fit so much bit the fabric and the piling is very noticeable now :(
Date published: 2017-06-07
Rated

1

out of

5
by
craigee
from
Terrible Pilling
I only got to wear these pants about three times before the pilling took over. I am disappointed in the quality of the fabric based on how much they cost.
Date published: 2017-06-02
Rated

2

out of

5
by
Ilike2sweat
from
Why make activewear that changes color when wet?
I usually love all my lulu but recently your quality has gone down. First, I bought the wunderunder crops in maroon. And unfortunately I cannot wear them to hot yoga or to the gym because when I perspire they change colors. And now these pants have the same problem!!!!! Wouldn't you remedy this is production?????? We are trying to hide the fact that we are sweating now show it off!!!!
Date published: 2017-06-01