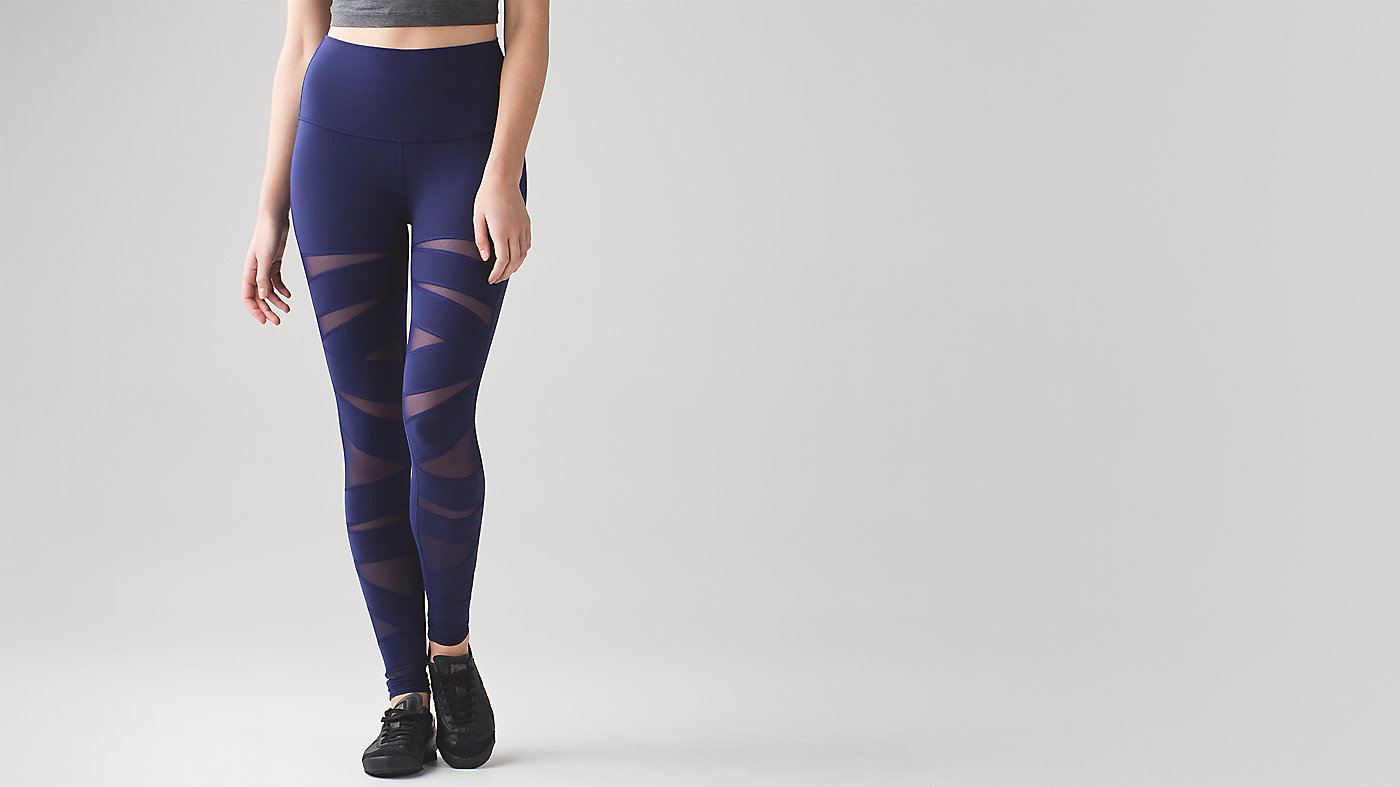 ---
lycra®
Added Lycra® fibre for stretch and shape retention
---
high-rise
Keeps you feeling covered and secure
---
hugged sensation
Engineered to feel like a comfortable embrace throughout—it holds you close and moves with you
---
hidden pocket
Stash your essentials in the hidden pocket

Wunder Under Pant (Hi-Rise) Se Tech Mesh Lift
is rated out of
5
by
51
.
Rated

4

out of

5
by
Anonymous
from
These are the Cutest Pants that LuLu makes but the seams on my pants frayed:(
These are my favorite pants. I get the most compliments on them. I would give full stars and recommend to friends BUT the seams on my pants are fraying :( Also, did they used to come in a shorter size? I see they are 31 length online but I thought these pants used to come in shorter length as well.
Date published: 2017-07-19
Rated

3

out of

5
by
Orangetheory24
from
Love but not practical, ripped seams
Love these leggings, and are probably the ones that I get most compliments on. However, not practical to work out in at all. Fabric isn't the most breathable and they slip around a little when running and in high intensity work outs so you have to work to keep them up. Seams ripped right in crotch, so I took them back to the store for the free hemming. Put them back on and within 1 minute of stretching they ripped again. Gave up on them after that. Its a shame because you pay extra for them so that they are high quality.
Date published: 2017-07-17
Rated

2

out of

5
by
GixxerPilot
from
Terribly Disappointed
I was SO EXCITED when I saw these tights online again! I'd purchased an identical pair last fall when they were released and have adored them. Since then, I've lost some weight and was stoked to be able to replace my 6 with a more appropriate 4. Went straight to the store to try these on and....massive disappointment. First off, the Luon in this year's release is tons thinner than last year's. Compared to the High Times Rythymn pant I was wearing in store that day, these are maybe half the thickness. When I pulled them on, there was even more disappointment as I discovered they were completely sheer. I didn't even get to the squat test. All I had to do was lean over slightly (as in bending over to grab something off the back of a counter - not very far!) and the tag along with my neutral colored underwear showed straight through. The actual squat test was so horrific, the photo could have wound up on leggings!fail. I tried to size up to a 6 to see if that would help, but nope. Same problem. Fit wise, they were definitely TTS for me. I have very muscular glutes and quads so I did wonder if they'd be loose on super lithe girls. With the mesh not being as "springy" as the Luon material, I would thing these might not fit tightly if your legs are really thin. TL; DR: I think I finally understand what longtime Lulu fans have been saying about declining quality and sheer pants. Given the hefty price tag of these pants, I know it can (and should!) be better.
Date published: 2017-07-16
Rated

3

out of

5
by
lewisma3
from
So Cute But Seam Comes Undone
Love the look of these pants but the seams at the legs and along the backside are always coming undone and I have strings hanging. So cute but for the price wish it was made with better quality.
Date published: 2017-07-13
Rated

5

out of

5
by
TheRealCTorres
from
Wunderunders that don't disappoint
The fit of these wunder unders are great. I went down from my usual size 10, to an 8 and very pleased! I am 5'2 and they fit perfect! So cute and so comfortable. Def worth the money for these. Get them while they last. They go quick in stores and online.
Date published: 2017-07-06
Rated

2

out of

5
by
funnygirl1200
from
Seaming does not "seem' to stay together
The seams of these wunder unders are a disaster. I love love love the design but after just one wear the seams were already fraying and felt like they could easily rip apart if I did anything physical whatsoever in them besides walk. It's honestly a disappointment because I wanted love them. Unfortunately I haven't been able to wear them due to the seams so they have just been sitting in my closet; what a waste of money. For $118 buy a different style that holds up better.
Date published: 2017-07-06
Rated

5

out of

5
by
Ebarbi
from
Beautiful and comfy
These are super cute and super flattering. They totally hug your body, though in the waistband area it does not hold me in as much as I'd like it to. Not seethrough at all and really soft fabric. Only worn it once so far, so we'll see. But they're beautiful!
Date published: 2017-06-16
Rated

3

out of

5
by
VictheLastUnicorn
from
LOVE the look, Fit is loose
I bought these tights last time they came out months ago after hunting them down for almost a year. I was so excited to finally find them that I bought two pairs and have only used one to this day! I have worn them so so many times and always get compliments when I do. My only recurring concern is that they slide down like crazy. I bought my usual size 8 but they constantly slide down and I feel really awkward pulling them up a million times while working out or walking around the city. I have worn these so many times to squat, deadlift, and do cardio, as well as just going out, but it is so annoying to worry about pulling them up after every movement. I don't know if sizing down would help or if it is just the material. Overall, they look great and are durable! Just wish they'd stay up, and now i don't know what to do with my second pair!
Date published: 2017-02-16
Rated

5

out of

5
by
Spinnerdi
from
Love the look
I really love these mesh ones! I haven't had any issues with quality or pilling, but as with all my lulu pants, I wash them separate, inside out, on gentle, and hang to dry. I know this makes a huge difference. I get compliments on these every time I wear them. I wish the waist wasn't as high as it is, but its not a deal breaker.
Date published: 2017-02-16
Rated

2

out of

5
by
latinalulu
from
missing Lulu's quality
I feel so sad because I love Lulu! I love their designs, but their quality is just not the same. I bought a pair of the "Wunder Under Pant (Hi-Rise) Se Tech Mesh Lift" and was disappointed. The color seems a little dull and the stitching looks very fragile. I own other Lulu pants, the inner thigh area didn't wear out as these that I bought 2 months ago. I have been waiting for these pants to make a comeback, just disappointed how cheap they look. The inspire tight I bought 3 years ago look better than these. Please, Lulu, bring back your quality for the price we pay.
Date published: 2017-02-10