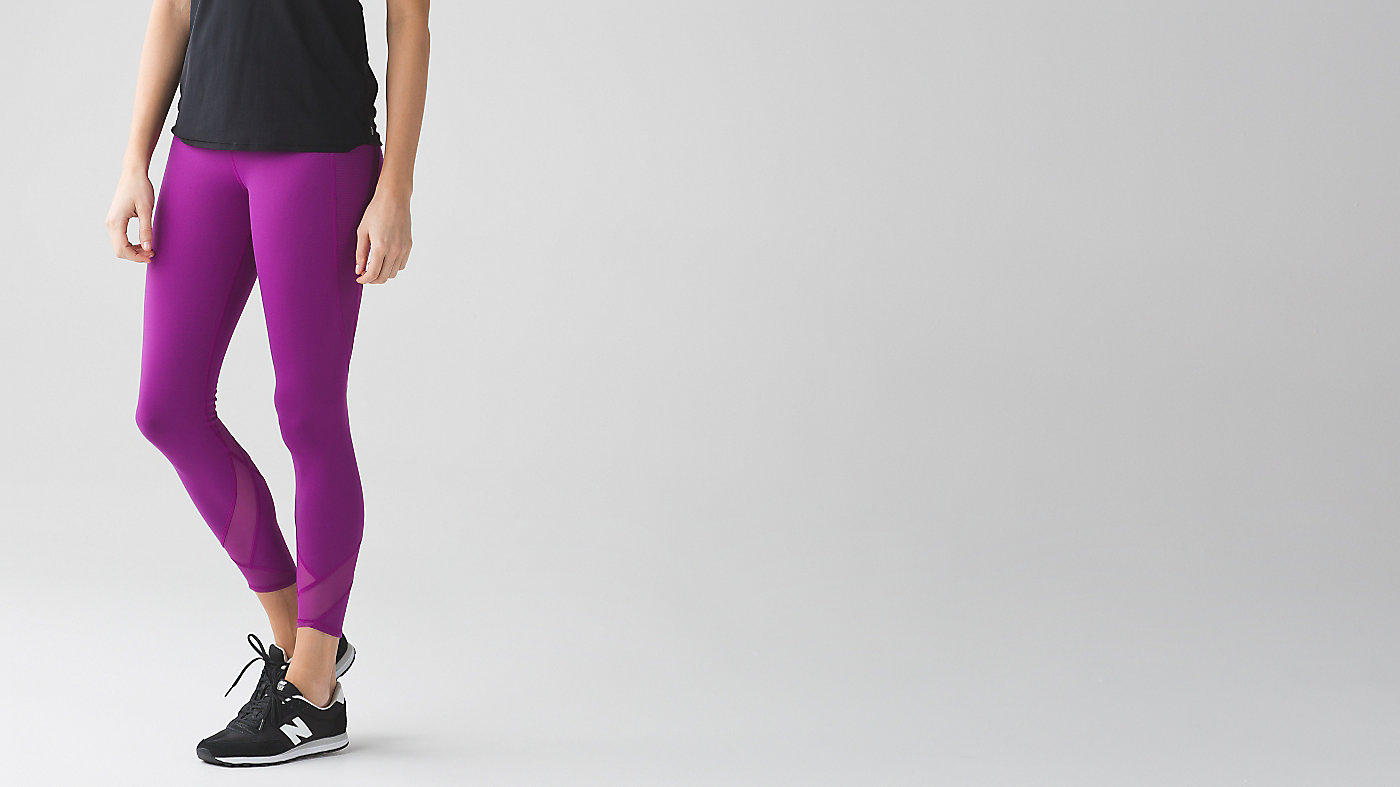 ---
hidden pocket
Stash your essentials in the hidden waistband pocket
---
waistband
Designed on the fold—see ya, muffin top
---
7/8 length
Stays out of your way
---
hugged sensation
Engineered to feel like a comfortable embrace throughout—it holds you close and moves with you
---

Tranquil Tight
is rated out of
5
by
15
.
Rated

1

out of

5
by
fitmommyof2
from
Wanted to love...
I really did want to love these. The hugged feeling was exactly what I prefer and since I am very short waisted they were high enough to hold in my stomach which I am still working on...BUT....they pill terribly!! I have worn them twice, washed inside out on gentle cycle and hang dry and the entire crotch area is pilled as is the almost the whole mesh area's seams are pilled as well. This is the first item from Lulu I have not LOVED. The material is also already faded looking and just not worth the price. As I said before I have only washed these twice so I can't imagine what these will look like after more washes... disappointed. Also, I have them in black so I don't know if the purple color shown has the same problems.
Date published: 2016-05-20
Rated

5

out of

5
by
kcocox
from
sturdy yet sexy
I am very careful about bending over and checking how see-through pants are before purchasing them and these pass the bend-over test for me. The mesh is really pretty and strategically placed so that it looks sexy on. I bought these in black but loved them so much I got them in the regal plum as well. The material feels thick like the Wunder-unders that are my HG of workout attire, they are so sturdy and yet flexible so you can wear them for running and yoga. I haven't experienced any issues with snags or piling but I am careful with where I sit in my Lululemon (when you pay that much, you would want to be more careful that's my thought anyway) and I handwash all of my LLM. Plus there's a cute little pocket at the back to stash stuff which is a plus.
Date published: 2016-05-19
Rated

1

out of

5
by
RLW3
from
So disappointed!
I am a very good Lulu customer. I have many pairs of tights, mostly wunder unders. I thought I would try something different.The tranquil tight is a BIG disappointment. The material is very cheap. When I bend over in class you can see though the material. Also, the fit is not very flattering on you seat .I bought it on line, lost the receipt, wore it once, and will NEVER wear again! Would love to return! Please Help!
Date published: 2016-04-09
Rated

5

out of

5
by
hkmcclain
from
AMAZING!
These pants are absolutely amazing. The fit is great and they're super flattering! These are definitely my new favorite pants!
Date published: 2016-04-07
Rated

4

out of

5
by
JOJO101
from
Love these leggings!
Loved these leggings since the moment I tried them on! Amazing feel and hugs and tightens my legs and booty!
Date published: 2016-04-02
Rated

2

out of

5
by
MeggE
from
Just don't look too closely...
I purchased these pants in the rio mist color in a size 6. It's been probably about 2 years since I bought a pair of lululemon pants because, while they look great, as a student, I find it very difficult to justify spending $100+ dollars on one pair of leggings. However, I had been thinking about investing in a new pair for a long time, and I was VERY excited when I saw this style come out. I even bought them in the store so that I could try them on first. After wearing them just twice, however, I'm quite disappointed and also a bit embarrassed. They feel and look incredible, but when the fabric stretches at all, you absolutely can see the color and outline of my undergarments. I do a lot of heavy squats, and I feel like the entire gym may have seen what I was wearing under these pants. For the $108 (including tax), that I spent on these, I'm beyond disappointed.
Date published: 2016-03-19
Rated

2

out of

5
by
ML209
from
not for the small booty
I agree with the other reviewer that the waistband starts too low. Yes, these are high rise however the waist band starts too close to the crotch area. If you have a bigger booty, this might work for you, but for those of us not gifted in that area, it just looks strange. I have a maroon pair of Wunder Unders that do the same thing. This makes your butt look extra flat. Another gripe I had was that as soon as I put them on, I could tell there was camel toe action going on and I don't have that problem in other Lululemon leggings. For reference, I'm 5'3", 112 lbs and wear a size 4 in almost all leggings, sometimes a size 2. The purple color is more pink in person, which I don't mind. The mesh detailing is really cute. But I can't get over the flat butt/camel toe so I'll be exchanging these in-store for something else.
Date published: 2016-03-17
Rated

3

out of

5
by
Rubes
from
Cute, but....see through
I'm curvier in the rear so the hugged sensation stretched the fabric so my undies showed through. I bought black and rio mist. Rio mist showed off my pink undies while the black pair wasn't too bad. I'll just have to remember to wear black undies with the black pair. I'm kinda glad the rio mist didn't work out since I didn't want to spend more $$ on pants. Overall, the fabric is thick but with micro ribbed stretch that gets sheer if stretched too much. The mesh panels are fairly flattering on my short legs. But I'm sure they're even more flattering on longer legged individuals.
Date published: 2016-03-17
Rated

3

out of

5
by
Bigskyaj
from
Just OK
I just received these in the mail yesterday and was so excited to try them on. The fit is nice but they are really long so they bunch up behind the knee. For reference, I'm 5'5, 113lbs and take a size 2 in lulu bottoms. I don't consider myself short so I'm wondering who lulu is making these for?? The fit would be so much better if they weren't as long. Because of the mesh if they are too long they bag in the back. These would have been better in a 7/8 length. But if you are tall, you will probably like these more than I did.
Date published: 2016-03-16
Rated

5

out of

5
by
barrebabe11
from
LOVE
Absolutely love these! The mesh is placed perfectly. Some brands have entirely too much mesh but this is just enough. I probably could have gone up a size because they are SO TIGHT, very hugged. Overall, these are amazing!
Date published: 2016-03-15