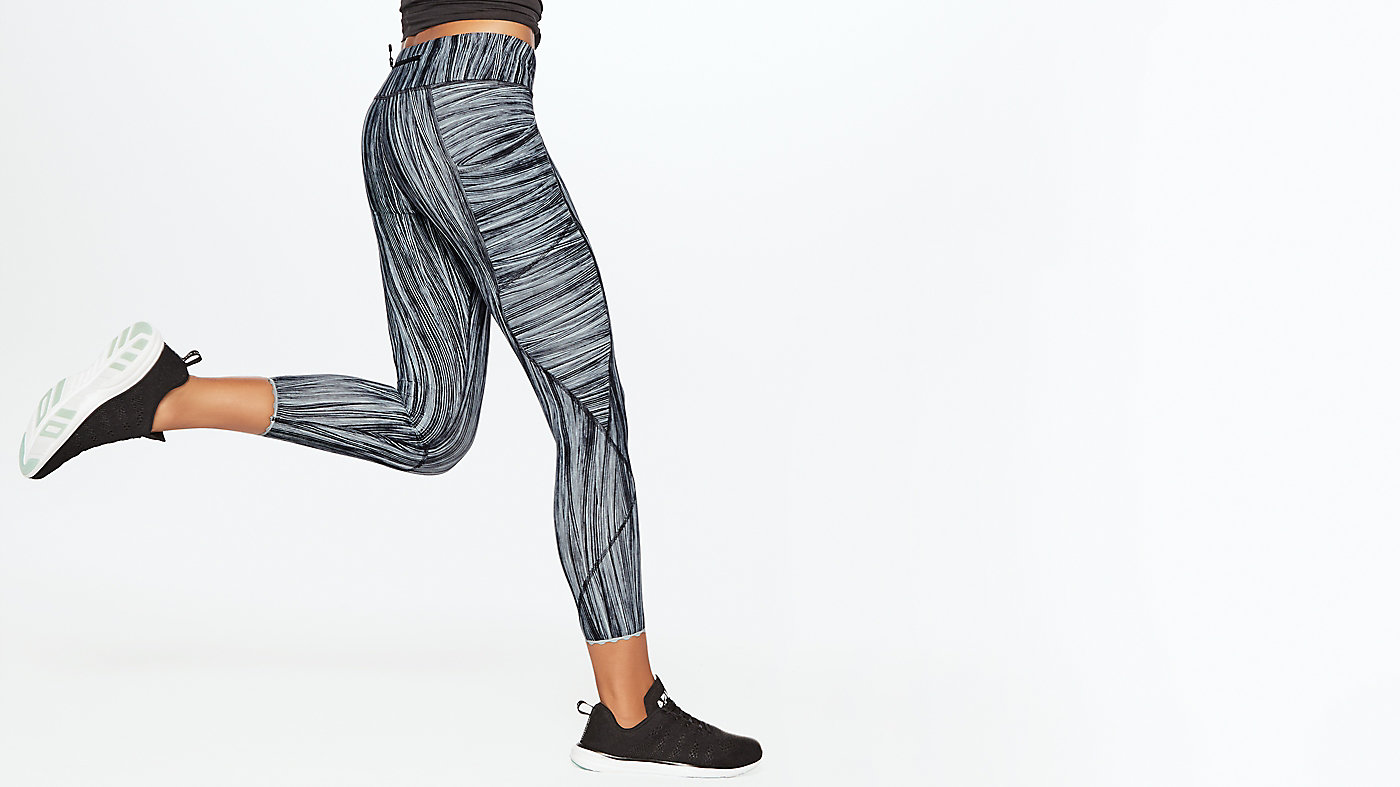 ---
fit
Designed to sit at the waist with a second-skin fit
---
POCKETS
Stash your gear in pockets on the back and thigh
---
ROOM TO MOVE
Made to be little looser at the knee for comfort and mobility
---
DROP-IN POCKETS
Snug drop-in pocket keeps your phone in place
---
Reflective detail
Intentionally placed to help keep you visible in low light
---
Tight Stuff Tight II
is rated out of
5
by
75
.
Rated

5

out of

5
by
qvrkitten
from
Super secure
These pants are so great! I waited a while to buy them because they are a bit pricey, but I honestly should have bought them sooner- I love to wear them on runs because I feel super tight and engaged while exercising. The reflective pattern at the bottom makes me feel safe for when the sun goes down, and the scalloped edges are super cute and not like any other leggings I own. Love love love! I am 5' tall so the leggings hit me just above the ankle. They are also high waisted on me and go above my bellybutton.
Date published: 2017-07-10
Rated

4

out of

5
by
mtn416
from
Cool features!
I fell in love with the scallop cut at the end of the pants. It took me awhile to finally give in to these hence the price. I'm 4"11 and at the time I had got these pants in a 6 which is now a little to big for me since i had shed a couple pounds, but they still fit and look nice. The scallop pattern at the bottom of the pants adds such cuteness to it! I also love that it's reflective at the bottom which is nice for night time. I do wish that lulu would make different inseam length so shorties like me can fit more nicely into them. These pants are a little long but the tailoring would eliminate the cute scallop pattern! I love the material, holds on well for a sweaty workout. Great pockets on the sides which is nice to slide my phone in during workouts. So stylish, I love it!
Date published: 2017-07-09
Rated

3

out of

5
by
lulusovereverything
from
I absolutely LOVE these BUT......
These pants are everything you could want from a workout legging. They are tight in all the right places and stay in place when you are doing anything from HIIT workouts to yoga. I wish you had these in every length and color imaginable. I have recommended them to all of my friends and had nothing but good things to say about them until recently. I have had them since March. I use them a lot and understand there definitely will be some wear and tear. However, I have recently noticed the seams starting to unravel in the crotch and inner thigh area. It's frustrating because these pants were definitely an investment and the seams unraveling are starting to become more noticeable :/
Date published: 2017-07-02
Rated

2

out of

5
by
hasn325
from
EXPENSIVE for pants that fall apart
These are adorable but after 5 wears and less than 5 washes they are unraveling at the crotch. Usually I'm impressed by Lulu's quality, but to pay $150 for something that's unraveling is crazy. Not happy with the quality on this item.
Date published: 2017-06-25
Rated

5

out of

5
by
SurlyRider
from
Awesome (and good looking) compression pants
I have only used these a short time but I have to say I love them for specific uses; I'm not a runner, the main point of existence for these bottoms! One store educator had steered me from them as not necessary for my uses but I'm thinking she was reading into her suggestion her own aversion to strong compression. However, when I was exchanging a fast and free 7/8 bottom - those were just two soft and bagging in the crotch for me -- a different store educator suggested I try these. Glad she did. I get a perfect fit in size 2 (confirmed by her and myself; I am 120 and 5'7", hips size XS, waist measures for S but that rarely means I need to size up). I like a compressive feel anyhow so I guess you should like that sort of fit and be okay with taking time to get them on; not overhard but still. That is the reason I could but I won't use them for just bike commuting, my daily use, but I will bike in them to the gym, as I have, for conditioning classes. One reviewer mentioned they are roomy in the crotch. I know what she means, there is space but it is not so much that they bag, at least not on me, and I hate that. What that extra room did do was to enable me to do deep squats. At first I wasn't trusting the pant would give but when I did, I knew what the fit was doing. Ideal. Plenty room to go down but support for the hamstrings, etc. I biked home in them then which has the added benefit of the front leg visibility dots when it's after sundown. I bought the midnight navy, love that color, and while i'm at the 7/8 length.
Date published: 2017-06-16
Rated

5

out of

5
by
LLong
from
So far in LOVE
I don't think I've ever put on a piece of clothing that I love wearing as much as these tights. Did a fitness class with treadmill and strength training in them and they were really perfect. They fit perfect and hit at the perfect spot at waist and come down to the perfect length. I'm 5' 4" Size 10. Praying I do not have the same problem others have mentioned with unraveling seams. I will probably cry for real because I love these pants so much.
Date published: 2017-06-12
Rated

2

out of

5
by
runner424
from
nice but loose around the crotch/flatten booty
I like the leggings, but they are tight everywhere and then loose around the crotch which is really frustrating! Also they are so tight they make my butt look smaller than it is... I'm really disappointed because they're expensive!! $148 and they should fit perfectly...
Date published: 2017-06-07
Rated

3

out of

5
by
katiekelly
from
ADORE, BUT.......
Hands down, my all time favorite pants. Love the scallop edge, perfect length, and the compression is by far the best. I usually wear a 6 in Lulu bottoms, but got these in an 8. The thigh seams started to unravel with less than 5 wears. Took to store, and like other reviewer.....repairs we Meh, but I didn't want to complain. However, now, they are starting to unravel again. Such a bummer......I have had a pair of wunders for like 8 years, and they are good as new!! Quality control????......Will probably get navy though. love me my navy lulu!!
Date published: 2017-05-30
Rated

5

out of

5
by
LolaRunner
from
Amazing running tights
I bought these tights online after purchasing my first pair of Lululemon tights at my local store. These tights deliver as promised. Beautiful fit and comfortable. I wore them in a 10k and they did not disappoint. I will purchase more as soon as I save enough cash for them!
Date published: 2017-05-29
Rated

5

out of

5
by
mscalgal
from
Miracle worker
I bought these in black and midnight navy about 4 months ago. They are holding up well with regular use and laundering. I wish they made some in more colors/prints. Also hope in the future they will add some without the lettuce edge - it's cute and I do like it, but I don't like all my pants to look exactly the same. The fit on these is extremely flattering. Major compression, smooths everything out and holds you in. I'll be checking back for new styles in the future!
Date published: 2017-05-25