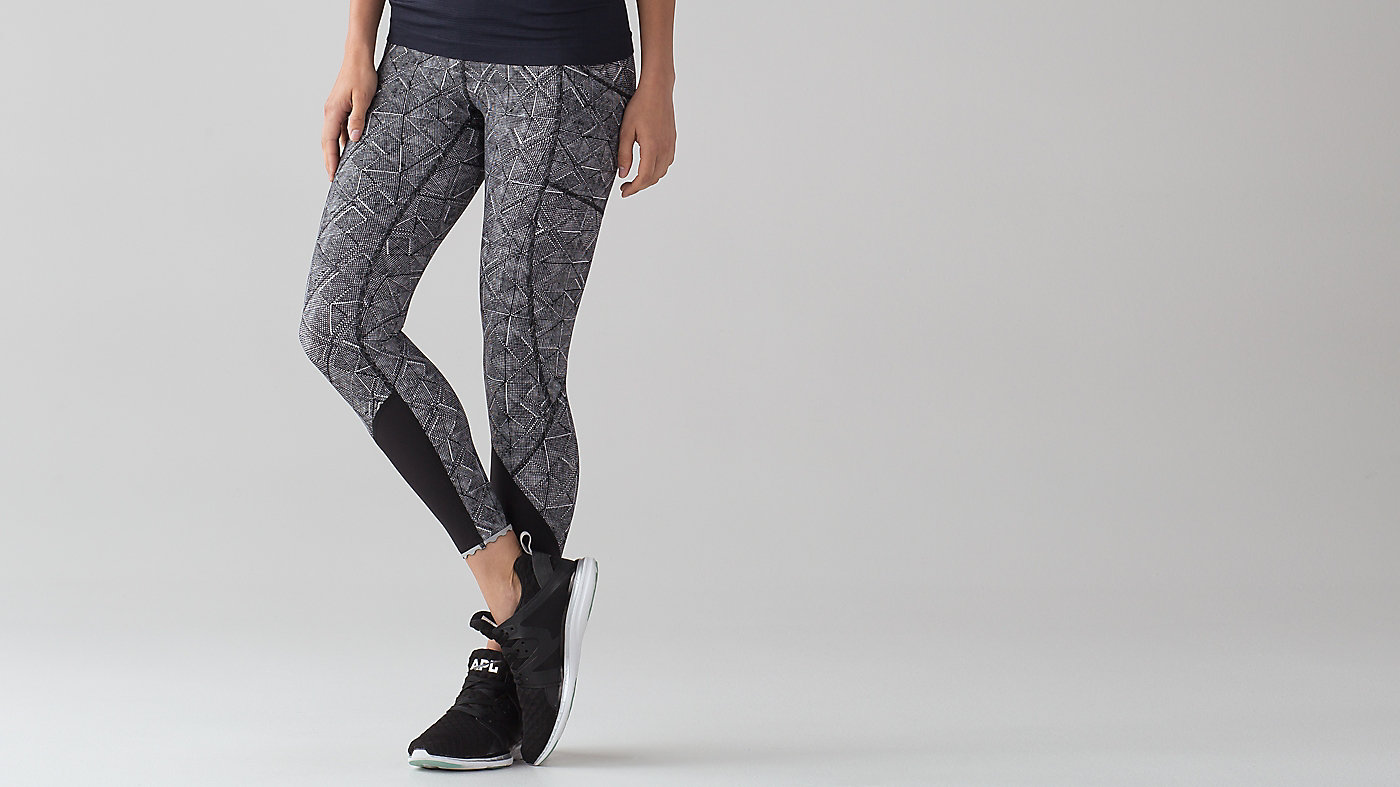 ---
fit
Designed to sit at the waist with a second-skin fit
---
POCKETS
Stash your gear in pockets on the back and thigh
---
ROOM TO MOVE
Made to be little looser at the knee for comfort and mobility
---
DROP-IN POCKETS
Snug drop-in pocket keeps your phone in place
---
Reflective detail
Intentionally placed to help keep you visible in low light
---

Tight Stuff Tight II
is rated out of
5
by
81
.
Rated

1

out of

5
by
telechick
from
HORRIBLE
The tights are tight in the knee and calf and loose in thigh and waist.. almost compression backwards... poorly designed, fall down , have to keep hiking them up uncomfortable buyer beware
Date published: 2017-08-16
Rated

2

out of

5
by
TrendyChic
from
Huge Disappointment
I have several pairs of the crop bottoms because I love the pocket feature. After working out and/or running errands, it's great to have a pocket that secures and fits my phone or cardholder case. However, after a few times of wearing/running in these pants...they have stretched out. I am so disappointed with this purchase. I really hope you guys come out with better pants with pockets on the side.
Date published: 2017-08-09
Rated

1

out of

5
by
altrarunner
from
Major Letdown :(
I purchased these less than a week ago as an overdue replacement to some Run Inspire II Crops from eons ago that were made so dang well they have still been trucking through lifts and half-marathons many years later. Not so with these :( After a 5 mile run, and 1 go through the washer the seams are starting to unravel at the posterior waistband and at medial left calf. Really a bummer for running pants, really really a bummer given the price.
Date published: 2017-08-08
Rated

5

out of

5
by
cumbe
from
all inclusive leggings
i have been wearing lulu for a couple of year now and i always wanted these. because they were so expensive, i never got them until just recently. for me, i wanted the leggings that had everything i wanted. and although pricey, they were the ones. (yes i made a chart comparing different lulu tights :)) ) these tights have IT ALL. the back ZIPPERED pocket so nothing falls out, the interior drawcord for customizable fit, the two hidden pockets on the front waistband, the two giant size pockets that fit my phone, (one of my favorite parts) the scalloped detail at the bottom, the perfect length, and the super cool reflective detailing. (i wear these all the time when walking my dog at night or just when i am going for a little night run) even though these are the most expensive lulu tights i have, they were sooo worth it because of all the features. if i had one problem with these tights, it would be that i wish they had a higher rise because sometimes i feel them falling down on me, but it's not too bad.
Date published: 2017-08-06
Rated

2

out of

5
by
LTrain17
from
High Expectations for EXPENSIVE Pants that are NOT lasting (Disappointed)
When I tried it on in the store I loved it, I bought it to wear for my marathon because I felt like it had the compression I needed for my run. I was a little disappointed as they started to slip down during my run around the crotch area. Good thing I didn't get any chafing,I had to pull them up a couple of times during my run (this becomes irratating after a while). The other thing is when it came time to wash them, I followed the instructions but now the seams are unraveling around my butt area which I thought was weird and on my left leg. I guess I expected more out of my first luluelmon pants especially after all the great reviews I have heard about the pants.
Date published: 2017-07-31
Rated

2

out of

5
by
livelovesweat1435
from
Great first couple of wears -- questionable after
These tights are great. They make you feel super secure and are high waisted. Amazing for running. BUT, after about 10 wears, they are pilling and stretched out. The tights are pilling out all along the leg seam and now fall down when doing gym exercises like squats. For $148, I expected a lot more durability. All my other Lululemon gear is amazing but I am so disappointed with these.
Date published: 2017-07-29
Rated

5

out of

5
by
qvrkitten
from
Super secure
These pants are so great! I waited a while to buy them because they are a bit pricey, but I honestly should have bought them sooner- I love to wear them on runs because I feel super tight and engaged while exercising. The reflective pattern at the bottom makes me feel safe for when the sun goes down, and the scalloped edges are super cute and not like any other leggings I own. Love love love! I am 5' tall so the leggings hit me just above the ankle. They are also high waisted on me and go above my bellybutton.
Date published: 2017-07-10
Rated

4

out of

5
by
mtn416
from
Cool features!
I fell in love with the scallop cut at the end of the pants. It took me awhile to finally give in to these hence the price. I'm 4"11 and at the time I had got these pants in a 6 which is now a little to big for me since i had shed a couple pounds, but they still fit and look nice. The scallop pattern at the bottom of the pants adds such cuteness to it! I also love that it's reflective at the bottom which is nice for night time. I do wish that lulu would make different inseam length so shorties like me can fit more nicely into them. These pants are a little long but the tailoring would eliminate the cute scallop pattern! I love the material, holds on well for a sweaty workout. Great pockets on the sides which is nice to slide my phone in during workouts. So stylish, I love it!
Date published: 2017-07-09
Rated

3

out of

5
by
lulusovereverything
from
I absolutely LOVE these BUT......
These pants are everything you could want from a workout legging. They are tight in all the right places and stay in place when you are doing anything from HIIT workouts to yoga. I wish you had these in every length and color imaginable. I have recommended them to all of my friends and had nothing but good things to say about them until recently. I have had them since March. I use them a lot and understand there definitely will be some wear and tear. However, I have recently noticed the seams starting to unravel in the crotch and inner thigh area. It's frustrating because these pants were definitely an investment and the seams unraveling are starting to become more noticeable :/
Date published: 2017-07-02
Rated

2

out of

5
by
hasn325
from
EXPENSIVE for pants that fall apart
These are adorable but after 5 wears and less than 5 washes they are unraveling at the crotch. Usually I'm impressed by Lulu's quality, but to pay $150 for something that's unraveling is crazy. Not happy with the quality on this item.
Date published: 2017-06-25