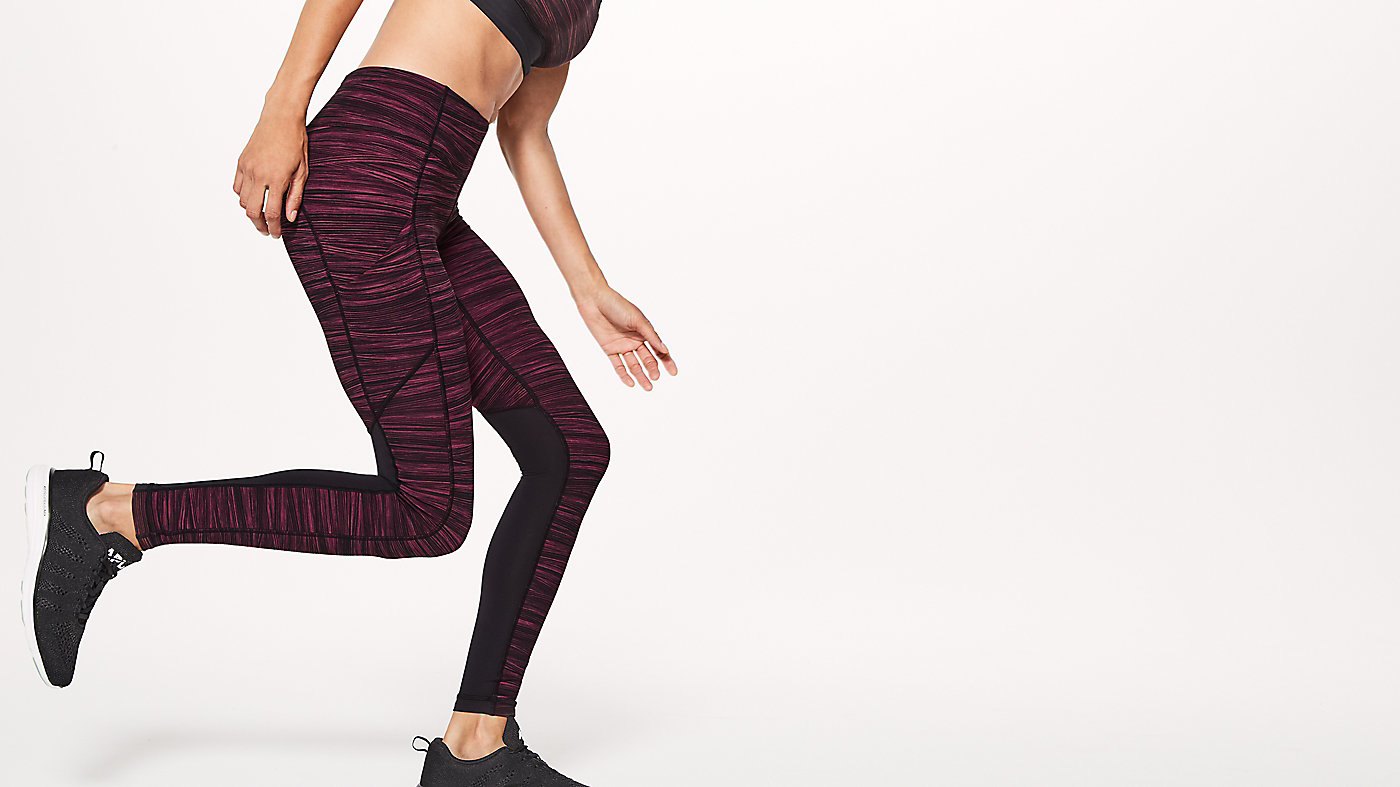 ---
lycra®
Added Lycra® fibre for stretch and shape retention
---
Reflectivity
Flip up the cuffs to expose reflective details
---
medium-rise
Higher rise increases coverage and comfort
---
hugged sensation
Engineered to feel like a comfortable embrace throughout—it holds you close and moves with you
---
POCKETS
Multiple pockets for all your essentials
---

Speed Tight V
is rated out of
5
by
156
.
Rated

5

out of

5
by
Endlesssummergirl
from
Very Nice Tights
Love the speed tight! Feels great and second wear with no seam issues. I purchased the coral and black geo print with no mesh panels and they arrived super fast. Thanks for the free ship Lulu. These tights look fantastic and feel even better. I went with my usual size 8 and did not go down because of the reviews about sheerness. They are perfect and feel tight without restriction. So far no stretching out, but the pockets do gape a little when i sit down but that is not a big deal for me. I am not a runner but mainly going to use for bike riding and all the pocket choices are wonderful for stashing items for quick access without having to dig into my panniers. I find these are quite high waisted on me and they stay put, keeping me feeling covered and secure in my back when I'm bent over on the bike. I also tried the tight stuff tight in the brushed and I like speed tight V a lot better. For reference I'm 140 and 5'8" with a slim build.
Date published: 2017-08-18
Rated

2

out of

5
by
GymGirl516
from
Disappointed :(
I have been dying for a pair of Lululemon tights for the longest time! I finally decided the splurge was worth it and bought these because I liked how they looked. I loved them from the second I opened the packaging and the pockets are the best. BUT I've worn them twice and, the second time, after washing them only once, I could feel the material and the elastic stretching and becoming loose. They are not very good quality and definitely not worth all of the money I paid! I wanted so badly to love them and keep buying more stuff from lululemon but now I'm not so sure.
Date published: 2017-08-15
Rated

3

out of

5
by
akafish
from
Sheer
While I typically wear a 6 or 8 in Lululemon bottoms, I made the mistake of listening to the sales associate when trying Speed Tights on in store, who encouraged me to size down to a 4. The pants fit snug and the associate assured me that the fit was correct for the item, but I should have known better. I had the pants hemmed, but have only worn them once since, because I have found that they are pretty sheer in the rear, probably due to the size being too small. Disappointed because otherwise, I love the design of the pants, specifically the pockets, but now I have a pair of see-thru-too-small-nonreturnable pants. Do NOT size down on these!!!
Date published: 2017-08-10
Rated

1

out of

5
by
searunner1245
from
WAY TOO SNUG
I sized up in these because I knew that they were gonna be a tight fit... Theyre so much worse. I cant get them on over my feet, and I can barely bend my knees because they're so thick! They fit my waist and thighs, but I cant imagine working out in these.
Date published: 2017-08-10
Rated

2

out of

5
by
emb092
from
quality..
I bought these and fell in love with the pockets on the side. I thought they would be my next go to gym legging but the quality seems to just not be there. After only a couple washes the but area is pilling, they seemed to have stretched, and the seams are coming apart. This is not the quality that I expect from pants this expensive. Very disappointed.
Date published: 2017-08-09
Rated

1

out of

5
by
Catherineee
from
Déception et coutures qui se défont
C'est ma troisième paire de ce modèle ! J'ai adoré mes deux premières ! Elles sont encore supers belles et j'ai du m'en racheter une paire noire parce que le chien de mon ami avait fait un trou dans ma précédente (je l'avais depuis plusieurs années). C'est donc sans hésitation que je me suis racheté une autre paire noire parce que je les trouve trop pratique ! Déception, après quelques lavages (en suivant les indications à la lettre ) les coutures ont commencé à se défaire, au début le long des mollets et je n'en ai pas fait un cas. Mais, depuis peu, celle du califourchon a aussi commencé à se défaire et vous comprendrez que c'est un peu plus gênant. Il m'est, depuis, impossible de les porter alors que j'ai acheté ces leggings il y a quelques mois à peine et que j'en ai toujours pris grand soin. De plus, je portais ces leggings pour mes journées en mou et mes commissions et non pour mes entraînements. Je ne sais pas si je suis tombée sur une mauvaise paire ou si cest la qualité du produit qui s'est globalement détériorée mais une chose est certaine, je suis extrêmement déçue de ce produit et je vais y penser deux fois avant de me procurer d'autres vêtements lulu alors que c'est de la que viennent presque tout mon linge mou.
Date published: 2017-08-07
Rated

3

out of

5
by
StudySally
from
No vents at back
I purchased the plum coral ones. From the pictures, and the reviews, it seemed like these had mesh at the back leg, from above the knee down to the ankle. However, the ones I received do not have mesh, they are just the normal fabric all over. Not sure if this is a defect, or if perhaps only the other colors have mesh.
Date published: 2017-08-01
Rated

2

out of

5
by
runner255
from
Seams coming undone
At first I loved them but after wearing them a few times the seams are coming undone in various places. Definitely not the quality I expected for this price and I am rather disappointed.
Date published: 2017-07-24
Rated

2

out of

5
by
runningstart
from
Hole in Mesh
These are a great pair of leggings, they fit really well, and they feel very good. But I've only worn them once for a thirty minute run or so after getting them a week earlier, and there's already a hole in the mesh right by the seam somehow! I ran on pavement so there's no way that anything happened on the run. If it weren't for the fact that the hole may get bigger through the mesh, these would be an amazing and trustworthy pair of running tights. None of my other lululemon leggings have done this with mesh, and I've worn them a lot longer and more often than these so far.
Date published: 2017-07-20
Rated

3

out of

5
by
sportygirl14
from
Seams coming undone
I loved these leggings when I first bought them. After about a month or two the seams starting coming undone at the crotch. Once I noticed that was happening I started noticing that the seams were coming out everywhere. I'm very disappointed that I paid so much for something that i thought was a high quality product. I still believe that lululemon makes high quality products I just feel that I did not purchase a high quality product. I followed the cleaning instructions on the tag and everything. These leggings would be perfect if the seams weren't falling out.
Date published: 2017-07-20