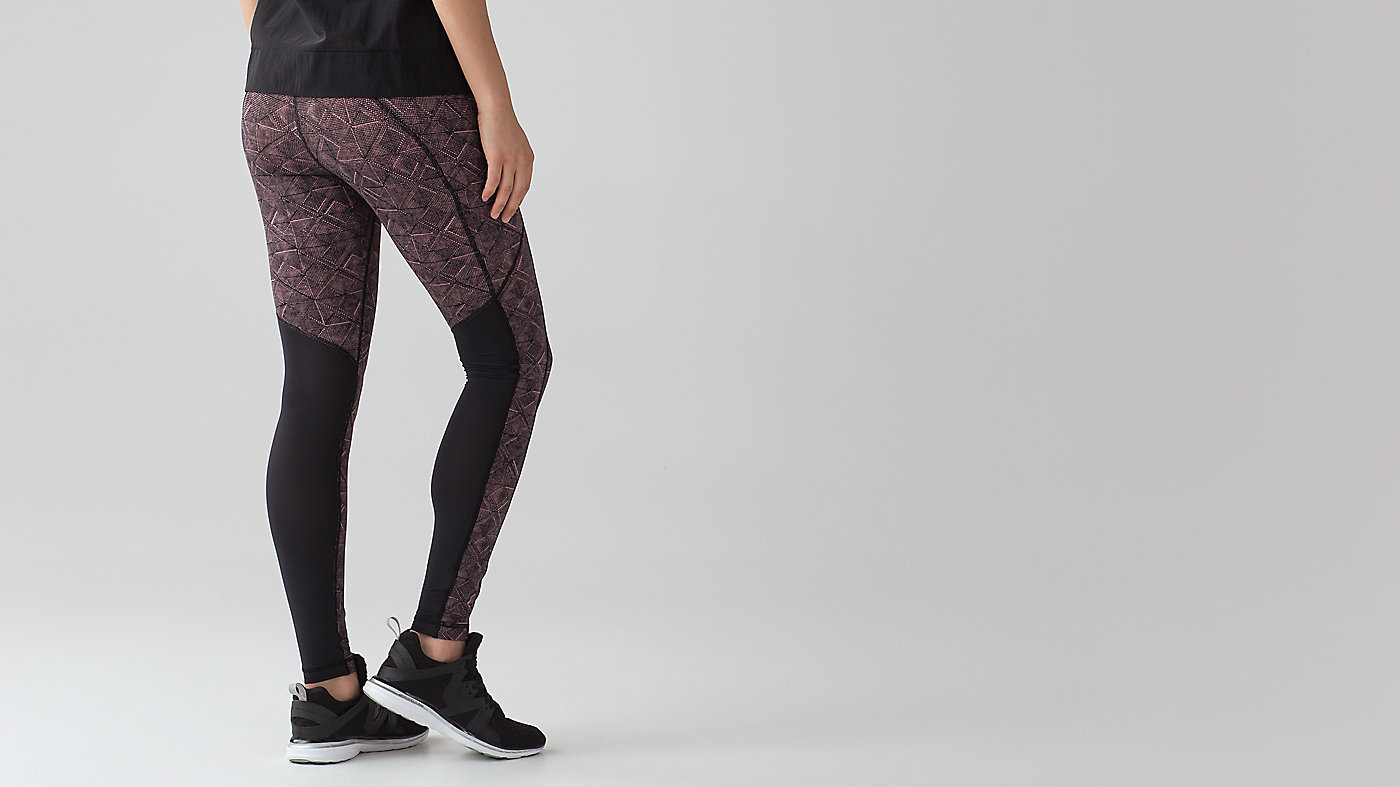 ---
lycra®
Added Lycra® fibre for stretch and shape retention
---
Reflectivity
Flip up the cuffs to expose reflective details
---
medium-rise
Higher rise increases coverage and comfort
---
hugged sensation
Engineered to feel like a comfortable embrace throughout—it holds you close and moves with you
---
POCKETS
Multiple pockets for all your essentials
---
Speed Tight V
is rated out of
5
by
136
.
Rated

2

out of

5
by
JMS22
from
great at first
When I first bought these pants I could not get enough of them!! I loved wearing them for running (the side pockets and back zipper pocket are so convenient) and also everyday on-the-go wear. Considering how much I initially loved these pants, I was super disappointed when a few holes appeared on the right upper leg, making these unwearable. Since I've always taken super great care of my lulu pants, only ever hand-washing and air-drying them, I'm inclined to believe that these holes came from a flaw in the fabric. Every other pair of lulus that I own is amazing and I have never run into an issue like this, and I'm really upset I wasted nearly $110 on a pair of pants that I can no longer wear :( Won't be rebuying these pants.
Date published: 2017-06-21
Rated

2

out of

5
by
Melfell
from
well they were great....
I loved these pants when I first bought them, they're true to size and so comfortable and I love the detail on the back. The convenience of the pockets on the sides is also great. I hand wash all my Lululemon leggings, and air dry them so they last as long as possible. I did not make an exception when washing these. I only got these in April and the quality of the fabric has gone down quickly. The knees have this weird stretched out look and the pockets also look stretched out... like I said these are true to size so not sure why this is happening. Also the stitching is fraying and it's frustrating because they were really great when I got them. I have never had this happen with any other pairs of my leggings, maybe it's just this material. Either way it's dissappointing.
Date published: 2017-06-06
Rated

2

out of

5
by
afa24
from
Love but pill
I got these as a gift from my boyfriend for christmas this year, and I originally LOVED them! I still wear them a ton, however I hand wash and air dry and they still are pilling really really badly. I am kind of disappointed, especially when I have been taking the time to hand wash and let them air dry each time! I still wear them because I love the fit and the look - I never have to pull them up or down while working out, but I just wish they didn't pill so quickly.
Date published: 2017-05-26
Rated

3

out of

5
by
Nalli
from
Loved initially but might reconsider another type next
I bought these pants after trying them on at the store, loved all the pockets and the feel of the material. They didn't feel like many other pants I've had and don't feel the constant need to pull them down since they don't ride up. I should have ordered a size down since I'm now constantly pulling them up while doing yoga or running. Tonight I put them on and as I gently pulled on the string to tighten them at the waist, it broke. I'd consider ordering another pair but a size down (for myself at least, not sure if others felt the same) but am disappointed about the string. Now I'm not sure what to do with mine since I have no way to tighten them.
Date published: 2017-05-17
Rated

5

out of

5
by
Angie9727
from
Great lulu staple
I've had, and loved, all of the Speed Tights (Speed Tight I, II, III, etc.) and this version (speed tight V) is no different than its predecessors. I've run in them, gone to spin class, goen to crossfit, everything, you name it. i haven't experience any pilling or unravelling seams. I love these
Date published: 2017-05-13
Rated

5

out of

5
by
veronica77
from
go to performance tight
Perfect for running, training, elliptical and all things exercise. My go to tights.
Date published: 2017-05-12
Rated

5

out of

5
by
Flowergirl33
from
Obsessed with Speed Tights
These leggings fit amazing. They're tight but not too tight. The pattern is really fun and flattering. I'm a little short so they are long on me but besides that they are perfect.
Date published: 2017-05-11
Rated

5

out of

5
by
Lulu2205
from
LOVE LOVE LOVE
Most amazing leggings I have ever owned.wear them almost every day. They are my favourite lulu leggings and I would never buy another kind after trying these ones. The pockets are my favourite thing. They make it so easy to carry my phone and other things wether i just walking around or out for a run. The only thing I don't like about them is after a few months I found they got a pit picket around the bum and inner thighs
Date published: 2017-05-10
Rated

4

out of

5
by
CCummings83
from
LOVE!
I absolutely love these tights! For runs, workouts, pilates.....they are incredibly lightweight and move with your body as if you were wearing nothing.; yet they manage to hold and contour your legs in all the right places. I went back and got another pair!
Date published: 2017-05-09
Rated

4

out of

5
by
kygo
from
One of My Favorite Leggings
I've had my pair for a while so I could see how they hold up in the long run. So far so good, but it does have some flaws. I'm 5'9" and it still fits my height well. It sits right above my ankles, but it doesn't roll up higher. I have the black and they are one of my absolute favorite pair of leggings especially because of the phone pocket. I've worn these while weightlifting, running, elliptical, jumping jacks, stair master, or just as athleisure wear and not once did my phone ever fall out. It's also very comfortable to wear. The mesh gives it a nice ventilation while also giving some texture/design to it. I personally didn't like the rise and wish Lululemon had a high waisted option (my definition of high waisted is that it sits at my natural waist/above my belly button), but it's not that big of a deal because the definition of the rise was correct. It is a medium rise and the legging sits below my belly button. The back zipper pocket is also very handy when it comes to holding your locker room key or any small item. The color hasn't faded, still maintained the softness, and they're squat proof. The two flaws I have experienced is that the waist band is a little loose and the seams have been unraveling (I've noticed this after only two washes). The leggings fit nice everywhere else, but my waist. It does fit a little loose, but it's not too loose where I can't wear them. For the seams issue, I'm afraid it's going to ruin my leggings because it has unraveled a lot and keeps unraveling. For $108, not including tax, you'd expect the seams to be intact for a very long time. Hope Lulu can fix this issue.
Date published: 2017-05-06