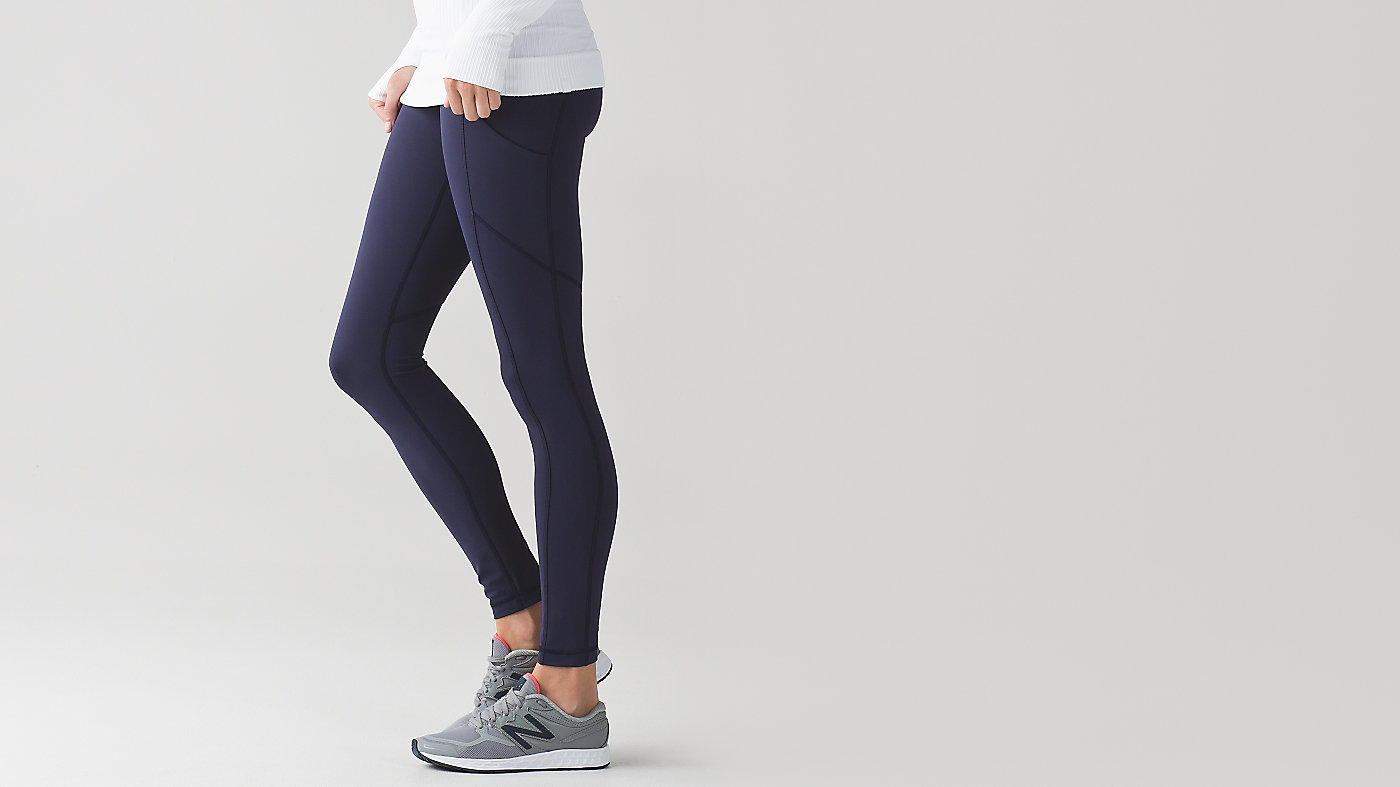 ---
lycra®
Added Lycra® fibre for stretch and shape retention
---
storage
Multiple pockets for all your run essentials
---
reflective details
Flip up the cuffs to expose reflective details
---
medium-rise
For coverage and cool comfort
---
hugged sensation
Engineered to feel like a comfortable embrace throughout—it holds you close and moves with you
---

Speed Tight V (Brushed)
is rated out of
5
by
65
.
Rated

1

out of

5
by
ashleymac91099
from
Would Not Recommend
I have only worn these a few times and they are already balling up in places.
Date published: 2017-06-07
Rated

3

out of

5
by
Washer
from
SO UPSET
I was so excited to finally get a nice pair of leggings that I could not only wear during runs or workouts but everyday too. But I recently started to notice that the seam is starting to get undone on one of my legs! The string that holds the pants together is really thin and not durable AT ALL. I am really disappointed since I spent so much money on a pair of pants that seem to not hold up well at all. It seems that now I have to be careful whenever I wear these.
Date published: 2017-05-07
Rated

5

out of

5
by
merriblonde
from
Best Lulu tights I own
I just don't understand all of the negative reviews. I buy brushed speed tights every year, and these are by my favorites. I waited to post a review so that I could see how they hold up. I have had them for a couple of months, worn and washed them numerous times. They have held their shape during weight training workouts including legs, hikes with my dog, and just wearing around town. No slipping, no stretching out. I haven't had to stop and pull them up once. They make my butt and legs look amazing, and I feel very confident when I wear them. I wash them with the rest of my Lulu items, and dry them on low in the dryer. No pilling, no issues with seams. They are not as thick as the speed IV's, but I prefer that, as I have been able to wear them into Spring. For reference, I'm 5'3, 130 pounds, muscular and my normal Lulu pant size 4 fit TTS.
Date published: 2017-05-07
Rated

1

out of

5
by
natageowild
from
Coming undone!!!
I am so disappointed. I have several pairs of leggings from here and have never had any complaints. I haven't bought a pair in a year or two so I decided to treat myself on my birthday a couple weeks ago because I was very attracted to the pockets. I noticed that one of the threads on the back was loose the first time I wore them and by the end of the day half of the top unraveled. I have worn these maybe 3 times and it looks like they are coming apart everywhere!! For a pair of leggings that costs over $100 you'd think they'd be better quality. NEVER have I ever had a pair of leggings from a place like this unravel. I have only had that happen once on a pair that cost me $20 so I wasn't surprised. I have been trying different brands and ultimately came back to lulu because I thought nothing else compares but this is ridiculous! I don't think I will ever be able to bring myself to purchase another pair of leggings from here because it looks as though they have lowered their quality standards in the last year or so.
Date published: 2017-05-05
Rated

1

out of

5
by
sunrisevinyasa347
from
Thread Becomes Undone!!!
I had high hopes for these; they looked great and felt amazing, but after going out for coffee with a friend, I realize that the thread is starting to become undone in the crotch area. Honestly, for the price of these, it is not worth it to buy. Lulu I am so disappointed! I've worn the same leggings for four years and had high hopes for these. It's a shame because these leggings felt great.
Date published: 2017-05-02
Rated

3

out of

5
by
CDavis
from
They're Wearable
I liked these pants so much the first few weeks after purchase. Especially the side panel pockets and reflective flip up ankle cuffs. Then I started using them more frequently and the back calve panel stretched out quite a bit to where they dont fit tight to my leg at all anymore. I really loved these, and thought the difference in material would help with any stretching issues
Date published: 2017-04-27
Rated

1

out of

5
by
MAGGIE16
from
Horrible Pilling
These leggings were my first purchase from lululemon. When I first put them on, I immeadiately loved how they fit on me, and the pockets were great- by far my favorite feature! If I had written this review right after I bought these pants, I would have given them 5 stars. HOWEVER, after 2-3 weeks, I started to notice pilling on the butt and upper thigh areas. I was really bummed but continued to wear them and wash them carefully (inside out on delicate and hang dry). It has now been around a month and a half since I bought these leggings and the pilling on the thights and butt has gotten much worse, and pilling has started around my knees as well. I hardly even want to wear these leggings anymore, and they were once my favorites. I am beyond frustrated that pants this expensive are of such low quality and wearing out so quickly. Based on this experience, I will be very hesitant to purchase anything from lululemon in the future.
Date published: 2017-04-19
Rated

1

out of

5
by
Jude14
from
Pilled Immediately!
I loved these pants and love the brushed yoga pants from lulu (I have other pairs). I was so sad to see that just after ONE wash there was so much pilling! They look like I have had them forever. I always wash my yoga pants on delicate and only with each other and let them air dry, so care was not the problem. Very disappointed and I would return if I could.
Date published: 2017-04-04
Rated

3

out of

5
by
ninaeadams
from
Stretched out right away
I got a pair of these for Christmas and every time I wear them I find myself pulling them up with just about every 5 steps I take. They seem to get worse with every wash as well. The pockets also feel stretched out so I'm always afraid my phone will fall out during my workouts. I love the blue color I got them in though!
Date published: 2017-03-29
Rated

2

out of

5
by
HeidiHart
from
Beautiful color, not the quality I expected
I have these in a wonderful purple color. They were the last pair in the store of that color, and I absolutely loved the fit and feel. It has been a while since I purchased a pair of Lululemon pants, but these ones made the cut while in the store. They are perfect for chilly morning runs, without feeling too thick or too hot. However, just after two runs the waistband and the pockets started to stretch out. I don't even use the pockets during my runs as I have a running belt, though occasionally I will put my phone in for just a few seconds. I am very disappointed at how quickly they stretched out, despite my care and only wearing them a few times. If I had known that, I would not have bought them (despite the amazing color) or would have bought a size down in a different color. For over a hundred dollars, I expected them to be perfect.
Date published: 2017-03-28