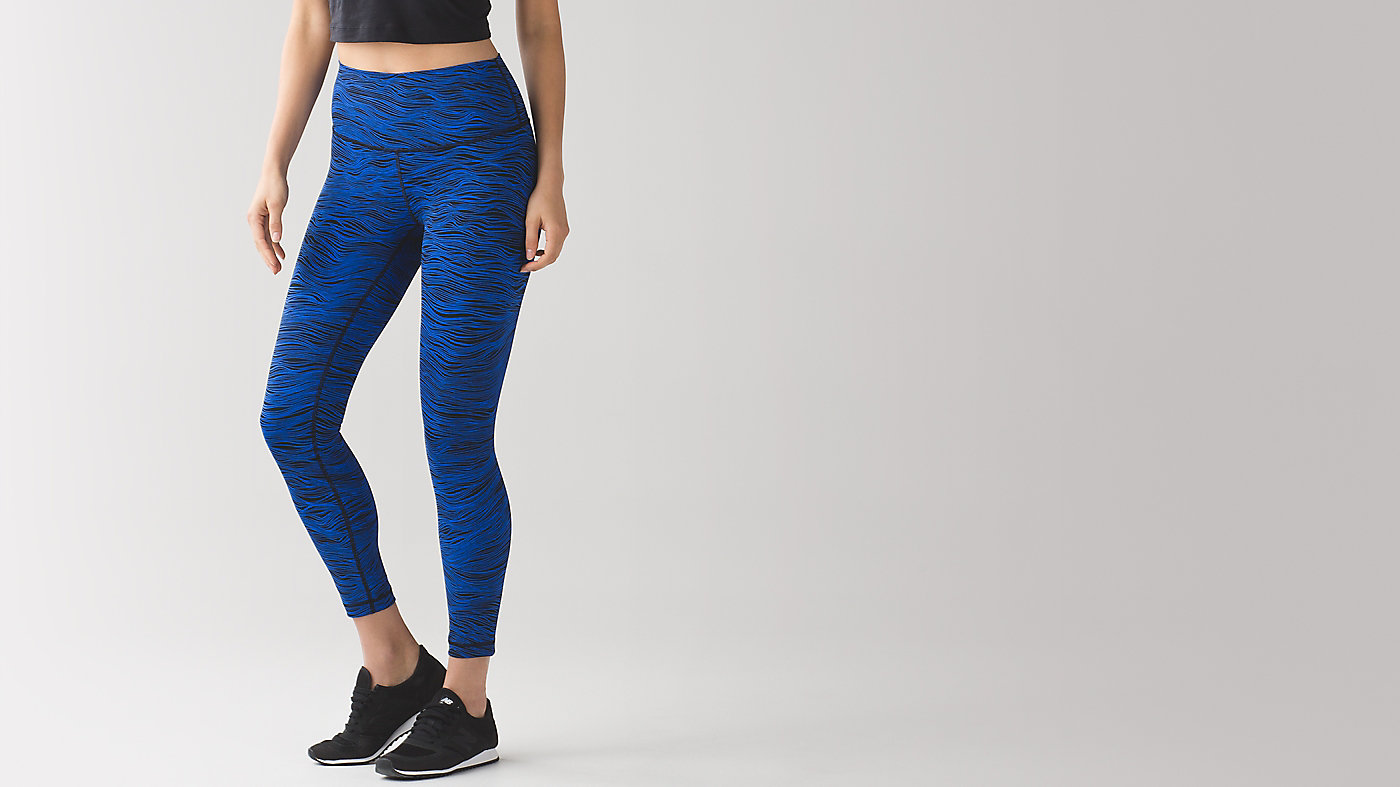 ---
lycra®
Added Lycra® fibre for stretch and shape retention
---
hugged sensation
Engineered to feel like a comfortable embrace throughout—it holds you close and moves with you
---
Comfortable waistband
Lies flat against your skin and won't dig in
---
hidden pocket
Stash your essentials in the hidden waistband pocket
---

High Times Pant *Full-On Luxtreme
is rated out of
5
by
471
.
Rated

5

out of

5
by
Watermelon25
from
Excellent!
I have a pair of wunder unders which unfortunately I have to keep pulling up during barre classes as they stretch out quite a bit with use, but not these guys! They are fantastically moisture wicking and stay put even during high intensity interval sessions. They are super flattering on, so soft to the touch and great to work out in. This has got to be my new favourite fabric.
Date published: 2017-06-20
Rated

4

out of

5
by
arjo
from
Love but seam problems
I absolutely love these! The fabric is by far my favorite from Lulu! it doesn't pull or catch and doesn't collect dust easily. However ,they are coming apart at the seams as others have stated. I wash mine in cold water and hang to dry to try to keep their integrity but it hasn't helped with these yoga pants at all. I would buy another pair but I'm well aware they likely won't last a year event though I only wear them once a week.
Date published: 2017-06-20
Rated

2

out of

5
by
Shen
from
Comfortable but not durable
I got these pants a few months ago and theres already a rip in two different places :( They are very comfortable pants but they do not seem to last very long
Date published: 2017-06-19
Rated

3

out of

5
by
musicnote
from
Pulling and streaky color
I've had these for awhile. They have a pull in the bum. There's one spot where it is pulled and now I'm afraid to wear them that it will run and rip right in the butt. One other problem I have with them is I feel like I got a defective color. They are black which is what I ordered but they are streaky. I never complained about that because I liked the pants but it's worth a mention now that I'm here.
Date published: 2017-06-19
Rated

2

out of

5
by
tiffany91
from
Unfortunately Did Not Hold Up
I purchased these after hearing rave reviews from my friends. After stopping by the store to get into the right size, I took them to a hot yin class. After a few classes, I noticed the seams were unraveling! Yin is so low-impact I'm barely moving, yet these pants couldn't seem to hold up. I'm really sad honestly, I wanted to love these.
Date published: 2017-06-15
Rated

2

out of

5
by
MelissaSD
from
Constant tugging
I bought these in both black and grey. Bought the black in a 4 and was told to get a 6 in the grey because they run smaller (they did not have a 4 available) NOT TRUE. The grey fall down and I am constantly tugging them up when I a working out which is so frustrating. I tried to exchange in the store, they advised me they do not do returns when the tags are not attached. This is not the LULU experience I am used to.
Date published: 2017-06-15
Rated

1

out of

5
by
rerelove
from
Unraveled Seams
I was so excited to get these in black, but after wearing them for only a week the seam had come apart. I immediately brought them back into the store and they exchanged them for me no problem. I was really happy to have a pair with in tact seams, but then a month or two down the line the seam came out again! I'm so sad because these pants are perfect for every occasion and the fabric doesn't pick up every little piece of hair from pets. I also live for the high rise, but am so disappointed this has happened, especially at the $98 price point.
Date published: 2017-06-12
Rated

1

out of

5
by
wongwongtina
from
A total disaster .....
Bought this pants at one of the store in seattle. I had tried it on and it looked so cute on me and the fabric feels smooth and lightweight. But after a couple yoga classes this pants had brought me some horrible nightmare.... After one class when I looking in the mirror I was shocked by the sweat mark on my crotch area.. I'm not sure if it is because of the light grey color or it is the fabric itself.. The sweat mark was so much darker than the pants.... I was very embarrassed and never worn these again ever since.
Date published: 2017-06-08
Rated

1

out of

5
by
MadelineNewman
from
Super flattering...when you're not working out
These pants are so flattering on. The grey color and high waist were exactly what I was looking for...until I worked out in them. I'm aware that buying a pair of grey pants can risk showing sweat through the crotch. Thats why I knew I wouldn't wear them to run, spin or do any really high intensity workout in them. However, I did a barre class (very little sweat in barre) and literally 5 min into the class you could see giant super dark marks in the crotch.. I wasn't even sweating much. It looked so bad and is so embarrassing. I literally can't wear these pants in any workout class. I get it if you're sweating heavily because grey does that, but this is ridiculous. On top of that, customer service said that they don't consider it a problem... a bad experience overall. Clearly this material doesn't work.
Date published: 2017-05-31
Rated

1

out of

5
by
allieee
from
terrible
I bought these lulus back the end of march have maybe worn then 5-6 times and they are always falling down.. i love lulu but i find the quality of there clothes is getting worse. I wear a size 6 in all pants and these feels like they are a size 10 they are forever falling down! I can't even where these to the gym because i spend more time hauling them up! I don't leave near a lulu so there is apparently nothing they can do! :(:(:(:(
Date published: 2017-05-30