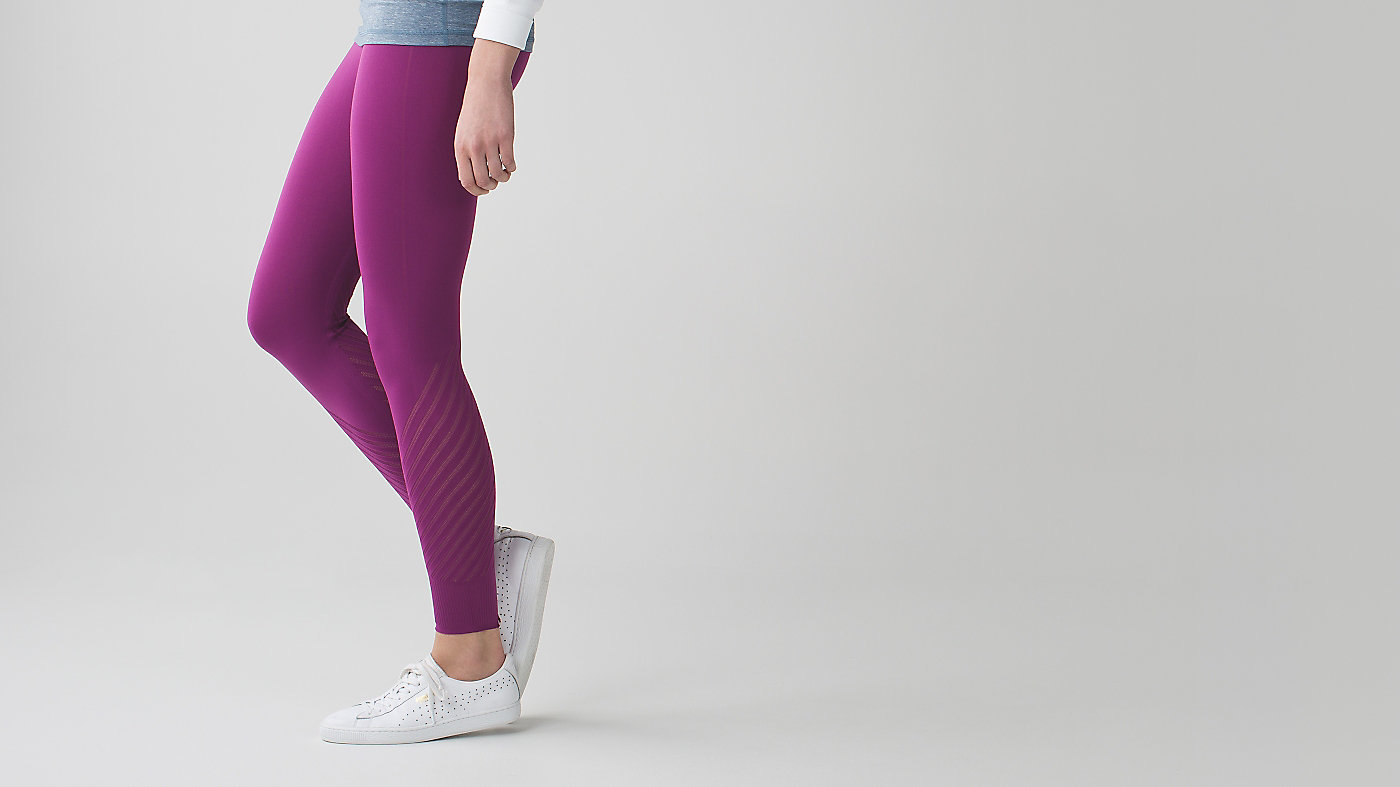 ---
seamless construction
Reduces bulk to help prevent chafing
---
hidden pocket
Stash your essentials in the hidden waistband pocket
---
naked sensation
Engineered to feel like your go-to, lightweight, second-skin layer—you'll forget you're wearing this next-to-nothing sensation as you move
---
high-rise
Keeps you feeling covered and secure
---

Enlighten Tight
is rated out of
5
by
108
.
Rated

1

out of

5
by
kateeeeee
from
PILLING PILLING PILLING
I was so excited about these but was disappointed when I noticed pilling after the second wear. I have never had a pair of lululemon's pill like this. It was such a waste of money.
Date published: 2017-03-03
Rated

1

out of

5
by
lila121015
from
Loose after worn a few times and pilling
These have pilling along the mesh and seems after only being washed a few times in cold water and hung to dry. The band at the top also seems to have lost its shape since I'm constantly having to pull them up.
Date published: 2017-02-22
Rated

3

out of

5
by
BruinMom
from
Disappointed
I am an avid Lululemon lover, and own a lot of your products.. I have been extremely satisfied with all of the items I have bought over the years, and could not relate to any negative reviews that I had read about any of the same items I have. I bought the Enlighten tight a few months ago but have only used it maybe 3 times. Today at yoga class, I felt the stitching come loose on the crotch area as I was doing an uncomplicated pose. I could not concentrate on the class after that for fear that more would come undone and I would be exposing myself. Normally I am not one to write reviews but I felt I had to because I expected the quality to be better. My sister had warned me against buying these tights because of the negative reviews but I went ahead because I liked the material and have never had any issues with your products. Now I feel that I should have listened to her, as it will only be a matter of time before more of the stitching comes undone and sadly I will not get any more use on it.
Date published: 2017-02-19
Rated

1

out of

5
by
AvidCFitter
from
Disappointed
I am a huge fan of the Enlighten contour pants (and wish they were still made or I could get my hands on some additional colors), so I thought I would try these out. After a few wears, the fabric has completely lost its elasticity. I bought my usual size and the pants are now baggy and I have to continuously pull them up. I have never had this happen with a pair of pants from lululemon and was extremely disappointed.
Date published: 2017-02-08
Rated

1

out of

5
by
AshX
from
So much potential
I fell in love with these pants the first time I tried it on because they were SO comfortable! I wish it were of higher quality and not see-through. The pants are pilling in unusual spots and seams are starting to unravel. I wash these pants appropriately and with like items so it is such a shame.
Date published: 2017-02-03
Rated

1

out of

5
by
laurjay
from
Worst Lulu Pants I've Had!
Save your money, and do not buy these! This is the first lulu review I've ever done, despite being a regular lululemon wearer (and lover) for over 10 years. These pants are THAT bad! I have two pairs - one in black, and one in a purpley/bluey/gray colour. They are a very odd fit, and very poorly made. They are coming apart and pilling all over the place. It's a very thin material, that does not hold up well at all. They're a bit tight around the ankle, and then very very baggy through the calves (they stretch out really quick). I've got fairly muscular calves, so having my lulu pants baggy around my calves is a weird thing for me to experience
Date published: 2017-01-30
Rated

1

out of

5
by
sandbar
from
falling apart
I bought these in black. The crotch is fraying and coming unsewn in the crotch area after minimal use. I cold water wash and hang to dry. The quality is just no good. Disappointing.
Date published: 2017-01-10
Rated

1

out of

5
by
runrunrun123123
from
Would not recommend!!
I wore these for the first time to yoga and the knee ripped/started to pill. I am so disappointed in the material of these leggings. They are comfortable but they are so thin it is ridiculous. I expected them to hold up MUCH better.
Date published: 2017-01-07
Rated

1

out of

5
by
Gr8pe
from
Not worth it
Do yourself a favour, save your money and listen to the reviews. These pants are terrible! The fabric pills so easily and the fit around the calves are so weird. The cuff is tight while the material is loose around the calves creating a baggy look not unlike aladdins pants. Final sale so can't return, this is destined to be torn up and used as rags in my house. The fabric has deteriorated from little use plus it looks just as bad on my friends who have tried it on as it does in me!
Date published: 2016-12-28
Rated

1

out of

5
by
MartaM
from
Not worth the money :(
They fit oddly, some spots are tight some loose. The fabric is thin, slightly sheer and does not retain its shape. I love almost all my Lulu tights, but these are almost never worn due to the above issues.
Date published: 2016-12-17