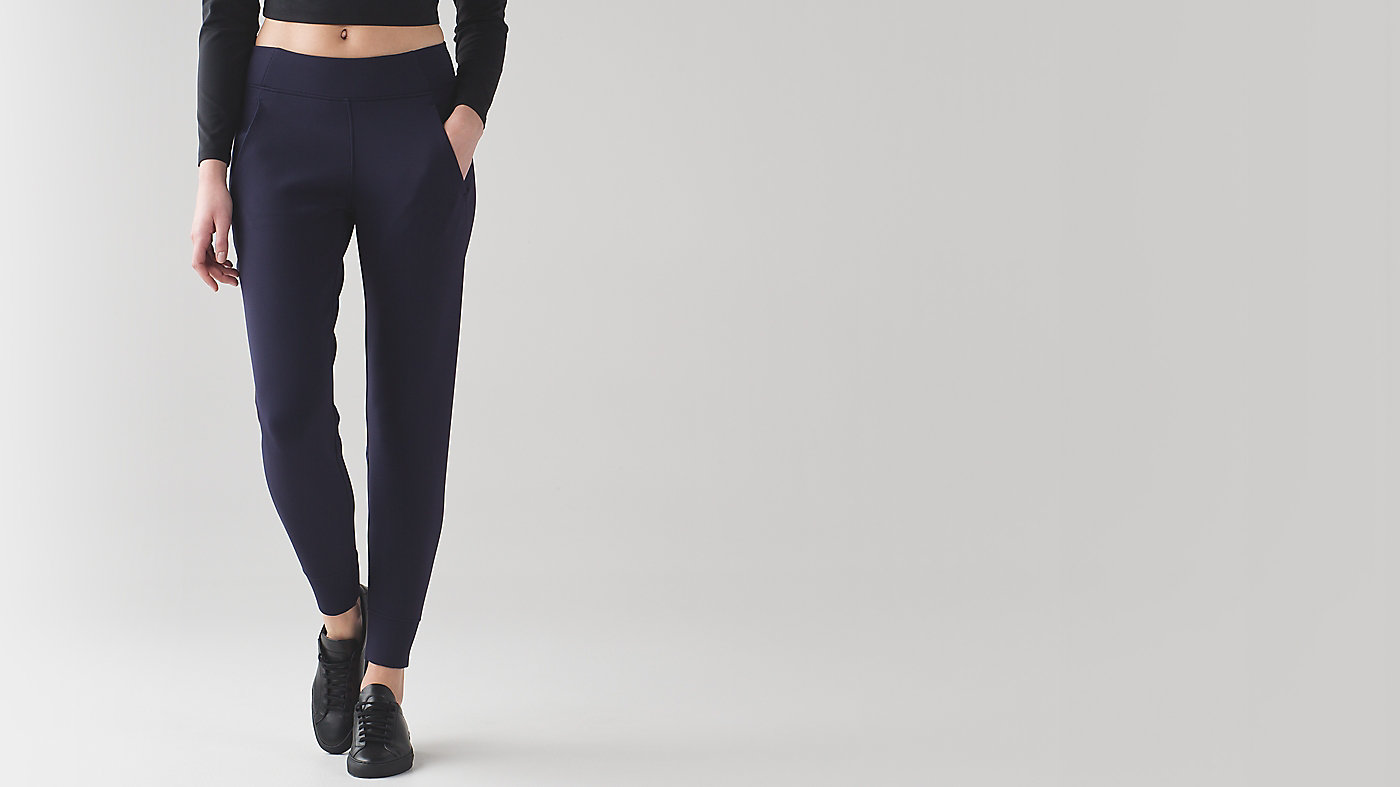 ---
media pocket
Lets you keep your tunes on hand
---
bonded seams
Smooth seams help prevent chafing
---
no-dig waistband
Soft, no-dig waistband lies flat against your skin
---
medium-rise
Higher rise increases coverage and comfort
---
relaxed sensation
Gives you the ultimate feeling of nothing in your way—it sits away from your body to give you maximum room to move
---

Embrace The Space Pant
is rated out of
5
by
83
.
Rated

3

out of

5
by
runningmui
from
Wrong sizing and poor quality
I followed the sizing guide and picked size 6 as all of the measurements fit my description. However, these were WAY TOO BIG when I received them - extremely baggy. Furthermore, I wore them once and it already started pilling and one of the seams came apart. The only good thing about these pants is they are soft. Otherwise I would size DOWN and the quality doesn't hold up... pilling and seams coming undone after 1 wear! Also the waistband is quite tight.
Date published: 2017-06-18
Rated

5

out of

5
by
Dino01
from
Love them
Bought these at the outlets store over a month ago and got one in three of the four colors. I love these pants and wear them just about everyday -- and washed them more than once. Do not have any issues with pilling or inadequate seams. They are very comfortable. Thinking about buying more!
Date published: 2017-06-16
Rated

1

out of

5
by
SINCLAIR
from
Unacceptable Quality
Being an avid lululemon shopper I am extremely disappointed in this product. We lululemon lovers expect exceptional quality with each and every purchase. After one wear there is noticeable wear and tear.....the thread is coming out on the thigh area.
Date published: 2017-06-15
Rated

2

out of

5
by
YogiM0M
from
Amazing Fit Terrible Quality
Bought these pants at full price--and love the style. They are comfortable and at first looked really chic. After about a month, they started balling and pilling on the thighs and around the seams. For the expensive price tag these pants should last longer. I have other pairs of lulus that I have worn for years that look much newer than these. I am disappointed and can no longer wear them out of the home. I expected more from lulu.
Date published: 2017-06-14
Rated

2

out of

5
by
Ballygirl
from
Embrace the space pants
I was very disappointed when these pants arrived, they were HUGE. It would be nice,especially when ordering on line , if sizes were consistent. I have purchased some pants at a store, tried on a few so that I would know my size and be able to order online. Also, the security tag was attached in the pocket so now before I figure out who to give the pants to, I have to take them to a store to have the tag removed. Not a good experience.
Date published: 2017-06-14
Rated

3

out of

5
by
Raerae1
from
great... then i washed them
when i tried these on in store i could not take them off!! i wore them everyday after that for a week. but when it came time to wash them, i was very gentle and handwashed them, then left them out to dry, i figured that couldnt hurt. the pants now feel 'crusty' and not soft AT ALL like in the store. so basically i paid full price for pants that i only would wear once.... i wish i could say that these pants were just as great as they were the second wear. i hope that the next generation of spacer fabric is a better development.
Date published: 2017-06-08
Rated

1

out of

5
by
rosiekendall
from
Don't purchase
I bought these sweatpants because I needed a comfy, loose pair of pants for yoga. I have been rocking the lululemon tights for years but was looking for a change. I saw these and thought they would be a great fit. I called my local lulu store to ask them what size would fit best. They said that a four would be a great fit (5'5 110 LBS). But when they came in the mail, they looked twice my size. I thought that it could just be the cut so I wore them to yoga. They were falling down the whole class. I put them through the wash the next day to also find them pilling. Very disappointing because i normally find good clothes that fit))):
Date published: 2017-06-05
Rated

2

out of

5
by
emarvvv
from
Disappointing
Ordered these pants online and was so so excited when I received them - they fit perfectly and looked good with everything. After TWO washes the back side and the knees began pilling significantly, to the point where I don't wear them anymore because those areas are scratchy and uncomfortable, not to mention that they also look terrible. Was really sad that these pants showed the wear that quickly.
Date published: 2017-06-03
Rated

2

out of

5
by
marmar12345
from
BEST EVER. THEN WORST EVER.
I loved these pants. I got them when they were full price and after about six or seven wears they started pilling at the knees. I actually bought a second pair, in blue, after my black pair. So far only the black have pilled. This is such a BUMMER because I was absolutely obsessed with them -- great fit, great fabric, multifunctional use. I'd even be willing to try another pair of black ones (thinking maybe this was just a defective pair) but many of the reviews leave me to believe otherwise. So just save your money and wait for another pair of joggers that are better quality. SO incredibly disappointed.
Date published: 2017-05-29
Rated

2

out of

5
by
Wally18
from
Amazing but terrible quality ...
Loved these pants when i first got them but Im incredibly disappointed in the quality. Started pulling and pilling before I even washed them the first time. Not even close to being worth what I paid.
Date published: 2017-05-25