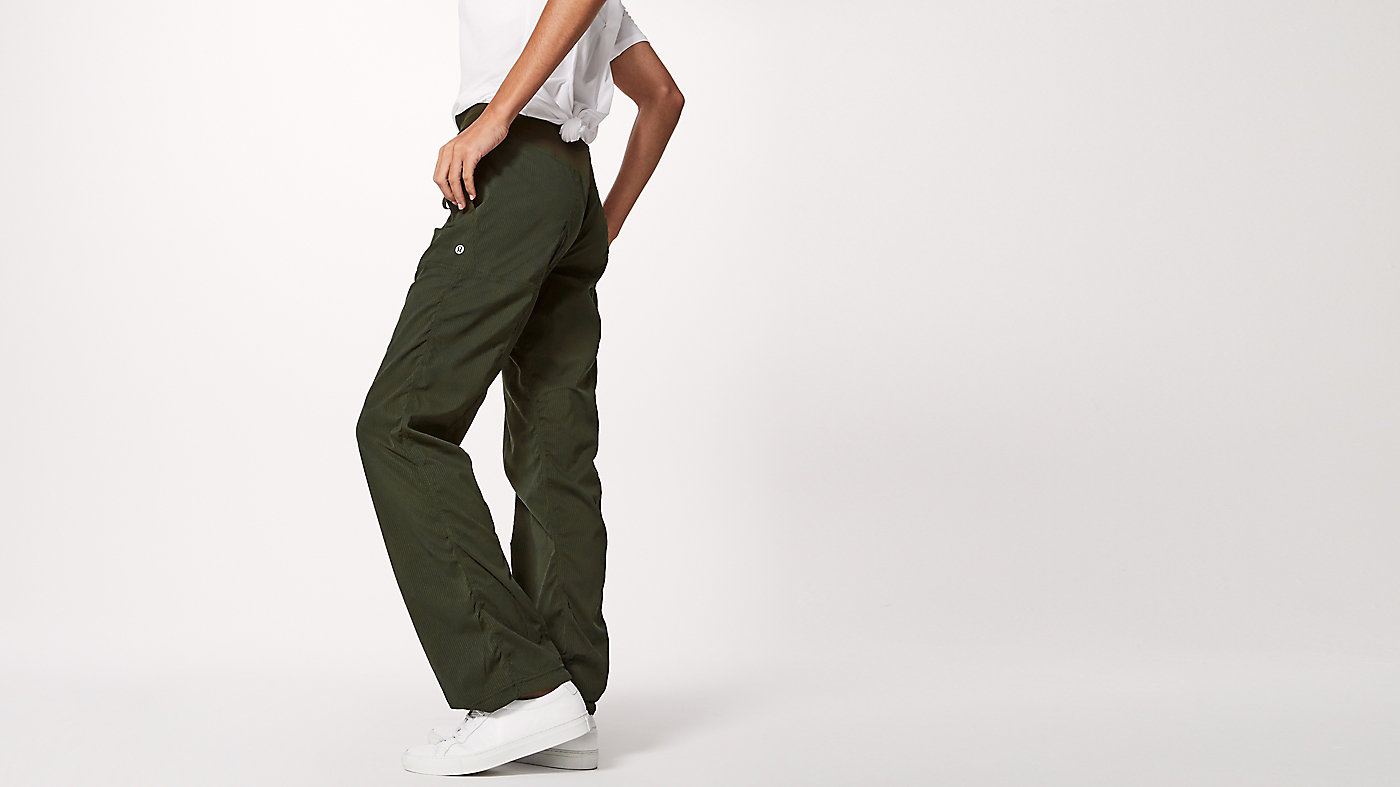 ---
CONTINUOUS DRAWCORD
Won't get pulled inside or lost in the wash
---
medium-rise
Higher rise increases coverage and comfort
---
relaxed sensation
Gives you the ultimate feeling of nothing in your way—it sits away from your body to give you maximum room to move
---
HIDDEN POCKET
Hidden pocket to stash your cards and key
---

Studio Pant III (Regular) *Unlined
is rated out of
5
by
131
.
Rated

5

out of

5
by
eb1091
from
Great pants as always! But smaller than last year's model
LOVE these pants, especially in the summer. They are very light and are comfortable even in very warm temperature (e.g. Jerusalem). I have 4 pairs, including the first model which had pockets on the side of the legs; very practical for traveling because I can put my passport in the pockets. This year's model is great for one thing, and bad for another. The good: the leg is narrower at the bottom. Thus, when you "roll-up" the bottom of the pants at your ankle or higher, it's not as baggy as the previous model. The bad: This model is much smaller this year's. Last year, I bought these pants in Size 6 in Canada. This year, even if I have lost weight, I bought a Size 8 in the US. One last thing: It took a LONG time to be able to purchase a new pair for this summer, as it was always out of stock in my size online (in the US). Also, would be great if there were more color choices in the summer, as there are in the rest of the year (red, purple, hero blue...).
Date published: 2017-06-20
Rated

5

out of

5
by
RollerJ
from
LOVE LOVE LOVE
Love these pants. I am an Occupational therapist and we are not allowed to wear scrubs but these pants were luckily approved. I wear them to work everyday and they are perfect because they do not restrict my movement at all which is very important so that I can do my job effectively. They are also easily cleaned (you'd be surprised what gets on me throughout the day!) and dry fast. I have been wearing them for over a year now and am on my hands and knees throughout the day working with patients so they have taken a beating. However I am happy to report they have not ripped or gotten any holes. Very happy with the quality! I also use the unlined pants for working out. I only use the lined pants for work or going to and from the gym; the lined pants are not as breathable so I do not like to wear them when I work out.
Date published: 2017-06-16
Rated

1

out of

5
by
missjoness
from
bring back the FLARE leg and Studio II fit
Not sure why Lulu keeps changing styles and fits of what WE like. It's like that saying " If it ain't broke". These news studios are awful. too tight, straight leg and a drastic difference in the fit from the Studio II pants, which were my personal favorite. I suggest you listen to the feedback from your customers in NOT changing the fit and style on what we like. I haven't shopped here since you have changed previous pants and how they fit. This seems to be a pattern.
Date published: 2017-06-15
Rated

3

out of

5
by
Katie1030
from
Great - but watch when washing!!
I love the fit of these pants, and the lightweight feel, but was sorely disappointed after washing them. The fabric is somewhat "striped" and after washing, the "stripes" on the bottoms of the legs look almost melted, and no longer lay flat, they look warped. I checked the washing instructions to see if I had done something wrong, but no! For $108, I was hoping for better quality :(
Date published: 2017-06-15
Rated

5

out of

5
by
SwimCoach
from
Everyday pants
I purchased these pants for traveling. They are so comfortable and the perfect length and not too heavy material (I am 5'7" and 125 and purchased size 2). I saw a previous review about fitting too tight at the waist. I can see how the pants may be a bit snug in the waist depending on different body shapes. I will definitely have a lot of use from these pants.
Date published: 2017-05-20
Rated

1

out of

5
by
lululgal
from
Waist Too Tight
I own a pair of lined dance studio pants in size 4. I don't recall which "version" they were (perhaps version II), but I purchased them in February 2016 when there were just a couple left in the store. I have LOVED those pants and wore them every weekend throughout the winters: solo or over exercise leggings when traveling to and from the gym. For reference, I am 5"4.5" tall and about 126 lbs. I am headed out of town this spring, and decided to purchase a pair of the UN-lined pants. The fit is NOT AT ALL the same. I even brought both pair into the store and the sales associate said she could see exactly what I meant. The waist on the version III is much tighter and digs into my waist which is both uncomfortable and unfashionable as you can "see the roll." I ordered the size 6 which felt more like the old 4's in the waist, but they are baggier. Both are going back, and I'm SOOOOOO sad. I went on-line to see the reviews, and now see that so many other people have complained about this very fit issue. I would like to join the crowd in begging Lulu to bring back the old cut!
Date published: 2017-05-15
Rated

4

out of

5
by
Kalea
from
Near Perfect
I am 5'5" tall and 115 lbs and purchased size 4.. The fit is perfect except the length. It is a little long even with the hem drawcords, however, that will not deter me from purchasing more. I currently own two pairs. The material is light and comfortable. I have had one pair for 6 months and washed them many times and the material continues to wear well. Most importantly, it is very flattering on. :) Highly recommend. Please Lulu - don't change the fit.
Date published: 2017-05-08
Rated

5

out of

5
by
Myyogalife
from
Studio Pant (Regular)
I wear these pants for many of the classes I teach. I am a yoga therapist and find this pant more appropriate for the clientele I work work with in a mental heal h setting. I have them in five different colors. As an R and D representative I would recommend these pants. I have found that they run true to size. They are also just a really good pant that can go anywhere.
Date published: 2017-05-05
Rated

5

out of

5
by
coffeelover125
from
Perfect pants for traveling
I've had my eye on these pants for ages, and I was so happy to find a pair in black, marked down in store! They're the perfect pants for traveling - lightweight, comfortable. The cord at the bottom makes it easy to adjust the length. I really like the slim contour of these pants but would definitely recommend trying them on in store first. I'm 5'4" 105 lbs and the 4 was a perfect fit. I also tried a 2 but it was awkwardly tight in certain places and the waistband cut uncomfortably into me.
Date published: 2017-04-23
Rated

4

out of

5
by
Zyphyr1984
from
Great Go-To Pants
They are what I reach for first thing in the morning. Good for walking my dogs, running errands, yoga. I like the narrower leg, but a bit more material wouldn't hurt: They look great on their own, but not on top of tights or liners where they become tight around the hips. I love that they are highly resistant to pet hairs. As for quality, though, I agree with the reviewer that Lululemon has deteriorated over the years, and this is one reason I've moved on to Beyond Yoga for most of my yogawear. I returned to Lulu specifically for these pants, but I doubt that they'll hold up as well as the last iteration. Having said that, I bought them in olive and navy and would have liked a pair in dark red as well.
Date published: 2017-04-07