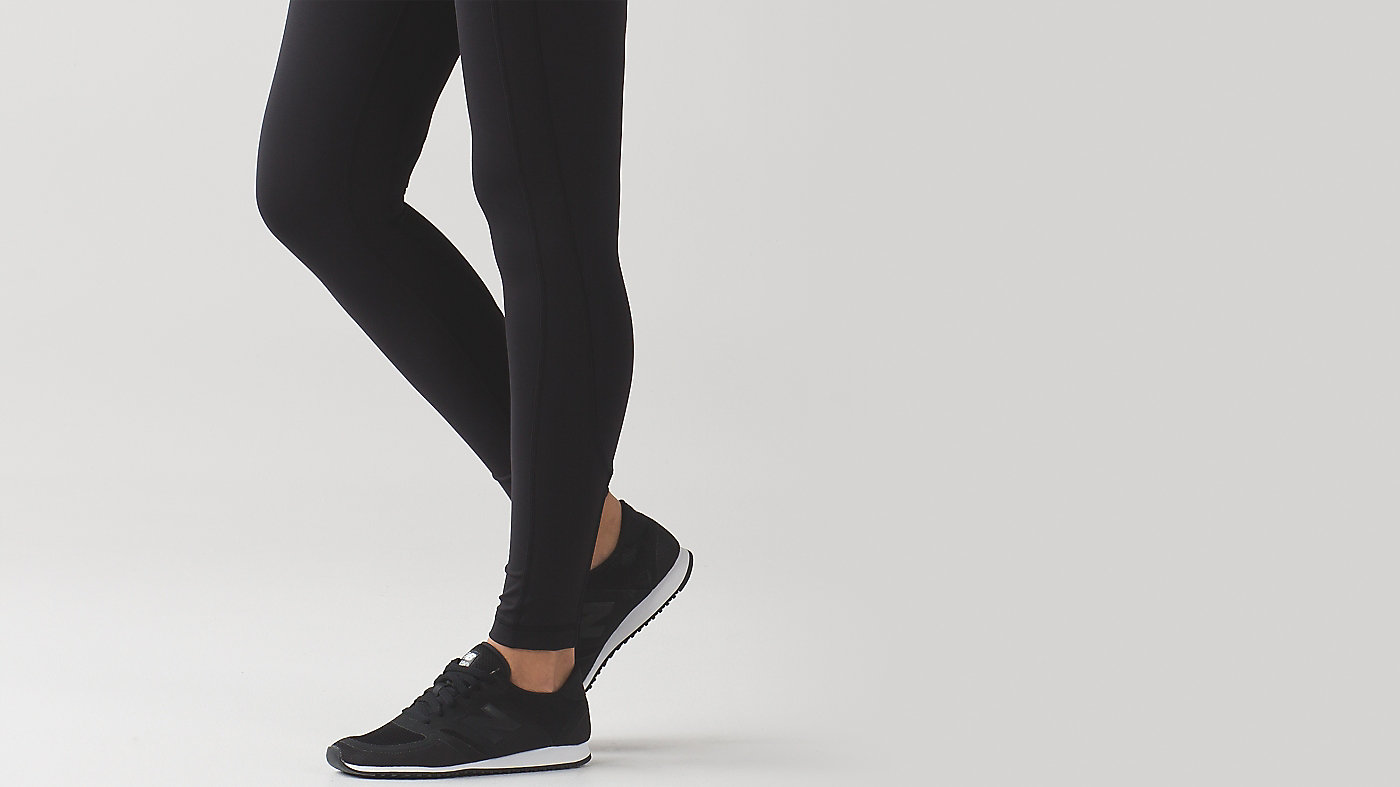 lycra®
Added Lycra® fibre for stretch and shape retention
---
no front seam
Keeps camel toe in check
---
held-in sensation
Provides support to your key muscle groups—strategically placed zoning keeps you feeling secure through your abs, hips, bum and thighs
---

All The Right Places Pant II *Reflective
is rated out of
5
by
32
.
Rated

1

out of

5
by
AdventureBlondie
from
I'm HEARTBROKEN!!! :(
These *WERE* the best tights I've ever owned. I love the side pocket, makes them great for yoga, hiking, running, etc. I bought these specifically to avoid the Luon fabric which is not known for its durability, surely this would last longer!?!? NO! I haven't even had these pants a year, and there's a HOLE in the butt, right along the seam (I'm 5'10", 150 lbs & wearing a size 8 even though I fit in the 4 & 6 because, again, I was very carefully trying to AVOID stressing & destroying these pants). There's also some wear on the seams which I would expect but come on, a freaking HOLE!? I can't sew that. I've worn them less than 40 times, always handwashing them even! I'm beyond upset because they were my great otherwise but pants that fall apart in a year and are $130 is shameful & unacceptable. I figured my Wunder Under's in Luxtreme would've had problems first, but no! it was these!!! :( I am so heartbroken (and my wallet hurts) :( Don't end up like me!!
Date published: 2017-06-04
Rated

1

out of

5
by
vi1234
from
Falling apart and stretched out
I am quite upset with this purchase. I bought them less than a year ago, choosing to buy a "good quality" lululemon pair of leggings rather than a cheap pair, because I was hoping they would last me longer since I wear leggings quite often to workout, as well as day-to-day. What I found out is that they did not last me long at all. The seams started to come apart, they stretched out too big, and the pilling made them look as if they were old and ratty, even though I followed all the washing instructions on the label. I cannot wear them out anymore and am disappointed that I wasted 140$ on these pants. I will not be coming back here to purchase my next pair of leggings, as they are overpriced, and not great quality.
Date published: 2017-05-24
Rated

2

out of

5
by
AKnurse
from
Great for a few wears..
These pants are GREAT for the first ten or so wears. First the ankles got loose, then the knees. Now the seams are starting to go- their ''fuzzy' and pilling with loose strings. For this price I expect workout pants to last longer and maintain their shape! I will stick with my aligns and wonder-unders.
Date published: 2017-05-04
Rated

1

out of

5
by
wunderunderluver
from
Falling Apart!!!
I bought these pants in February and after wearing them twice and washing them once according to lululemon washing instructions seems became visibly coming loose around the upper inner thigh area as well as pilling formed on the seams. These pants were $130 and I am very disappointed by how this product has held up especially for the money. Not worth it! They are also much looser than all of my other lulu leggings have been.
Date published: 2017-04-17
Rated

5

out of

5
by
Babs620
from
Amazing to teach in
As a PE teacher I am in workout clothes 24/7 and really appreciate a high waisted pant that I don't have to pull up every 5 seconds. This pant fits like a glove and keeps everything snug in just the right places. And whoever the genius is that invented the side pocket for workout pants deserves a medal. I have a iPhone 6 and it fits perfectly (with extra room) in my pocket and I often forget it is there because it doesn't get in the way of me working out or teaching. Even my workkeys fit nicely in the side pockets. I love these pants so much I bought them in 2 different colors.
Date published: 2017-04-13
Rated

2

out of

5
by
mm1109
from
Amazing in Store, Disappointing After
These pants looked amazing on in the store. Held you in nice and tight, which is what I loved. Great shape and fabric. However, after just a few weeks of regular gym wear, they are starting to thin, the seams are coming undone as other people have mentioned and they seem to be a bit see through in certain lighting when I bend over to squat (maybe from the thinning)! I bought these pants because I thought they had a lot of fabric covering that area and really held me in, but I'm a bit bummed out that I spent $128 on these. Now granted I can still wear them to the gym and "get away with it," however for $128 and looking and feeling so good in the store, I'm a bit disappointing in how they've held up. I'm a little worried what will happen after a few more washes. Also, I got these hemmed and they seem to have been hemmed a bit shorter than I would have liked. Not a huge bummer, it's really minimal, but again for $128 we really should expect the best. Lulu missed the mark here...
Date published: 2017-04-08
Rated

5

out of

5
by
MomLisa425
from
Running Game Changed
I absolutely love these! I wanted something that was reflective but not too heavy. These are perfect!
Date published: 2017-03-30
Rated

2

out of

5
by
plhgz4
from
Love ATRPs, just not reflective
I LOVE the All the Right Places pant collection, but after wearing these a handful of times the ankles have stretched out so much! I unfortunately do not reach for them anymore and am bummed because of the price that I paid for them.
Date published: 2017-03-19
Rated

5

out of

5
by
everydayathlete
from
My Everyday Legging
These leggings are by far my favorite pair that I have ever had from Lulu, after many years of shopping here. They are perfect for the gym, dance, yoga, tennis, school – just about everything I do. They really have a sculpted look and I am always so confident in them. Very functional and flattering. I especially love the side pockets and the reflectors. They make runs so much easier!
Date published: 2017-03-16
Rated

1

out of

5
by
Leliz
from
Very disappointed
I have wanted these leggings for a while. They fit really great in the store and are so flattering. Unfortunately, the quality is very disappointing. I have only washed them once (and very carefully followed the washing instructions) and have worn them only a handful of times around the house. The biggest issues are: -so much fraying around all the seams. On some parts even the elastic is coming undone. These look like I have worn them for years. They are fraying and pilling everywhere. -the pocket on the sides are stretched out and are now sagging so this is really unflattering. I have never even used it as a pocket (i.e. never put anything in them) so again, not sure why this is happening. I don't even want to wear these because they look terrible on. Very disappointing considering they were $150 after taxes.
Date published: 2017-03-11