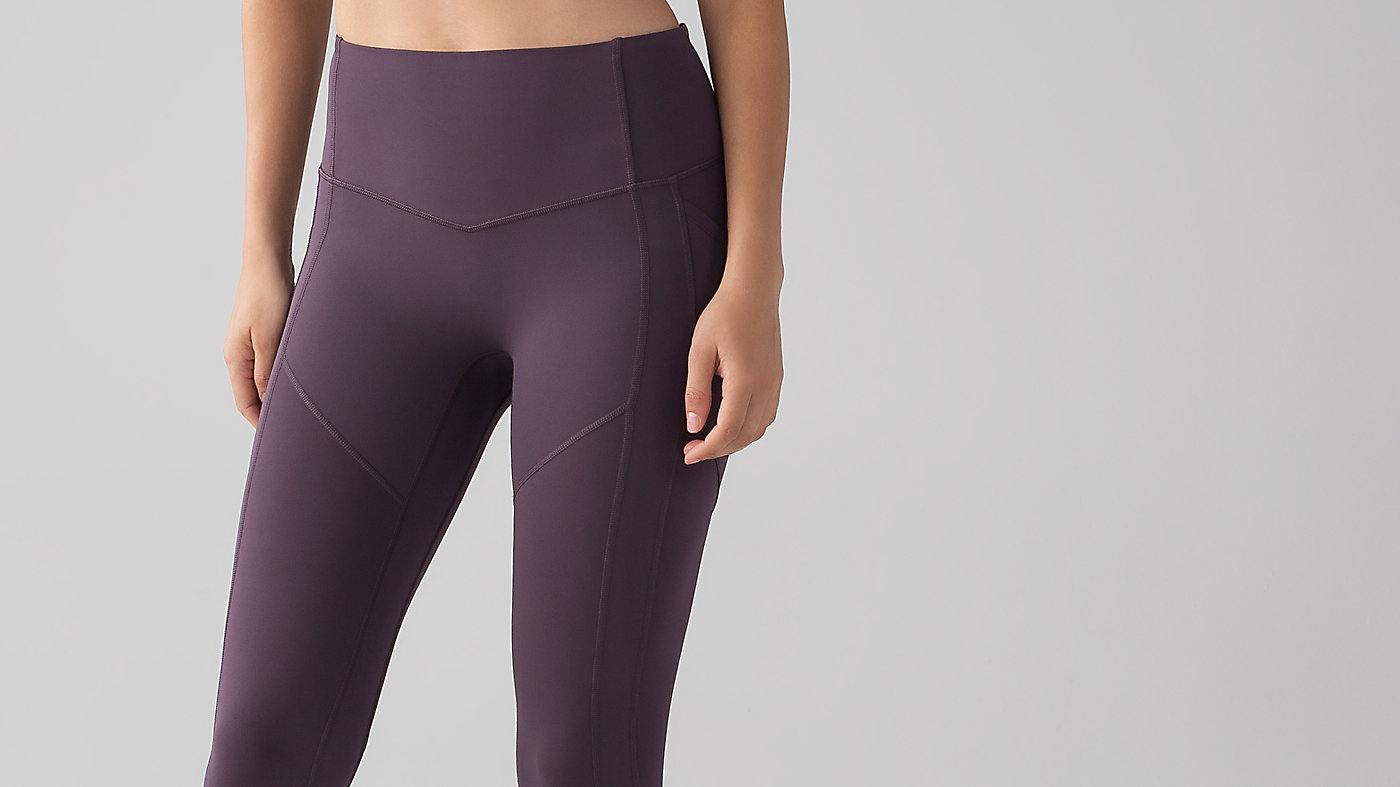 ---
lycra®
Added Lycra® fibre for stretch and shape retention
---
Seamless front
No front seam keeps camel toe in check
---
held-in sensation
Provides support to your key muscle groups—strategically placed zoning keeps you feeling secure through your abs, hips, bum and thighs
---
Reflective detail
Intentionally placed to help keep you visible in low light
---

All The Right Places Pant II *Online Only
is rated out of
5
by
210
.
Rated

3

out of

5
by
dammeyerk
from
pretty good pants
I love these pants! But after a couple wears the stitching on the stides of the pants has started to come undone and the more I wear and wash them the worse it gets. So disappointed considering how pricy these pants were :(
Date published: 2017-06-24
Rated

2

out of

5
by
CocoL
from
Fits great, but pilling problems
Fits great, but after 2 wears it began pilling. I follow the washing instructions and own over 20 Lulu pants, and this is the first time I've encountered this problem. It pilled so easily which is disappointing, and now sit in my closet unable to wear. Besides this issue, the fit and secure comfort is outstanding.
Date published: 2017-06-23
Rated

3

out of

5
by
SingleMamaOf2
from
Sadly Disappointed
After saving money to buy myself two pairs of Lulu's that I heard great things about for years... I am sad to say that the reviews I've read are true, and I feel like I wasted my money. I am an active mom of two who has a very demanding job where I travel a lot and have a 4hr daily commute to/from work. I bought the Align Pant as a pair of pants to travel in and occasionally work in. I am a fit woman, I work out and belly dance and I am muscular. My thighs do touch a bit and by the third time I wore the pants there were nubby bumpy "chub rub" fabric balls in the crotch area. And the pants got caught on my fingernail (I think I broke my natural nail by accident) and now there is a pull in the thigh area of the fabric. For pants that cost $90 I expected better quality and for them to hold up. I am really sad and disappointed in the fabric and would love to know what to do with $200 plus dollars of pants that haven't held up at all. It's a shame because the fabric feels nice against your skin, but unless you live in a bubble where nothing to touch the pants and don't have an ounce of fat between your thighs, I don't know how to avoid from having the fabric get this way.
Date published: 2017-06-22
Rated

1

out of

5
by
fitflygirl
from
Not For Running
I ran 6 miles in these pants and by the end of my run, there was a huge sweat stain in the crotch area. So embarrassing. I would not recommend these pants for an intense run/workout. Maybe some light lifting/yoga because they are super comfortable. I'm sad I didn't love them like I thought I would!
Date published: 2017-06-22
Rated

5

out of

5
by
LaraH
from
Love these!
So I bought these a little while back and I love them! It fits my body type perfectly! It is quite an investment to make on a pair of leggings but it's so worth it, I have 3 pairs now. The seems are coming apart just slightly on my oldest pair (which I've had for like 2 years), but it doesn't bother me too much considering I've had them for so long plus I wear it all the time. Perfect length for someone on the tall side!
Date published: 2017-06-16
Rated

3

out of

5
by
lilibeth
from
could be better
I love these leggings, they are super comfortable and the pockets are amazing the major downfall is that the seams are unravelling a lot which is very very disappointing for a pair of leggings as expensive as these. I own many lulu leggings and have never had this problem especially to this extent. I always wash all my leggings together on cold and hang them to dry so I don't know how this has happened but something to keep in mind when ordering.
Date published: 2017-06-14
Rated

2

out of

5
by
tkasa
from
SAD
I have been asking for these for a very long time from family. I recently graduated and received a pair for graduation as a gift. I wore them the next day as I was very excited and wearing throughout the day... Already one of the side pockets stitching was coming undone as well as the side of the pant itself. I am very sad about this as I wanted them for so long and no longer wear them because they look like half of them is falling apart.
Date published: 2017-06-14
Rated

5

out of

5
by
mersinamarie
from
Really Does Have All The Right Places
Thicker material but doesn't seem thick... if that makes sense. Love all the pockets and how I feel held in. Nice thick wasteband. I believe I have the 7/8 version of these and since I'm 5 feet, they fit me perfectly! True to size.
Date published: 2017-06-13
Rated

2

out of

5
by
bmg2017
from
Pants seem to lose their structure+
When I tried a black pair of these pants on in my local Lulu store, I actually told the salesperson that these were the cutest pants I'd ever tried on in Lululemon. They fit like a dream. I even came home and ordered them online in navy I loved them so much. Fast forward a week, and my black pair is so loose after wearing them to only a few barre classes (pretty low impact, so I'm not sure why they stretched so much) and out and about running errands afterwards, that I'm not sure I'll be able to continue wearing them. I wore the navy pair to barre last night, and I felt like I had to keep pulling up the waistband the whole time, and I ordered my usual size 4. It's such a bummer, because I was told they were a higher compression pant, and that they wouldn't lose their elasticity. I tried something different, but now I guess I know why I stick to Wunder Unders...
Date published: 2017-06-09
Rated

3

out of

5
by
haileyfons
from
Disappointing
I have had these pants for less than a week and have not washed them and the seams are already coming undone. They are frayed in places that don't even get much movement or friction and I was so disappointed because I was so excited about the fit and look of these pants. They look great! But I am very nervous to wash them now because they are already starting to come undone. For the price and the reputation of Lululemon I expected a much better quality.
Date published: 2017-06-06