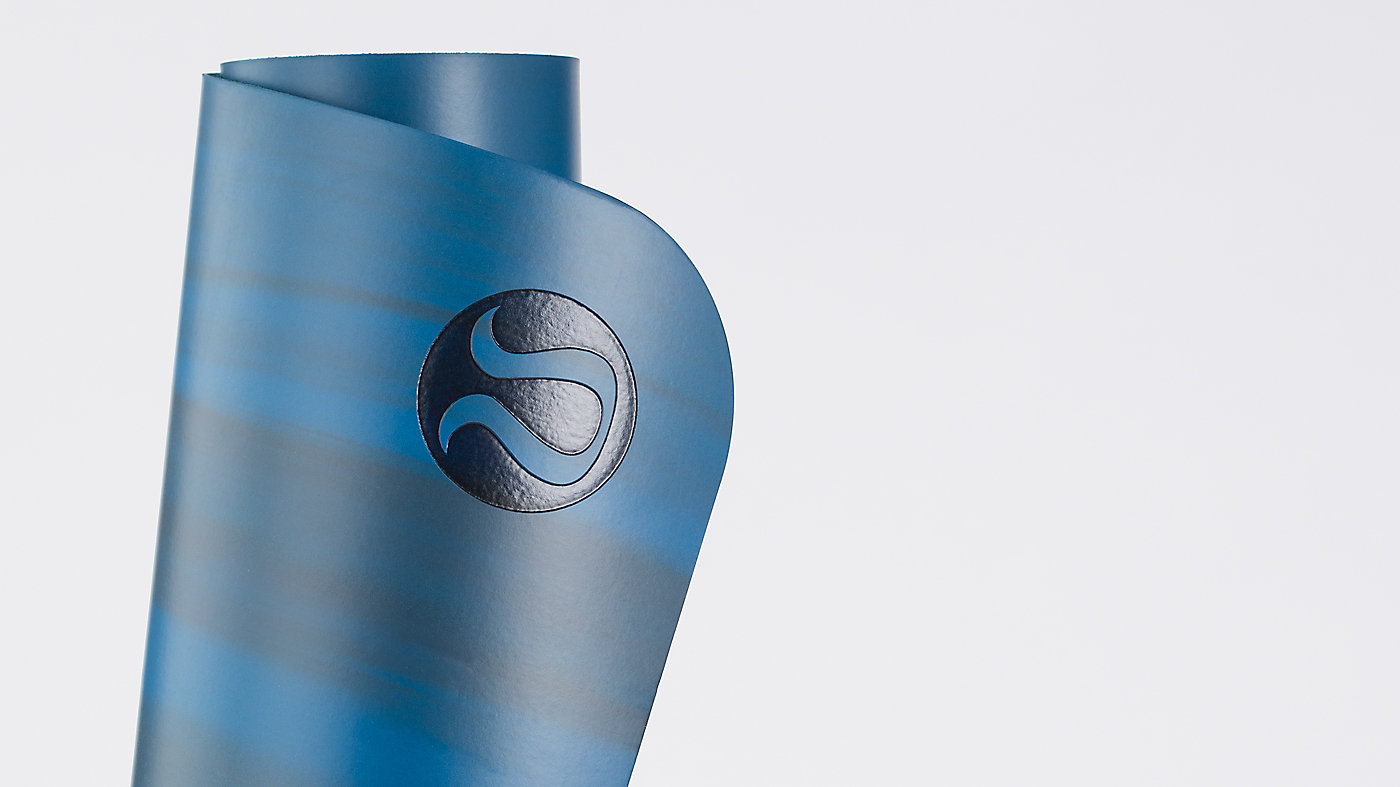 ---
CUSHIONING AND GRIP
Natural rubber base gives you cushioning and grip in low-sweat classes
---
antimicrobial additive
An antimicrobial additive helps prevent mould and mildew on the mat
---
CARE INSTRUCTIONS
Clean this mat after practice with warm, soapy water and hang it to dry
---
Air it Out
Natural rubber has a slight smell that fades over time
---
---
DIMENSIONS
66cm x 180cm (26" x 71"), 5mm (0.19")

The Reversible Mat 5mm
is rated out of
5
by
341
.
Rated

5

out of

5
by
CatherineClaire
from
Best Yoga Mat!
I have been practicing yoga for 9 years and have ever only bought lululemon yoga mats. I have the light travel mat, the 3mm and the 5mm... I love all of my mats!!! However, if I had to pick a favourite it would be the 5mm. I primarily use my mat for hot yoga and kundalini yoga. The no-slip grip on the mat is perfect for super-sweaty classes, and the cushioning is delightful for long sitting meditations and kriyas. I suggest this mat to ANY yogi as I believe it will meet all of your needs! PS. be sure to avoid using any type of oil on your mat as it will compromise the quality of the grip (ie. essential oil mat cleaners). Simply wash your mat with water!
Date published: 2017-06-17
Rated

1

out of

5
by
DaynaJ
from
Went From Outstanding to Unusable in Ten Days
I have had my mat for 15 days. I researched exhaustively and agonized over which mat to purchase after I discovered my love for hot vinyasa yoga, followed shortly by the discovery that a cheap mat wouldn't do for 75 minutes of intense sweating. As I practice in a studio five to seven mornings per week, I needed a mat I wouldn't slip on. I was still undecided between the Jades and Mandukas they sell in my studio and the Lululemon, and so thought I would visit a Lululemon store to see and feel The mat for myself before making a decision. I admit I was skeptical about the smooth surface on The Mat and had decided I would go with the Manduka, but as I was leaving the store a very friendly store associate came and told me all about how perfectly The Mat would serve me in class, that she had had hers for years, that it wouldn't slip and I would not be sorry if I went with the Lulu mat. I was convinced no one could be this enthusiastic about a product that didn't perform so I bought The Mat on the spot. For the first ten days, the mat was flawless. I told all my yogi friends how impressed I was with it. But whatever coating made it so impressively non-slip, well, I must have sweated it all off. I saw it sort of peel up in little white flakes with each class as I used it, and after about ten days of classes, I noticed I was starting to slide a bit in down dog. I thought maybe it needed to be cleaned, had absorbed my skin oils or something. I never use lotion or hair products, and I never spray it with the studio cleaner which contains essential oils, I hang it to dry after class. So I came to the Lululemon site, and researched how to clean this mat. I started with plain warm water and hanging dry. Next day, still slippery. So I came home and tried warm water and baking soda. Next day, even more slippery. So I tried warm water and dish soap, sprayed it out with the hose to make sure no soap remained, hung it to dry. Today's class, I almost walked out halfway through. My mat was so slippery I had to sit out several poses. Three legged dog was impossible. Down dog near impossible. I love the cushion of this mat, I love all my other Lulu gear, I'm so sad about what has happened to my mat, and since I've obviously sweated all over it, I can't return it so I'm out $72 and for my next class I'm going to be forced to take my old cheap mat to class because as sad as I am to say this, it was never so slippery that it prevented me from holding poses. My Lulu mat is now that slippery.
Date published: 2017-06-16
Rated

2

out of

5
by
Runningmomma0529
from
Not made well
I wanted to love this mat, but unfortunately I don't. Whatever the material is on the top part of the mat is not good quality. After one use it started flaking off. I use this mat at home a few times a week. The mat looks like I had it for a few years. I purchased it in March. I was going to write a review sooner, but I figured I would wait to see if I could do anything or if the company would exchange it. They won't, because I used it. I was going between this one and a Manduka mat. I wish I had purchased the other one. The title is also false in stating that it is reversible. It is not. If you try and use the smooth side against the ground, wood or carpet it slides all over the place. I have always thought the quality of Lululemon products were top notch, but not on this mat.
Date published: 2017-06-15
Rated

2

out of

5
by
allie2
from
disappointed
I received this mat as a gift two valentine's days ago (in light pink), but have just started using it frequently. Initially, I really liked the thick cushioning and found the mat great for doing planks/stretches on a hardwood floor. That being said, the mat does not do well in hot yoga classes--which is what it is designed for. The mat absorbs sweat and becomes slippery very quickly. In addition, the pink color makes an unflattering sweat outline of any and all body parts. While sweat is expected in hot yoga, the slipperiness of the matt is frustrating. Further, the mat does not dry. The cleaning instructions suggest washing the mat with water and letting it air dry post-practice. However, the mat retains all moisture and remains saturated for multiple days--detailed body outline and all. While the embarrassing aspect of using this mat could likely be avoided in a darker color, I am disappointed in this product's inability to withstand and "recover" from hot yoga classes, especially at its price point.
Date published: 2017-06-15
Rated

5

out of

5
by
PJscrazyhair
from
The Reversible Mat 5mm
This is the best mat if you have sweaty hands and feet. No sliding. There was a horrible chemical smell that has finally went away after washing the mat with simple green soap, then air drying.
Date published: 2017-06-15
Rated

2

out of

5
by
dlith
from
i wish i could love it, but ugh
When I bought this mat I had read the reviews so I was prepared for the overwhelming scent. It took about two weeks of airing it out before it was finally usable, and a month after that before I stopped feeling like I was stinking up the yoga studio with it. If it had just been that as the problem I would be ok with it, however I recently switched to a hot yoga studio and with only THREE CLASSES all of the dots are rubbing off. There's a reason the black mat with the white dots was only available for a few months - it's totally worn looking already. It's embarrassing to go to class with a clear outline of my body showing in the rubbed off dots. Not to mention that the "stickyness" off this mat totally does not stand up to the test of a hot yoga class. I am constantly slipping with it now. This is totally not the quality I would expect with lululemon, and honestly this mat and the strap/minibag I got (that I also hate) are my first and only purchases with the company and with this type of quality I really don't know if I will be making any future ones! So totally and completely disappointing.
Date published: 2017-06-13
Rated

5

out of

5
by
shoqu
from
Real Deal for Extremely Sweaty Palms and Feet
I had been looking for a mat for months by researching online, feeling mats at the store (and other's mats in class) and reading reviews non-stop to find the perfect mat. After feeling and using this mat, my hyperhydrosis hands and feet found something that can't be beat. I have read reviews on slipping but depending on what side you use (I use the gloss side) in an almost bikram hot class, the mat doesn't slip and I don't slip. I would highly recommend this mat for people who have sweaty palms and feet like myself.
Date published: 2017-06-13
Rated

2

out of

5
by
SamiSunni
from
Poor Grip, okay cushioning
I was super excited to purchase this mat and was completely in love with it for the first 6 months. I do yoga everyday and it would be blissful to have it because of the grip and cushioning. However, 8 months later the cushioning is very thin in most places and the grip is nearly non-existent. Very disappointed considering how much I paid for this and that I have always enjoyed my other lululemon products. If you can afford a new yoga mat every 6 months go for it.
Date published: 2017-06-09
Rated

3

out of

5
by
JLyn
from
Loved it, now likely leaving it
When I first got this mat, I was in absolute love. It completely changed my practice (and I told everyone just that). The grip in a sweaty yoga class was exactly what I needed to help me stay focused, especially in downward dog. Before this mat, my hands used to just slide away from me until I was almost in plank! I've now had my mat for a year and it's time to go on the hunt again. The grip I love has faded and my mat has become like bubblegum, but not in the good/stickey way. I look down and can see it stretching and pulling. I know yoga teachers say to 'press into your feet like you're going to rip your mat apart' but I became very convinced it was actually going to rip. If your budget will allow you to get a new yoga mat every year, then I definitely recommend this. For me, I was hoping I would get more of my money's worth before having to shop again.
Date published: 2017-06-07
Rated

3

out of

5
by
TexasYoga
from
Yoga Mat Woes
At first this mat was amazing--in a hot yoga studio I had no problem with slipping at all! I was able to concentrate on my alignment rather than stressing about unintentional movements. However, after about 6 months I noticed that the grippiness I once loved seemed to be fading. I'm still using the mat (I like the sponginess of it! Very comfortable) but I am slipping on it, which is really not good when I'm in a pose that needs all the grip I can get. There have been a few times now where I tweaked my back because I slipped and had to catch myself. I'm looking around for a new mat. I'd hate to give this one up, but I'm not willing to get hurt.
Date published: 2017-06-06