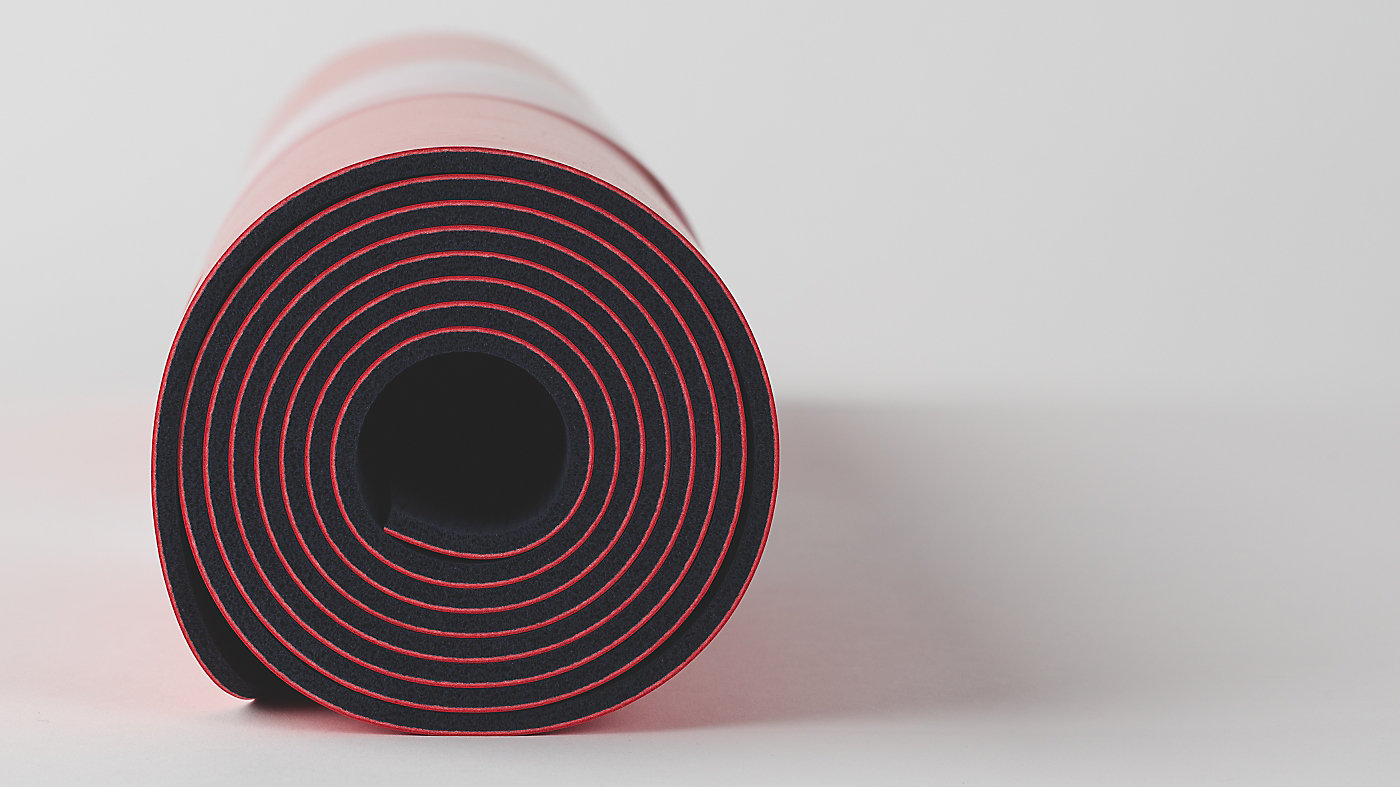 ---
CUSHIONING AND GRIP
Natural rubber base gives you cushioning and grip in low-sweat classes
---
antimicrobial additive
An antimicrobial additive helps prevent mould and mildew on the mat
---
Air it Out
Natural rubber has a slight smell that fades over time
---
---
CARE INSTRUCTIONS
Clean this mat after practice with warm, soapy water and hang it to dry
---
DIMENSIONS
74cm x 213cm (29" x 84"), 5mm (0.19")

The Reversible (Big) Mat
is rated out of
5
by
74
.
Rated

2

out of

5
by
kofi0824
from
This was best mat, but for a very short time
When I first bought this mat this was the best mat i had ever own its the perfect size for me seeing that i am 6'5inch I was soo happy to have found a mat that fit me perfectly. Just after a couple months of using this mat. it became the most slippery mat i have every own. I do not use this mat for power yoga, when I first bought this mat it was amazing, now the surface has worn off and it is the slipper's mat i have ever owned, I took really good care of it did not use any essential oils on it, and followed the cleaning care accordingly. Definitely did not expect this to happen to this mat with this price tag.
Date published: 2017-06-20
Rated

3

out of

5
by
IndustrialYogi
from
Great mat... for a while.
When new this mat was incredible. I sweat like crazy during my practice and loved the way the mat actually became stickier when wet. Unfortunately after a few months of regular use that property began to degrade, and now, a year later, my hands slip like crazy in down dog and inversions reguire a towel to even contemplate. I still love the size, and the level of cushioning, but after a year it is time to recycle it :(
Date published: 2017-06-20
Rated

3

out of

5
by
Duckee
from
had promise
I loved the way this mat was described and bought it based on the excellent reputation of Lululemon. But I am less than impressed with this mat after nearly a year. It looks completely beat up and scarred even though I carefully keep protected in a mat bag, the finish on it mars and scratches much too easily. It has also lost considerable traction. I have tried washing it in a bath of soapy water and air drying it but it has not improved the surface of the mat. I slip and slide during class while others on their (less expensive) mats stay put. Overall, I am disappointed in the quality and durability of this product.
Date published: 2017-05-18
Rated

2

out of

5
by
0101peachy
from
rubber flakes
I bought a mat from lulu before and it was perfect. It was just a little short and started to wore out, so i decided on this (Big) Mat. I've had this mat for i believe 1yr now and just around 6months the mat started doing this flakes. I just practice at home and I don't call myself a yogi and i don't go to any hot yoga. I'm not even concentrating on my practice anymore instead i am watching my mat and being careful to avoid the flaking. Also, i thought I'd mention this. The description stated grip but i'm sliding and since I am really not a yogi nor attend to any classes. i thought perhaps i'm not doing it right but just keep on practicing and in time it'll be grippy. I'm not sure.
Date published: 2017-05-17
Rated

4

out of

5
by
Wiffer
from
Big reversal mat
I am thinking of ordering another mat. I have read the reviews and basically have experienced the same problems. Size is great, expected wear in certain areas, but after several months the smooth side became very slippery and cleaning did not help that much. The reverse side remained very tacky, but the smooth side will slide on wooden floors. My mat is several years old and I wonder if any improvements have been made to correct this condition?
Date published: 2017-05-17
Rated

2

out of

5
by
Matcha9211
from
Rubber Flakes and Lack of Grip
I purchased this matt new in stores, and was initially impressed by the size and sturdiness. I decided to splurge, hoping for a good-quality product that would last through my workouts. Unfortunately, the rubber started to flake within the first few weeks. I do hot yoga, and I needed to buy a separate grip-towel for the matt because I was sliding off, even when using the "grip" side of the matt. For the price, I was hoping for a quality product that would last, and not require additional purchases for its effectiveness.
Date published: 2017-05-05
Rated

4

out of

5
by
iRun4Donuts
from
Great Upgrade
I'm a tall-ish woman and have used a 'longer' style mat for a few years now which I have finally accepted has lost its grip.. I just purchased this mat from Lulu with the hope it would satisfy my longer mat needs (I'm selfish and love my extra space even though I'm only 5'10") as well as just overall invest in a good quality mat. Now, I've only used this a handful of time, so I can't speak to durability. Like the reviews say, there is a smell to the mat (personally, I didn't mind it) but I have noticed it has been fading. Another thing that I didn't really consider is that it is actually quite heavy! It's definitely not that bad, but it is quite noticeable in comparison to other conventional mats. I hope that I made the right investment in my practice - I will be trying it out at hot yoga tonight!
Date published: 2017-04-21
Rated

3

out of

5
by
YogiRob
from
Star Performer But Not Durable
Great mat for super sweaty types like me. So glad to be done with constantly laundering mat towels, which I needed for grip on traditional mats. Unfortunately, the surface coating which provides the grip doesn't have the durability I'd expect from a Lulu product. After a year of practicing 3-4x weekly, the coating wore away in the hands/feet areas. The exposed rubber is really slippery. Hands down best hot yoga mat, but expensive to replace every 12-15 months.
Date published: 2017-04-01
Rated

5

out of

5
by
1TallYogi
from
"It's The Best" Reversible Big Mat
I am 6' 5" and 272 lbs. and this mat fits me great. I do hot yoga classes 2-3 times a week and yoga at home 1-2 times a week. I have had the mat for 4 months. Yes, there are a "few" scuffs, that comes with the territory. I sweat a lot and the mat dries well and is holding up great. Due to the grip, I am able to hold my poses better without fear of slipping. Especially the Warrior and Inversion poses. I bought the regular size versions for my wife and daughter.
Date published: 2017-03-30
Rated

2

out of

5
by
MandyC
from
Not worth the cost, not a long term product for a regular practitioner
Normally I'm all over Lulu Lemon products but I've had this mat for about 1.5years and within the first year the mat started degrading under my hands and feet. It's so bad now that I literally leave my practice covered in black specks of mat! I love my lulu lemon clothing products as I am a Hot Yoga teacher and they have never failed me for quality or not picking up the sweaty sent of multiple wears. Unfortunately, I'd say stick with their clothing and buy a mat else where :(
Date published: 2017-03-23