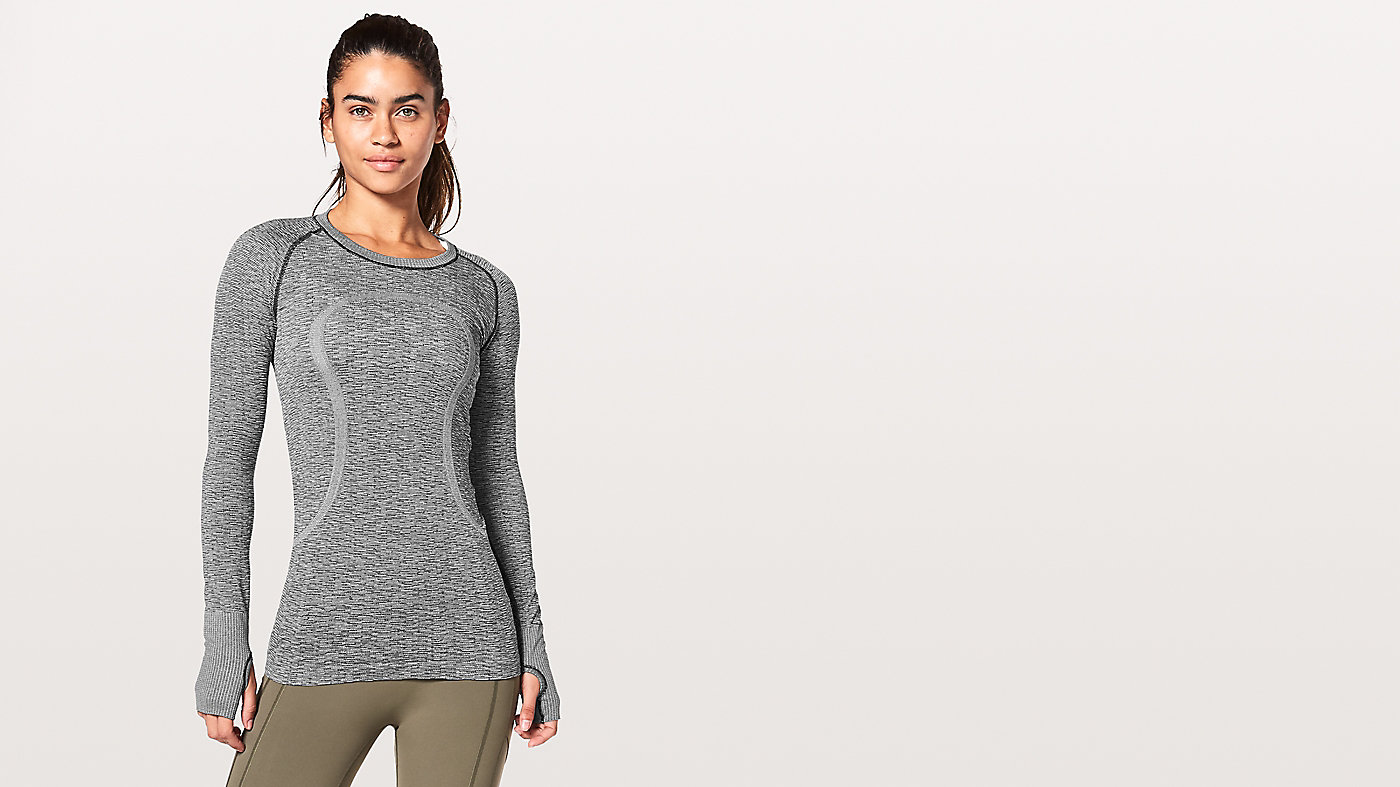 ---
No chafe
Seamless construction in the body minimizes chafing
---
thumbholes
Help keep your sleeves in place and hands warm
---
Silverescent® technology
Powered by X-STATIC®, it inhibits the growth of odour-causing bacteria on the top
---
SLIM FIT, HIP LENGTH
Slim fit hugs your body and wicks away sweat while you train

Swiftly Tech Long Sleeve Crew
is rated out of
5
by
459
.
Rated

2

out of

5
by
jennay
from
Poor quality
I bought two of these shirts, and they are both pilling. i only wear them to run in and i was not expecting them to do this. I spent a good amount of money on both of these shirts and I am disappointed with the quality. I would love to possibly order more again if lululemon is able to fix this problem.
Date published: 2017-05-17
Rated

3

out of

5
by
skinnylittlefatgirl
from
Wish this worked for me
Ok lets get some things out of the way. Does this top snag easily. Yes. As a matter of fact the one I received came snagged so I had to return it but with that aside. My goodness this top feels like silk on the skin. Few things to note. I get it lulu petite people don't make up the mass majority of your consumer but the sleeves on these were long enough for me to pull out and use as a straight jacket in a mental institution. Oh so so so sad about that. If you look at the models wearing these there is even a slight bit of bunching at the wrist. Now I wouldn't mind so much if these could be hemmed. Please. PLEASE lulu design team if you are listening. PLEASE design these so that they can be hemmed. You will reach a far larger demographic if you did. Something as simple as a seam at the cuff. Something. This is a staple in any lulu lovers wardrobe. I can wear this in white in 90 degree weather and protect my skin and not feel hot. I can also wear this as a laying piece in cold 50 degree weather and it will provide enough protection as a laying piece. Its versatile. Its a basic and I wish it would fit me better. I've pretty much been forced into the short sleeve version of this. Yes it is expensive but its because of the technical aspects of this shirt. Honestly surprises me when people complain about price. It's lululemon. If you compare other brands, the prices are very similar. Sure not every lulu item has met my expectation but neither has every item I've purchased at competing stores. If your looking for a very versatile long sleeve top all be it delicate this is it but for other petite gals expect an absurd amount of bunching at the wrist.
Date published: 2017-05-16
Rated

2

out of

5
by
rpb22
from
Disappointed
Very disappointed. I bought this shirt just yesterday and it already has a hole. Lululemon is supposed to be a high quality brand, i hoped that this shirt would last longer than a day. While this shirt is comfortable, the fabric also feels cheap and that may not last for a day. I have purchased many leggings and tops from this store and love them all, but this long sleeve shirt in particular has me left disappointed.
Date published: 2017-05-15
Rated

5

out of

5
by
samkitten
from
GREAT Shirt
This shirt is amazing. It looks so nice for an athletic shirt. I actually wore it a few times when shadowing at an outpatient orthopedic physical therapy clinic and it was great for that because it has an athletic look but is still very classy. I also love wearing this to the gym because you can see definition through the fabric and I always get compliments about my "muscles popping". It has stretched out a TAD but I wear this probably more than any other shirt and overall it has handled washing very well. I love the thumb holes too. The shirt is thin, but you can tell it is good quality. This is my favorite product that Lululemon sells. It has bad reviews but sometimes I think people just write bad reviews in hopes that they will get some sort of exchange or discount or something. In all honesty, this shirt is the bomb-diggity.
Date published: 2017-05-15
Rated

4

out of

5
by
wbgirl
from
New FAV Shirt
I love love love this shirt. It's perfect for a run or just to lounge in around the house. Also really good for layering. Gotten so many compliments just in my first couple of wears. However the material is very thin and easy to get pulls in :(
Date published: 2017-05-15
Rated

3

out of

5
by
jmich
from
Fabric Quality
I had a navy top that I was so so happy with, until I got it hemmed and it came back with some snags. No problem, lululemon replaced it for me, but this time around, I got the white one. The fabric is so incredibly thin, it felt cheap, and it just doesn't fit as nicely as the last one did. Honestly, you could probably spend the same amount of money and get a quality shirt from one of their other lines or another brand.
Date published: 2017-05-14
Rated

5

out of

5
by
Sunflowerrunner
from
Love it so far
I've only had this shirt for a couple of days, so I can't speak to its durability. I've tried TONS of long-sleeved Ts for running and this one is my favorite so far. It's the comfiest and most flattering. I am 5'2" and about 100 lbs, I usually wear a 0 but I wore a 6 in this top. I typically wear a size 4 in lululemon bottoms.
Date published: 2017-05-13
Rated

1

out of

5
by
lalalauren
from
Poor Quality
I have now had to bring this shirt back for repairs 2x now because the seem keeps ripping. On this second time, i did not want the shirt back, I wanted a return and I was forced into hemming it yet again. They said it would take 5 days and they would call me. Its been over 5 days (just like the last time) and they never called me, I had to call them to see if it is ready. So not only is it poor quality, seems like lulu is now not backing their product any longer and their customer service is clearly slipping.
Date published: 2017-05-11
Rated

1

out of

5
by
EllieBoston
from
Snagging!
I have bought similar shirts from Lulu for YEARS. I purchased this shirt a couple of months ago in the dark green because I was obsessed with the color and loved how it was made with thinner fabric. I wore this shirt three times and washed separately (let it air dry)in ONCE and it began snagging on my lower abdomen area creating a hole. I was so sad because I take really great care of my clothing from Lululemon but I want to still be able to wear them.. I don't even wear this shirt anymore because I'm too afraid to work out in it because I think the shirt is far too delicate for workouts. I love the fit, color and design though! I'm hoping that Lulu comes out with a more durable version of this shirt and it's too bad this one didn't work out because I truly love the color and fit.
Date published: 2017-05-09
Rated

1

out of

5
by
ktb1504
from
Poor quality shirt
This shirt is very comfortable and flattering, however, the fabric is too thin and of poor quality. If you want to purchase this shirt, keep in mind that you might as well encase yourself in bubble wrap to protect the shirt. This product is very short lived and is not worth the money.
Date published: 2017-05-07