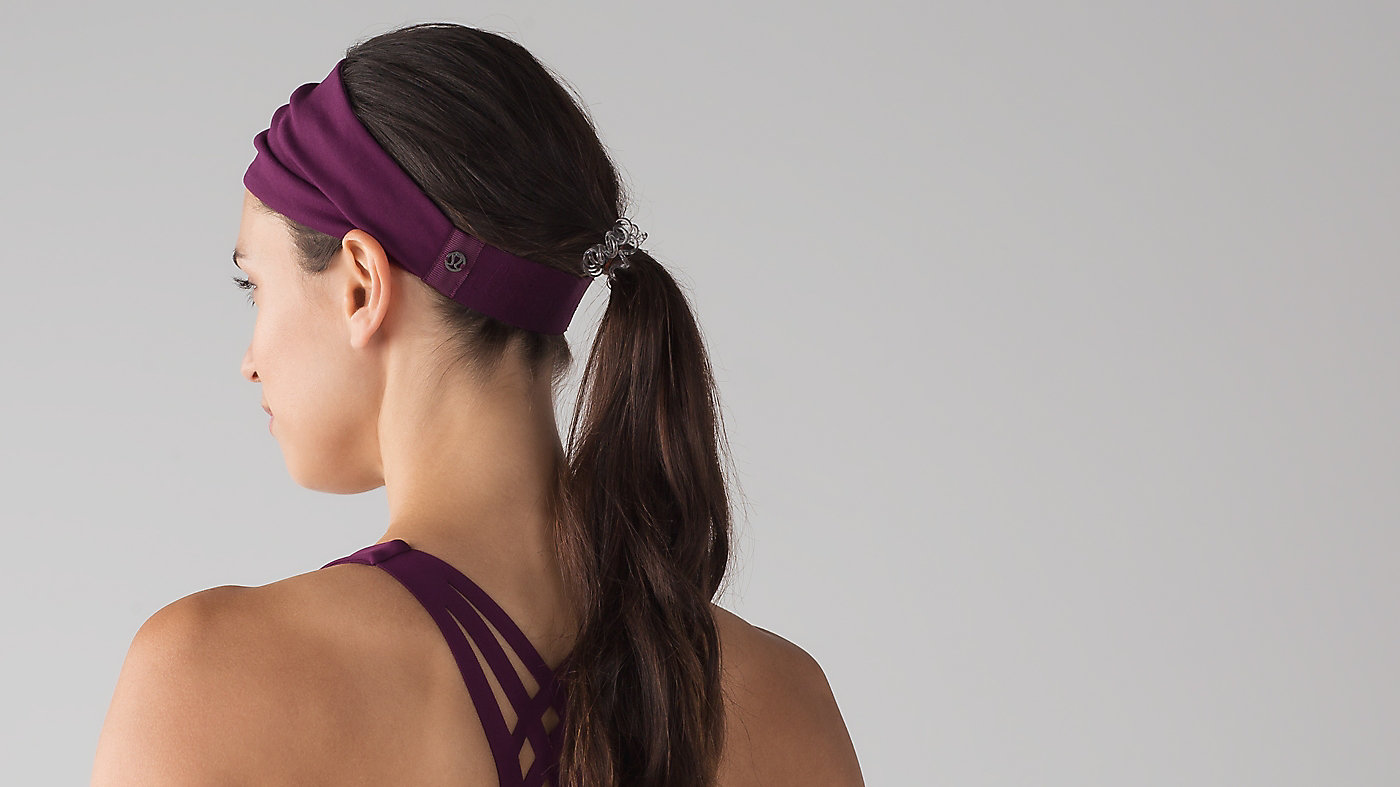 ---
Silverescent® technology
Powered by X-STATIC®, it inhibits the growth of odour-causing bacteria on the headband
---
lycra®
Added Lycra® fibre for stretch and shape retention
---
WEAR TWO WAYS
Wear this headband skinny or wide

Fringe Fighter Headband
is rated out of
5
by
107
.
Rated

2

out of

5
by
Julz05
from
Loved it, now just meh...
I was super excited with this headband. I went ahead and bought a second one. But now after using it for about a month, it has stretched so much that it is a pain to wear, I have to keep adjusting it.
Date published: 2017-06-22
Rated

5

out of

5
by
SM28
from
Best Lulu headband I own
This is my favourite headband I own. It actually stays up during sweaty workouts. Definitely recommend this to anyone who is looking for something to keep the sweat out of their eyes.
Date published: 2017-06-07
Rated

2

out of

5
by
vintagelululover23
from
Bring back the original
The original/older version with the covered and ruched elastic holds its shape much better. it also stays on your head. The elastic was also covered. Miss the old version.
Date published: 2017-05-24
Rated

5

out of

5
by
Watersport
from
WEAR ONE EVERYDAY
WEAR LOW ON FOREHEAD FOR SUN PROTECTION/ABSORBS SWEAT/ FEELS VERY COMFORTABLE AND STAYS IN PLACE. MAIN NEGATIVE IS THAT THEY NO LONGER MAKE THEM IN MANY SOLID COLORS AND BRIGHT COLORS TO MATCH ITEMS I PURCHASE, UNFORTUNATELY THEY MAKE MOST IN HEATHERED COLORS THAT I DO NOT LIKE. COLORS ARE BETTER IN FLY AWAY HEAD BANDS BUT FLY AWAY HEADBANDS DO NOT HAVE ENOUGH COVERAGE ON FOREHEAD, AND WHEN WORN ONLY IN HAIR DO NOT STAY IN PLACE. ALSO, REVERSIBLE SOUNDS GOOD, BUT IN PRACTICE NOT GOOD, MUCH RATHER HAVE IN SOLID SAME COLOR BOTH SIDES, THE OTHER SIDE ALWAYS SHOWS AS THE EDGES DO NOT STAY ON EXACT SIDE PERFECTLY, AND WHO WANTS TO FUSS WITH IT!
Date published: 2017-05-17
Rated

1

out of

5
by
Sophiejean
from
Very disappointed
I am reviewing the Heathered deep rouge/heathered deep rouge headband. I have at least 6 of this fringe fighter headbands, and they are the BEST! But this particular one doesn't live up to the quality of the others. I purchased it online. When I received it and tried it on I was thinking they forgot to put a second layer of material on this headband. It is so thin I can see light going through it! All the other headbands I own are thicker and more substantial. I'm not sure if this one was made wrong or if this is the way it's supposed to be, but I would not recommend this particular one.
Date published: 2017-05-06
Rated

2

out of

5
by
pegyp123
from
Too Big
I used to recommend this headband to everyone complaining that their headbands fell off, I always said worth the cost, keeps me cool and my hair off my face through all kinds of workouts. Not sure when they changed, but now they are so big - I tried to pin them smaller but they slide off - i am not sure if it is combined fabric and size - but maybe it would make sense to make 2 sizes if people were complaining that the old ones were too small. I have bought 3 more in the last 6 months hoping I had picked one that was stretched out and had to bring them back. Sad!!! I've been wearing them for years and now have to find a replacement.... It's all about the fit.
Date published: 2017-04-24
Rated

1

out of

5
by
EmilyBeegs
from
Terrible Fit
I really wanted to love this headband. I had been talking to my boyfriend about buying a headband for hot yoga because I was tired of sweat going into my eyes! My boyfriend got it for me as a surprise gift. As soon as I tried it on with my hair up it was bad news bears. It doesn't fit snugly and is extremely loose. The only way it fits is if it rests over my ears but I am deaf in my left ear with a mild hearing loss in the other so it's not practical for yoga or Pilates classes. I already have a hard time hearing instructors cues so I already knew this headband wouldn't be sensible for me to use. I didn't even end up using it for my yoga class because it was so uncomfortable. My boyfriend and I are bummed out because it's a waste of money. He tried to do something thoughtful for me and the headband doesn't fit.
Date published: 2017-04-14
Rated

5

out of

5
by
Maedward
from
Love love love!
I've had this headband for about 4 months now and I love it. I wear it both skinny and pulled wide during my runs. I will say that it can slip back a little easier if it's pulled wide but I've only ever noticed it falling back once or twice in the 30+ times I've worn it and it has never fallen off. I bought the headband in white, and I'm definitely a heavy sweater, and I haven't noticed any discoloration. I wash every 1-2 runs and lay out to dry. Basically the headband does what you want it to do - it keeps your hair out of your face so you can focus on running.
Date published: 2017-04-03
Rated

2

out of

5
by
oakles128
from
Not Like they Used to Be - Poor Quality Fabric
I borrowed my sister's bang buster headband last week. It was so great! Stayed in place, the fabric was so thick and nice! I quickly jumped online and purchased two of the fringe fighter headbands (from which I understand is the newest version of the bang buster) I got them today and I am so disappointed. The fabric is so thin and cheap and it's already stretched out just from trying it on. Would not recommend at all! Lulu needs to stop getting rid of items that are good the way they are! Half my wardrobe is lulu a lot being from about 5-8 years ago and it is still in great shape and the styles and fabric are still awesome. The items I have bought more recently in the last 1-2 years is the stuff that is wearing out fast and have flaws in them!
Date published: 2017-03-28
Rated

1

out of

5
by
yogagirlie
from
Disappointed
The first time I used this, it was great. It stayed put. After the first time however, it started to slip right off during my workouts. I bought this headband after reading all the great reviews, but am very disappointed that after spending almost $20 on this, I can't use it again.
Date published: 2017-03-02