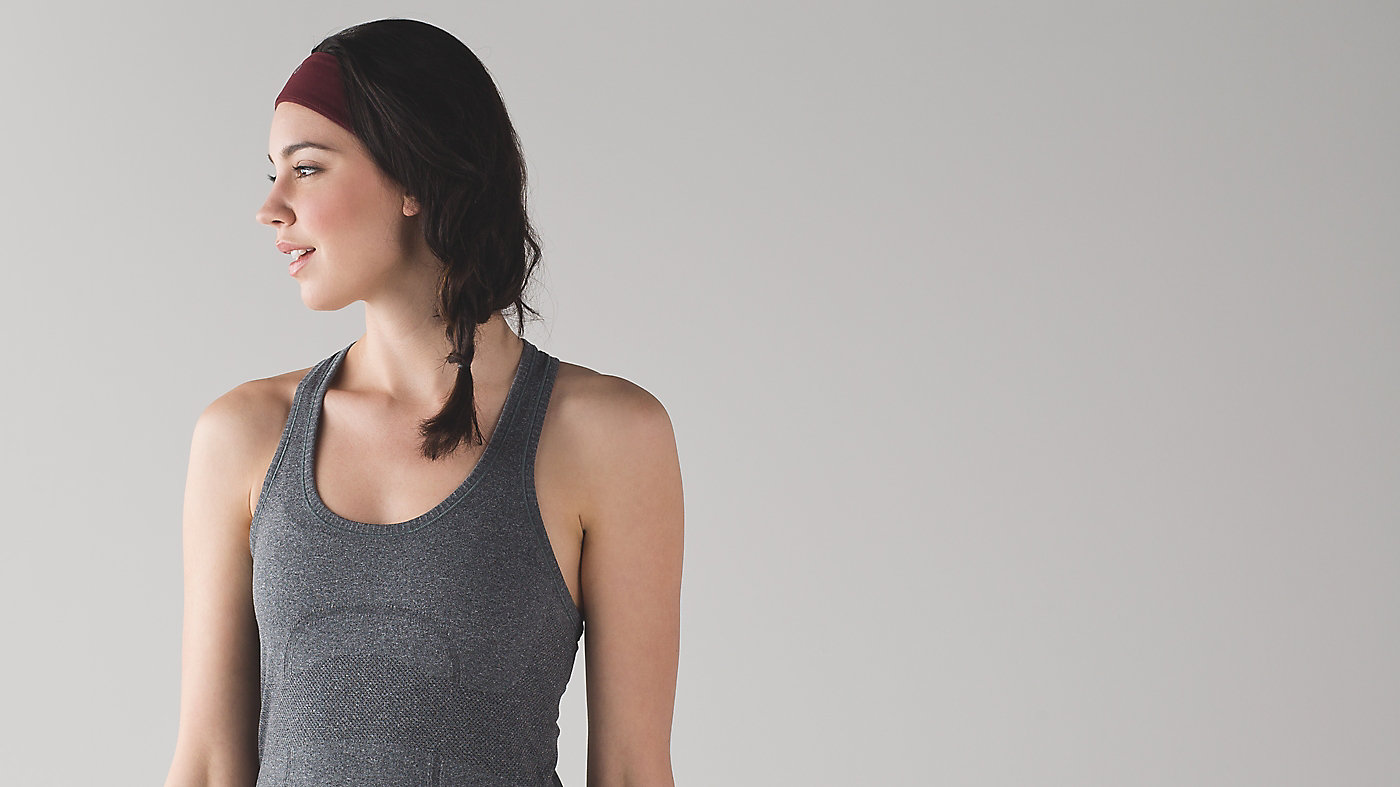 designed for
Yoga, run, to + from
---
velvet bonding
Keeps it from slipping without pulling your hair

Fly Away Tamer Headband II
is rated out of
5
by
39
.
Rated

5

out of

5
by
lgag
from
I have about 7...
I won't lie to you, yes I do need to readjust every now and then. However, i am a nurse and wear these on my 12 hour shifts often because they keep my hair in place. I believe yesterday I readjusted 2x throughout the 12 hours. I also wear these while I am running. I ran a half marathon (2.5 hours...) in this headband and did not adjust it at all. They do seem a little tight, but that is better than the alternative. After time, they can fit your head a little better. But overall, they are a great headband and I keep going back for more...
Date published: 2017-04-27
Rated

5

out of

5
by
cassidyo
from
Life CHANGER
This headband will capture your sweat, keep your hairs out of your face, WILL NOT MOVE, and is a cute accessory. I love this headband for running especially. If you use headphone that just won't stay on, this headband can cover them up just so they don't move. It captures all my dripping sweat and is truly amazing and comfy! 10/10, no questions asked. Also, it is machine washable so it is never gross!
Date published: 2017-04-25
Rated

4

out of

5
by
TEAMSHRED
from
Not perfect, but good enough
My favorite part of these headbands is the velvet inside instead of the usual weird tacky stuff I see on headbands that yanks my hair. out I've worn these for bootcamp classes and for yoga and they do the job. I think you have to wear them a few times for them to fit right, the first time was too tight around my head but then I washed it and now it seems more stretchy. They sometimes slip off, so they're not perfect, but I see that as the trade-off in using velvet as the lining. Also, they're really cute design-wise and I think the width of the headband is perfect!
Date published: 2017-04-21
Rated

5

out of

5
by
pinkprincess77
from
Won't budge
I LOVE this headband!!! During yoga class it stays right on my head without moving at all.
Date published: 2017-04-16
Rated

5

out of

5
by
aperekl
from
Stays in place
I have yet to find a headband that stays in place when I exercise until now. So very cute and keeps my hair back. Has been great for all types of exercise including running and barre.
Date published: 2017-04-14
Rated

5

out of

5
by
FunkyGrandpa
from
Does not Budge!
I'm a lacrosse goalie at my high school- that means I spend a lot of my time wearing a helmet. I've tried prewrap, rubber headbands, and those tie-back Nike headbands that seem to be so trendy. Unfortunately all of these would eventually slide down my face and block my vision. I was reluctant to try another headband in an attempt to tame my mane until I borrowed this one from a girl on my team and it stayed in place on my head during the entire practice! It was a miracle! Bless Lululemon for creating a headband that finally stays where I need it to be.
Date published: 2017-04-13
Rated

2

out of

5
by
kda93
from
Bring Back The Old Style
This new version of the flyaway tamer does not stay on my head from the walk from the car to my spin bike, let alone stay put for the ride. The fabric strip pales in comparison to the gripp-y dots of the previous versions. Really disappointed in the new design!
Date published: 2017-04-01
Rated

3

out of

5
by
ILUVLULULEMON6970
from
Wasn't what I expected
Bought two of these handbands a while back, the grip inside them is not strong anymore. The back part is not as thick as the front part -- hair doesn't hold that well on the back and will pop out of the band. I wish they would bring back the original fly away tamer headband...seems like they've been sold out for ages. Overall love the style but disappointed by what I received for what I payed :/
Date published: 2017-03-20
Rated

5

out of

5
by
icedesperado
from
Amazing!
I've tried SO many different headbands, but they all pale in comparison to this one. It stays on my head no matter what I'm doing - yoga, lifting, running - and fits perfectly. I love it so much I've purchased a bunch in different colors to replace my old ones.
Date published: 2017-03-19
Rated

3

out of

5
by
412RunSpin
from
I miss the older version of this product!
I really miss the older version of this headband, the one made with the small clear dots on the inside instead of the fabric strips. Not only did those work better for me, but the shape of the product fit my head better. With this new design, I feel as though I constantly have to reposition the headband while wearing it, and the shape of the new one makes it feel too tight. I'm extremely disappointed because I bought 2 of these headbands only to realize I will never wear them, and will not be able to get another one like my old ones ( I have 5). I know this company is always looking for product feedback, so hopefully a change will come in the future!
Date published: 2017-03-15