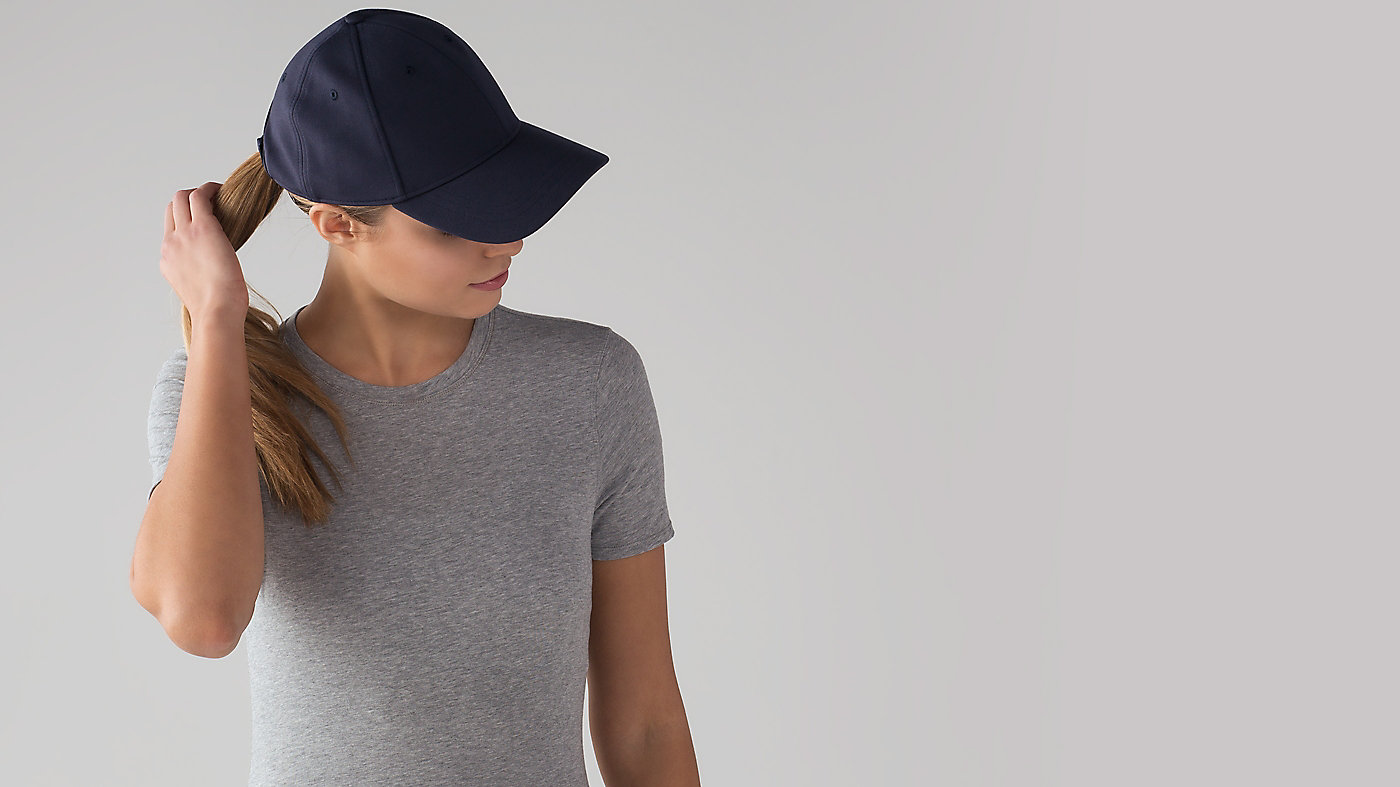 ---
adjustable
Closure on the back tucks into a secret garage
---
GOODBYE SWEATY FOREHEAD
Interior Mesh fabric sweatband wicks moisture

Baller Hat
is rated out of
5
by
28
.
Rated

5

out of

5
by
enginerdette
from
Best Hat from Lulu ever!
I've had this hat for a few months now and wear it almost every day. I have received so many compliments because of it! The structure holds up really well. I've even mashed some over-the-ear headphones over it and smashed it in my backpack and the shape has maintained itself. I like the long duck bill since it shades my face when I walk to/from work. I bought the gray color, which is probably more resistant to fading then black. It also doesn't show much dirt, grime or sweat in it because of my color choice. As for the band size, not sure why some people had issues with it. I normally buy hats that are around 7-1/8 to 7-1/4" and had no trouble with it. My husband stole my hat a few times and his head is a lot bigger than mine, and he had no problem adjusting to his head size as well. I'm buying him his own hat so that I can stop fussing with the band to make it fit right. I have a few hats from Lulu, but this is 100% my go-to hat now.
Date published: 2017-06-19
Rated

2

out of

5
by
Chole
from
Dissapointed
Hat fits well, and looks nice on so no complaints there but the material has faded and discoloured greatly since I purchased it in March. The black color now resembles a purple toned color and people often ask if it is dirty or has dust on it. I have tried to clean the hat with a damp cloth but it does not help. Not sure why this has happened but I am very disappointed because I did really love the hat. Would not recommend it if you want a black hat, other colors may retain their pigment better.
Date published: 2017-06-06
Rated

1

out of

5
by
SR11
from
Does not have the same fit
I bought this hat to replace the Perforated Baller Hat that I LOVED (and lost). I loved it because the front half was a slightly stiffer material that kept it's shape and did not sit glued to your head - hard to find and crucial when you have big, curly hair. The descriptions were the same, the product is not. The material and fit is different. Super disappointing.
Date published: 2017-05-31
Rated

1

out of

5
by
Scott123
from
Poorly Made
I bought this hat for my girlfriend and after a few times wearing it the bill snapped in half. It felt like it was made out of cardboard. On any normal hat, the bill can be bent to better fit the head but this one snapped.
Date published: 2017-05-30
Rated

1

out of

5
by
Meagh
from
Lost its shape
I bought this hat a few months ago because I LOVE the 2015 & 2016 Seawheeze baller hats I have and wanted to add to my collection. It had a great form shape to it, fit my head perfectly, and I love how easy the brim was to shape. This is a great to and from hat, but unfortunately it's lost is form fitting shape, and now looks frumpy on my head! It is now flimsy, and has a permanent dent in one of the front panels (how!?). I always take really good care of my hats, it's never been crushed, put into a suite case, etc. If it's not on my head, it's on a hat rack. Super disappointed that it hasn't kept its shape and form.
Date published: 2017-05-24
Rated

1

out of

5
by
Lanaluvsherlulu
from
Is this toddler size?
My husband has made a tradition to buy me something from Lululemon every year for Mother's Day. Was SUPER excited to receive this hat...until I tried it on. It literally sat on my head like a yarmulke lol. It fits my toddler perfectly! Hubby told me to adjust the back, yeah...wasn't going to happen. So bummed! Hopefully we can exchange it for another style. I think next time we will just to to the physical store and try things on...don't want to deal with the hassle of returning and dealing with disappointments.
Date published: 2017-05-21
Rated

4

out of

5
by
SM28
from
Great Hat!
I bought this hat specifically for to and from. I am in love with it, its so cute and simple. It has a great strap in the back to adjust to your perfect fit.
Date published: 2017-04-24
Rated

2

out of

5
by
emb092
from
lost its shape....
I bought this hat because I loved how simple the hat looked. I loved the way it looked online on the model and at the time was looking for hat just like it. I got about three wears out of it before I noticed that it was loosing its shape. The fabric or material of the hat seems to just have become loose and not flattering at all. The hat just doesn't fit my head as it sags now. I do not understand how a hat can loose its structure after paying a hefty 38$ before taxes. Very disappointed with this hat and would not recommend to anyone as the material or structure is just not ideal.
Date published: 2017-04-24
Rated

5

out of

5
by
Sadielib
from
Love this hat!
i have purchased many ball caps, looking for the perfect black hat! and i finally found the one! i have a small head size, so its hard to find one that doesn't look gigantic on! i also love the depth as it can cover my ears when needed as well! a friend recommended this hat to me, and i would defiantly recommend this hat to someone! good job lulu!
Date published: 2017-04-06
Rated

2

out of

5
by
SydneyW
from
Not for big heads!
I have a couple hats from Lulu and I love them, they fit great. This one, not so much. I found the cap is more shallow and didn't want to stay on my big head! Had to give to my mom who has a smaller head than me. Bummer!
Date published: 2017-04-04